For nearly two decades, I've had a bald spot on the lash line of my right eye. I've asked doctors and dermatologists what may have caused my hair growth to stop there. The best answer I heard was that the hair follicles are dead. My guess was that because I am a side and stomach sleeper, I had worn off my eyelashes on the right side of my face. This theory makes sense as I also have a permanent crease on that side of my face from being smashed into my pillow. No matter how hard I try, I haven't been able to learn to sleep on my back, thus my face is aging faster than it should! Sad but true.
My natural lashes are unremarkable. Not long and wispy or dark and full. They're below average. In the past, I've tried to enhance them by using false eyelashes, but I quit doing that because the adhesive contains toxic ingredients. Besides, the least problematic side effect of using glue on your lash line is that you pull out some lashes.
The Quest for Glorious Lashes
The same is true for eyelash extensions. Yes, I made that mistake one time, and NEVER again will I do that, my poor eyes.
It kind of defeats the purpose, right? Not to mention that there are worse side effects than losing a few lashes.
I'd also tried using pure 100% organic castor oil on my eyelids as I did on my scalp, but it's sticky and would be a big mess. Good luck getting castor oil off your glasses!
So when I came across Plume Lash & Brow enhancing serum, I was game to try, even though it's pretty pricey. I ordered a tube and got started applying it to my lash line in the morning and at night. After my cleanser, but before moisturizing and definitely before applying mascara or eyeliner.
Plume Lash & Brow Enhancing Serum
My dermatologists had recommended a pharmaceutical product, but when I read the potential side effects, I declined. I'd rather have no eyelashes than risk burning skin and blurred vision. No thanks!
The Plume formula is made with natural ingredients and formulated without parabens, sulfates, phthalates, artificial fragrances, artificial dyes, gluten, or toxic ingredients.
In fact, the creator of Plume, Lauren, partnered with leading natural and organic cosmetics formulator, Irene Schnell. 
Irene is a certified Master in Fragrance & Cosmetics science, a cosmetic chemist. She transformed Lauren's carefully curated ingredients into an all-natural, long-lasting, preservative-free, safe, and effective formula.
I read and researched the ingredients at length before I purchased the product. Read through other people's reviews, etc.
I'm happy to say the lash and brow enhancing serum has not caused eye irritation for me at all, which is unusual because I have very sensitive eyes and skin. All of my skincare products need to be approved for sensitive skin.
My results using Plume Growth Serum
I've seen noticeable results after a couple of months of inconsistent use. For some reason, it's hard for me to be consistent with things like this, but I'd say I used it at least 3-4 times per week for the last two months, solid. For maximum results, use the product consistently morning and night and I believe you'll see dramatic results.
Has the lash growth been phenomenal? I guess it depends on your perspective. My eyelashes still aren't long and wispy! But I have new eyelash growth in the bald area of my right eye! For the first time in as long as I can remember, I have a few eyelashes there!
In addition, my lower lash line is fuller (I applied it to the top and bottom) than ever. Bottom line: Plume worked for me.
How it Works
Plume lash serum (it looks more like a thin lotion) is a proprietary plant-derived formula and has a three-part-effect on lashes and brows:
Hydration: Nourishes follicles to strengthen hair roots.
Longevity: Promotes hair follicle prolonged growth.
Protection: Anti-oxidants protect delicate hairs from the sun and other environmental stress.
You can have beauty without the sacrifice and side effects because Plume enhances what you already have. Plume science allows this formula to nourish, protect, and enhance your eyes from root to tip. You can also use it on your brows if you have patchy areas or just want fuller eyebrows and want to ditch the brow pencil.
How to Use Plume Eyelash Serum
Don't forget to take pictures to see true growth!
Cleanse face before applying. You don't want old makeup or other impurities getting on the brush and then going back into the product. So start with a clean face.
Apply Plume morning and night, then finish your skincare routine or apply cosmetics.
Checkout the natural ingredients in Plume's formula
Once you read through the list of ingredients you'll want to add Plume to your beauty wishlist! Not one artificial or toxic ingredient of any kind; lives up to my standards. I give Plume a 4.9- star rating, only deducting that little bit because of the price. However, considering how long the product has lasted, I'm not complaining.
Organic Aloe Vera (Aloe Barbadensis)
Rich in vitamins and minerals, aloe vera has long been recognized for its moisturizing, healing, anti-bacterial and anti-fungal properties.
Organic Castor Oil
Castor Seed Oil (ricinus communis) nourishes hair follicles with omega fatty acids, vitamin E, and proteins. Castor oil is known to have anti-bacterial and anti-fungal properties thus protecting the area around your eyes from harmful micro-organisms and potential infection.
Vitamin E
A potent anti-oxidant and effective moisturizer.
Honey Extract
A powerful humectant, hair follicles treated with honey extract retain more moisture. Also known for its anti-irritant and anti-microbial characteristics.
Watercress (Nasturtium officinale) and Indian Cress (Tropaeolum majus) have been rigorously studied to show that these extracts can help hair produce keratin, a key factor in the strength, and ultimately length, of your hair.
Coltsfoot Flower (Tussilago farfara), Yarrow Flower (Achillea millefolium), and Peruvian Bark Extract
Sucrose Laurate
Emulsifier, naturally obtained from hydrogenation and esterification of sugar cane and vegetable oil.
Sodium Stearoyl Lactylate
A natural, food-grade, emulsifier derived from stearic acid (plant-derived) and the sodium salt of lactic acid.
Plume Eyelash Serum Helped Regrow My Lashes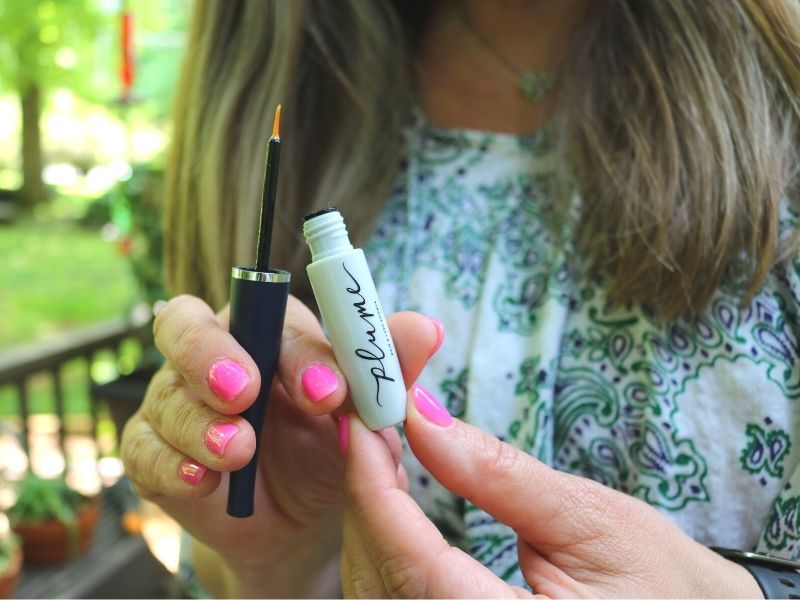 Product Name: Plume Eyelash and Brow Serum
Product Description: Plume Lash and Brow Enhancing Serum promotes longevity and fullness of brow and lash follicles and allows you to enhance your natural gift. Brighten and highlight your eyes, naturally.
Price

Ingredients

Effectiveness

Ease of Use
Pros
easy to use
well designed container and ingredients
noticeable results
natural ingredients, no toxic ingredients
Cons
a bit expensive, but lasts a long time