Last Updated on June 29, 2022 by Rebecca Huff
My Blackberry Balsamic Glazed Boston Butt is an iron rich recipe that is mouthwateringly delicious and incredibly nutritious. The entire family will love the tangy sweet and smoky flavor of this unique recipe. Don't be put off by the use of molasses as that is where much of the flavor comes from. Not to mention that one tablespoon of molasses provides 20% of the RDA for iron.
What sets this recipe apart is the three strong flavors in the glaze. Balsamic, blackberries, and molasses all have a unique taste and it comes across quite nicely when use with a delicious Boston Butt.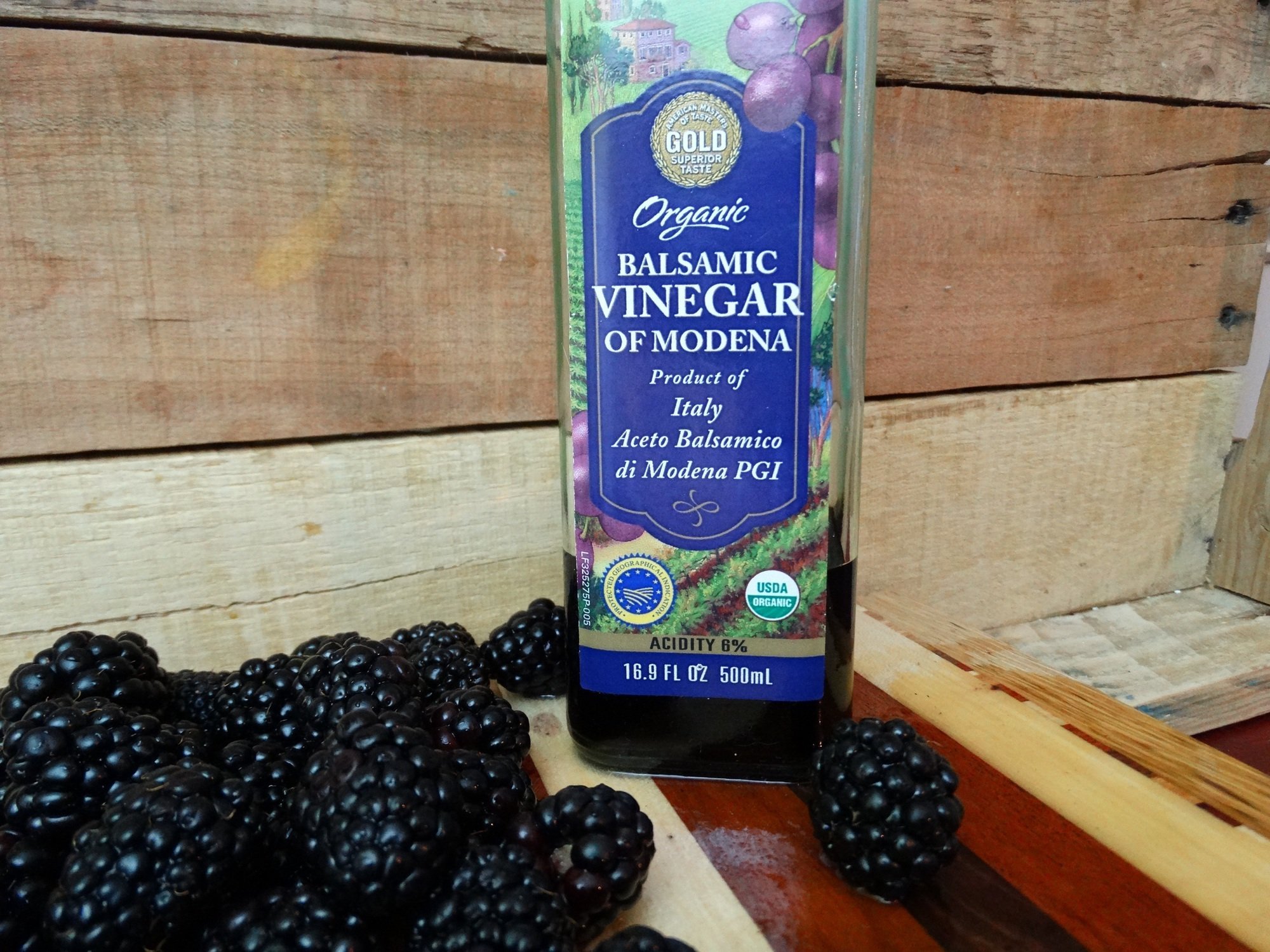 The most time consuming part of this recipe will be simply reducing the glaze and really you're just waiting for it to simmer down. I use a heavy pot to cook down my glaze. Just add the ingredients and let heat do it's thing. After it has reduced, you'll want to strain it through a mesh strainer to get out the blackberry seeds. You can discard the berries and seeds, but I don't. I actually save mine to mix into yogurt or to top a nice piece of gluten-free keto toast!
Jump to Recipe
If you make the full measurement of this recipe you should have quite a bit leftover. You can use it to drizzle on top of your pork, a salad, or to brush on grilled peaches, dip strawberries in, and lots more. Use your imagination.
When the glaze is ready simply heat a skillet and sear all sides of the meat then brush on the glaze. You may choose to cook the meat in the skillet used for searing or a different roasting pan or whatever. I just like the simplicity of roasting mine in the same pan I used to sear the outside. After it's seared, measure out about 1/4 cup of the glaze and brush on all sides.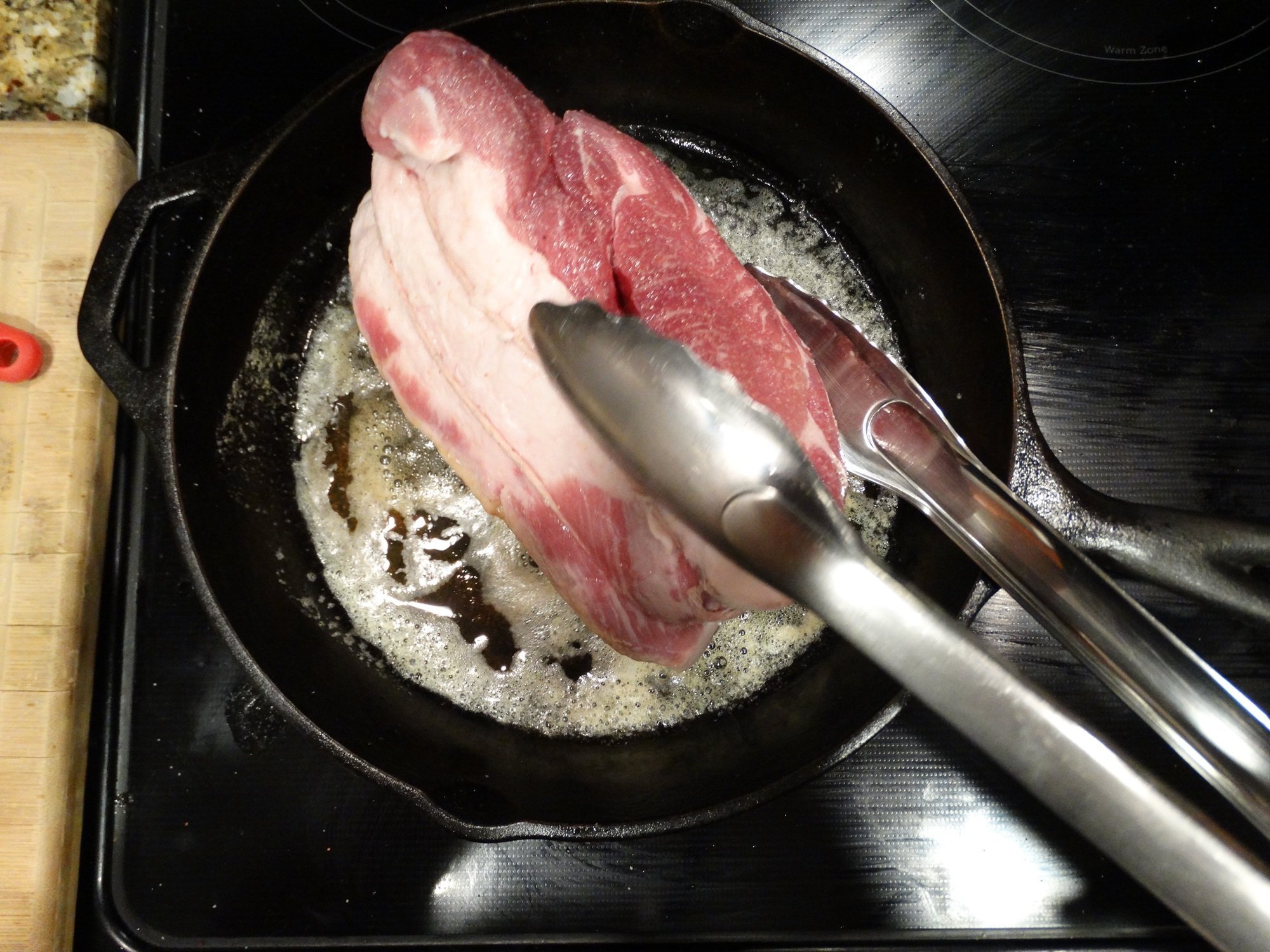 I highly recommend using a meat thermometer. According to the USDA you should cook a Boston Butt 45 minutes per pound or to an internal temperature of 145-170. Personally, I like to be sure, so I use a meat thermometer every time I cook meat. My Polder thermometer is set to alarm when the temperature reaches 160 for this recipe.
The almost three pound Boston Butt pictured in this recipe reached an internal temperature of 170 degrees well before the time was up. If I had not been using a meat thermometer, chances are it would have been overcooked and dry.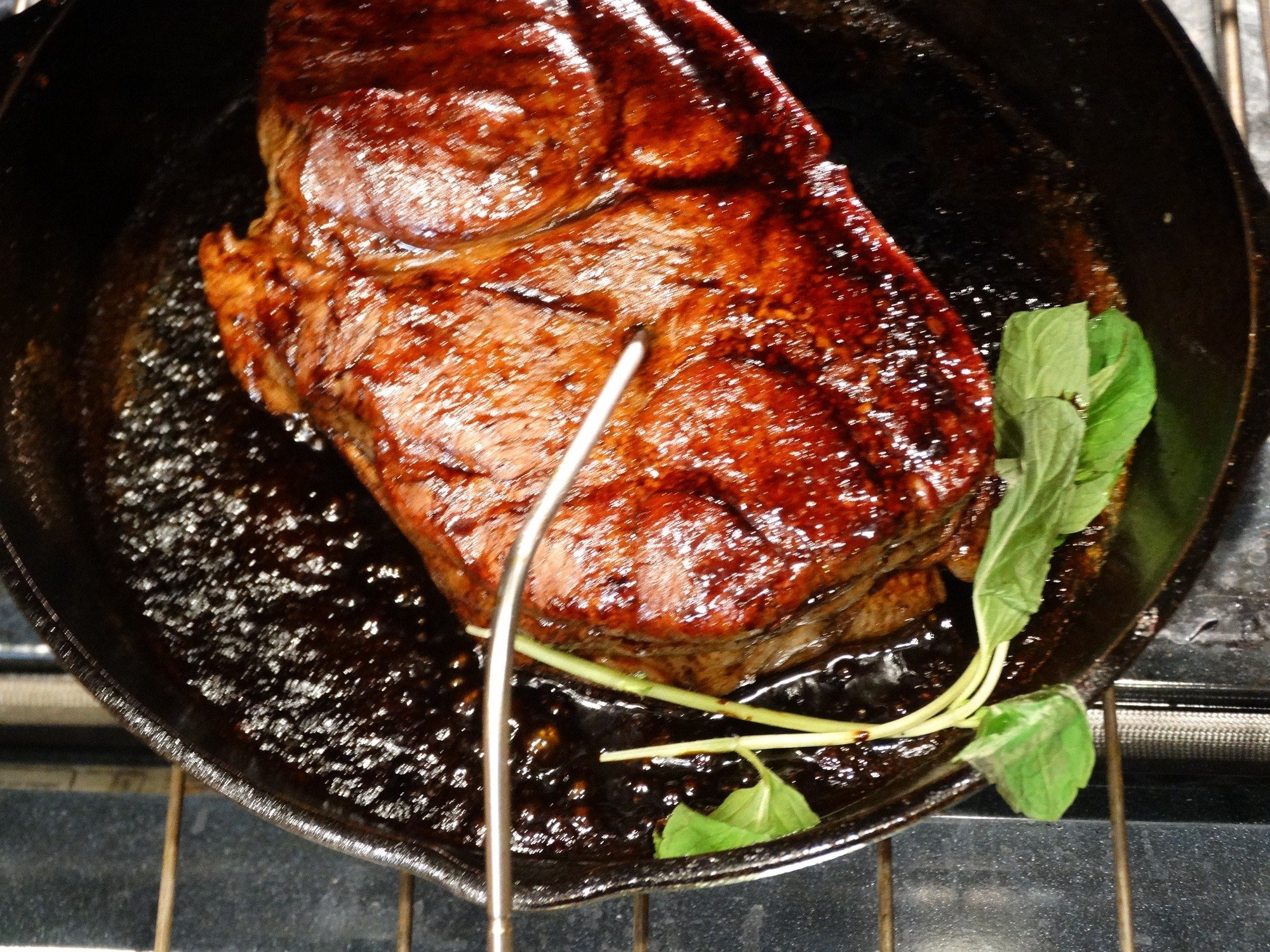 You can skip the mint if you don't have some in your kitchen or growing in your yard. It's not a super important part of the recipe but if you have some it gives it a little extra flavor infusion. Plus, it just looks pretty.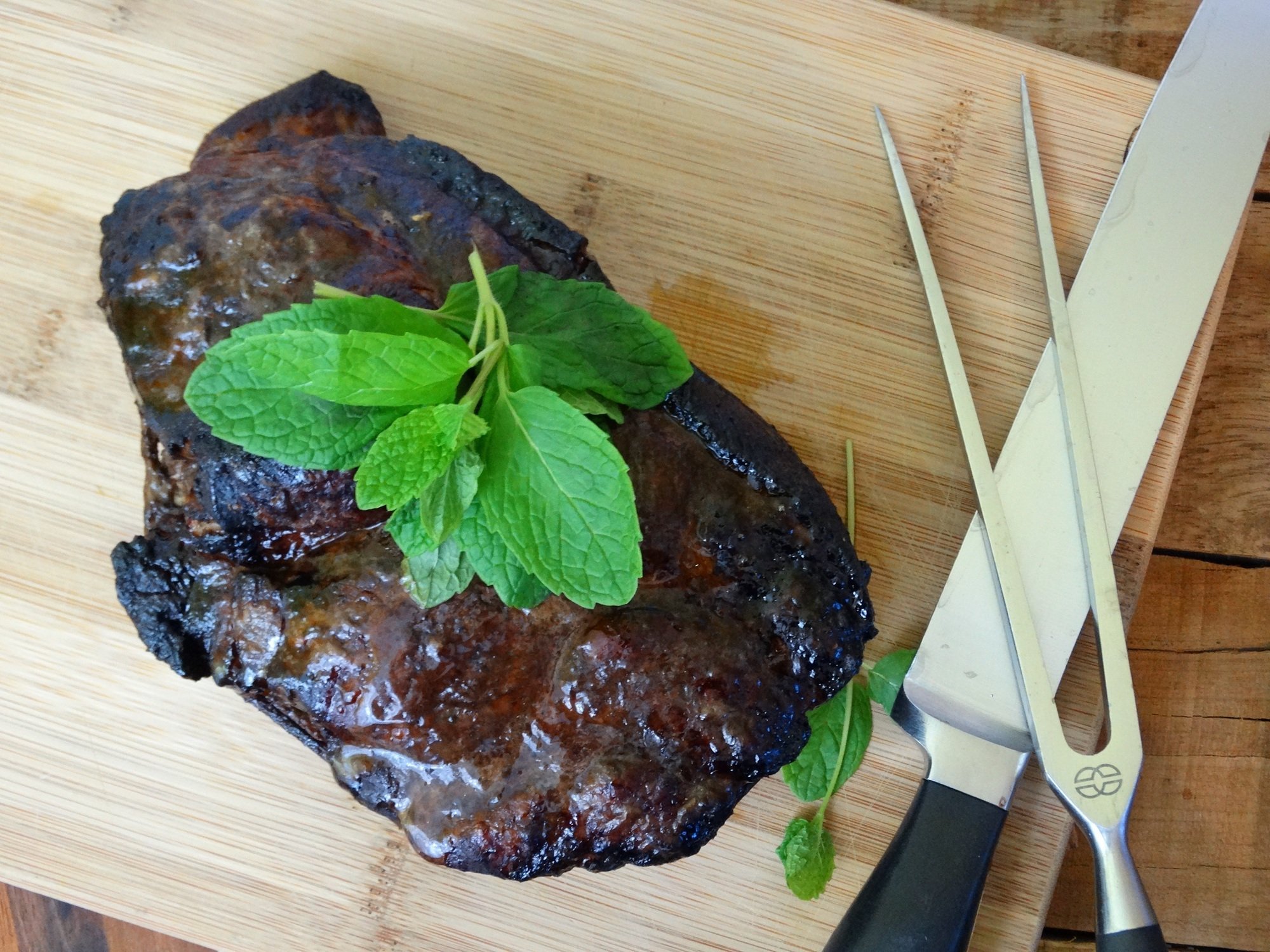 Make sure to let your meat rest about five minutes before slicing which allows the juices to redistribute and cooking to finish. Letting it rest on a carving board or just in the skillet is best. For pork, I prefer well done meat, but you can cook it according to your own preferences.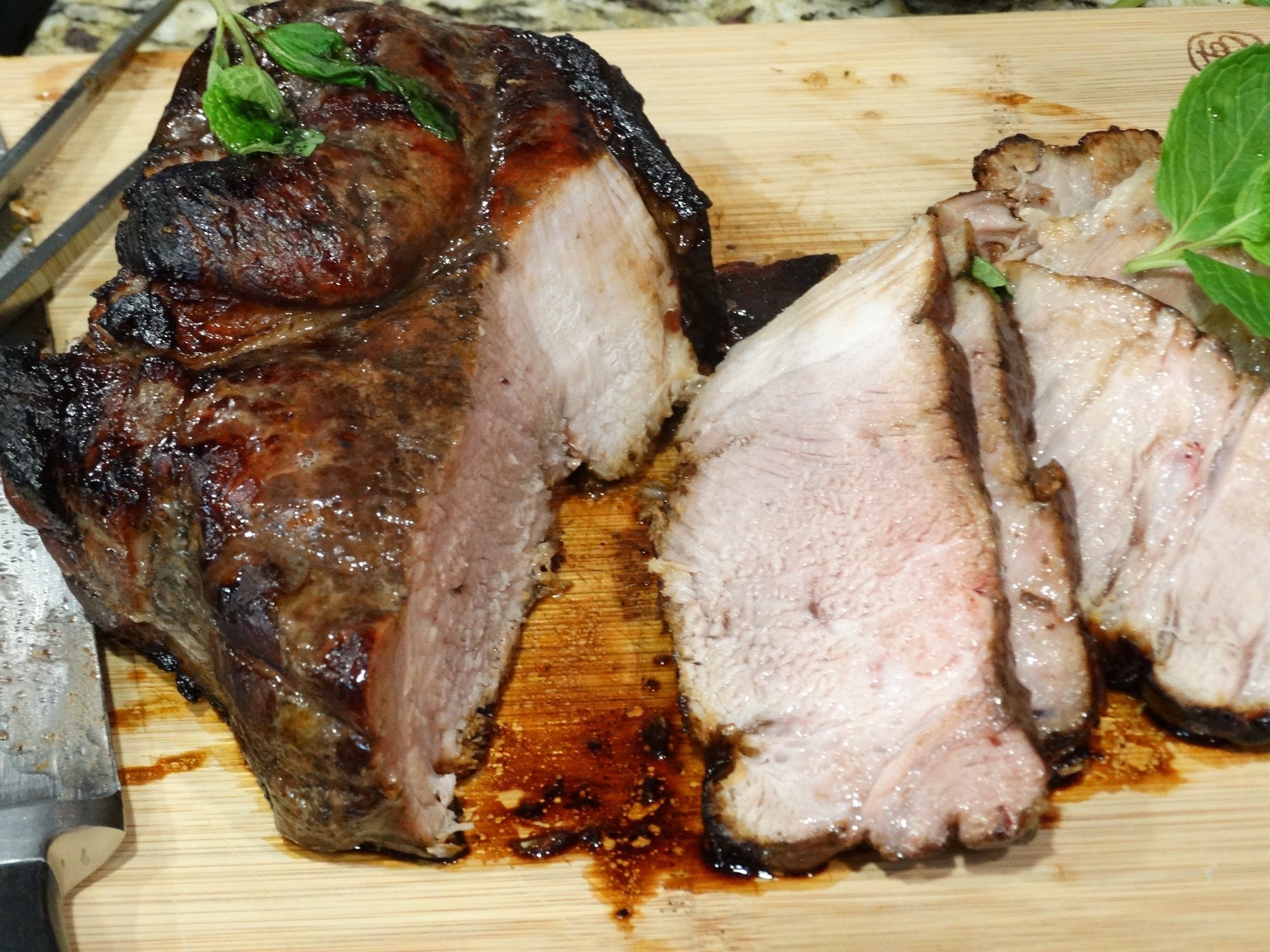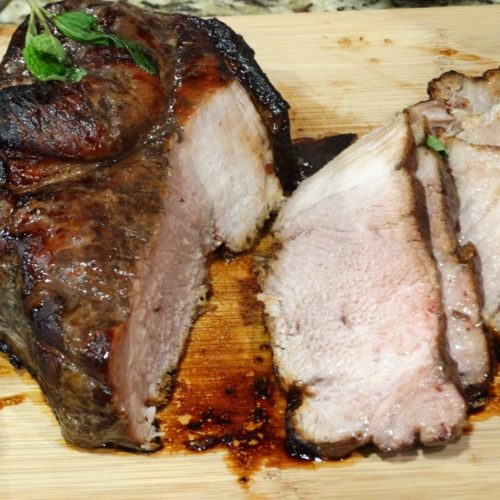 Blackberry Balsamic Glazed Boston Butt

Keto

Low Carb

Paleo

Trim Healthy Mama
The depth of the flavor profile in this dish is astounding! You're going to be hoping there are leftovers for your lunch tomorrow!
Ingredients
2 1/2

cups

blackberries

2

cups

balsamic vinegar

1/2

cup

organic molasses

1

boston butt

couple sprigs of mint

salt and pepper to taste
Instructions
In a sturdy pot add vinegar and berries, allow to come to a boil, simmer and smash berries with a potato masher or a spoon.

Continue to simmer until reduced by about half, add molasses, stir and simmer five more minutes.

Remove from heat and allow to cool for about 15-20 minutes.

Strain the glaze into a jar with a mesh screen to remove all the berries.

Prepare Boston Butt by sprinkling with salt and pepper all over.

Preheat oven to 350 degrees

Heat skillet over medium-high heat with just a touch of oil, when hot sear meat, turning until all sides are seared.

Pour about 1/4 cup of the Balsamic Blackberry Glaze over the top of the meat, turn and add another 1/4 cup. Add sprig of mint to pan with meat.

Put the skillet with the meat in the oven and cook for 45 minutes per pound or until meat thermometer reaches a minimum internal temperature of 145 degrees or up to 170 degrees for well done meat.

Allow meat to rest for 5 minutes after removing from stove before slicing.

Garnish with mint prior to serving.
Blackberry Balsamic Glazed Boston Butt is a Paleo friendly dish. I actually use it on the Ketogenic plan and stay in nutritional ketosis.
Balsamic vinegar is actually made from the ethanol in grapes and like molasses it contains many minerals such as calcium, iron, magnesium, phosphorus, potassium and manganese. In fact, balsamic vinegar also contains polyphenols, compounds that have been shown to have anti-cancer properties.
A word about molasses and the Ketogenic Diet
I consider this recipe Keto friendly for those following a moderate (not strict) ketogenic diet. Though I understand that some people would disagree with using any type of caloric sweetener. The total amount of molasses in this recipe is 1/2 cup which is 8 tablespoons and you won't be using all of the glaze.
Even if you ate the 1/8th of the total amount glaze (which I doubt you will) the amount of carbohydrates would be about 22 grams (maybe half my daily allotment of carbs) yet the mineral count is phenomenal: 25% RDA magnesium, 20% RDA calcium, 20% RDA iron. Staying in nutritional ketosis is important to me, that is why I monitor my own ketones, but being diagnosed with Lyme Disease and having depleted iron stores, my first priority is nutrition. Getting iron every day is important for my health.
This is why I believe that a moderate amount (about a tablespoon or less) of molasses is more beneficial than harmful while following a ketogenic diet for health. I also do not eat molasses every day, nor do I eat pork all that often. Actually, I rarely eat pork, and I'm very particular about the kind of pork I will purchase.
However, if you find that you don't lose weight on keto when including molasses, or if you notice an undesirable change in your ketones or blood sugar levels, simply stop using molasses! I haven't tried it but I think this glaze could be made with Swerve (erythritol) as well; if you try it let me know how it goes.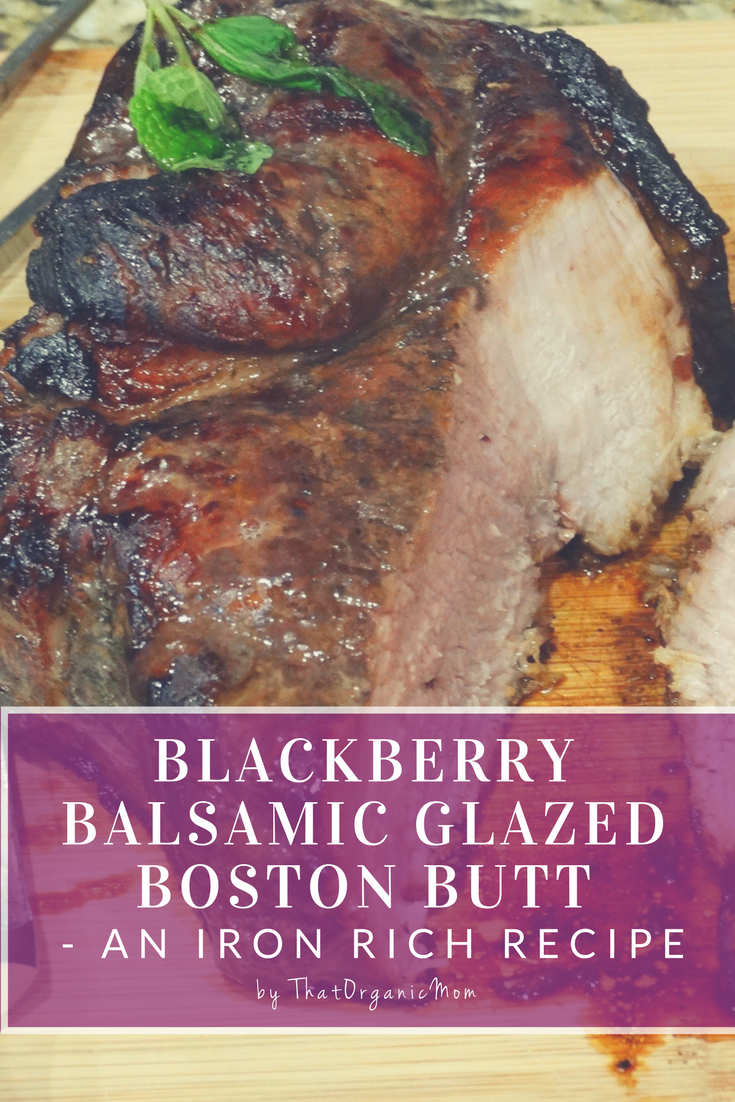 Source:
Cooking times and temperatures for Boston Butt https://www.fsis.usda.gov/wps/portal/fsis/topics/food-safety-education/get-answers/food-safety-fact-sheets/meat-preparation/fresh-pork-from-farm-to-table/CT_Index