The words Microgreens and sprouts are often used to mean the same thing, yet there are some differences. Both begin as a seed.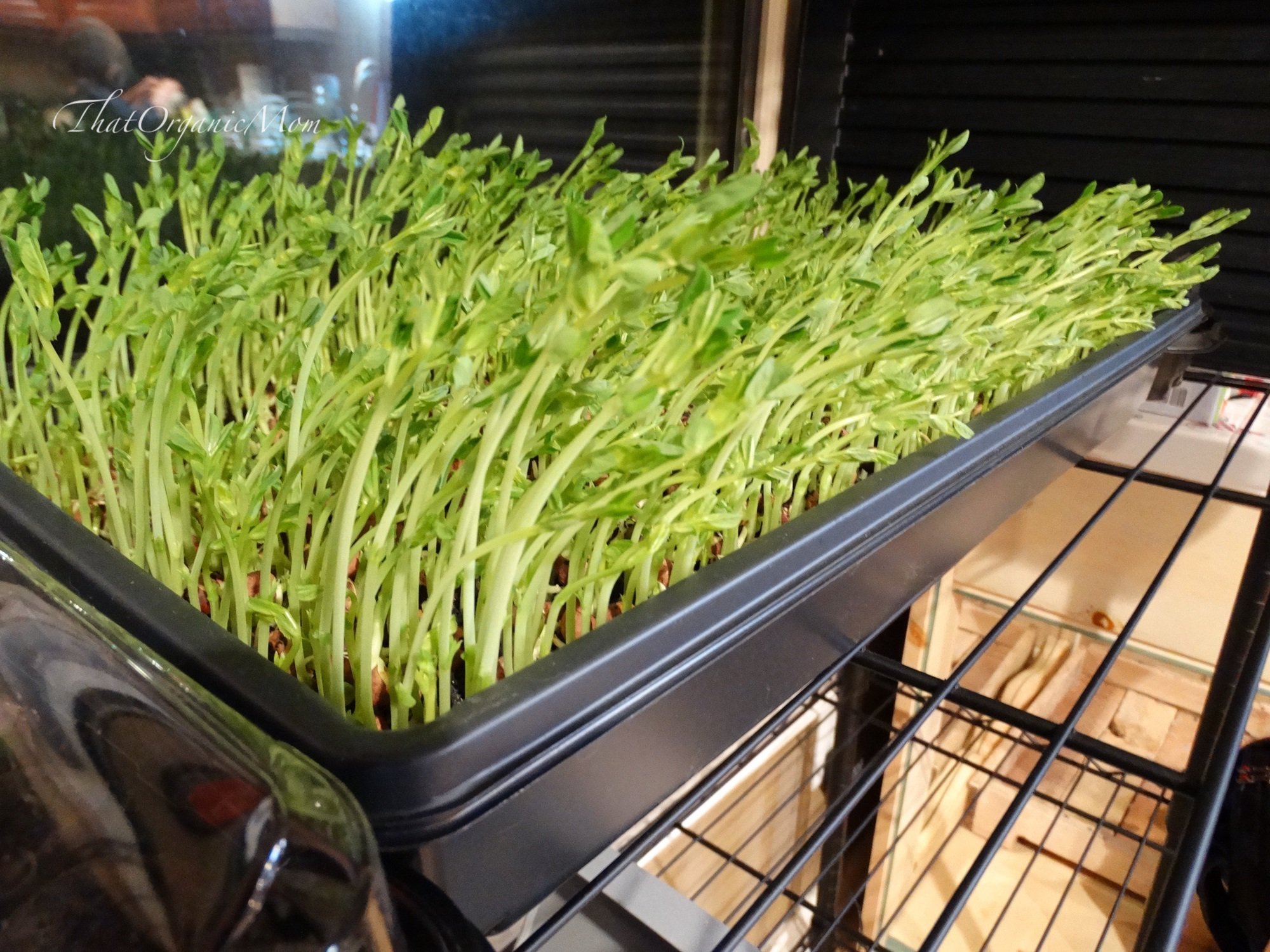 Microgreens:
are grown in soil
require sunlight and ventilation to grow
contain concentrated nutrients
have unique flavors that pack a powerful punch
are fairly easy to grow your own
can grow in one to three weeks
contain the first set of leaves but not fully grown
leaves and stems are eaten
are commonly used as a garnish
Sprouts:
are grown without soil
are germinated seeds
can be harvested in less than a week
need very little light to grow
contain nutrients, enzymes, protein, and fiber
stem and seed of sprouts are eaten
adds crunch to whatever you put them on
Also, noteworthy, microgreens differ from "baby greens" as they are cut earlier, at a younger stage. If one were to let a tray of microgreens continue to grow, they could harvest baby greens.
Microgreens add visual appeal to a dish, which is why many chefs use them in the kitchen. They may have been put there for visual appeal, but they add a lot of value to the nutritional profile of your meal.
Microgreens are loaded with the same nutrients as the mature plants only more concentrated. Some studies say up to forty times more nutrients are contained in microgreens.
Eating microgreens is an efficient way to load up on vitamins C, E, K, Lutein and other essential nutrients. They contain fiber, protein, and enzymes too.
Microgreens are delicious in salads, on sandwiches, or to top a bowl of soup. Use your imagination to dream up lots of ways to incorporate microgreens into the dishes you create.
Here are a few microgreens suggestions:
Amaranth
Basil
Beetroot
Broccoli
buckwheat
Cabbage
Chervil
Cilantro
Daikon Radish
Garlic Chives
Kale
Komatsuna
Lettuce
Millet
Mustard
Mizuna
Parsey
Sage
Pea
Salad Mix
Spinach
Sunflower
Thyme
Wasabi Nasturtium
I love beet microgreens and radish too. One of my favorite microgreens is the pea shoot. Pea shoots lend an amazing flavor to salads and sandwiches. They are a little hardier than some of the smaller microgreens.
We've been making pea shoot salad since 2005. I would keep a tray of growing pea shoots on my kitchen counter. Pea shoots are a great starter microgreen as they are quite easy to grow.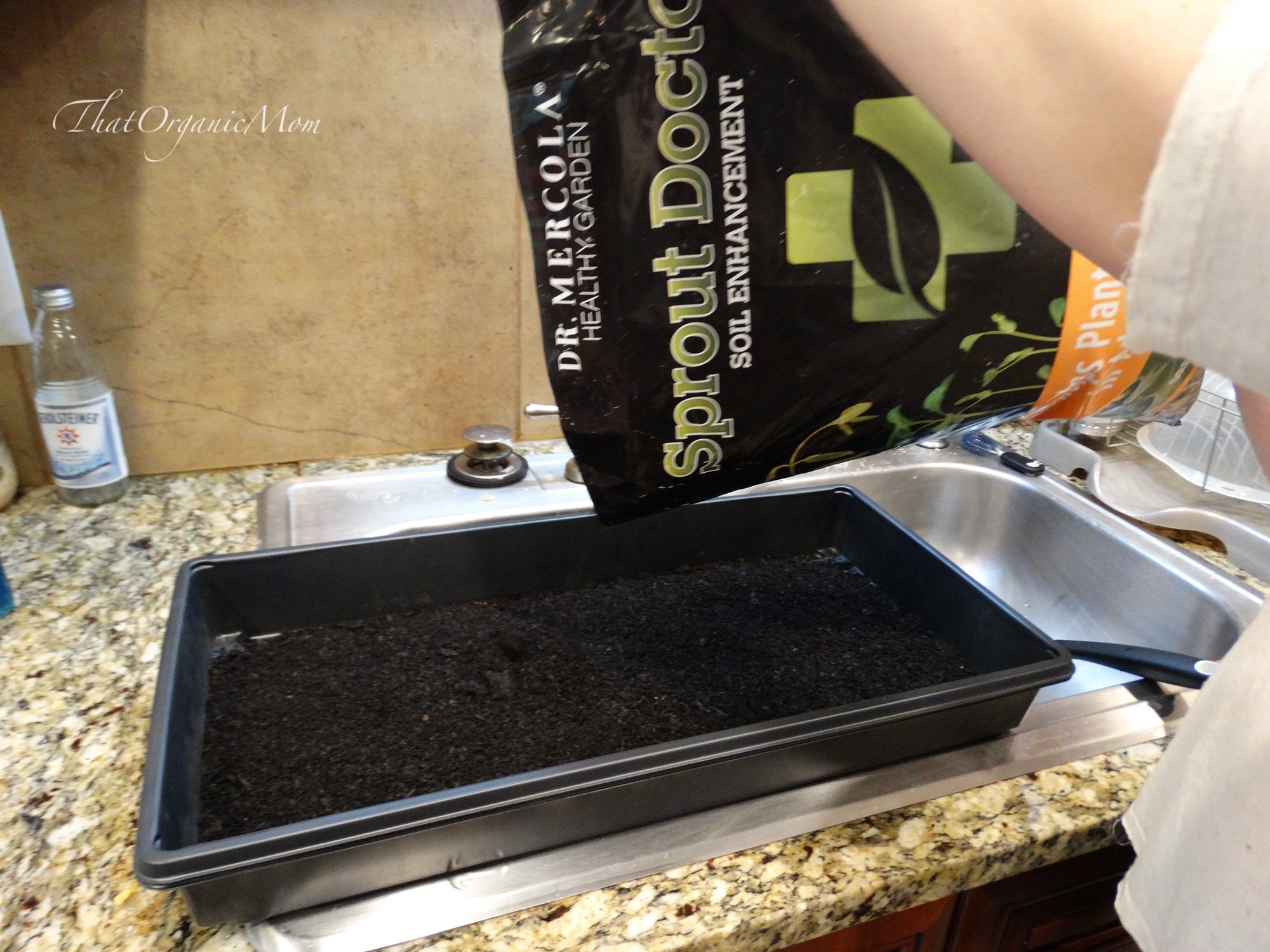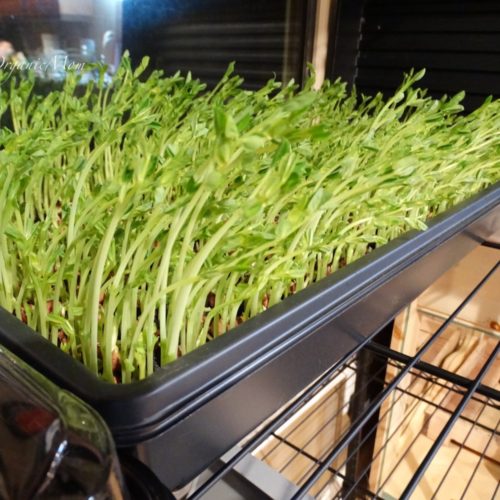 Pea Shoot Microgreens Salad

Dairy Free

Vegan

Vegetarian
Light, flavorful, and overflowing with nutrients!
Ingredients
4-6

cups

pea shoots

1

cup

snow peas

blanched

1/3

cup

Coconut Aminos

1/2

teaspoon

toasted sesame oil

1-2

teaspoons

Sesame Seeds

2

tablespoons

Rice Vinegar

2

teaspoons

Honey

dash Pepper Flakes

Diced jalapeno

optional
Instructions
Blanch snow peas (remove sting if necessary)

Add peashoots and snowpeas to salad bowl

Mix the rest of the ingredients in a jar

Pour dressing on peashoot salad and mix

Enjoy
Microgreens are perfect for those who would love to grow some of their own food but do not have space, time, or energy for a full-blown garden. Microgreens can be grown in a sunny window in the kitchen, a small patio, or on a covered deck. The most important thing it takes to grow microgreens is sunlight.
To grow microgreens soak the seeds overnight. The following morning fill a tray with an organic potting mix, vermiculite, cocopeat, or worm castings. Drain the water from the seeds. Lightly spray the soil with water to wet slightly, spread the seeds on top of the mixture, pat down carefully then cover the seeds with a bit more of the soil, perhaps less than a quarter inch.
When microgreens have 2-4 leaves they are ready to harvest. Some types of microgreens can be harvested several times. After the second or third time, the contents of the tray can be added to the compost, and a new batch can be started.
Wheat and Barley grass and other microgreens in the grass family can be grown in a tray lined with unbleached paper towels covered with about half an inch of soil.
Sprouts are fairly easy to grow as well but have a wider margin for error. To grow sprouts seeds are first soaked in water then drained, and rinsed frequently while they grow. Sprouts require humid conditions to sprout and grow; ironically these conditions are also ideal for the growth of certain bacteria. Like most fresh produce, there is a risk of bacteria.
If harmful bacteria are present in the seed bacteria can grow in sprouts. The FDA works with the industry to detect and reduce contamination.
FoodSafety.gov recommends cooking sprouts to kill any potentially harmful bacteria. Many people, myself included do eat sprouts without cooking. If you are pregnant, elderly, or a child, or if you have a weakened immune system the foodsafety.gov website recommends requesting that raw sprouts not be added to your food.

Reference:
https://www.foodsafety.gov/keep/types/fruits/sprouts.html