Last Updated on June 29, 2022 by Rebecca Huff
Ratatouille is a French dish said to originate from Nice. The ingredients for this dish are found in most street markets and grocery stores and is an excellent way to increase your vegetable intake in a budget-friendly way. The dish is simple to make using easy to find (or grow) vegetables. Ratatouille is typically sautéed and served as a side dish or stew
The vegetables are the highlight of this dish, so look for the freshest organically grown produce you can find. When it comes to vegetables that we eat with the skin on, it's important to go organic. Eggplant, zucchini, and bell peppers should be purchased organic if at all possible.
Always wash produce thoroughly, but especially if you can't buy organic. Soak your produce in a sink full of water with a splash of white vinegar.
The Veggies
Let's talk about zucchini. If you are growing zucchini, keep in mind that the best tasting are the small and medium ones. If you are showing off your giant zucchini that is as long as your arm, you're doing it wrong. Trader Joes sell out of "baby zucchini" because it tastes better than big zucchini. When you are buying from the farmers market or grocery store, look for smaller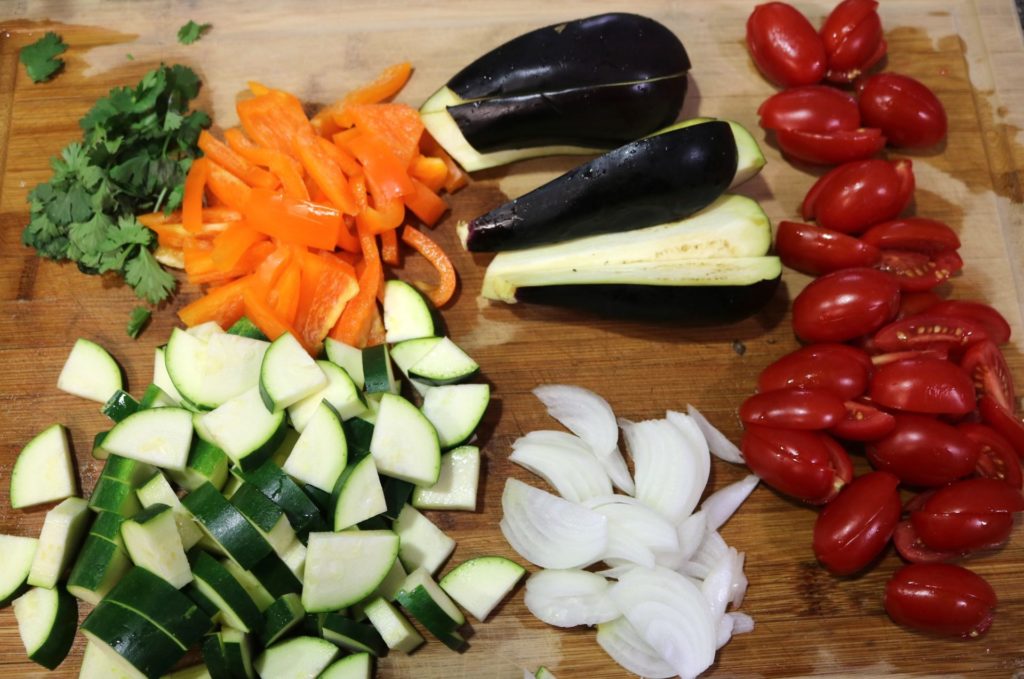 I like to lightly caramelize my onions and peppers before adding in the zucchini and eggplant so as not to end up with overcooked veggies. When you overcook the vegetables they almost take on the same flavor, so don't stir excessively and don't cook till they're mushy.
While you are caramelizing the onion and peppers, you can allow some of the liquids to drain from the eggplant and zucchini by salting them lightly and letting them sit in a colander over a bowl. This process is called degorgement.
Degorging is the process of drawing moisture from vegetables before cooking and it prevents a soggy, runny finished dish. You'll be glad you did this, so don't skip this step.
This dish is an excellent way to increase your vegetable intake since one meal most of us tend to skip veggies at is breakfast.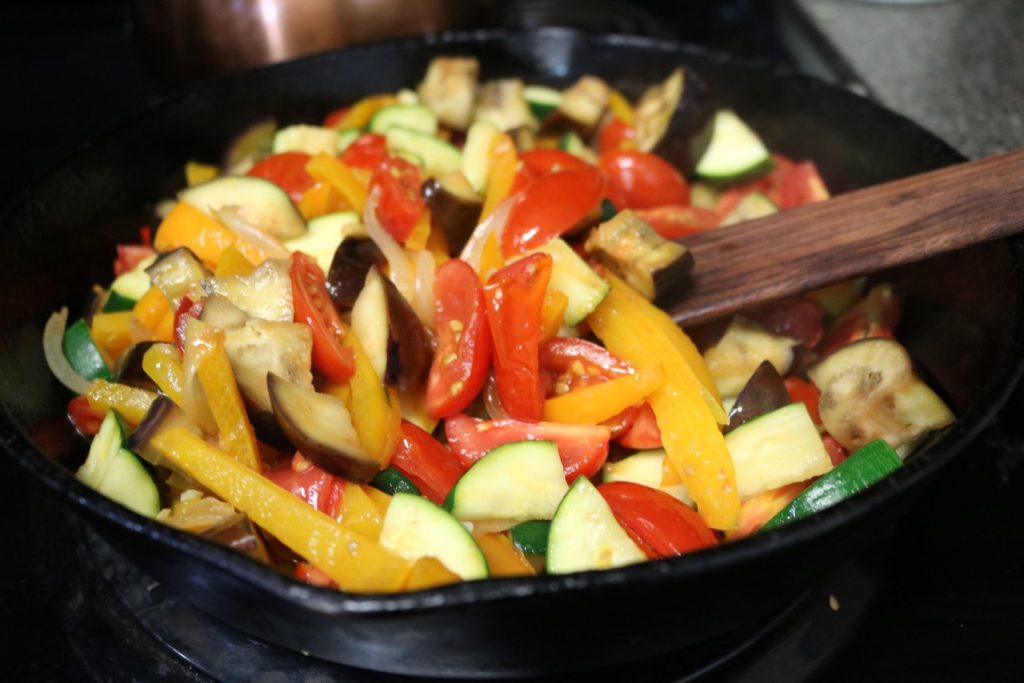 When I make a ratatouille omelette it's usually for Sunday brunch, since it requires a bit more work. The total time to prepare this dish ends up being around 20-25 minutes.
While we're already chopping and cooking, why not go ahead and saute enough vegetables to have again the next morning? This kind of thinking will eliminate the need for big meal prep days. Always think ahead to the next meals.
Ingredients for Ratatouille Omelette Recipe
small eggplant
small zucchini
bell peppers any color, my favorite is a red pepper
onion
tomatoes
4 large eggs
salt and freshly cracked black pepper
goat cheese, optional
1-2 small cloves garlic, optional
fresh basil or fresh parsley, optional garnish
A lot of people use olive oil for cooking an omelette and that's fine, but I prefer to use grass-fed butter or ghee. My husband loves butter and I'd rather use it than oil.
Cheese and eggs are divine, am I right? We don't want to leave the cheese out of this dish, unless you are intolerant to dairy. My preference is goat cheese. Not only do we love the taste of goat cheese, but it is also easier to digest. However, if you only have cheddar, parmesan, or feta, they also work nicely.
One key to getting an excellent omelette is to avoid rushing the process. Instead of using medium-high heat, I prefer to use low heat. On an electric range that goes from 0-9, I would start out at 5-6 just to get the butter bubbly. As soon the egg mixture goes into the frying pan, I would reduce heat to about 3-4. When in doubt, just use medium heat.
Once the egg mixture is set around the edges of the pan, use the spatula to lift the omelette while tilting the pan to let the uncooked egg mixture run underneath the cooked part.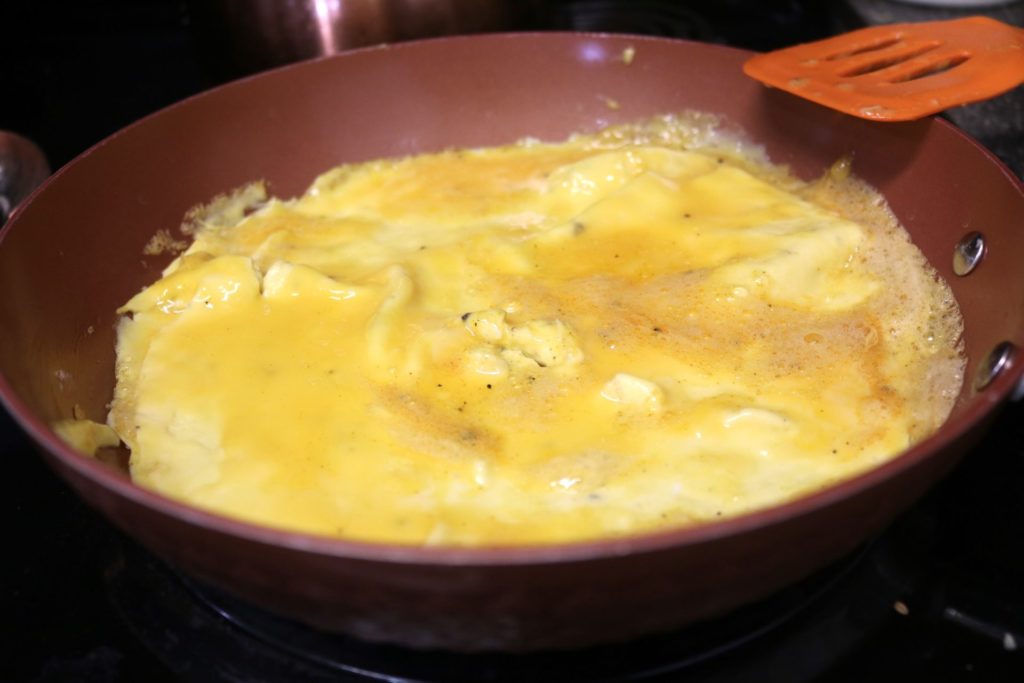 When the eggs are mostly set, add some of the vegetable mixture and goat cheese.
It's also nice if you have a spatula wide enough to flip your omelette! There are pans made specifically for this dish, but you can definitely get by without one. After you add the filling ingredients, it's time to fold over.
This may take some practice, but you'll get the hang of it after a few tries. If you tear up your omelette, it will still taste good, so don't worry!
Other ways to use this recipe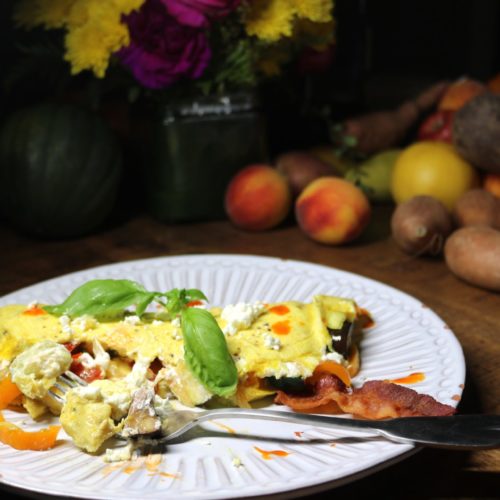 Ratatouille Omelette with Goat Cheese
Combining two delicious and nutritious dishes to make something new.
Ingredients
1

small

onion

diced

2

small

zucchini

medium diced

1

small

eggplant

medium diced

1

bell pepper

diced

1/2

cup

sliced

grape tomatoes

4

eggs

1

tbsp

water

1

pat

butter or ghee

2

ounces

goat cheese

crumbled
Instructions
Saute onion and bell pepper in a pan with a pat of butter, until caramelized lightly.

While onions and bell pepper are cooking, salt the eggplant and zucchini and put in a strainer over a bowl to remove some of the water.

Whisk eggs and water together in a bowl until well combined, add salt and pepper.

Add zucchini, eggplant, and tomatoes to pan along with the onion and bell pepper.

Once the vegetables are cooked (not mushy) set them aside.

Over medium heat, add butter or ghee to omelette pan and allow it to start bubbling, but not browning.

Once bubbly, add eggs to buttered pan, then turn down one notch, allowing the egg mixture to set.

Gently lift egg mixture to allow the runny eggs to go underneath the cooked part, repeating until no runny egg remains.

Add vegetable mixture and crumbled goat cheese to the omelette, then fold the top over, and turn off heat.

Carefully, plate the omelette and garnish with microgreens, basil, or parsley and hot sauce, if desired.
Notes
You can make one big omelette to cut in half or you can divide the egg mixture and make two separate omelettes.
Ratatouille frittata, scrambled eggs, and quiche can all be made with this recipe if you like. For scrambled, just add the eggs to the pan once the vegetables are cooked. To make a frittata, mix it all up in a bowl then add to a buttered pie pan. For quiche, add egg and veggies to a pie crust and bake.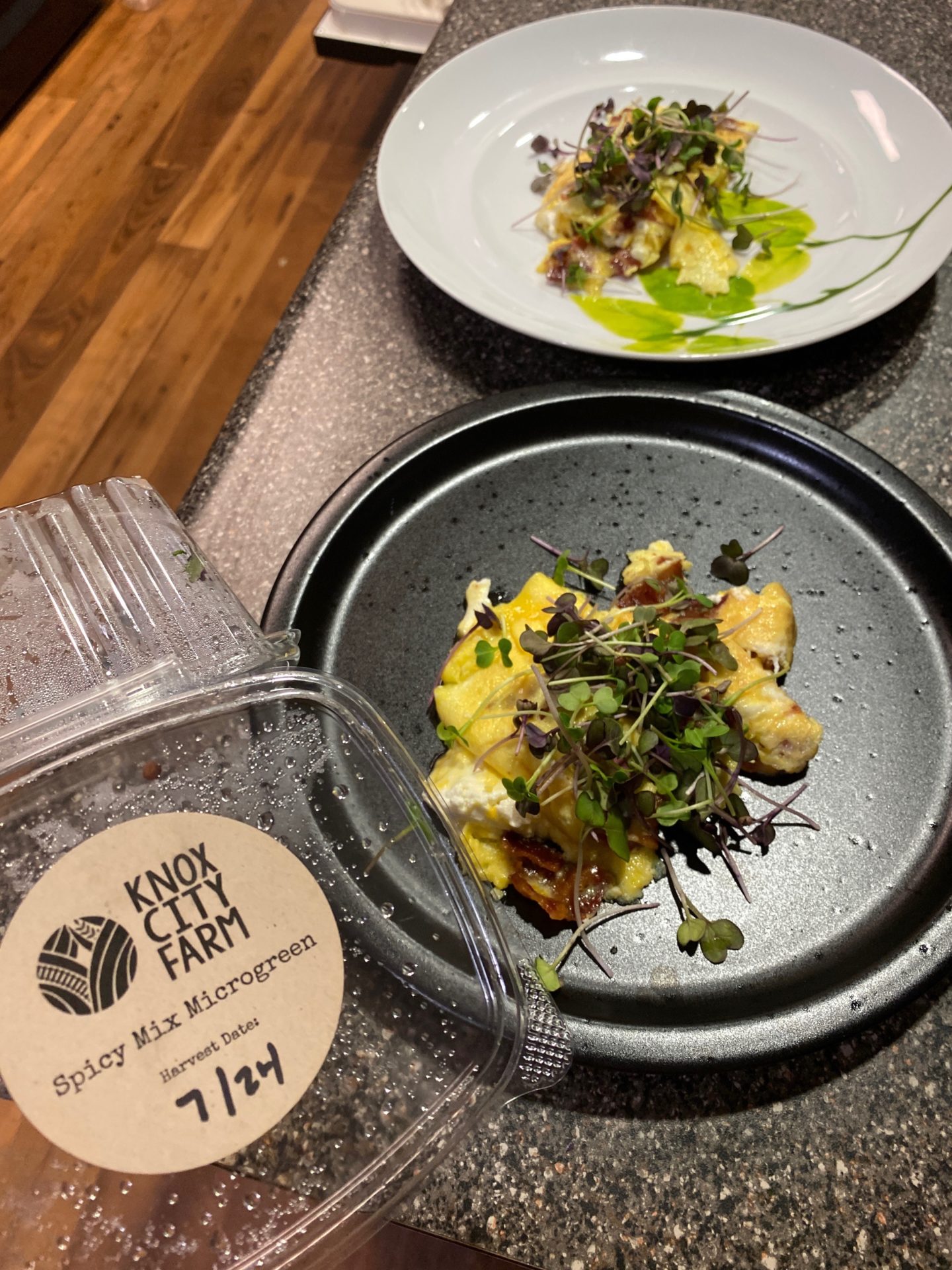 For a family, double the recipe; or for a crowd, quadruple it. It's easy and you don't have to go by exact measurements. This is not like baking a cake where it has to be measured precisely.
My food is not typically fancy, but I will say, you can make even the scrambled version of this dish look professional by topping it with some microgreens.
By the way, you can spell it omelet or omelette, both spellings are correct. After I published this post, I had a couple of people ask me why I spelled it wrong. Apparently, omelet is the American spelling and omelette is the modern French spelling. No idea why I've always spelled it the French way!