Table of Contents

[Hide]

[Show]
Last Updated on June 29, 2022 by Rebecca Huff
My turmeric ginger refresher recipe was born of a mistake! So my mistake happened placing an order on Instacart from Whole Foods; I accidentally ordered a pound of turmeric when I meant to order one piece of root.
Anyhow, I didn't want to waste and in my effort to use it up, I started experimenting with various ways to use this amazing superfood. Over the next few weeks, I tried turmeric in rice, mixed with eggs, added to soups, and beverages.
Turmeric is an amazing healing food. Studies show that turmeric is an anti-inflammatory which is why many of us take it as a supplement. Adding a bit of turmeric to recipes is also a way to increase your intake.
Turmeric Ginger Refresher is an easy and delicious way to get the nutritive benefits of two superfoods and if you add honey, make that three superfoods. Most times I make my turmeric ginger refresher with stevia, but my kids prefer honey.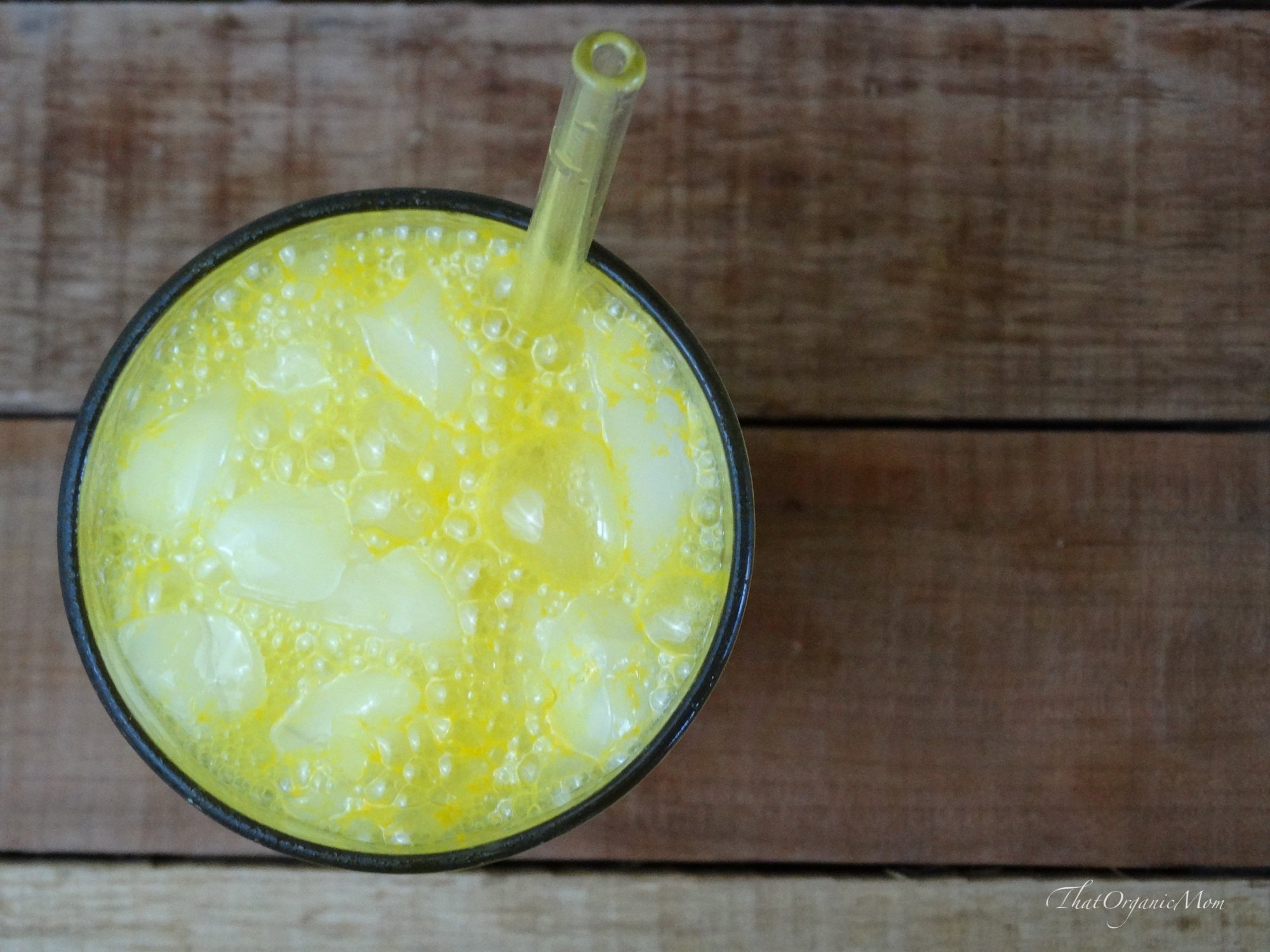 Jump to Recipe
By the way you'll notice that I use a glass straw. That's because I stopped buying disposable straws. Take a minute to think about how many plastic straws you have used in your lifetime. Let's say in your life; you eat out three times per week and each time you receive a plastic straw with your drink. If you live to be eighty years old, you will have used 12,480 straws. Did you know, in America, we use 500 million plastic straws daily? Every. Single. Day.
According to the National Park Service, our straw problem would fill over 125 school buses with straws daily. In other words, 46,400 school buses full of straws per year.
Do you recycle your straws? Neither did I. Recycling centers typically don't have straw recycling because they get stuck in machinery.
So we're talking about 500 million pieces of plastic going in the trash on a daily basis. Personally, I find this mind-blowing. The plastic never entirely breaks down, but the smaller pieces end up contaminating waterways and other wildlife.
Quick and easy Turmeric Ginger Refresher shortcuts
If you have extra turmeric and ginger (and you can add the citrus in as well) freeze it in cubes then all you have to do is pop a cube in the water and mix! Shawna juiced a bunch of my turmeric root along with ginger and lemons and froze the cubes for later use. Keep the cubes in a container in the freezer for up to 3 months. Sorry about the picture quality below, but you get the idea of how simple it is to juice and freeze the cubes. It's okay if your ginger to turmeric ratio is not perfect, it will taste good all the same.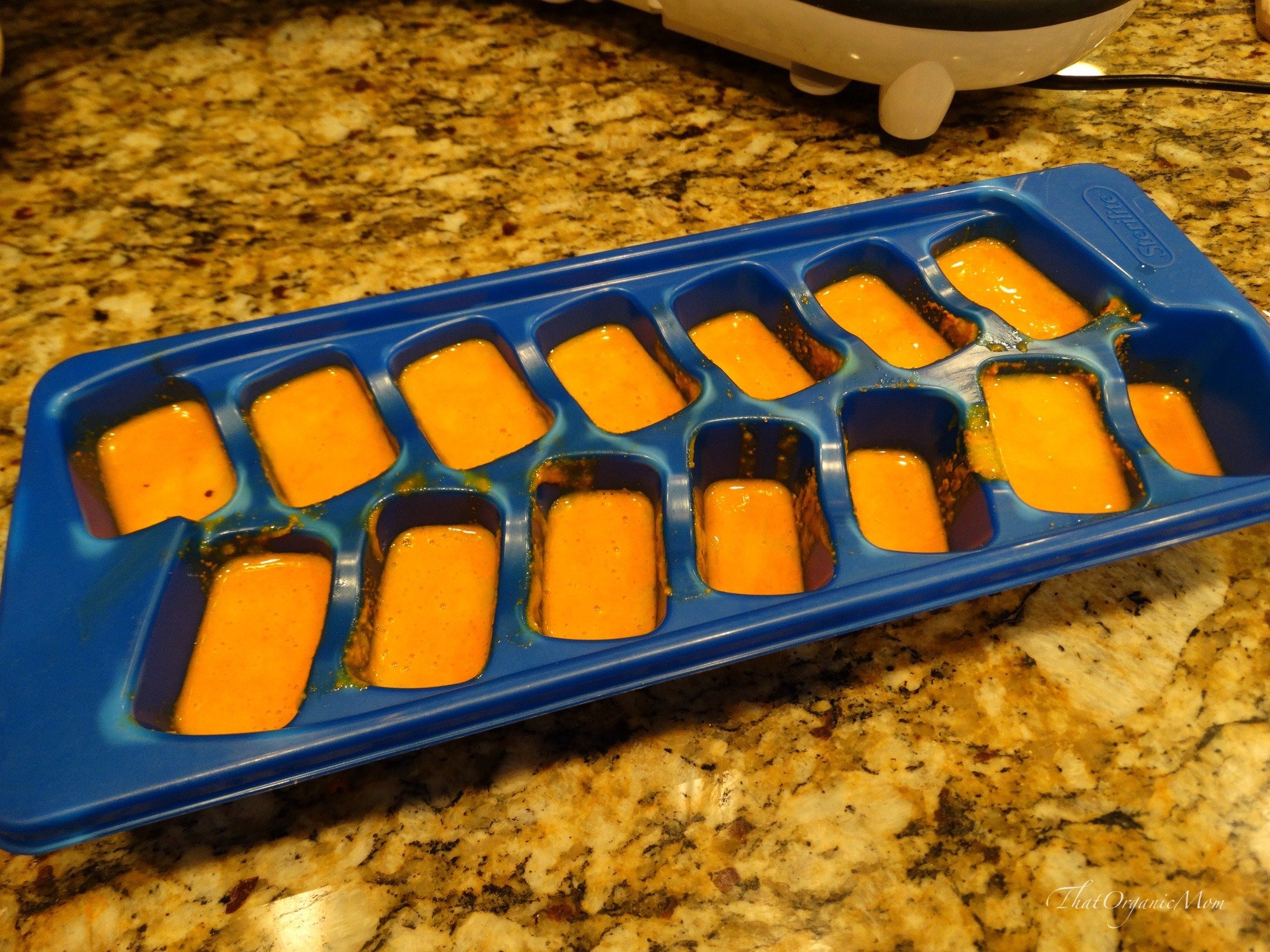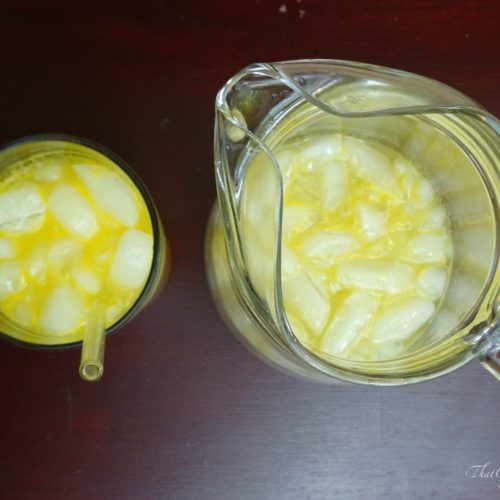 Turmeric and Ginger Refresher

Dairy Free

Gluten Free

Paleo

Vegetarian

Whole 30
Kick inflammation to the curb with this winning combo. Not only is it an inflammation buster, it also is so refreshing!
Ingredients
1

knob of turmeric

about 4-5 inches

2

small knob of ginger

half the size of the turmeric

Raw honey to taste

or liquid stevia drops

Small amount of water

less than 1/2 cup

2

tablespoons

citrus juice

whatever you have, lemon, orange, lime, grapefruit

Ice

Filtered plain water or Sparkling Water
Instructions
Juice turmeric and ginger if you have a juicer.

If you don't have a juicer peel and shred the ginger and turmeric roots and use the infusion method in step 3.

Add ginger, turmeric and 1/2 cup of water to a small saucepan, heat just until the mixture starts to boil, then immediately turn off and let it sit, covered for 20 minutes.

For both juice method and infusion method: Stir in sweetener (honey or stevia).

For both juice method and infusion method: Strain mixture through a mesh screen into a glass filled with ice.

Pour water or sparkling water over the mixture and ice. Enjoy!
Notes
I typically use plain water for this refreshing drink, but occasionally I make it with 8-12 ounces of sparkling water instead. My kids prefer it with plain water and using honey for the sweetener. Don't be afraid to add more or use a different sweetener. For health purposes turmeric is best absorbed when combined with black pepper, so it's helpful to pepper your food if you are drinking this with a meal.
The picture below is 3 grams of turmeric, which is the recommended amount to eat daily. Of course, you can't overdose on turmeric but I wanted to give you a visual reference of how powerful turmeric is. This is your daily serving of fresh turmeric.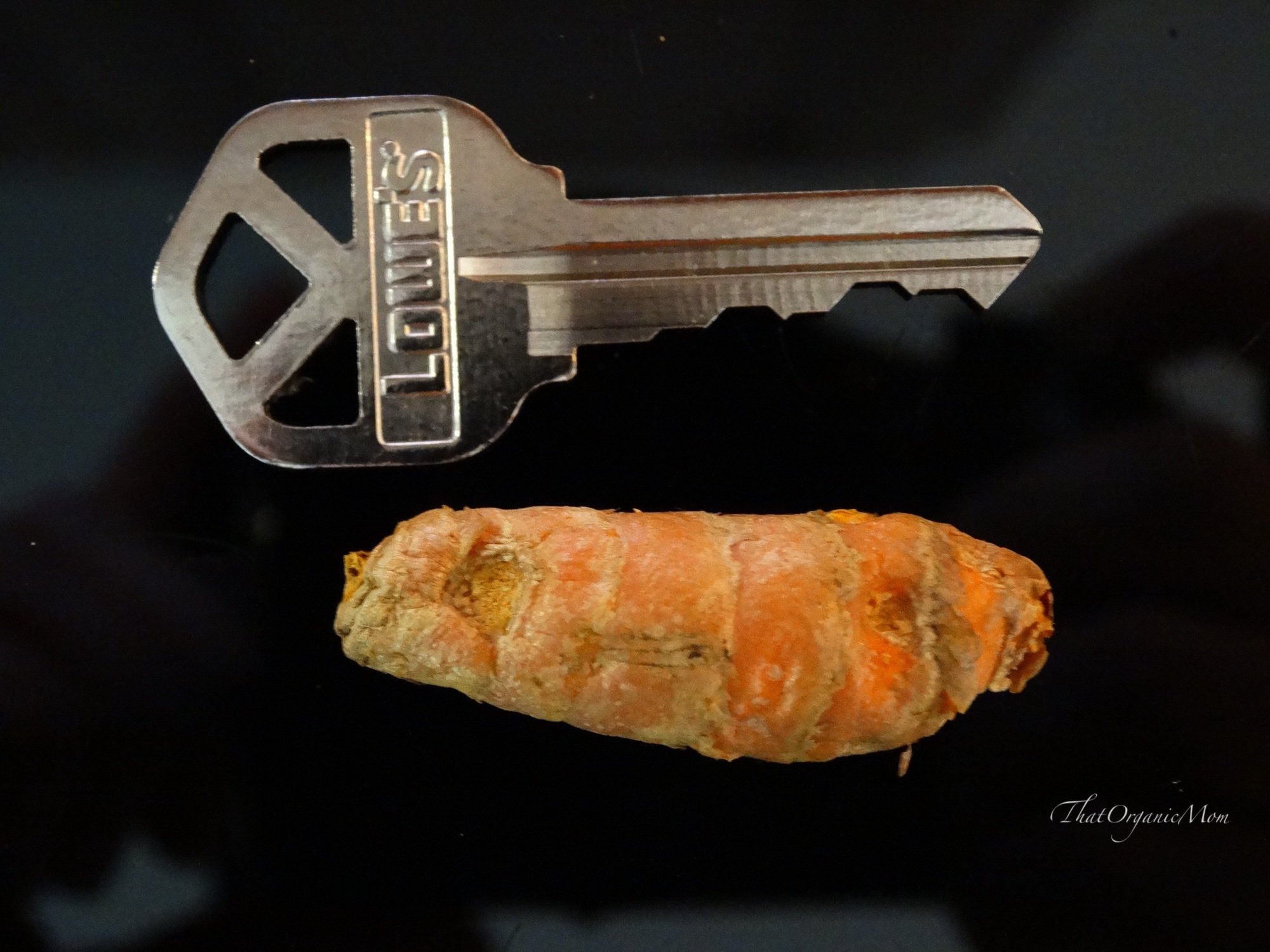 If you follow me on Snapchat you've likely seen my snaps when I make my Turmeric Ginger Refresher because I am always snapping my food!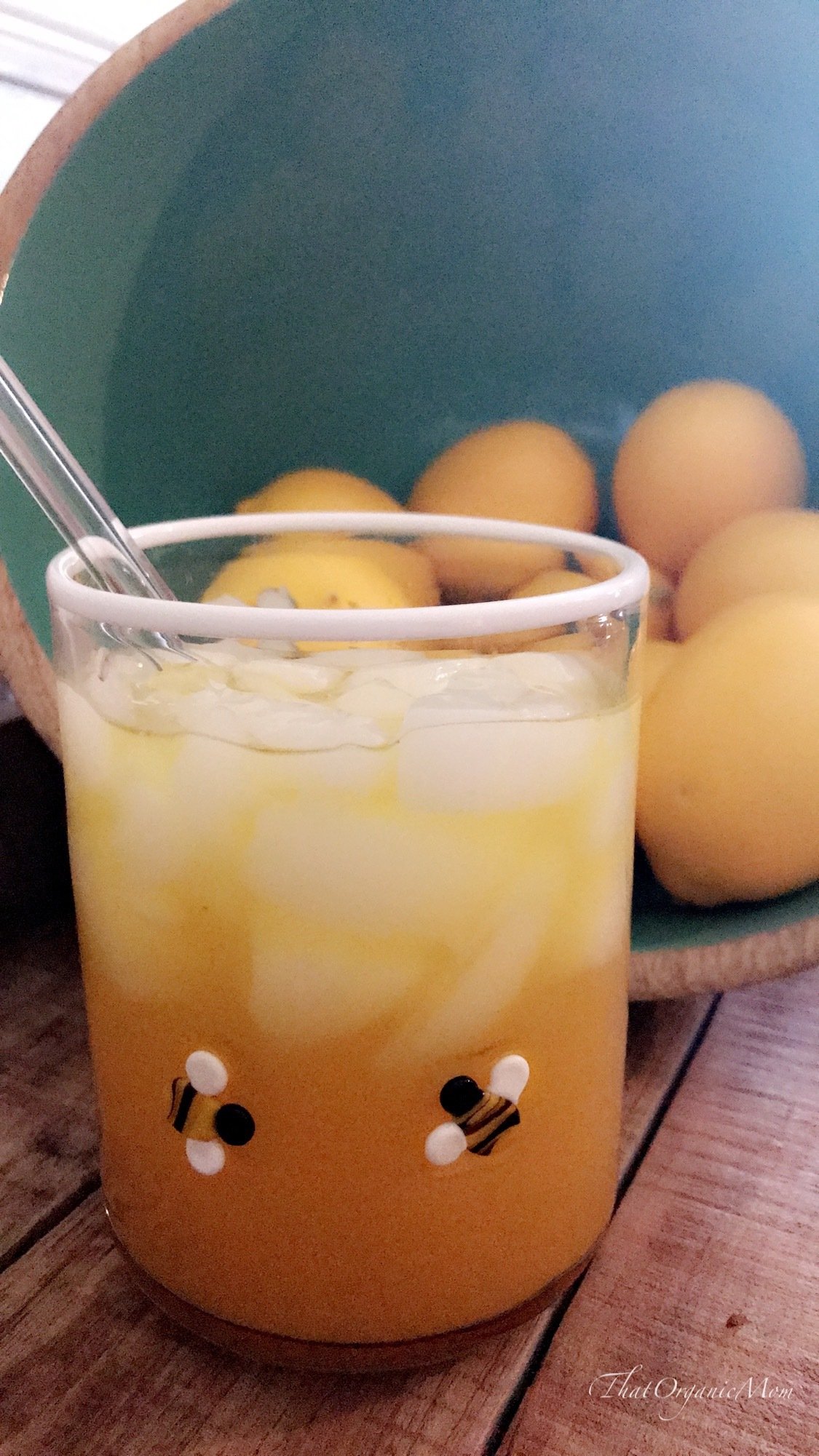 What's your favorite way to consume turmeric? I'm always trying to get more of it into my diet. Share with me in the comments below.