Last Updated on June 29, 2022 by Rebecca Huff
Back in 2017, I wrote about the trend of "bowl" recipes, and it's still a hot trend. I love all-in-one meals and making them Keto is the icing on the (sugar-free) cake! The idea of a Keto bowls recipe series came to mind one day, so I thought I'd do a quick web search to see if it had been done.
Enter Pamela Ellgen's Keto Bowls Simple and Delicious Low-Carb, High-Fat Recipes for your Ketogenic Lifestyle. After receiving a copy of the cookbook and flipping through its pages, I was ready to eat!
Requirement one was fulfilled, and that is that there are plenty of colorful mouth-watering photos. A keto cookbook has to really entice me to earn a permanent spot in my collection. This one was already at an advantage with those images.
Starting with the introduction, I felt validated as the author nailed it. My Pinterest Board is in fact filled with colorful bowl photos of all the carb-loaded bowl recipes. All the grains, all the fruit. We needed some keto recipes to fill our bowls!
Keto Bowls to the Rescue
First, if you're new to the keto diet concept, chapter one gets into the nitty-gritty of how it all works. This includes what to eat, what to avoid, useful tools, and keto-friendly suggestions. We start off with breakfast as many cookbooks do, but I'd like to point out that you can eat any of these meals for breakfast!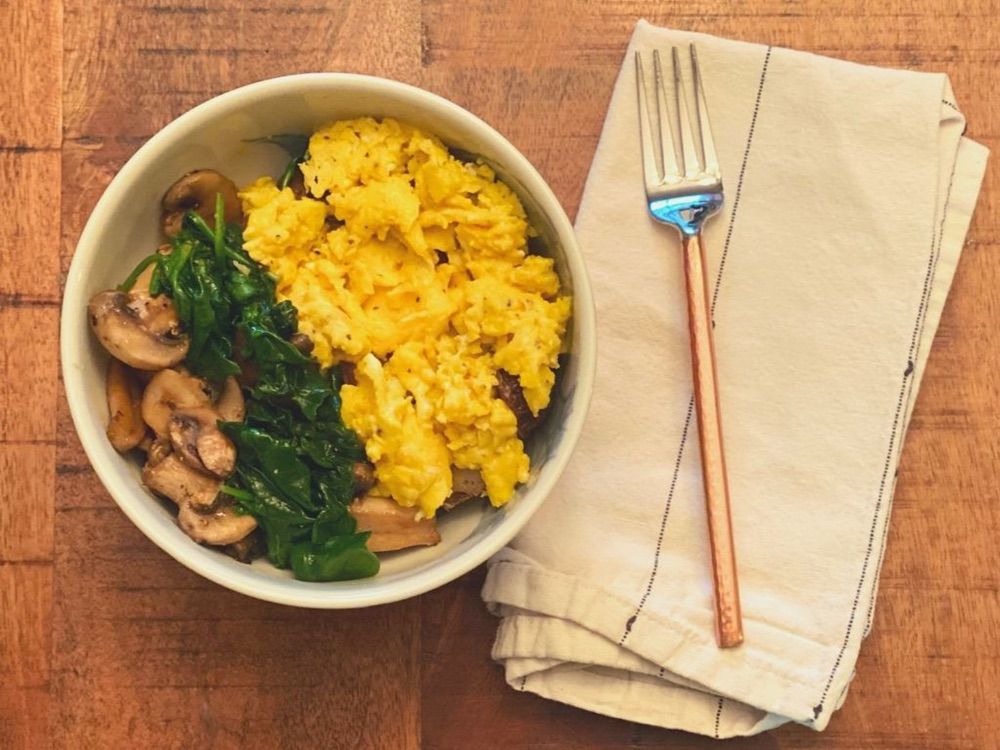 When I first started implementing the ketogenic diet, I ate three square meals per day. After a while though, I stopped doing that and only ate a meal when I was hungry. That's because the keto diet tends to eliminate cravings.
After the essentials and breakfast, the rest of the cookbook is divided up by protein, followed by a handy double-page spread on conversions.
I'm a huge fan of using meal plans and meal prep to incorporate the low-carb diet and especially to make sure that I have what I need for a keto meal even when I'm busy.
Delicious Keto Recipes for Busy People
When you're in the mood for some hearty food or maybe even comfort food, you don't want it to take forever! I like to take some of the time out of the equation by planning ahead. If you'd like a copy of my meal plan and shopping list, you can get the printable copy here.
Grab a copy of Keto Bowls on Amazon (affiliate link) and you'll be ready to go.
Anything I can prepare in advance helps me to stick to my weight loss goals. One of those things is preparing cauliflower rice and zucchini noodles in advance. You can freeze them for later and they thaw and reheat quickly. Most bowl recipes have some bulk base in the bottom, many use rice and other carbs, but most of the recipes in Keto Bowls have veggies as a base.
In the last section of recipes, "basics" there are some Mexican sides that everyone enjoys such as pico de gallo, guacamole, and salsa verde. These are excellent to have on hand for bowl recipes. Also, you can keep some chipotle pepper (the seasoning) on hand, it will lend a nice touch to your Mexican-style keto dinners.
Keep a batch of the nut and seed granola with olive oil on hand, it's dairy-free, gluten-free, and vegan. The crispy texture will satisfy your need for something crunchy. For keto snacks, the granola also works on top of a bowl of Siggi's triple cream yogurt.
If your entire family eats keto, all the more reason to plan ahead and have some basic keto meal prep strategies to keep you on track.
Favorite Recipes from Keto Bowls
It wouldn't be hard to prepare every single recipe in this cookbook. They're simple enough to be everyday meals. I also feel like this cookbook would work for those following a Paleo lifestyle or just doing low-carb, but not fully keto.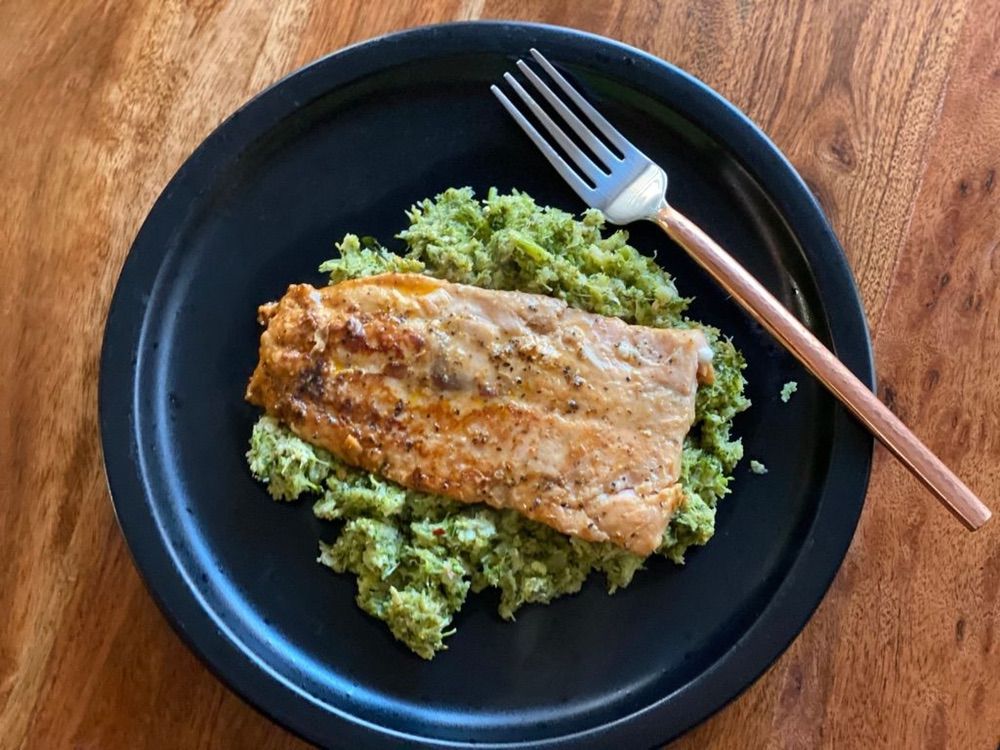 Seared Salmon and Broccoli Mash
Meatballs over Mashed Cauliflower
Tempeh Taco Bowls with Avocado, Cherry Tomato, and Lime Vinaigrette
Beef Bourguignon over Mashed Cauliflower (used my instant pot the second time I made this)
Sesame Ginger Chicken Salad
Ratatouille and Goat Cheese Bowl (in the vegetarian section)
With these recipes, you won't miss the carbohydrates, I promise. Just pile on the veggies and maybe whip up a batch of keto bread as a side, sprinkled with some parmesan and you're good to go.
What I changed in these Keto recipes
In a few of the recipes, canola oil is used. I avoid canola oil and have for decades, not just for keto. While canola is often recommended for cooking due to its high smoke point, the unstable fats it contains break down into toxic by-products. This is due, in part, to the high amounts of polyunsaturated fats.
Saturated and monounsaturated fats are more stable, and I prefer to cook with those as they stand up to heat better. You can do your own research about that topic, but it is the one thing I swapped out in this cookbook consistently.
Healthy fats are a huge part of maintaining a nutritious keto lifestyle, so it's important to get that part right.
In my mashed cauliflower, I swapped out the milk and used sour cream or heavy cream instead. I like the tartness and creaminess sour cream lends to the side dish and I don't drink milk, so don't usually have it on hand.
The other thing that I did was to add a bit more spice to the recipes. I believe the authors' concept may have been to keep it simple and that works. You still get the flavor but you're not spending a bunch of time getting out a dozen ingredients.
Having said that, I will say I love to play with spices and herbs, so I did play with the recipes the second time around. If you're a newbie in the kitchen, I'd encourage you to do the same. Amping up flavors in your dish is a fun and exciting way to bring out the best in an already good recipe.
Summary for this Keto Cookbook
As far as diet cookbooks go, this one has tasty recipes and works for staying in ketosis. I would say if you want easy keto, then use this one to add new recipes to your eating plan.
Are you in the Tasty Bite Online Cookbook Club? Join us in the community to chat about this cookbook and others!