Last Updated on June 29, 2022 by Rebecca Huff
If you're thinking about a separation with the intention of saving your marriage, you may be too overwhelmed to think about what to put into a healing separation agreement. That's understandable. It's a stressful and frustrating transition.
I think we need to change the way we look at marriage and separation. Okay, maybe not everyone, but some of us. Humans are living longer and that means that if we still marry at the same age as our ancestors, we will have longer marriages.
For those who marry young, you may never have lived alone. If you live with a partner who gets on your nerves, you may start daydreaming about what it might be like to have your own space.
Maybe you're the one getting on your partners' nerves and you'd just like to live your life and stop worrying about annoying the person you live with. You just want to do what you do without constantly needing to walk on eggshells.
Perhaps you have started to question whether or not you are even compatible with your partner. You've gotten so far from where you were when you first got together that you're not even sure what that felt like anymore. Or worse, you don't want to remember those feelings because you're so sick of them.
Living with another human can be hard. Let's face it, none of us are perfect. A lot goes into having a successful relationship and sometimes the challenges we face are hard to unravel.
You may be blaming yourself for everything that has gone wrong in your relationship. Sometimes the opposite happens and you blame everything on your partner. Relationship problems are rarely all one person's fault, it's usually a combination.
Misunderstandings, miscommunication, expectations, mistraining from childhood, past hurt, fear, anxiety, and frustrations all start to tie you up in knots. Depending on the situation, you may even start to feel somewhat rebellious. You may begin to believe you don't even want to work on the relationship anymore because you feel it is that far gone.
At some point, you may start to have thoughts that you just can't take it anymore. When venting to your friends you may even feel angry at them because they offer advice for repairing your relationship. That may not be something you believe is possible. It feels like no one understands what you're going through and you may even think you're the only one who has ever been in a relationship this bad.
You may start to contemplate separation, but you're just not sure what to do.
The Healing Separation vs. Trial Separation
A trial separation is when a married couple chooses to spend time living separately to see if they want to pursue legal separation or divorce. Typically this is an unstructured time apart. The statistics aren't too sunny for the couple that simply splits up to wait and see.
The healing separation is a planned time apart for a specific period of time with goal of working on personal growth and building the love relationship. This can be seen as a therapeutic separation when the goal is to rebuild the connection.
A healing separation can give each of you the emotional space to let your guard down and figure out what you want. At first, you may just want a break from being uptight and angry.
If you have emotional trauma from childhood, past relationships, or your current one, it can be beneficial to see a therapist. A psychologist can help you unravel these issues so that you experience personal growth that helps heal your relationship.
The healing separation will allow you to determine and communicate your basic relationship needs to your spouse. This can contribute to the success of the healing separation.
Healing Separation Agreement form
Although writing out a healing separation agreement as described here is not legally binding, it is a contract between two people who are willing to give their word and work toward the goal of getting back together. If you need a legal separation that you can file within the court system, you'll need to hire an attorney.
Here are some areas to consider when writing your own healing separation agreement:
Length of time – how long will we spend apart. This is a temporary separation. Many couples agree on six months, but if one of you moves out, maybe into an apartment, you may need to agree on one year. 
Living Arrangements – where will each of you live? Who will stay in the family home? Do you have a mother-in-law suite or a space over the garage that can be converted? Do you have a rental or second home one of you can occupy? Will you need to rent an apartment or studio? Who goes where and how does that happen?
Financial Decisions – how will you handle money? Who is in charge of paying the bills? What will you do with savings accounts, etc.? Investments? If money is the root of some of your relationship problems, you may want to ask a 3rd party to help with this part.
Children – If there are kids still at home, you'll want to proceed with caution. A family therapist can help you decide how much to explain, what to say, and how to present the idea to your children. Make sure the children can see both parents on a regular basis. While you are focused on your own personal growth, it is important to create a support system for your children. Who can they talk to? A grandparent or family member can step in to provide extra love and support during this time.
Vehicles – Agree on who will have access to what vehicles. Best not to make any big changes during this time like transferring titles or new car purchases.
Therapy – A healing separation involves working on personal growth and learning to have a healthy relationship. Whether you are thinking about rebuilding your old relationship or looking at your partner with the hope of creating a new relationship together, you will want to consider couples therapy. (Our marriage counselor was certified in Emotionally Focused Therapy and it worked great for us. In addition, we both worked on improving our mental health by seeing a personal therapist on our own time.)
Dating – Each other! Most of us can agree that dating outside of the relationship is just going to create more problems. While you are living apart together, you will want to agree on this area. Usually "no dating other people" is recommended. Dating one another can help restore the relationship if you have some structured time together doing something fun and enjoyable.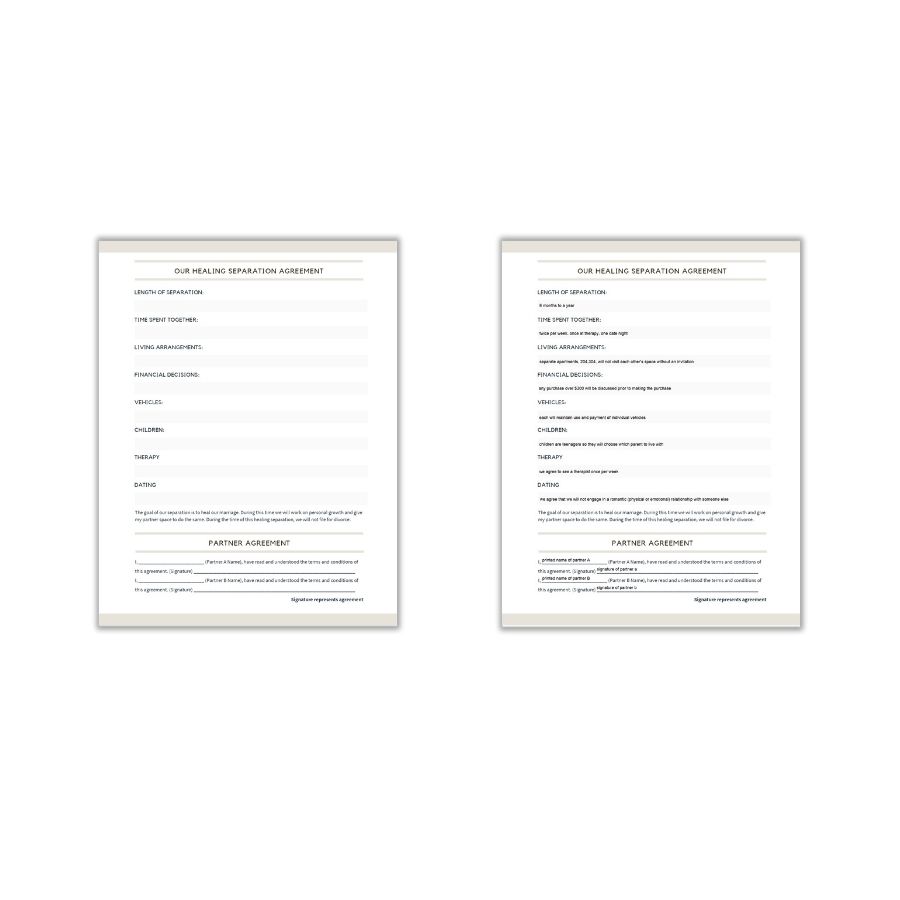 Healing Separation Agreement (Editable Online) Printable
This blank healing separation agreement is fully editable online. A healing separation agreement is a tool for couples who need to spend some time Living Apart Together with the goal of saving their marriage. Agreeing on some important issues in advance gives the separation structure and shows that both partner…
The Pros and Cons of Living Apart Together While Married
A healing separation is not to be taken lightly. There are many things to consider. Keeping in mind that unstructured separations don't usually end well, you'll want to agree on at least the basics of house separation. There are pros and cons of living apart together, and each of them will have a different weight depending on your individual circumstances.
Living apart can be a creative experience if you have the right mindset. You may be able to write your own list after some time apart!
Living Arrangements
Some couples may choose to move into separate bedrooms for a time, and that can give each of you a bit of space, however it may not be enough for healing to take place. Depending on how far gone your relationship is you may want to consider entirely different spaces.
In our experience, living in different parts of the same house didn't allow enough room for each of us to let down our guard or ease the tension. Coupled with parental stresses, it was just too much for either of us to work on emotional growth during that time.
If you have a lot of resentment, bitterness, and anger towards your partner, living under the same roof while trying to stay apart can create more tension. Everything they do bothers you. You're technically still in the same space and if it's really bad the other person's presence will still affect you. When you feel drained after time together it's a red flag.
Just them being there is a reminder of the hurt and frustration they cause you. In a way, this can actually backfire as it's just further confirmation that things will never get better.
Time to be spent together
In the beginning, phone calls may be the best you can do for time spent together. Texting is a great way to miscommunicate your message, so be careful about having texts as your primary method of communication.
As you expand that emotional space, through time apart, therapy, and couples counseling eventually, you may be able to spend more time together.
You may start out only seeing each other during counseling and then gradually work your way up to adding in a date night. (You may not want this now but as you begin counseling and see a glimmer of hope you might change your mind!) This is something to discuss and plan with your counselor or therapist. If one of you wants more than the other, it's best to wait until both parties are ready.
Note: Obligatory time together creates resentment. Needy or desperate people are not attractive. Particularly when a man appears clingy or needy it is unattractive, maybe even repulsive to women. It presents as low-confidence and it's exhausting.
Keep this in mind if your spouse is no longer attracted to you and you are trying to get them back. There's a reason for the saying absence makes the heart grow fonder.
One beautiful thing about spending time apart is that you give your partner time to miss you. If you've ever gone on a trip for more than a few days, you may have returned home to a partner who has craved your company! This is even a good recommendation for a marriage that isn't in trouble. (If you feel that your partner smothers you with their neediness, that is something to address in counseling as well.)
Even if a relationship is going fine, a healing separation can allow room for personal growth and improvement. You may have noticed that your sexual relationship with your partner is better after a time apart.
The idea that a married couple has to be together all the time may not work for everyone. If you want your relationship to stand the test of time, you and your partner will each need to work on your individual issues. What does that mean? What does it look like?
How to Work on Personal Growth
In the beginning, you may wonder if it's worth the effort to work on rebuilding your marriage. Focusing on yourself first can help you work on your relationship together. I'm not talking about always getting your way, but taking good care of yourself.
A time apart can give a couple the emotional space to untangle their thoughts and figure out what storylines are replaying in the relationship. This time apart eases tension for both of you and after some time you'll be able to see the situation in a new light.
Focus on personal growth experiences such as self-care and being healthy inside and out. Maintain your health by all means. Ways to work on personal growth:
Prayer and meditation
Finding a mentor you trust
Unraveling childhood scripts
Reflecting on your life
Setting goals for the future
Journaling your thoughts or keeping a gratitude journal
Exploring areas of interest or pursuing hobbies you enjoy
Getting the right amount of sleep
Doing exercise that you enjoy
These are just a few suggestions that may help you with your own healing so that you can move forward.
On a personal note
After I wrote the pros and cons of living apart together, I began to realize how many people struggle in relationships. I found out that I wasn't alone. Many stay miserable year after year, waiting for change, analyzing the situation, attempting to figure it out all on their own. It can be a depressing time and a horrible way to live.
If you're fighting constantly, or even more concerning, you're too apathetic to fight anymore, it's time to do something. Spending time thinking about getting away, always needing a break, and avoiding one another, are all signs that it's time to act.
Don't put off seeking a support system. Find out if your insurance covers therapy. Go for yourself, and ask your spouse to go with you to couples counseling. The longer you put it off the harder it is to repair. Plan it out, come to an agreement, do something to move towards healing. Don't wait until one or both of you pass the point of no return.
The bottom line is if you're feeling these things and you're wondering about separation but you're not 100% sure, it's past time to do something about your relationship. Relationships can be hard work, but they can also be incredibly rewarding.
Other resources
Home Alone (start at minute 12:00 for an update on our current situation)
Bundle & save with Community
Buy this printable or join the community to get access to the full resource library. All printables are included, past and future! Coloring pages, menu plans, fitness tracker, habit tracker, grocery lists, eBooks, 12 step guides, devotions, and lots more.