Last Updated on June 28, 2022 by Rebecca Huff
A while back, I got turned on to Red Palm Oil. I'd say the flavor of Red Palm Oil is something that you have to get used to unless you like really earthy foods but the benefits are definitely worth the effort!
To name a few:
Alzheimer's Disease
Cancer prevention and treatment
Macular Degeneration
High Blood Pressure
High Cholesterol
Vitamin A Deficiency
Depression, Bipolar, and Schizophrenia
Parkinsons Disease
Supports neurological health
Skin health (such as treating active cancer)
Red Palm Oil
According to research, it reduces chronic inflammation and prevents stroke. Since first learning of the benefits of Red Palm Oil, I have also read about it in Sally Fallon's book Nourishing Traditions. I highly recommend this book. I loaned my copy to an acquaintance (it had all the best notes and everything) and never got it back. *sigh*
According to Dr. Axe, it is "arguably one of the most beneficial of its many positive attributes is that red palm oil contains the most abundant amount of vitamins A and E of any plant-based oil. Vitamins A and E are praised for everything from killing cancer cells to preventing strokes. No wonder palm oil production has doubled since 1995." In addition, it is considered an amazing source of Coenzyme Q10 a nutrient needed for cell energy.
In curry recipes
Stir fries
As a moisturizer – it actually gives the skin a nice healthy glow as well
Pan fried potatoes (mostly for my children) since it's smoke point is 302 degrees it is useful for the occasional fried meal
Makes a mean gluten-free BBQ sauce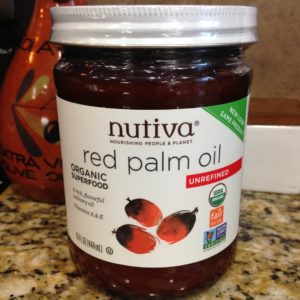 Make sure you are getting unrefined, cold pressed Red Palm Oil because sadly even these amazing benefits can be destroyed by heat refining. The particular brand I use is Nutiva Organic Red Palm Oil.
To learn more about why saturated fats are actually good for you, see this article by Dr. Joseph Mercola. I am not a doctor, so don't take my advice alone, do a little research and find out how you can take advantage of the amazing benefits of this super food!
If you have a favorite Red Palm Oil recipe, consider sharing it or the link to it in the comments below.
Don't forget to Pin this post, you may want to refer back to it later.