Last Updated on June 29, 2022 by Rebecca Huff
Today we are chatting about marital issues when things start going bad. Does a separation clearly indicate divorce? Could it save your marriage? What about divorce and separation without plans to get back together? How does all of this work and what path should you take?
Trial Separation vs. Legal Separation
In the video below we discuss the idea of a trial separation with the goal of repairing a marriage. The type of separation discussed in the video is not a legal separation. For many people, a trial separation is a stepping stone before a legal separation with the final destination being a divorce.
Legal separation requires an attorney. Another difference, a legal separation will likely not have any set goals for spending time working on repairing the relationship. The focus is more on house separation and legally separating finances.
A healing separation, like the one I mention in the video, is a time of personal growth and scheduled couples therapy. Not a time to look for a new relationship.
Does Healing Separation Work?
Healthy relationships depend on regular, healthy, effective communication. The success of the healing separation will vary from couple to couple, however in general a healing separation with a written agreement has a higher chance of success than unstructured separations.
A healing separation agreement will help both parties to work on their own personal growth while at the same time setting boundaries for financial decisions, co-parenting, length of separation, and living arrangements. One person may stay in the family home while the other seeks an apartment or other living arrangements nearby. Other ideas might include:
how much time to be spent together, when and where
agreeing to marriage counseling for a period of time
structured time together (date night or family time)
outlining each of your basic relationship needs
agreeing to give one another emotional space to heal
if/when to see a family therapist if children are involved
time frame within which to re-evaluate living arrangements
when and how often to have phone calls when not seeing one another and possibly who initiates those calls
In the case that married couples use a healing separation agreement form to arrange a therapeutic separation with a qualified marriage counselor, I believe and have experienced success with a healing separation. Not only does it give each of you time to deal with emotional trauma, it can also ease parental stresses.
Experts agree that relationship problems have a better chance of being repaired when partners agree to some ground rules and stay open-minded to a creative experience. With the addition of marriage counseling, each of you will likely become more understanding of your partner's issues.
Our Personal Success with a Healing Separation Agreement
Due to past hurt and other emotional trauma or baggage, our relationship was suffering. We decided to live in two separate apartments for a period of time. During this time we went to marriage counseling on a regular basis. In addition, we
In this podcast episode, I chat with expert David Essel about the pros and cons of living apart together. As a marriage counselor with decades of experience, David recommended a healing separation to several of his clients with great success. In that episode, David shares more about how and why this works and I share more of my and my husband's story.
Once you've had a chance to focus on personal growth experiences, marriage counseling, and other modes of healing, you may find yourself running back into the arms of your partner. That was the case with our marriage. Where many people see separation as the ending of the relationship, we've discovered instead a healthier relationship.
With our experience and many more couples I've spoken to in the last 4 years, I can say that one way to save a struggling love relationship is to give each other space to heal.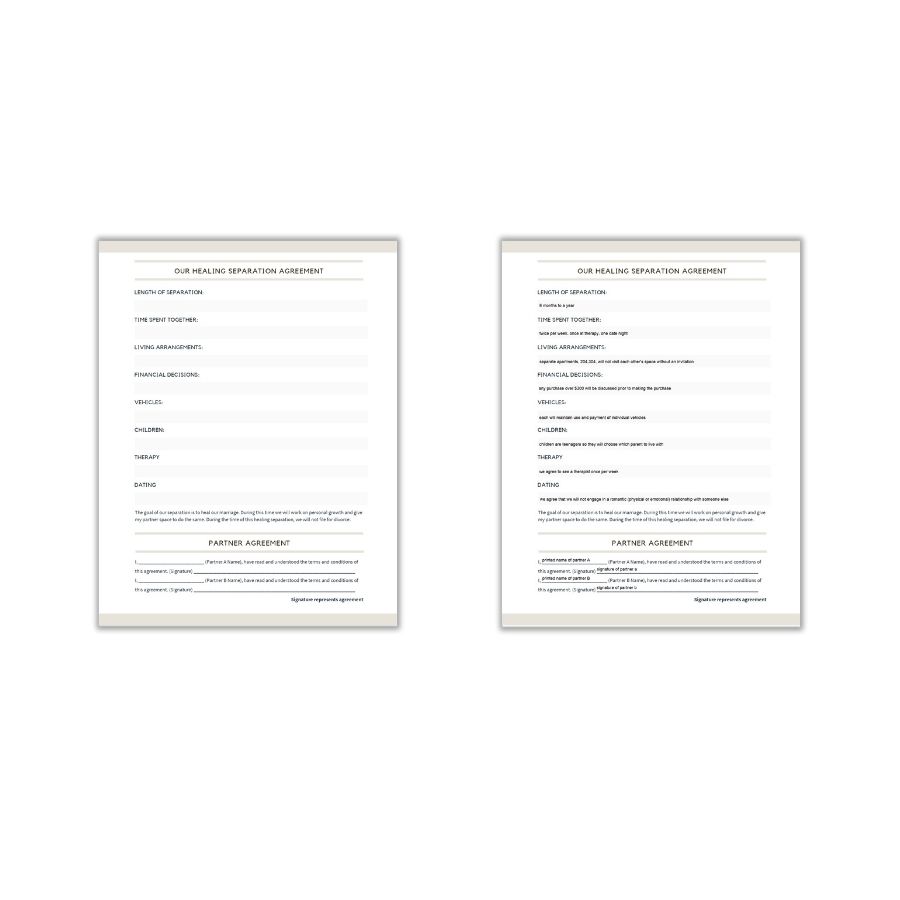 Healing Separation Agreement (Editable Online) Printable
This blank healing separation agreement is fully editable online. A healing separation agreement is a tool for couples who need to spend some time Living Apart Together with the goal of saving their marriage. Agreeing on some important issues in advance gives the separation structure and shows that both partner…
21:00 – The fan the fuels the flame
21:50 – Absence makes the heart grow fonder?
23:25 – Dating each other while separated
26:23 – A Healthy Bite – Yogurt
30:00 – Road Sign, Scripture
30:20 – Jami's Life Applications
31:50 – Rebecca's Life Applications
36:00 – Be cautious with divorce!
May 2021: Update – We're living together again, you can hear more of our story here. After spending more and more time together, and experiencing emotional growth we were able to begin enjoying living in the same house again. Although we do maintain separate bedrooms, it's more out of convenience than a need for separation. Read more about that here.