Podcast: Play in new window | Download
Subscribe: Apple Podcasts | Google Podcasts | RSS
Last Updated on August 3, 2022 by Rebecca Huff
Benefits of Kegel Exercises Throughout a Woman's Lifetime
Kegel exercises, sometimes called pelvic floor exercises, are done to strengthen your pelvic floor muscles. Strengthening these muscles has many benefits throughout a woman's lifetime.
These muscles and tissues are like a hammock or sling at the bottom of your pelvis to hold your organs in place. Keeping them strong doesn't take long, yet consistently performing these exercises will result in many advantages.
Recovery before and after childbirth
Women can strengthen pelvic floor muscles before childbirth or after a vaginal or cesarean delivery.
As Dr. Olson mentions in the podcast episode, the use of kegel weights during pregnancy can help women identify the right muscles to assist with labor and delivery.
Pelvic Organ Prolapse
Prolapse can be caused by weight gain, childbirth, hysterectomy, chronic or long-term coughing, or constipation.
Regular kegel exercise can improve pelvic organ prolapse by making your muscles stronger.
Improving Sexual Health
Healthy pelvic floor muscles can contribute to better sexual function and improves sex for both partners.
Read more about kegel exercises with weights for better orgasms.
Strengthening Weak Pelvic Floor Muscles
Weak pelvic floor muscles may be a result of pregnancy and childbirth; however, it can also be caused by surgery, heavy lifting, and chronic straining. Urinary incontinence may also be a symptom of weak pelvic muscles.
Exercising the correct muscles as part of a daily routine can help relieve these symptoms.
If you suspect you have weak pelvic floor muscles, consult your healthcare professional for an assessment. Mention any symptoms you may have and ask for a referral to a women's health physical therapist.
Improve Bladder Control
Many women experience urine leakage when coughing, sneezing, or laughing.
Kegel exercises help to strengthen the pubococcygeus (PC) muscle. These muscles are activated when one stops the flow of urine.
Stress urinary incontinence is bladder leakage that occurs with strenuous movements such as exercises, lifting heavy objects, or while coughing, sneezing, or laughing. Kegels are the best cure for urinary incontinence.
Using pelvic floor muscle exercises significantly improved quality of life in an assessment of 2400 women with urinary incontinence.
Dr. Olson recommends for those who experience urine leakage get help through a certified healthcare provider, pelvic health specialist, urology clinic, or women's health physical therapist.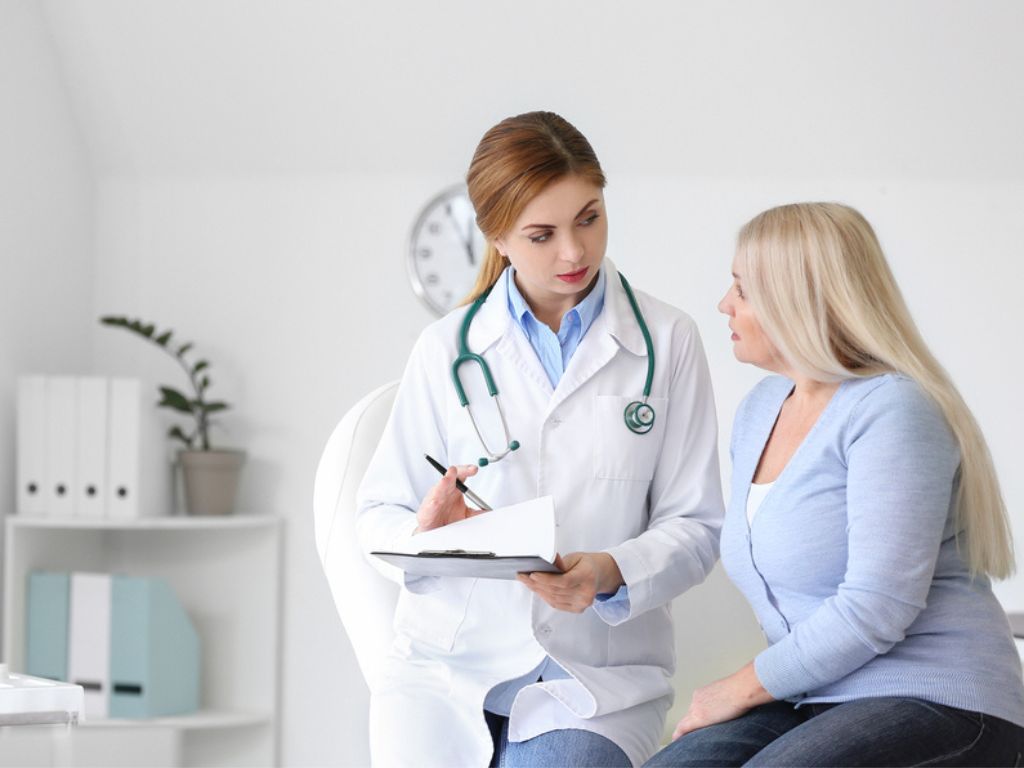 Maintain Pelvic Health During Menopause
Women may experience an overactive bladder, urinary incontinence, and other symptoms during menopause which may benefit from consistent kegel exercise.
Working out the vaginal muscles with kegel weights can be part of your exercise routine.
Do Kegel Weights Work?
According to research, the answer is yes!
Kegel exercises with weights are effective at addressing issues such as urinary incontinence and pelvic organ prolapse when they are performed in sufficient amounts. The research varies as to how many per day are necessary and for how long, however they are commonly prescribed as a contraction of the pelvic floor muscles, held for 3-5 seconds, performed in sets of 10, 3-8 times per day.
How to Use Intimate Rose Kegel Weights
You may have read about kegel balls which I have previously written about in my article about Ben Wa Balls; however, these are not FDA-approved vaginal weights. Intimate Rose kegel weights are FDA-cleared silicone and are easy to clean and use.
Starting with the lightest weight, use it for about 15 minutes daily while going about your normal daily activities. Your muscle contraction will hold it in place. As you get stronger, you can move up to the next weight.
Read more on Dr. Olson's website IntimateRose.com
Exercise for about 15 minutes a day, five days per week using the intimate rose weights. Kegel Exercises help you build stronger and tighter vaginal muscles for improved bladder control, easier labor, faster childbirth recovery, and to treat weak pelvic floor muscles.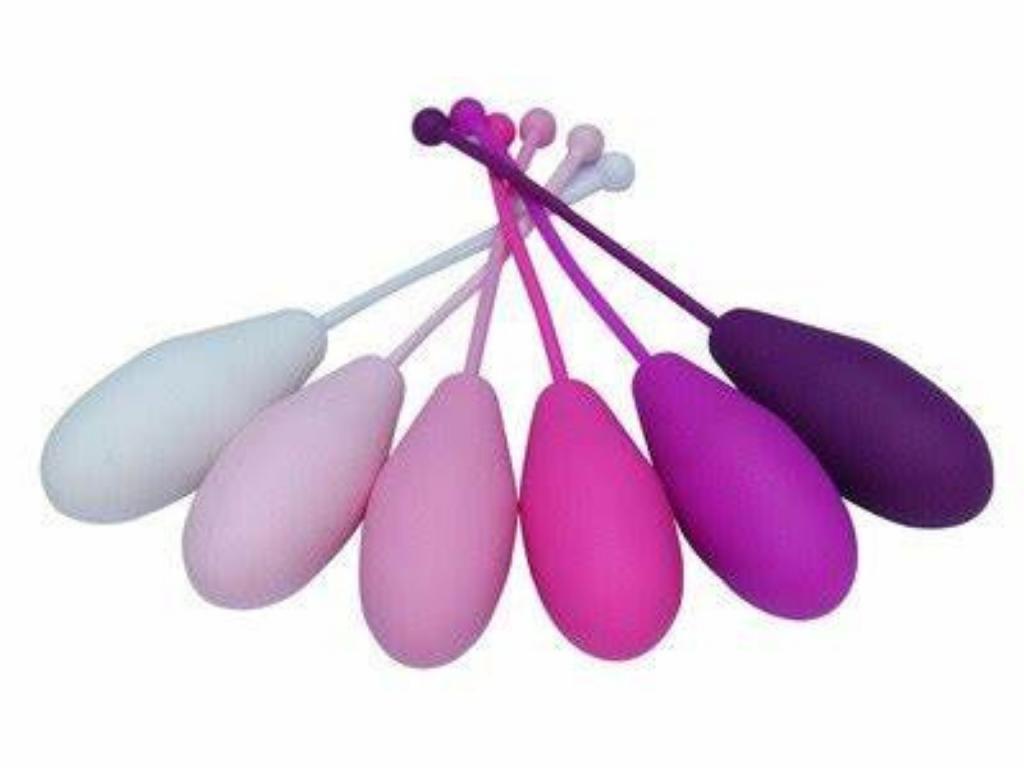 Pelvic floor exercises, with or without Kegel balls, help tighten your pelvic floor and can help with common issues in women such as pelvic organ prolapse, incontinence, bladder control and can give you stronger feeling vaginal muscles!
Meet Dr. Amanda Olson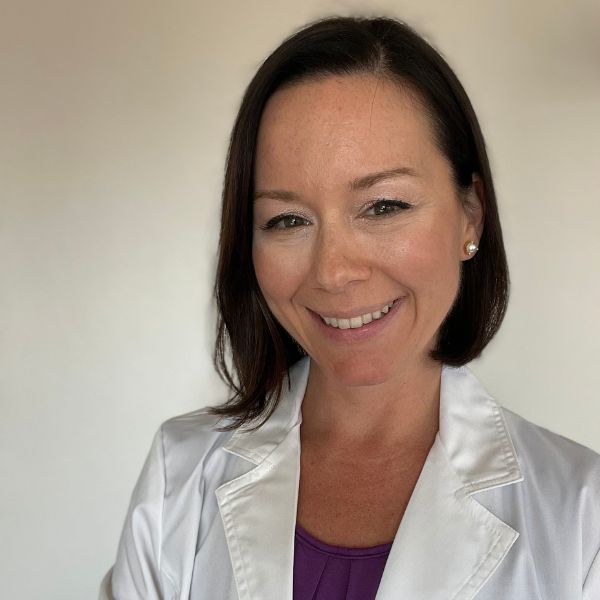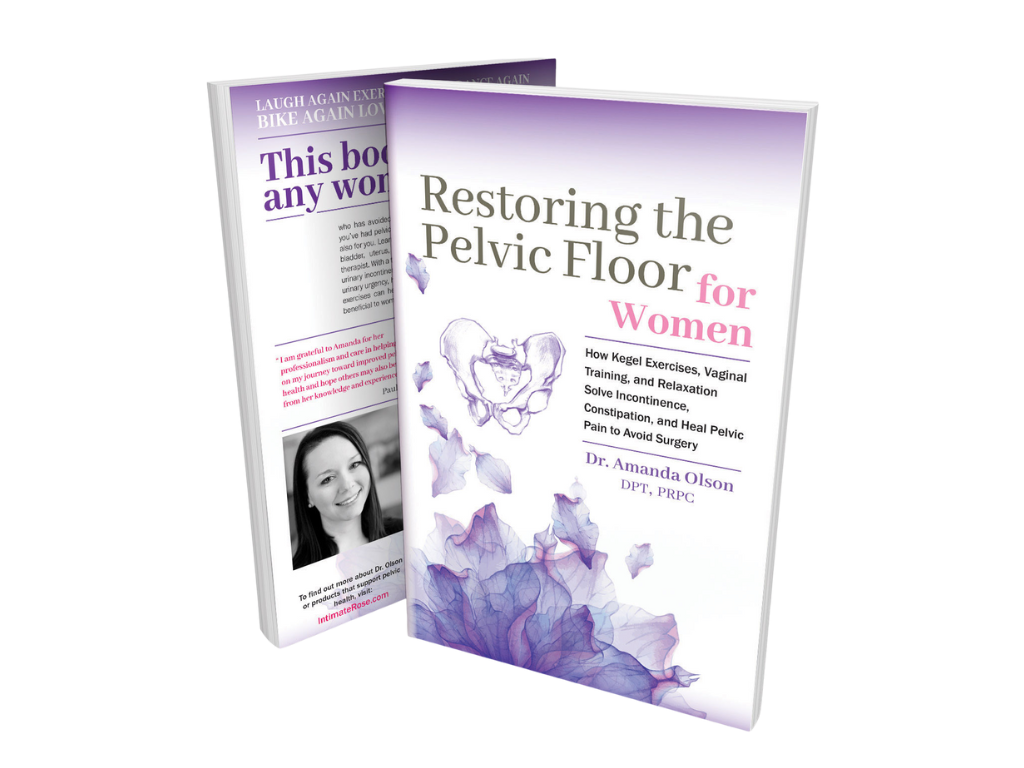 Amanda Olson, DPT, PRPC, and president and chief clinical officer of Intimate Rose. Dr. Olson is passionate about empowering all people with pelvic health issues, including pelvic pain, incontinence, and pre-and post-partum issues. She earned a Bachelor of Science degree from Pacific University and a Doctor of Physical Therapy from Regis University, graduating as a Jesuit National Honor Society member. She holds a Certification of Achievement in pelvic floor physical therapy (CAPP-PF) through the American Physical Therapy Association and the Pelvic Floor Practitioner Certification (PRPC) through the Herman and Wallace Pelvic Institute. She is also a certified Stott Pilates instructor and RRCA-certified running coach. Dr. Olson teaches various pelvic health topics internationally, including pelvic floor dysfunction in runners. She has written several physical therapy continuing education courses, peer-reviewed journal articles, newspaper and magazine articles on pelvic floor dysfunction and running, and authored the book Restoring the Pelvic Floor For Women.
Sources

Radzimińska, Agnieszka et al. "The impact of pelvic floor muscle training on the quality of life of women with urinary incontinence: a systematic literature review." Clinical interventions in aging vol. 13 957-965. 17 May. 2018, doi:10.2147/CIA.S160057
Transcripts

Interview with Dr. Amanda Olson

[00:00:00] Rebecca: I am here today with Dr. Amanda Olson and we are talking about something that is very important to women throughout their lives, and she has some great information.

So I'm excited to get started. Can you tell us a little bit Dr. Olson, how you got started in the field of women's health.

[00:00:17] Amanda: Absolutely. I I've been doing pelvic health for almost 14 years now, 14 years. And I finished my doctorate degree in physical therapy and I had a, I had an injury where I fell from 40 feet or jumped off of a cliff here in Oregon out

camping and, and being out in nature. And it was one of those places where it's it was deemed safe to be doing cliff jumping and I'd never done it before and off the cliff I went and I landed on my bottom and injured myself very significantly. And I had to go through the pelvic health rehabilitation process because I

severely injured my pelvis and all of my pelvic floor muscles and my tailbone. And I, I, it totally changed my life. You know, it was one of those very scary things where it could have gone a lot of different ways, but I was, I was able to totally heal with the help of pelvic health rehabilitation with a colleague.

And I went on to have two boys and run marathons and do all kinds of interesting things. So it, it made me change course at the end of my rehabilitation process. My pelvic health physical therapist said you need to quit pediatrics, which is what I was specialized in at the time I had done my doctoral dissertation on children with down syndrome and I was in a totally different field.

And she said, you need to quit pediatrics. It's still a good field, but you need to come and do this cuz there's not enough in the country. And we need more. And so that was roughly 13 years ago, 14 years ago. And I went back and had to re-certify and go to a bunch more school and a bunch more courses. And this is what I do now.

So my, my background as a physical therapist is that I am highly specialized in bowel and bladder and pelvic pain conditions. And then I went on to create. Amazing devices to help empower people to manage their pelvic health conditions as part of a comprehensive, you know, treatment plan with other medical professional care.

And then I wrote a book and this is what I do now.

[00:02:18] Rebecca: wow. I mean, that is so much to unpack. I first of all, can't believe you even survived a jump, you said 40 feet,

[00:02:27] Amanda: 40 feet. Yeah. Which at 40 feet water acts like concrete. The problem is right. Apparently you're supposed to land straight. So when people go cliff jumping, you're supposed to land like a pencil.

And I landed in the shape of an L. So I landed bottom first. Yeah. Apparently not what you're supposed to do. You're right.

[00:02:46] Rebecca: It makes my stomach hurt just to think about yes. .

[00:02:49] Amanda: Yes. Yes. It was really bad. You know, I had injuries to my back to my pelvis. I'm I'm really lucky if I had rotated a little bit and hit my head, I'd have been gone.

Or even if I'd hit a little bit more back first, I think it would have been a very different outcome. So. I'm I'm really, really lucky and very thankful for the healing process bodies heal. yeah.

[00:03:11] Rebecca: Needless to say that was a life changing accident.

[00:03:14] Amanda: Yes, exactly.

[00:03:16] Rebecca: So from there you changed the course of your career.

Well, hopefully most of the listeners do not have experience with that type of injury and the exercises we're gonna focus on today are more of the type where people actually need to strengthen their pelvic floor muscles so can you tell us how you decided that you wanted to create this product.

[00:03:39] Amanda: So I had been in clinical practice for roughly nine years.

And after nine years of, you know, one on one management of women with various types of pelvic floor issues, I was seeing what was working, what was not working. At the time there were different types of Kegel products available to help or to, to attempt to strengthen the pelvic floor. But a lot of patients were struggling with them.

They're not comfortable. They're not FDA approved, they are difficult to use, or they were not using them properly. They were not very user friendly. And so I just recognized a need to make something one that was supremely comfortable. So I wanted to make products that were they're made of this very soft, very unique medical grade, silicone.

So they have kind of a silky, smooth finish. So when you're putting it inside your body, it is very comfortable to insert and to remove, and then it comes with a guide and instructions. All the products come with guides and instructions and support because some people are under the care of a pelvic health, physical therapist, and some.

Don't have access. Maybe there's not one in their area or their insurance deductible is very high. So they, the, the instruction manuals and the support is there to help provide this, this gate for people who need additional help and additional education. So that's where the guides and the website came in.

So it really started with the Kegel products and made them very bright and colorful and cheerful. I wanted to make things that don't look medical or stigmatized, cuz there's already enough stigma around it. So that was kind of the initial part of the journey. And then we went on to develop a whole bunch of pelvic pain products that address different types of, of issues.

[00:05:18] Rebecca: I see. So it's a Kegel weight, what we're talking about about here?

Yes. And it is FDA approved, correct?

[00:05:25] Amanda: Yep. We are the only ones on the market that are Silicone covered that are FDA cleared

[00:05:31] Rebecca: FDA cleared. Okay. Very cool. So. Can you explain to me what I guess over a woman's lifetime, what different needs might she have that these Kegel weights are filling that need.

[00:05:44] Amanda: Absolutely. So they're meant to address pelvic floor muscles that are too weak or poorly coordinated or don't have enough power. So a lot of times what types of injuries or circumstances will lead up to that are pregnancy and childbirth. Surgeries, having a history of chronic coughing, or bearing down, where there's strain or elongation of the pelvic floor muscles.

So they form a sling from the front of the pelvis to the sides where you sit and then all the way back to the tailbone. So, and they want to be strong and flexible. They want to have both of those qualities. So if you can imagine an injury, like a perineal tear with childbirth,, or an episiotomy or having a chronic cough after say having had COVID, or one of those other illnesses, pneumonia, where you've been coughing, coughing, coughing, and straining down on the pelvic floor.

So the key goal exercise weights are intended to help people that have pelvic floor muscles that need to build strength.

[00:06:44] Rebecca: Now, I think I read on your website. Can you explain to me, can pregnant women use these to prepare for childbirth?

[00:06:52] Amanda: So they can be used in the first or second trimester. Generally, if you've been cleared by your physician as a means of helping to learn how to identify your pelvic floor muscles and build some strength and coordination around them and hopes of having better outcomes of less urinary incontinence after delivery, usually around the later stages.

Second trimester and third trimester, the baby is sitting very low, and it's very difficult to maintain in. So it is, it can be a part of a pre rehabilitation program in the earlier stages of pregnancy. Certainly with delivery, the mechanism of a elongating and dropping to allow passage of that baby are different than strengthening and building strength.

So those are the two aspects of that muscle health that I was talking about. We want them to be strong, but also flexible

[00:07:43] Rebecca: mm-hmm . And so then again, after childbirth, at what point and how do they exactly help.

[00:07:50] Amanda: Usually around 12 weeks after delivery, once there's been adequate healing of anything, any episiotomy or any tearing that may have occurred.

Once the hormones are starting to even out a little bit and the uterus has gone back to almost its full size. Usually around that 12 week, mark is a safe mark to start using it. Some women are exhausted and not quite in a place where they can be in a, in a rehabilitated stage at that point. In terms of self management, I always advocate for seeing a pelvic health physical therapist at the six week mark postpartum.

If you have any injury or if you had a C-section or if you're experiencing incontinence or pain. And so seeing a pelvic health physical therapist is gonna help you to heal and to return to your your goals of. You know, getting around and being able to move around and take care of that baby without any issues.

But in terms of using the keel weights themselves, they are usually a little bit of a later stage once full healing of that vaginal canals in place.

[00:08:55] Rebecca: I understand. So it's not just incontinence that this can help. If someone, gave birth and they are just wanting to make sure they're back into shape and just make sure everything is working well.

These can benefit any woman after childbirth, not just women who are experiencing incontinence. Correct.

[00:09:14] Amanda: Yeah, it's, it can be helpful again, to build strength. So people that may be experiencing any prolapse or who are wanting to have better sensation for intercourse, they can certainly be used for that.

Mm-hmm it's important to get an evaluation if you're not experiencing urinary incontinence or prolapse or any of those other issues, but you're experiencing pain. It's important to get evaluated by a pelvic health physical therapist, because that is a totally different treatment set mm-hmm . So I do advocate for getting a proper diagnosis in place.

And for also if you're not experiencing those symptoms of underactive, pelvic floor, muscle dysfunction, then the Kegel weights are probably not what you need, at that time.

[00:09:53] Rebecca: Okay. I see. And do you get a lot of feedback from people who use these? I mean, are they hard to use for people or do you think they're pretty, pretty simple to get used to.

[00:10:05] Amanda: They are. Yeah, they, they come in a set of six, so they start very light at 25 grams. And then as the color purple gets darker, the weight gets heavier. So it's, it just goes in just like a tampon into the vaginal canal. The pelvic floor muscles are then going to slightly contract to maintain the weight in.

And then you can do light household activities or take a shower for 10 to 20. And the pelvic floor muscles are getting used to having something in there. They're getting used to contracting again, a variety of different body movements, and then you simply take it out and wash it and you're done for the day.

So it is very user friendly. And once that one particular weight that you're on gets easy, then you move on to the next one.

[00:10:49] Rebecca: Wow. Okay. So that that's just 20 minutes a day. And is it daily?

[00:10:53] Amanda: Yes. Well you can do three to five times a week. So taking a day off to rest on a Wednesday and a Sunday is generally a good idea to allow the muscles, to get, get a little bit of rest and be able to perform optimally on the next session.

[00:11:09] Rebecca: Just like with other exercises, giving the muscles time to recover.

[00:11:13] Amanda: Yes exactly.

[00:11:15] Rebecca: I understand. And so then as women go throughout, their lifetime, are there other areas where a woman might consider using Kegel weights?

[00:11:26] Amanda: Yeah. So around the para menopausal period which is different for every woman, but when they're experiencing hormone changes, when estrogen levels decline around menopause, oftentimes we see a decline in muscle.

Throughout the body, and that does include the pelvic floor muscles. And with the loss of estrogen, there's less support around the urethra. And so they may start to experience urinary incontinence or just as a byproduct of different, different things that can happen in life, like having surgeries or you know, being less active and less sexually active in, in some women that can lead to a change in the pelvic floor muscles as well.

So sometimes around that period, They are experiencing some prolapse or some urinary incontinence and the vaginal weights can be useful at that time.

[00:12:11] Rebecca: Mm-hmm do you think that being proactive about this is, I mean, I feel like this is kind of a no brainer, but I'm gonna ask anyways, being proactive better than waiting until there's a problem.

And then. Fixing it do. I mean, do you find women reach out to you for these things before something goes wrong or do most of us tend to wait until we have an issue and then be like, I need help with this!

[00:12:37] Amanda: By and large in America, it's waiting until there's an issue. But in terms of pelvic Health's

certainly taking good care of the vaginal tissue and getting a variety of activities in and maintaining good hip strength and core strength is usually helpful in being preemptive. But in terms of using the vaginal weights, again, we don't want to be introducing additional load if somebody's already doing a lot of strengthening with their pelvic floor, but

incorporating some Kele exercises and hip exercises and core exercises as a general means of maintaining pelvic floor health is a very good idea.

[00:13:16] Rebecca: so ideally, we would be proactive about this.

[00:13:19] Amanda: Yeah, exactly. But not wanting to just dose a, a heavy load of, of peoples or something preemptively.

[00:13:26] Rebecca: Okay. that makes a lot of sense. I think in America, especially with healthcare, the way it is, I feel like a lot of times we tend to treat things after, you know, a problem arises mm-hmm, rather than to be proactive and do things to prevent some of the stuff that could, cause us a lot of problems.

So I feel like, a lot of women maybe haven't even heard of Kegel weights. I mean, I think a lot of us have heard of doing Kegel exercises, but maybe a lot of women haven't heard about weights. So I'm sure that's something that you're trying to change. Right.

[00:14:02] Amanda: Yes. Trying to change education on pelvic health overall.

Absolutely.

[00:14:07] Rebecca: And I saw your Instagram. You have quite a good following on Instagram. People obviously want to know more about this.

[00:14:15] Amanda: Yes, absolutely. We, I, I do my best to provide good education and make it entertaining. And mm-hmm help people understand, you know, what the actual facts are from a healthcare perspective.

[00:14:26] Rebecca: That's great.

[00:14:27] Amanda: I just I wanna advocate for people to always speak up to their physician. If they're experiencing urinary incontinence or pelvic organ prolapse, ask for a referral to a pelvic health physical therapist, if you are experiencing those things and want to self explore on our website if you go under Kegel weights, there's guides, and then if you go onto the blog, I have hundreds of videos.

If you're experiencing any issues, Pain or any indications of overactivity at the pelvic floor that would include constipation pain with intercourse pain with sitting in the tailbone. The treatment for that is very different. So the treatment for that is not Kegel weights. It is generally we are training the muscles.

More how to relax. And I think a lot of people are unaware of that. It's the other side of the coin from the pelvic floor muscles that are too weak. And sometimes people are experiencing that due to trauma or stress or a fall like I had, or a surgery, or they're not even aware of it, but they're aware that they are having difficulty tolerating a medical exam or they're having pain in their tailbone when they're sitting.

So I always advocate too. We have guides on that, on the website as well. And I advocate to, again, speak up to your physician if they're not listening to you, find somebody that will because treatment is available and that's where on our website, too, things like the pelvic wand and the dilators are helpful to retrain the pelvic floor muscles to relax.

And to be able to tolerate different activities so that you can be moving on and, and living your life, whether it's with intimacy or being able to be active or sit and do your job again. So it's not one size fits all, and there is a lot more to pelvic health besides just incontinence, you know, and sometimes they're, they're both happening simultaneously and it can feel overwhelming and treatment is

non invasive generally. I mean, there is some internal assessment and work there, but it's not a, a big surgery. And pelvic health, physical therapists are, are well trained and are kind, wonderful people to be able to help. So it's worthwhile to speak up and to get the, the treatment that you need.

[00:16:32] Rebecca: Well, it sounds like you made a very good career change choice.

I was browsing through your website and I just wanted to mention to the listeners that there are so many guides . Your website is very thorough and there's a lot of information. So make sure you check that out at intimaterose.com. Thank you so much Dr. Olson for being with us today. I can't wait to spend some more time on your website and explore some of these guides. It's it's just very well done. So again, thank you so much.

[00:17:05] Amanda: Thank you so much for having me. I really appreciate it.