Last Updated on June 29, 2022 by Rebecca Huff
The anti-aging products mentioned in this post were sent to us to test in exchange for an honest review.
The cold weather months always leave my already dry skin especially parched. I add in moisture however I can. Being in my late 30s, I started to see some changes to my skin that have me becoming increasingly more interested in "anti-aging" ingredients. I really dislike that term because I believe aging is a gift and we should all do it gracefully. But hey, I'm happy to do it with more firm and radiant skin if I can do it easily and naturally.
Viking Beauty Secrets
When I opened the box from Viking Beauty Secrets and read the promise of all the things I love about skincare, I was excited and maybe a little skeptical. For something to be natural and actually do what it says is rare in my experience. The box reads:
Viking Beauty Secrets Certified Organic Night Cream helps reduce and neutralize the appearance of environmental damage by letting powerful antioxidants absorb into the skin throughout the night. Hyaluronic Acid helps nourish the skin by restoring lost moisture.
That last part may sound concerning in terms of "natural ingredients".
Natural Ingredients
I have to admit that I had to do a little research myself. It's become an incredibly popular ingredient in skincare due to its exceptional hydrating properties. The packaging for this particular product doesn't list its source for this ingredient, however, they do label it as Vegan, Non-GMO, and Cruelty-Free so it is ethically sourced.
The box also lets me know that 20.72% of the total ingredients are from Organic Farming and the product is labeled as Certified Organic by Ecocert Greenlife. I consider myself to be "scrunchy" in many ways, especially in terms of beauty products. I want products that are not harmful to my health but I also want them to work.
Having a background in the beauty industry means that I've tried a varied range of products and prefer something that falls right in the middle of a chemical bottle of carcinogens and a homemade avocado mask I made in my kitchen blender. This line seemed to fit the bill.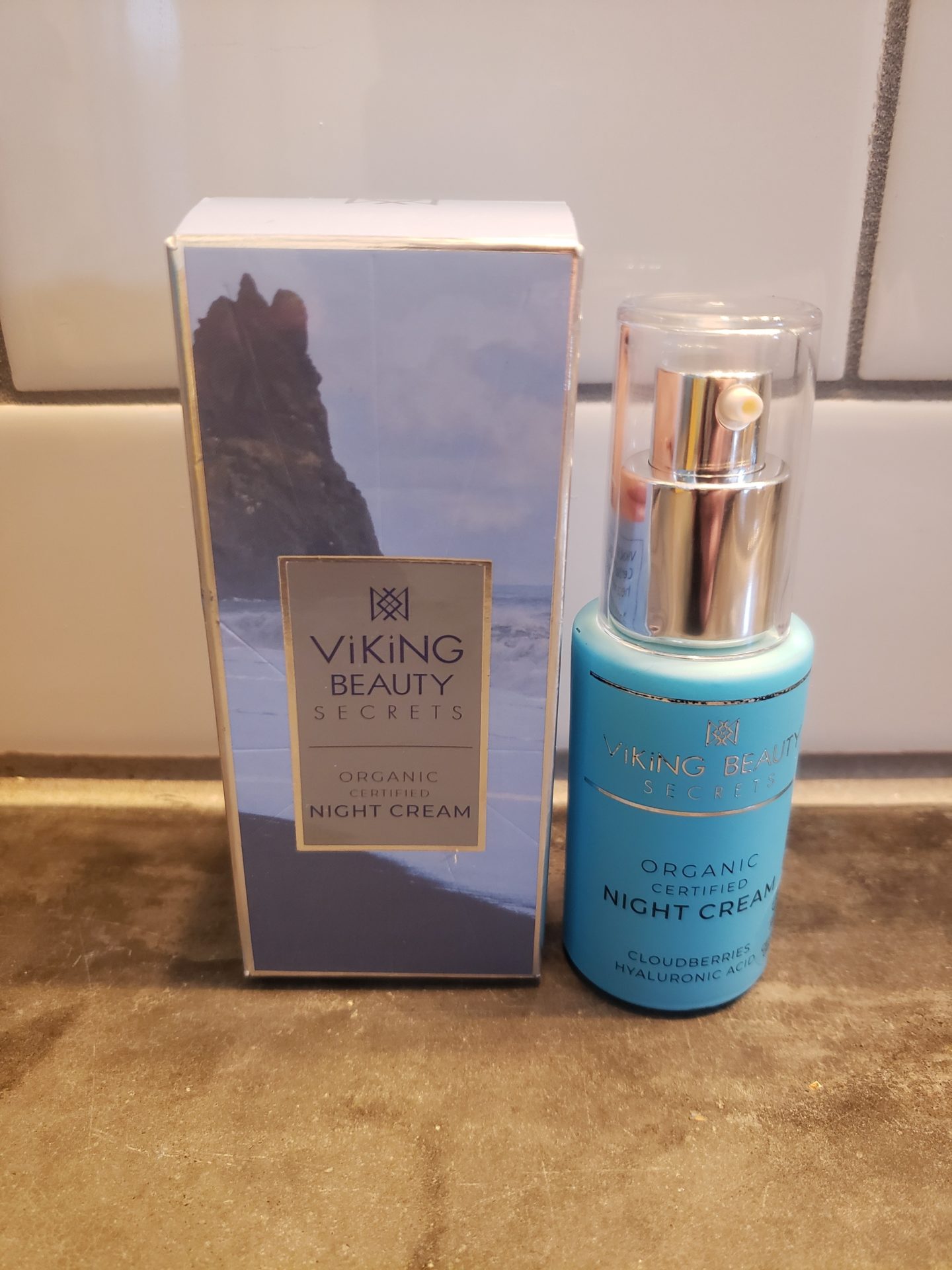 Eco-Friendly Packaging and Economical
The bottle is glass which I always prefer over plastic, though the pump is plastic, as it usually is with skincare. I used 2 pumps which were plenty. Upon first use of the Night Cream, I could definitely feel the hydrating properties that I love in an overnight moisturizer right away. It was not heavy or greasy feeling, absorbed quickly, and left my skin soft.
The scent, like most natural skincare, has an earthy yet pleasant smell without being heavily perfumed. I committed to using this cream in my nightly skincare routine for several weeks so that I could compare the effects to my regular products. I loved that it had the anti-aging properties in one bottle since I was used to a several step routine in that department.
The results were positive
The anti-aging promise was definitely delivered! After several weeks my skin felt noticeably more firm and some of my usual fine lines had diminished, including the stubborn furrow between my brows courtesy of my children. And despite it being the tail end of winter, I've definitely not had issues with dryness.
All this to say, I'm a fan. I would love to try an entire skincare lineup from them since I believe skincare usually works better together. But if you are looking for highly effective skincare with organic ingredients, they are worth checking out!