Last Updated on June 29, 2022 by Rebecca Huff
Nothing beats a good breakfast sausage, but with all the unhealthy ingredients (like nitrites and white sugar) I rarely buy already prepared sausage. That doesn't mean my family has to do without a good tasty meat for breakfast! I can make these turkey patties taste just like sausage! Perfect for meal prep with some eggs or on the side with some waffles, pancakes or a muffin.
I meal prep lunches and often a breakfast for my husband, my grown son who still lives at home and my high school age daughter to take with her to school. My husband sometimes even eats dinner before leaving work, so he likes to take plenty of options with him! So usually everything I meal prep gets eaten within 3-4 days!
Costco has a great deal on ground turkey most of the time, so I just pick up several packages and keep some in my freezer for when I need to do a breakfast prep. Adding your own spices means you can be certain there is no MSG (monosodium glutamate – an excitotoxin that keeps you eating long past satiety), sugar, and nitrites.
These sausage patties can also be used with toast, bagels, or made into wraps! If you eat them with a stack of pancakes, drizzle a little bit of pure maple syrup on them! So yum!!
In the video, I have made sausage and scrambled eggs with a bit of spinach and sheep's milk parmesan cheese. I like to season my eggs with salt, pepper, turmeric and dill. (I started with eight eggs but ended up making four more, so for seven containers, I recommend at least a dozen eggs.)
Junk Free Turkey Breakfast Sausage
2 tablespoons finely chopped fresh sage
2 tablespoons finely chopped fresh thyme
2 teaspoons coconut sugar or brown sugar
2 teaspoons salt
2 teaspoon red pepper flakes
1/2 teaspoon ground black pepper
1/2-1 teaspoon garlic powder
1/2 teaspoon smoked paprika
3 pounds ground turkey (or pork if you'd rather)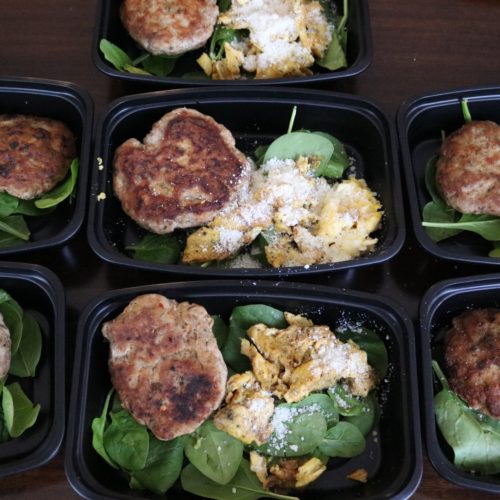 Junk-Free Breakfast Sausage

Dairy Free

Gluten Free

Keto

Low Carb

Trim Healthy Mama
These Sausages are great for breakfast. I like to make them for a breakfast meal prep for my family.
Ingredients
2

tablespoons

finely chopped fresh sage

2

tablespoons

finely chopped fresh thyme

2

teaspoons

coconut sugar or brown sugar

(to keep it low carb use Swerve brown sugar)

2

teaspoons

salt

2

teaspoon

red pepper flakes

1/2

teaspoon

ground black pepper

1/2-1

teaspoon

garlic powder

1/2

teaspoon

smoked paprika

3

pounds

ground turkey

or pork if you'd rather
Instructions
Mix Spices

Add to ground meat

Shape into patties, whatever size you like

Cook over medium heat in pan (if using turkey, you might add a little oil to prevent sticking–I used a teaspoon of avocado oil)