Last Updated on June 29, 2022 by Rebecca Huff
Take boring tuna salad to the next level! Since I eat gluten-free, sometimes it's hard to watch other people eat sandwiches. That's why I decided to make some un-sandwich lunches that would make the sandwich-eaters jealous!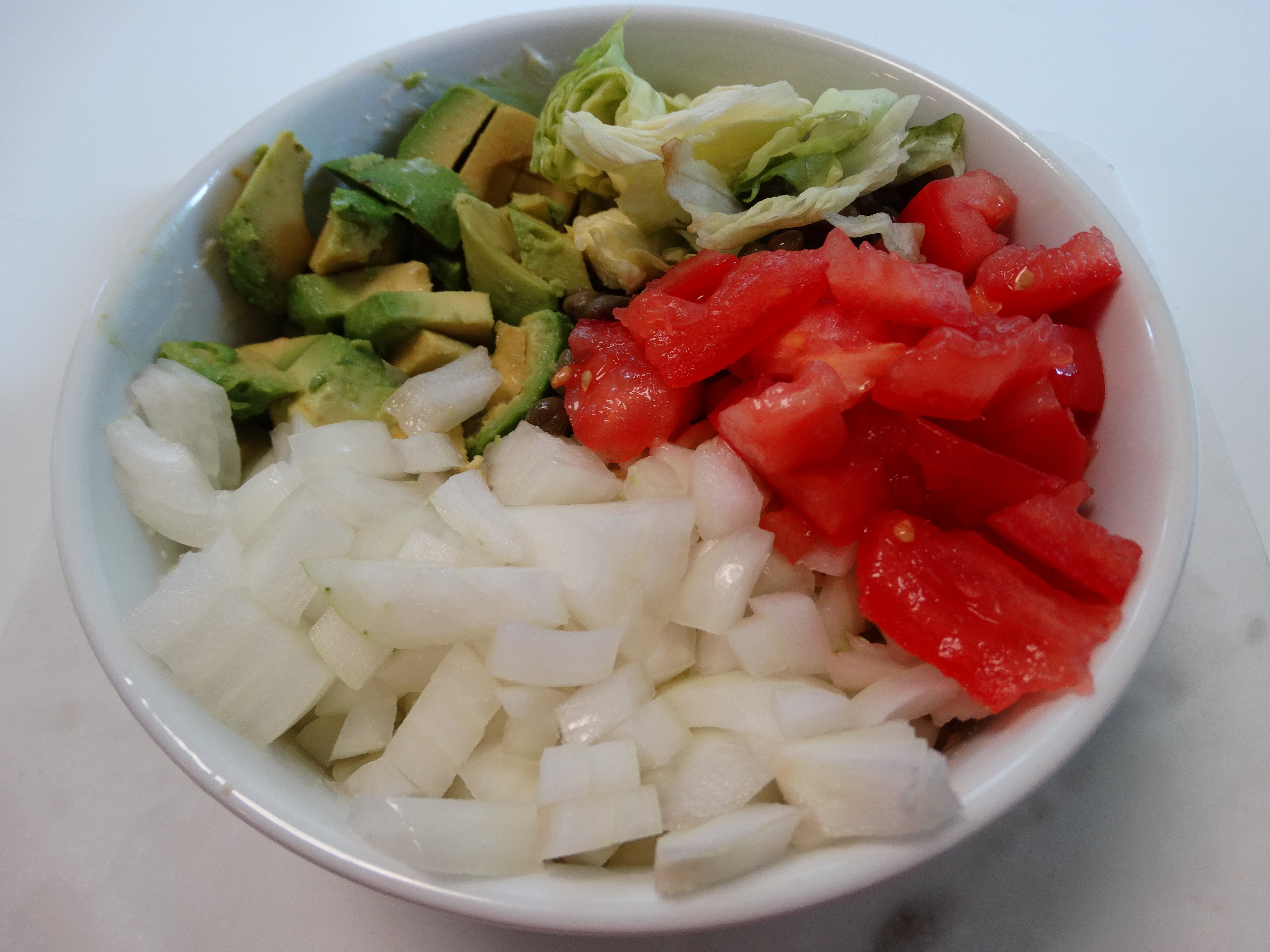 Enter best ever tuna salad!
When I lived in Savannah, Georgia a friend of mine made tuna sandwiches by mixing the mayo, tuna, and lettuce all in one bowl before adding to the bread. That technique stuck with me. It's definitely easier than having everything slide off the lettuce when it's left whole-leaf. However, without the bread, I felt tuna salad needed some bells and whistles.
So I tweaked my tuna salad to include some very nutritious upgrades. You could totally leave out the capers if you don't have them, but I can't recommend them highly enough for flavor and nutrition.
Capers are one of the highest plant sources of flavonoid compounds rutin (or rutoside) and quercetin. Capers, in fact, are the largest sources of rutin. Also, Capers are a very rich source of quercetin. Both of these compounds work as powerful antioxidants. Research studies suggest that quercetin has anti-bacterial, anti-carcinogenic, analgesic, and anti-inflammatory properties. rutin strengthen capillaries and inhibits platelet clump formation in the blood vessels. Both these actions of rutin help in smooth circulation of blood in the capillaries. It has found application in some in trial treatments for hemorrhoids, and varicose veins. It also found to reduce LDL-cholesterol levels in obese individuals.
You can also leave out the avocado if you prefer, but again, that would be to reduce the amazingness and the health benefits of this delicious fruit. Did you know that avocado contains more potassium than a banana? Avocados and avocado oil are high in monounsaturated oleic acid, a heart-healthy fatty acid. On top of all this goodness (and this is just the tip of the avocado tree) they are a good source of soluble fiber.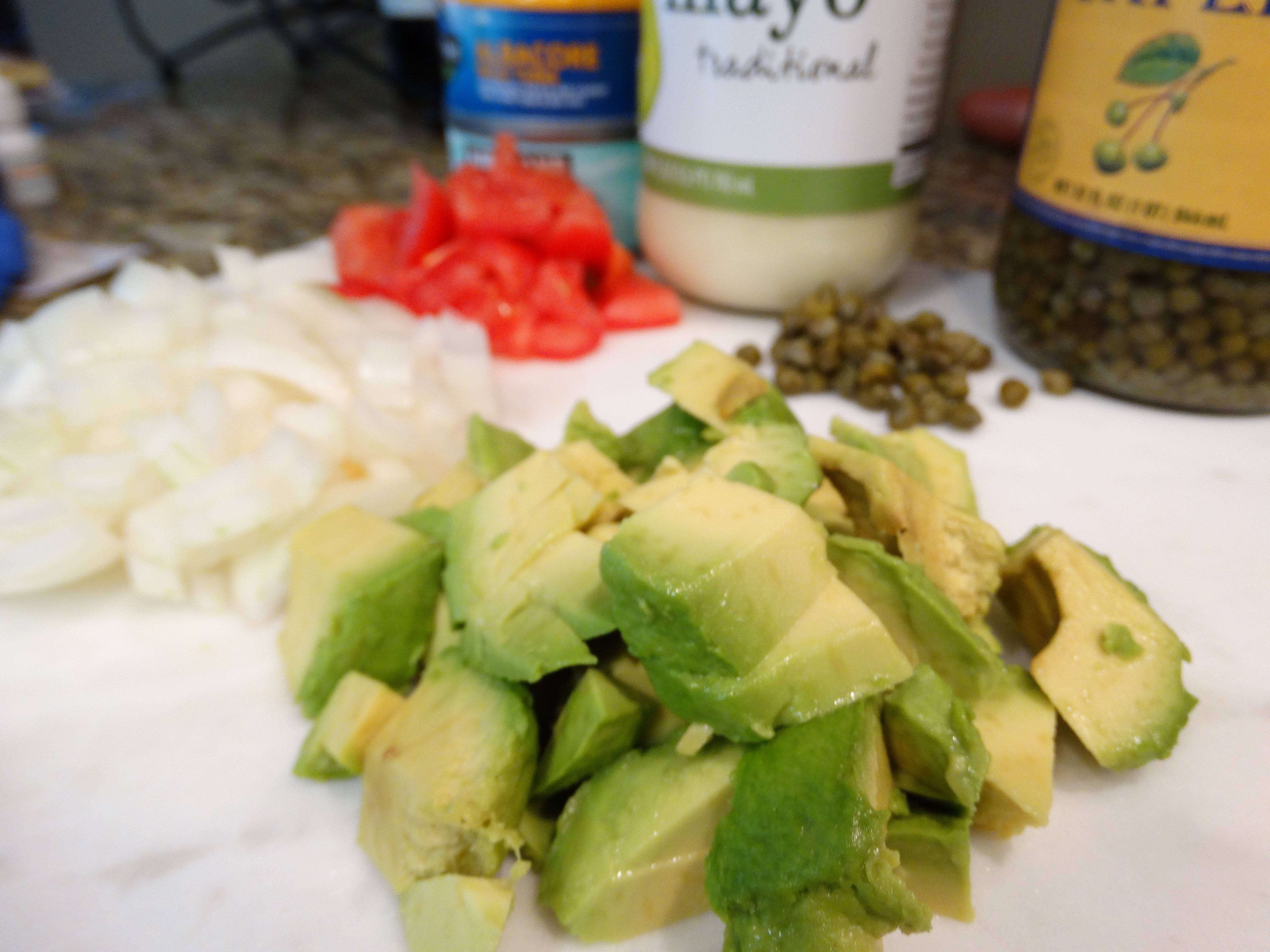 On a side note, I buy the tuna, capers, avocado oil mayo, avocado, and onions all at Costco! I prefer to get my greens and tomatoes at a Farmer's Market!
This is a recipe you will want to keep coming back to and with only 1 net carb, why not? Enjoy!
Avocados and avocado oil are high in monounsaturated oleic acid, a "heart-healthy" fatty acid that is believed to be one of the main reasons for the health benefits of olive oil.
Nutrition Facts

Servings

2.0

Amount Per Serving
calories

411

% Daily Value *
Total Fat

31

g

47

%

Saturated Fat

2

g

8

%

Monounsaturated Fat

7

g

Polyunsaturated Fat

1

g

Trans Fat

0

g

Cholesterol

38

mg

13

%

Sodium

289

mg

12

%

Potassium

609

mg

17

%

Total Carbohydrate

8

g

3

%

Dietary Fiber

7

g

26

%

Sugars

3

g

Protein

14

g

28

%

Vitamin A

41

%

Vitamin C

20

%

Calcium

4

%

Iron

10

%

* The Percent Daily Values are based on a 2,000 calorie diet, so your values may change depending on your calorie needs. The values here may not be 100% accurate because the recipes have not been professionally evaluated nor have they been evaluated by the U.S. FDA.
Best Ever Tuna Salad

Dairy Free

Gluten Free

Keto

Low Carb

Sugar Free

Trim Healthy Mama
Ultra filling and packed with healthy fats this tuna salad recipe is mind-blowing delicious.
Ingredients
1

can tuna

1

medium tomato

diced

2

cups

butter leaf lettuce

more or less (or any lettuce that you have)

1/4

large or 1 small sweet onion

1

tablespoon

capers

3

tablespoons

avocado oil mayo

or whatever mayo you like!

1

avocado

diced

salt

to taste

pepper

to taste
Instructions
Open tuna and put in bowl separating with a fork.

Add mayo, stir.

Add the rest of the ingredients except avocado, stirring well to coat mayo, etc.

Add avocado last.

Mix all ingredients in a bowl.

Eat right out of the bowl, or if you aren't avoiding carbs put it between two slices dark bread like Rye or Pumpernickel.
Notes
Make sure to make enough of this to share if you have kids or company because they will want some, trust me!