Podcast: Play in new window | Download
Subscribe: Apple Podcasts | Google Podcasts | RSS
This post is sponsored by Layer Origin
About 70% of the immune system lies in the gut, which is one reason why it is so important to feed the good bacteria residing there. When you hear "gut health" you may even think of probiotics and the role that these "good bacteria" play. However, a lesser-known player in the gut health game is prebiotics.
Prebiotics are a non-digestible fiber that helps promote the growth of beneficial microorganisms in the intestines. Prebiotics are very important for your health. Even though they're not as popular as probiotics; prebiotics are just as important. Probiotics simply cannot work as well without them.
Around 200 different types of HMOs exist, but the highest concentration is found in human breast milk. This is why breast-fed infants were found to have stronger immune systems than those who were formula-fed. Understandably, this is why many infant formulas now contain HMO. Researchers found that infant formula that contains 2′-FL better supports immune and gut health and is closer in composition and function to human milk.
However, infants are not the only ones to benefit from supplementation of HMOs. As mentioned in this podcast episode, children, teenagers, and even adults can also experience the healthy effects of HMOs. Those over the age of 50 particularly will want to look into the benefits of HMOs.
Human Milk Oligosaccharide: The Component in Breast Milk That Strengthens Your Immune System
The benefits of having good bacteria functioning well are far-reaching. Beyond the gastrointestinal benefits, HMOs have a positive impact on the immune response. As we mentioned in the podcast, asparagus is a good source of prebiotic, and yogurt or kombucha can give us needed probiotics.
A few other prebiotic foods are onions, apples, flaxseeds, seaweed, garlic, and whole oats. Definitely, these are foods that you'd like your children to eat regularly. Unfortunately, most of us don't eat these foods on a daily basis or in quantities high enough to replenish what our bodies need.
Thankfully, there are alternatives, especially when it comes to kids, as many children don't eat enough prebiotic foods. Quality prebiotic supplements can help the probiotics in the gut survive and multiply.
The best way for adults to obtain HMOs is via supplements made specifically for adults. Unfortunately supplements of this nature did not exist until recently. But thankfully, there are now a number of healthy, safe, and easily obtainable options for adults, who want the incredible benefits of HMOs.
Layer Origin
Benefits of HMO's
These prebiotic supplements have been shown to have a positive impact on the body, particluarly they've been linked to:
Good Sleep
Improved mineral absorption
Feeling satisfied after meals
Better Gut Health
Improve immune response
Healthy Weight
Skin Health
Better Digestion and Less Gastrointestinal disturbances
Human Milk Oligosaccharides Structure and Functions
Incredibly important when it comes to infant nutrition, HMO is the third most abundant component of human milk.
HMOs have no nutritive value. They are a structurally and biologically diverse group of complex sugars that are indigestible. But they do have a biological benefit when it comes to bacteria. Layer Origin
While they may aren't a nutritional component of breast milk, as a non-digestible carbohydrate, they travel to the colon to feed the good bacteria, like bifidobacteria, and fight off infection and inflammation.
Prebiotics are fiber found in plants that go through the intestines unchanged. When you add prebiotics to your body it acts as a fertilizer to enrich the good bacteria (probiotics). Think of prebiotics as the "miracle grow" of the colon. Habit #16
Prebiotic supplements come in a variety of forms such as
Fructooligosaccharides (FOS)
Galactooligosaccharides (GOS)
Inulin (naturally occurring polysaccharides)
Trans-galactooligosaccharides (TOS)
and 2′-fucosyllactose (2'-FL) which is a human milk oligosaccharide (which we will refer to as HMO or HIMO referring to biotechnologically-produced versions that are chemically identical to their models in human breast milk)
The Bottom Line
Clearly, all prebiotics are good for you, however, HMOs go a step further as they contain another functional group called acetylglucosamine which is significant in that it helps with immune function. This function can not be mimicked by the other types of prebiotics (FOS, GOS, or inulin.)
HMOs can have effects on viral pathogens, decreasing the viral load, and may block certain influenza viruses.
Read more about HMOs at LayerOrigin.com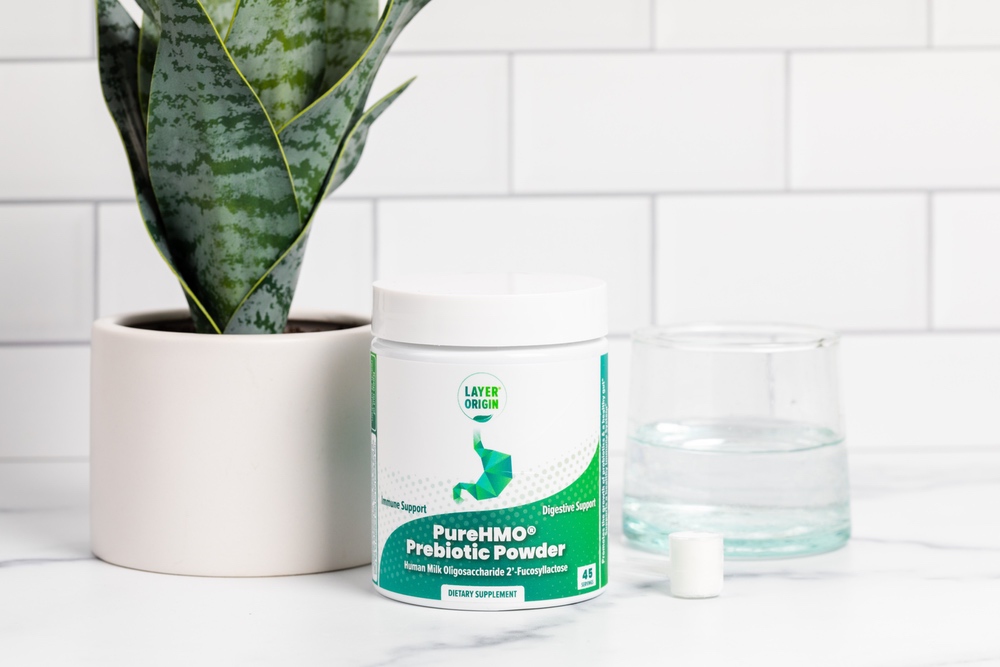 Transcripts are provided below. This episode is also available as a video:
Podcast Transcripts

Beau Berman Layer Origin on Human Milk Oligosaccharides

Rebecca: [00:00:00] Today's episode is sponsored by Layer Origin. If you're someone who struggles with digestive issues such as IBS, or if you just want to keep your immune system stronger.

I know for me, personally, as a mom, one of my top priorities is to keep my children's immune systems really going strong.

So if that's you stick around for today's episode as Beau Berman shares a lot more with us about human milk oligosaccharides, don't worry,

he's going to tell you all about what that is and how it works with probiotics to help your body stay healthy and strong.

Announceer: [00:00:38] Welcome to a healthy bite. You're one nibble closer to a more satisfying way of life, a healthier you and bite size bits of healthy motivation. Now let's dig in on the dish with Rebecca Hough.

Rebecca: [00:00:56] I'm here today with Beau Berman of Layer Origin , and we're going to talk about something that might be new to alot of people. It certainly was new to me and I am a supplement junkie. I feel like I've heard of every supplement out there, but this one was actually really fascinating, but I'm going to let the expert, tell us a little bit more about it.

So Beau, can you explain exactly what the human milk oligosaccharide actually is?

Beau: [00:01:20] Yeah, absolutely. So, the, the easy acronym for it is of course HMO, which is, you know, what it is, that's the easier way to do it. But, certainly, the scientific name is human milk oligosaccharide and so what it is, is HMO is a component that's naturally found in, in human And so it was discovered in the late 1800's, I can get into a very long answer about it, but, you know, in short, it is a complex sugar molecule, a carbohydrate that is part of the composition of basically all human breast milk. The amounts of it vary depending on the person on the woman. But you know, breast milk has lipids, you know, fats, it has protein, it has lactose and it has

this component called HMO, which, you know, until the late 18 hundreds, 1888 was not known. And basically scientists around that time and, and biologists, and even pediatricians started to notice that babies that were breastfed were generally having better outcomes, health wise, than babies that were not breastfed at all.

Or were given some sort of, you know, replacement formula at that time, you know, late 1800's. And so they started looking into, you know, trying to figure out what was the difference. And, you know, basically that was what they discovered was that you know, the breastfeeding was making a difference and that, okay.

So what specifically then in breastfeeding, you know, was it just the extra protein? Was it the extra lactose? Was it the fat? And what they really narrowed it down to is that there was this very specific compound that they didn't know about before. And initially they called it a bifidus factor named after bifido bacteria type of bacteria strain.

And then at one point they also started calling. Gyno lactose it wasn't until the 1950s that they really, you know, settled on this name of human milk oligosaccharide and they did that because it is a type of oligosaccharide, which basically means it's a combination of saccharides like, it's a, it's a branch chain, you know, combination.

Essentially a plural of, of saccharides is basically what the oligo prefix means. And and there's other types of oligosaccharides that aren't in breast milk. So you have like X O S, FOS, GOS, GOS is galacto oligosaccharide FOS is fructooligosaccharide X O S is Xylo oligosaccharide. And these are commonly the prebiotics you'll find in supplements today that have prebiotics.

And so HMO is something that has really evolved over the last 100 years. Only in the last about 10 years, has it had incredible advancement to the point where scientists have been able to essentially synthesize it or recreate it without human milk. And that enters our product, which has no human milk in it.

However, the product we sell is a bio identical to the HMO. You would find in human milk from from the molecular level. And so, you know, certainly this opens up more questions, but I'll, I'll stop there and let you take over again.

Rebecca: [00:04:25] I was actually going to ask you if you could explain the difference between the HMO and colostrum, can you give us any idea about that?

Beau: [00:04:35] Yeah. So you know, colostrum is, is a great substance as well. It, colostrum is the basically called like the pre milk from a cow from bovine source. It's been around for a while, you know, I mean, certainly for centuries, but in terms of, as a supplement for decades and you know, it has many benefits and people, you know, take it all over the world.

HMO is, Born from, original originates in humans. And then, starting in say like the 1970s, eighties, nineties throughout the 2000 scientists were like, this is so basically a lot of research was done on HMO, continuing research. And what they discovered was that the benefits it was giving infants were far greater than they originally even imagined in the late 1800's, early 1900's, basically it was building and encoding their gut lining.

And their immune system from scratch, you know, as babies and without this HMO, they weren't getting that major, gut health benefit and really they were lacking certain strains of bacteria that other babies who were breastfed had. And so then it became like, okay, this is kind of a very.

Powerful substance, how can we get this to other babies? And so basically multiple strategies were attempted, in the lab for decades. And it wasn't until the two thousands, and, and really like 2015, 2016, 2017, that basically, scientists were successful in really getting it to a point where they were able to replicate HMO.

And so it's called, without getting too technical, it's called, it's a lot of acronyms to remember here, but it's called like HIMO which is human, identical milk oligosaccharide. And so they started putting that in baby

Rebecca: [00:06:18] because it's made from?.

Beau: [00:06:19] Cause it's made it, there's a few different ways to do it is from lactose.

And so what they do is, you know, obviously you've heard of like whey protein, you know, certainly people take that for weightlifting and muscle building and everything like that. And so, you know, when they're creating whey isolate protein, sometimes there's a kind of like a leftover from the lactose or from, you know, the milk that they're using for that.

And it's kind of this crystallized isolate. And so we're then taking that. Fermenting it in a very precise way. That's been studied a lot and then purifying it. And what's left is has only very, very trace amounts of actual lactose in it. But molecularly matches 98% of what you would find in the HMO in human milk.

The other way to do it is you can ferment it from yeast as well.

Rebecca: [00:07:04] And so then. Okay. So because they found it so identical, that's why you were starting to say they started putting it in baby formula, I think. Right? So that's why, because you hear a lot about the, you know, a lot of debate about breastfeeding and bottle feeding and everything.

And I wondered if that was an ingredient in baby formula.

Beau: [00:07:24] Yep. That's yeah, you're exactly on the right track. And so, you know, around 2017 it started popping up in major baby formulas across the world. So, you know, Infamil Similac all these, you know, Gerber, these big brands started putting HMO in the formula because they

realize number one, the power of it. And number two, finally, it was able, able to be produced on a mass scale because, you couldn't take the HMO from actual breast milk and obviously produce that at scale. Certainly brings up health issues, ethical issues and does, it's just not enough, human right.

Power to do that. So it had to be done essentially through another process or a way to replicate it and, especially molecularly replicate it.. And so this was a major breakthrough and, to your listeners, I mean the next time you're in the grocery store, wherever you live, take a look down the formula aisle, whether you have a child or not or whether they're taking formula, right.

And you'll see the acronym HMO on many of the baby formulas now both, the big brands and even some of the smaller, more like natural, holistic health brands. And, and yeah, so, basically that's how our company was founded, as we said, There's a, basically a hundred years of research talking about how the actual, authentic HMO helps infants.

They started doing research on how the HIMO, the human identical milk oligosaccharide could help adults with, with gut health and immunity. And there was enough of that research that we felt comfortable launching going head first into creating products for adults and kids, older than infant age to provide them.

With the benefits of, of HIMO.

Rebecca: [00:08:57] Right. So outside of giving this to infants, why would a younger child, or maybe even a teenager or even an adult for that matter? Why, what benefit is it for them to have this HIMO or HMO?

Beau: [00:09:13] Yeah, I mean, that's a fantastic question because at the end of the day, we all wonder, so what's the benefit, how is this going to help me?

Is it necessary? That sort of thing. , at our company, I mean, we're big proponents of, trying not to take too many supplements try to get your nutrients and, macro and micro nutrients through food, through whole foods, sources preferably organic, fruits and vegetables and grass fed beef and things like that, wherever possible, unless you're vegan or whatnot.

And ethically sourced foods. And so the, the answer though, with, with HMO is that basically if you are, breastfed or you're, you're getting HMO from a human source as a, as a baby it does, populate your, your gut, your microbiome with certain strains of bacteria. Primarily the, of the the, bifidobacteria, like the bifidus genus, that type of bacteria, bifidobacterium, and also In some cases, Akkermansia muciniphilia, which is another strain and sometimes even some other strains, but those are the two main ones.

And so basically then it's like, okay, so why do I care about that? And the answer is because those two strains have been proven in research studies to have immense benefits for your immune system, for your gut lining, like basically preventing things like leaky gut as you get older, or, bacterial overgrowth or IBS symptoms.

And. You can also, you know, it almost sounds too good to be true. And I'm the first to admit that, but even in the research studies, I mean, it is proven to also have a benefit for cognitive function. You know, with babies, it's also dealing with brain development. And so the key difference here though, is that, anything you take for gut health.

I mean, if it has a high level of efficacy can have these, these far reaching. For the rest of your body, and they talk about like the benefits of the skin and benefit to your brain because there is, the proven link between the gut and the brain now with the vagus nerve and, and, they're, they're talking to each other basically, but if you're talking about other prebiotics or probiotics, generally those benefits that you get are kind of indirect.

Like, it's kind of like, okay, you're taking this in holistically. It's helping your system. And just generally it could boost, the function of your brain or your skin, or what have you. But when you talk about HMO, it's actually a more direct, proven effect. And for those who are skeptical, I mean, I am not surprised.

I mean, I, you know, I was skeptical of this at first as well, and I'm skeptical of everything, that I first hear about and, want to see proof and want to see clinical backing. And so, go to pub med or just even Google human milk oligosaccharides. And just research it for yourself.

I mean, just even in five, 10 minutes and you'll see the wealth of, I mean, we're talking hundreds of studies showing how HMO itself from breast milk is beneficial to babies, and now there's less evidence for the benefit to adults because that's more recent. And then also, even less, when you talk about the HIMO, which is basically

produce in a different way. However, there is evidence, in clinically proven evidence that that HMO has helped adults in studies. Adults who have IBS.

Rebecca: [00:12:12] Oh, wow. Okay. So let me back up and make sure I understand this … so HMO is a prebiotic as, is it also a probiotic? No. So it's just a prebiotic. So does one of your supplements have a prebiotic and probiotic together in one capsule?

Beau: [00:12:32] Yes.

Rebecca: [00:12:33] Okay. I was just curious, cause I know, I know that prebiotics. Whenever you're talking about, for example, food prebiotics is in asparagus and other really fibrous types of foods, but it's really hard to get a lot of prebiotics.

And so the benefit, I know when you do prebiotics and probiotics together, they, they kind of work like puzzle pieces together. Like one is almost like the fertilizer for the other to help it work better. So can you tell us about how people would take the HMO's? How does it work when you. Just from a actual, I guess like a technical standpoint when you're using a prebiotic, you take it with a probiotic or how, how does it work?

Do you understand what I'm asking?

Beau: [00:13:21] Yeah, I do. I do. Yeah. And you put that extremely well. I mean, just to reiterate, you know, I mean, I don't have to, but you know, you, you put that very well and that's exactly what it is, is that the prebiotic is, is, is food for the probiotic bacteria that is either already existent in your microbiome or.

that you're you know, ingesting and adding to your microbiome through foods or supplements. And that's exactly right. And so without prebiotics, that probiotic bacteria is not really going to grow, replicate, expand, you know, colonize, et cetera. And so prebiotic is extremely important. And I feel like, we kind of all know the word, probiotic, probiotics.

Now you, over the last 15 years, it's really grown. You used to worry

Rebecca: [00:14:00] Poor PREbiotic gets left out.

Beau: [00:14:02] Prebiotic gets left out for sure. And that's, you know, that's part of the trouble we have in marketing our products because prebiotic is kind of on the newer frontier of being discussed. And certainly HMO is, is cutting edge.

But but yeah, so, getting prebiotics is difficult, I mean asparagus is a great source, or semi green bananas is another good source. And another huge source actually is through the skins of red apples. If you have like red apple peels, You're getting like an incredibly high dose of natural prebiotic fiber, which is really, really good for the bacteria in your gut, especially that bacteria, I mentioned the Akkermansia muciniphilia.

So to answer your question though, the question is if you wanted to take HMO, how would you go about doing that? You know, what's the order of operations. And so the answer is that we can get this question all the time. You, you actually don't have to take it. It doesn't matter if you take it with or without food, actually, because as a prebiotic, this is actually like indigestible by your human stomach, it'll go down to your intestines and then your bacteria will consume it. So it's kind of a weird concept. Cause like, you know, the bacteria is you. But in a weird way, like your bacteria are kind of a separate entity of you, they have almost a mind of their own and when they want sugar, then you get a sugar craving and, so basically though it won't be digested and be processed through, your regular system.

It will go down into the microbiome and then work, symbiotically with the probiotic bacteria. And so, yeah, so, the majority of our products, don't contain probiotics. In fact, I think we only have one right now that does. And so everything else is just an HMO prebiotic. And it is, it is basically it's, it's a sugar essentially. I mean, it is, , keto friendly. I mean, you're not like loading up on sugar cause by the time it's processed and fermented barely detectable in terms of like, as a sugar. And again, you're not digesting it really, the way you would normal sugars because it's a prebiotic. But but yeah, no, it works, symbiotically with the probiotics that are already in your gut.

So the question is, do you need to take probiotics and not necessarily, it really just depends person to person. If you are eating a lot of probiotic foods then you're okay. I mean, you probably just want to take the prebiotic if you aren't or if you feel like you're lacking in your gut diversity, in terms of the bacteria, then you might want to, just start eating more probiotic foods, or you might even want.

Supplement with, a probiotic and the prebiotic at the same time. So it's a little bit of a complicated answer, but to take HMO, I mean, yeah. our capsules, you just swallow with a glass of water. You can do it with, or without food, most people do it like first thing in the morning.

You can, we have a powder, which is even more pure because we don't have to put it inside of the capsule. So, I mean, it's just pure HMO powder unadultered and you know, you can mix that with water it's tasteless. You can mix it with coffee, it's stable under high temperatures. So, you know, whether it's your cold brew or your hot piping hot coffee, you can mix it in.

It dissolves really easily. So it mixes well. And then there's a guy named Joel green, G R E E N E who wrote a book called the immunity code, which I actually have in front of me. And it's becoming very popular this book. Unfortunately it has a lot of typos in it, which, because I think he self-published it, which is really unfortunate because it kinda

takes away from the credibility of the book itself, but there's a lot of fantastic information in it. And the majority of his science really checks out, it's credible and he's a huge proponent of HMO's. In fact, it's. Big way that a lot of our current customers found out about them was, was through his book.

And he went on the Ben Greenfield fitness podcast and talked about HMO. But, you know, Joel Greene, he mixes it in a smoothie basically every day like a whey protein shake and also mixes in red apple peel powder, which you can just buy the powder. So you don't have to peel the apples yourself. And then he also mixes in like red polyphenols, which is like, kind of the.

A crushed up blend of the skins of, yeah. Like the berries, red berries and pomegranate and thing like that, things like that. So he's a huge proponent of it. He basically says that what that is doing is essentially resetting your gut, you know, repopulating the bacteria in your gut with these super beneficial types, bifidobacteria Akkermansia.

Bifido bacteria has been found. Joel Greene says in the guts of people who are, tend to be lean like leaner people and it's type of bacteria that we're born with, but then we lose it as we get older people over 50 have almost zero of it, or none of it, I should say. But the beauty of it is that you can replenish it and rebuild.

And that is the beauty in general. The gut microbiome is that we've discovered you can. Adapt it, you know, you can. You can work on it. Like it's not a lost cause, you know, you don't get to a certain point and oh, there's nothing I can do. No, that's not the case. You can add to it. You just have to be careful though.

And both Joel Greene and us as a company Layer Origin Nutrition, we're actually not huge fans of probiotics. You have to kind of be careful. Because essentially you're just kind of throwing things at the wall and seeing what sticks is, what a lot of people do, you walk into whole foods or a whatever, a grocery store, and there's like a thousand op you know, maybe a hundred different options of probiotics, you know?

And you're like, okay, do I want a hundred billion CFU or 10 billion or 10 strains? Or do I need 20 strains? What strains do I need? And so, we're big proponents of like talking with your health practitioner, whether it's a naturopath or a traditional MD or functional medicine or even your chiropractor, whatever, but someone who maybe is studied a little bit more and also who knows you and your system, and can kind of do a survey of like what you eat and, your health function, blood tests, and to get a better read on what probiotics you need to take, or maybe you don't even need to take them.

Some people really don't need to. Now prebiotics are almost always necessary. We feel whether you're getting it through asparagus or HMO because it's really just going to, it's like, like you said, it's like the fertilizer for the probiotics. So in probiotics or, the good bacteria, beneficial bacteria in your gut.

So, growing that and feeding it is always a good thing.

Rebecca: [00:20:01] I'm glad actually, that you said that about the probiotics, because people are like, oh, I'll just take a probiotic, but there's so many different strains and they all do different things.

And you're right when you said it's almost throwing something at a wall to see if it'll stick. I mean, different strains of probiotics, do different things. And so I agree. Ask your functional medicine doctor or whoever your practitioner is. If you have a specific issue that you're or challenge that you're trying to work through or something that you're trying to resolve, then yeah.

You need to make sure you're choosing the right strain, but with prebiotics you're right, it's something that you need because whatever probiotics you are eating it's going to make it work better. And the other thing that when you were talking about the prebiotics that came to my mind is like, almost if you're not taking a prebiotic and you are taking probiotics, it's almost like some of that probiotic is going to waste because you need that prebiotic to make

it's it's just a teamwork kind of a thing. So definitely w also about the apple peel I just recently read an interesting diet and it was like, you eat so many apple peels per day for the first, I don't know how many, like, I guess they're just trying to repopulate the stomach or the digestive system with that.

What did you say was an apple peels?.

Beau: [00:21:20] Yeah. I mean, it sounds like you, you actually, I mean, I don't know if that's something else, but it sounds like you, you actually might've stumbled upon, you know Joel Greene's gut reset diet, and , now people are kind of copying it and talking about it online and, and whatnot.

Rebecca: [00:21:34] It was like that you eat so many apple peels per day or whatever, but I was like, well, that's interesting that you mentioned it right after I had read it. But I did want to ask you to go a little bit more in depth because I know there's a really strong connection between gut health and the brain.

And how does the prebiotic kind of bridge that? How does it work in conjunction with your gut health? As far as, you know, if you're not taking a prebiotic. Is there possibly a missing link there for your gut health? I mean, if someone's dealing with some, brain fog or just not being able to think of that word as quickly. Could that possibly be, I mean, I know I don't want to say a prebiotic deficiency, but in a way it could have, it could be that your body doesn't have enough of what it needs to make all those connections.

Beau: [00:22:26] Yeah. I mean, you know, like we were just talking about, you know, the prebiotics, regardless of what probiotic bacteria you're talking about, the prebiotic a prebiotic is going to be feeding it and nurturing it. So, indirectly the issue could potentially be a lack of prebiotic bacteria to feed.

Nurture and spread the good probiotic bacteria that you're lacking or need more of. And it can even, I mean, populate the gut with some of this, this bacteria, basically grow it almost from scratch. And so, yeah, I mean, so basically, you know, the way that HMO's work, for example human milk oligosaccharides is that step one is that they're going to, like, they're going to powerfully modulate the microbiota.

So they're going to go in and. And kind of sort things out and provide growth and fertilizer, so to speak to certain probiotic bacteria in your gut they're going to support the gut barrier function. If you've read about leaky gut, you know, that, you know, they're basically, in layman's terms, they're kind of become little gaps or openings in your gut barrier lining and.

Pathogens and things can get through that you don't really want to get through. And that can create some of these negative symptoms that you see with, like IBS type of thing, you know, gas, bloating, diarrhea, constipation, stomach pain, discomfort, et cetera. So HMO actually works in that sense.

And I mean, it's pretty amazing. I mean, you, you can, your listeners can, can research it. We don't have time to get too into the weeds on it. However, what I can say is that basically HMO, as a prebiotic acts, as a decoy, and basically some of these pathogens will, they're looking for a certain thing to bind to in the gut and they are attracted to the HMO and the HMO will sort of connect to it and then carry it away out of your system.

Is, and so it's, it's often described in scientific papers as a decoy, that basically. Brings the pathogens to it. So, I mean, there's incredible research. I mean, I I'm telling you, I mean, I wouldn't be surprised, like I said, if your listeners think that I'm, kind of bogus or something, because it sounds almost too good to be true.

It really does. But just look it up, like I said, on, on pub med, or some of these scientific papers and there's even evidence that it can that HMO can help prevent viruses as well because of this function that it has as a decor. But , basically step three is, you know, it is supporting the immune system.

I mean, we know scientifically that 70 to 80% of the immune system is controlled by bacteria in the gut. So it supports the immune system and immune defense. And then kind of the fourth level of HMO, the fourth level function is it does support gut brain interaction. And so, as a non-scientist, I can't speak to precisely how that works in terms of the scientific terminology.

I mean, one thing I haven't mentioned to you is that there are approximately it's not an exact known number, but there's approximately 200 different varieties of HMO. So HMO is not a singular thing. It's like a category, and so the one that's in the bulk of our products is called 2′-Fucosyllactose. Or sh for short, it's called 2FL.

We just introduced, so we also just introduced in June a HMO product just for kids that has two types of HMO. So it has2′-Fucosyllactose and it also has one called Lacto-N-neotetraose which is LNNT for short. So these names get a little sign, you know, a little funny sounding, but there's 200 of them 200 types, approximately.

And so we've only scratched the surface of what they can do. Which ones are approved, so HMO is approved in the U S with GRAS status, which is, GRAS generally recognized as safe by the FDA. And so, yeah, so our kids supplement, has very specific dosage for kids to take, kids who, again are, age say three through 17 years old and who don't have, obviously aren't getting breast milk at that point.

And, there are bifidobacteria, certain types of bacteria may be depleting or not being fed. Because they might not be, maybe they don't like asparagus or, semi green bananas. And so they're not getting enough of that. And so we don't recommend our adult product for kids because it's just not meant for kids.

But the kids product is specifically for children. And we're really excited about that. There's been a lot of interest so far, but yeah, I can't speak, very specifically to the exact scientific manner in which this is helping brain function. I mean, there's some early studies right now that say that it actually helps with motor skills as well.

But again, it it's essentially from a baseline level because of the fact that, the vagus nerve is essentially connecting the brain down to the gut. And we know that there's an interaction there, and if certain gut bacteria can stimulate certain impacts and effects all the way in your brain,

Rebecca: [00:27:09] Wow. Oh, so you mentioned that you have one that's specifically for children, and then I know of course you have one that's for adults. Is there anyone, are there people who shouldn't take this or are there any kind of side effects from, or, , any kind of warnings for people? As far as the HMO's go.

Beau: [00:27:29] Yeah, it's a good question. And you know, so I mean, people who shouldn't take it, we don't recommend it for anybody who's pregnant. If you're pregnant or nursing, we actually don't recommend it. You don't want to give it to a baby or child that's already getting HMO. You don't want to essentially overdose on HMO as it were.

So that those are two cases where you wouldn't want to take it. Other than that, almost everybody can and probably should take it. And we do though, as a general caveat recommend that you always, talk to your doctor, whoever your doctor is, whether, regardless of the type of your doctor, but because a lot of our customers are big fans of integrative medicine, functional medicine, things of that nature.

So that's why I kind of always say like, whoever your doctor is, talk to them and consult with them because they may know of some bizarre interaction of, something else that you're taking. So you always want to consult a physician before taking anything new. But that being said, once you've talked to your doctor and they've told you it's okay, we recommend it for almost everybody because, we run into this problem is that in our marketing of the product, because it is clinically proven to reduce the symptoms of IBS.

There was a trial down in North Carolina, university of North Carolina, where they gave it to adults with IBS, for, I think four weeks and by week two, the majority of them reported, reduction of all these really bad symptoms of, gas, bloating, diarrhea, constipation, things of that nature, stomach pain.

So it's really exciting from that standpoint, it's a drug-free way to feel better, but the trouble we run into is that people think, oh, it's an IBS supplement.. But it's really not actually, like I take it myself and I don't have IBS. It, and I've seen incredible results from it in terms of, there are things I don't really like to talk about.

It's kind of stuff that happens in the bathroom. That's, you know, on the more private side, but, you know, I mean, it deals with bowel movements and less, you know gas and things like that. And then also the immune benefit is, you know, unquestionable and that's harder to tell. I mean, you're not going to really feel an immune benefit.

I mean, that's really intangible, other than maybe you're not getting sick, but like, so I mean, you know, my experience is highly anecdotal, but but we just tell people that, if you're looking to boost your immune system and, have healthier bowel movements, you know, less gas, things like that, you definitely want to consider it.

And then certainly if you have IBS, or IBS symptoms or leaky gut it's, it can, it can work wonders. And we have a lot of incredible reviews, so it feels really good because, you, you see people saying like this has, fixed my lactose intolerance or this has worked wonders for me, you know, when it comes to going to the bathroom and So, yeah.

And that's another quick point, is that in terms of people who can or should or should not take it? A lot of people say like, oh, well it's too bad. I can't take it because I'm lactose intolerant or I have a milk allergy. But the reality is that you not in 99% of cases, you can take it, even if you're lactose intolerance, because there's only a very

infant testimony, small amount of lactose still in this product, like a trace amount, a dash of it, or, like a part per billion or something like that. So it's, it's not going to affect you if you're lactose intolerant. Even though it is derived from lactose. So in fact many people say that it basically helps them overcome lactose intolerance.

So it's been very interesting to see.

Rebecca: [00:30:28] So if, if someone wanted to try it out and see if it helps them with whatever their issue might be, is Layer Origin , your website, the only place to get it or is it carried in stores?

Beau: [00:30:39] We're not in stores yet. We're looking to break into retail, in the second half of this year here, which I guess we're in now. And so, we're, we're starting, we're probably gonna start with some local stores. We're hoping to get into Wegmans, which is a more like New York based grocery store.

And some local natural grocers and then hopefully, expand from there. But yeah, if you're listening to this now and interested in trying it if you're like an Amazon person who has like the prime membership . We're on Amazon. So, just type Layer Origin into Amazon, or even if you do HMO pure HMO, Brand new the product name it should come up.

With that like two day free shipping or you can get it through our website, which is a LAYERORIGIN.COM our company names a little bit confusing for some people. Basically we believe that there's layers to your health. There's, the, the internal layer and your gut microbiome, there's the external layer of like, how do you actually look and feel, muscular development, things like that.

There's mental health. So it's kind of, it's kind of an ode to like the layers to your health. And then also, that health originates in the gut, we believe, in so many cases. So it's kind of like layer origin. The layers of your health originate in the gut. And that's sort of, that's our company name, but yeah.

Layer origin.com. And, there's, there's a pop-up that comes up and, you get 10% off your first order, if you sign up for our email newsletter and, and great opportunity to try it out and see if it works for you. And it doesn't work for everybody. I mean, we're not like, we're not going to claim that I gave some to my father and he was excited to try.

And he didn't really notice a difference. And that was different from my experience, cause I did notice a difference within like three or four days, actually, the first time I tried it, granted I was also doing the apple peel protocol. So, maybe it was the synergy of those two things that helped me, where I was basically.

Eating the skins of, of two red apples every morning. And then, I did that for a few days, like days, one through three, and then, day four through 11, I had the skins of four apples in the morning, which actually takes a while to, to peel those. And then you have all these apples laying around.

And then I started, I think you integrate the HMO. Day day six through eight, you start integrating the HMO as well. And , my wife always asks me, she's like, well, why don't you just eat the whole apple? And I don't really know the answer to that, to be honest with you. I think it has something to do with the fact that first of all, most people aren't going to have the discipline to like crush four apples every morning.

That's part one. I think part two is that you actually don't want all of that. It would be like kind of an excess amount of fiber and certainly sugar. It would be a lot of sugar that you'd be intaking, you know, fructose. So I think that's why you don't really want to, like, I think it would probably be perfectly reasonable to have one apple, maybe even two, but you don't want to be eating like four apples necessarily.

What I did was I basically saved them and dehydrated them and made you know, like da de hydrated, like apple apples, you know, for later on. But but yeah, yeah, you eat the skin of the

Rebecca: [00:33:21] apple sauce for your kids. If you have kids.

Beau: [00:33:23] Yeah, yeah. Things you could do or compost them or whatever, but, I mean, it's, it's similar to juicing, people who juice, like you're kind of wasting the fruit in some sense.

Rebecca: [00:33:31] Yeah. I struggled with that when I would use is like, I always felt like I had to make something from the pulp. So there was all these different colored purple patties and different kind of things that I would make crackers or whatever, but, wow. So I could talk to you forever about this, but if you're listening, make sure to check out layer origin.com.

There's a lot of interesting stuff. You actually have a blog too, right? So. So much information there you could read for hours and hours. I'll try to put all of the pertinent information in the show notes. So if you're listening, make sure to go back and check out all of the links that will be in the show notes.

And thank you so much Beau, for being here today. I've been fascinated and I've so enjoyed, hearing more about HMO's and just how the company got started. It's very interesting.

Beau: [00:34:18] Yeah, you're welcome. Thanks so much for having us. And if anyone does have any questions, a good place to start is, the website where we, we have a whole section devoted to HMO.

Cause we understand that there's kind of like an education piece to this as a new, substance sort of it's funny, cause it's kind of like a paradox. It's sort of like the world's oldest prebiotic in some sense. Cause it's in breast milk. But then again, it's also sort of the world's newest prebiotic because it's in this new form and, becoming pretty popular as, as a gut health supplement.

So it's kind of a paradox, but yeah, we have an HMO section. We have the blog, which has like our, our ultimate guide to HMO's everything you could ever want to know about them. And then we also have a YouTube page as well where, if you're more of a video person where we have a lot of videos explaining

how it works and why it's beneficial and things like that. So and people can always email us or call us, you know, [email protected] And we're happy to answer questions. So, yeah. Thanks again.

Rebecca: [00:35:07] Thank you.

Announceer: [00:35:09] Thanks for listening, please rate and review. So other people can learn about this podcast. Find out more about sleep hygiene, eating healthy, tasty recipes, zero waste lifestyle, and lots more on thatorganicmom.com. Help us spread the word. Be blessed and stay healthy.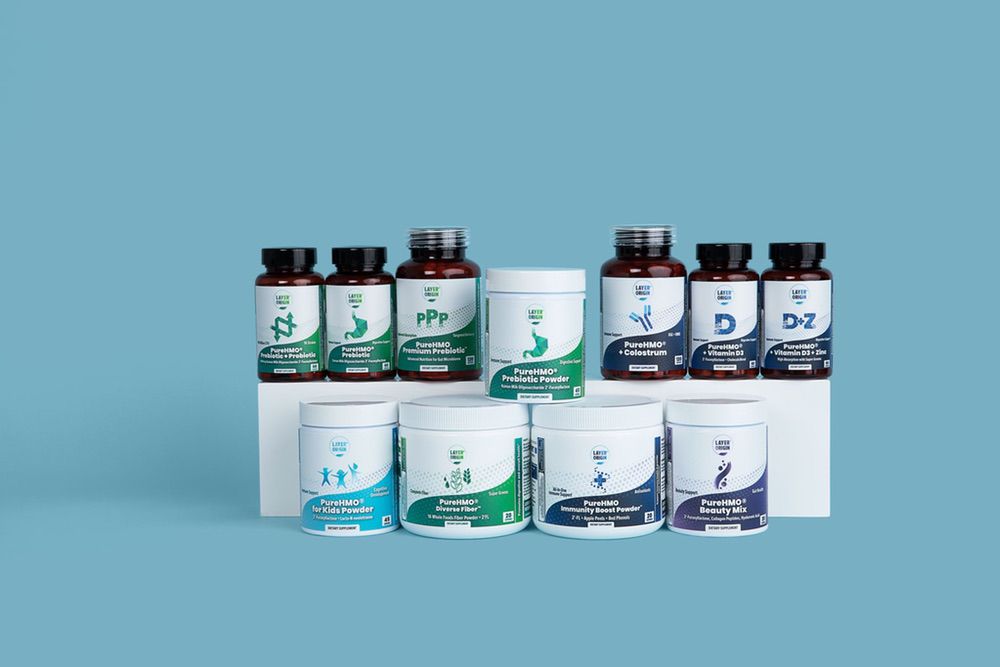 Make sure to Pin this post to your Good Health board on Pinterest.