Trim Healthy Mama – No Special Ingredients
Menu Plan with every day foods
Recently, someone asked for a really basic THM menu
Here it is! Most of the meals are self explanatory, but if you have any questions at all, please leave them in the comment section below! Also, this is the BONUS 8th menu in my downloadable ebook which has two full months of menu plans plus a lot more. You can grab it by going to my home page and scrolling down to the very bottom.
Day One
S- Eggs & spinach sautéed in coconut oil
E- Tuna Sandwich with pickles + salad, optional
S – Pot roast with onions, celery and cauliflower (put it in the crockpot…it's good!)
Day Two
E- Cottage cheese mixed with Greek yogurt and 1/4 cup crushed pineapples (coffee with half n half)
S – Chicken breast on salad greens, top with olive oil and vinegar, shredded cheese
E – Baked white fish with steamed green beans and brown rice, lentils or quinoa
Day Three
E- Oatmeal + low fat cottage cheese and blueberries + green tea
S – Tuna w/ full fat mayo in romaine leaf (like a wrap)
S – Meatloaf (no bread crumbs) with stir fried tri-color bell peppers and creamed spinach
Day Four
S- Scrambled eggs topped with full fat cheese and avocado (coffee with heavy cream)
E – Baked Sweet Potato topped with leftover chicken breast, plus garnish amount of parmesan and splash of hot sauce
S – Your own lasagna recipe, substitute thinly sliced eggplant or zucchini for the noodles
Day Five
FP- Egg white scramble with lots of veggies + black coffee or tea
E – Turkey breast sandwich on sourdough bread with lots of veggies and mustard (can add light laughing cow, optional) bonus points if you use sprouts!
S – Baked Salmon with Cajun seasonings paired with Caesar Salad (minus any croutons) and steamed or baked asparagus * but if you can find Whisps they'll work in place of croutons see below
Day Six
S-Omelet with spinach and cheese inside + coffee with heavy cream
E – Creamy bean-y soup (just puree a can of beans and spice it up, thin it out with a little chicken broth) add a salad on the side with a pureed veggie blend for salad dressing
S – Tacos, substitute romaine leaves in place of the shells
Day Seven
S- Poached eggs in steamed spinach topped with Parmesan cheese and hot sauce
S – Salad with chicken, cheese, small amount of pecans, full fat dressing (no sugar or carbs) + fresh berries (less than 1 cup or 1/2 cup if using blueberries)
E – Basic Beans and Rice (if you have a little lean ground meat, you could add it) I season my beans with Creole Seasonings sometimes, other times I just use Chicken Broth in place of water to give it more flavor. I like to top mine with finely chopped onions and a dash of hot sauce **Alternately you could try my Summer Chipotle Chili
Snacks:
Easy go to snacks that are super basic:
celery with peanut butter or cheese
low-fat cottage cheese with berries
boiled eggs with salt and pepper or a little mayo
small apple with 1 teaspoon nut butter
bell pepper with cream cheese & hot sauce
4-5 cups air popped popcorn
small piece of fruit with a small handful of nuts (less than 8)
sliced cucumbers topped with lunchmeat and cheese
greek yogurt 0% fat with berries blended in (my favorite, and no I don't always add a sweetener)
New Snack Find
I found some amazing new snacks at Costco! I need to add this to my list. Have you all tried these? Gluten free, wheat free, no preservatives and 9 grams of protein per serving. Single ingredient crackers, I read the label. One ingredient! Goes great with your S meals… so hello crunch on my salad… goes great with guacamole at Mexican restaurants when everyone else is eating tortilla chips! Oh my goodness! Help me think of all the ways we can now use these goodies! I'll be waiting to hear what you think, so put your ideas in the comment section below…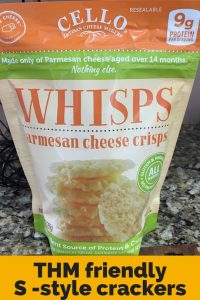 This is the 10th week of sharing the THM Plan with my best friend Steph, even though I've been a THMer for a long time…read the backstory here. Oh, and by the way, I had breakfast with my her today and when I hugged her she felt so much thinner! I could tell she's lost weight in her face and her skin was glowing! Then we noticed all these baby hairs growing around my neckline of my ponytail… we decided; it must be the collagen powder!
Don't forget to go to my Home page and download the Two Months THM Menus ebook! Now I'm off to snack on those crackers!
*Wanna discuss all things Trim Healthy Mama – head over to the Healthologist Community where we will be sharing what works for us in our weight loss journey, fitness tips and plans, chronic illness issues, motivation, and lots more.