Trim Healthy Mama BFF Progress Report:
Happy to say my BFF is down almost 2 pounds this week and I lost 1 ½ pounds. I feel like that's decent progress for both of us. I am a stubborn loser, so it is not easy for me to lose weight at all. I have to say that even though most people would call this a "diet", I never felt deprived or more than "ready to eat" and by that I mean I wasn't starving. Though I really didn't eat sugar before restarting this plan, my BFF and I have now been 100% off sugar for three weeks.
While my BFF is smashing it on the elliptical, I have actually only made it to the gym 2 days this week and my workouts were less than stellar. Really wish I had a workout partner in town…but that's neither here nor there. While exercise is certainly important, it is not required to lose weight on the Trim Healthy Mama plan, just sayin'.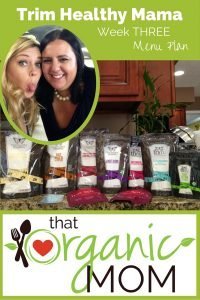 Also, I definitely could have done better this week. I let "busy" keep me from drinking enough water, and I actually ended up skipping a couple of meals by accident when I was out unprepared and didn't have a chance to eat anything for more than 6 hours. For my body that is a mistake because it just starts holding on to my fat cells, seriously…. but it is also a no-no on THM.
Thought I'd share our before pictures, which really are just some photos I happened to have on my computer because we forgot to take our photos together and we live one hour apart. I have a real problem with emotional eating so I am just so ecstatic that Stephanie is doing the Trim Healthy Mama plan with me this year. It only took me two years of begging!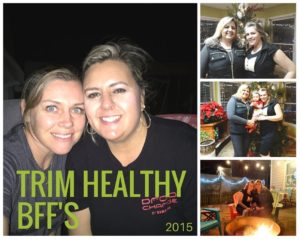 Here's to an awesome WEEK THREE using the menu plan below! I did splurge on a Trim Healthy Mama Membership so I could easily create grocery lists. That is the number one reason. It is wonderful and makes a great gift! The recipes for all the meals listed below are found in the Trim Healthy Mama Cookbook (see below) unless otherwise noted. 
Week Three:
Day One
Breakfast
Eggatable Scramble (FP) p. 242
Lunch
Cran-Apple Cott

age

Salad (E) (recipe available with THM membership)
Dinner
Slim Sloppy Joes (S) p. 63

Sweet Creamy Coleslaw (S) p. 230
Snack choices are: Triple Zero Yogurt, celery with nut butter, Wasa Cracker w/ Light Laughing Cow, Apple with a few almonds, berries w/ cottage cheese
Day Two
Breakfast
Berry Secretive Big Boy (FP) p. 416
Snack
Lunch
Salmon and veggies with butter (S)
Dinner
Pesto Chicken (personal recipe) (S)

Cauli Rice (S)
Notes:
Brown Rice for kids
Day Three
Breakfast
Choco Nut Secret Big Boy (FP) p. 415
Lunch
Dinner
Add tortilla chips for kids. I always buy the ones made with organic corn so as to avoid GMO corn. I also buy them in large bags at Costco.
Day Four
Breakfast
Almond Raspberry Breakfast Swirl (FP)
Lunch
Thai on the Fly Soup – Single Serve (FP) p. 122
Snack
Dinner
Crockpot Mexican Beans (E)
Day Five
Breakfast
Lemon Fat-Stripping Frappa (FP)
Lunch
Warm Chicken Sprouted Sandwich (E)
Dinner
Ridiculous Meatballs and Spaghetti (S) p. 40-41
Day Six
Breakfast
Salted Caramel Baby Frap (FP) *note I had to buy my caramel flavor online, I could not find it in any of the stores I frequent after months and months of searching.
Lunch
Tortilla Pizza (S) (I use wonder wraps)
Dinner
Crockpot Spinach Lasagna (S)

Golden Flat Bread (S)
Notes:
tortilla pizza using wonder wrap or homemade tortilla*
Day Seven
Breakfast
Choco Big Boy Smoothie (FP) my favorite, and hard to believe it has a full cup of okra in it!! p. 415
Lunch
Three-Minute Sensational Salad (S) p. 191
Dinner
Italian Style Chicken with Zoodles (personal recipe) (S)

Deviled Eggs (S) p. 228
By the way, I have had my noodle maker for over 10 years! Can you believe that? This is my favorite vegetable noodle maker and I wouldn't trade it for any other noodler I've seen so far!
Join the Healthologist Community and receive healthy motivation plus instant access to eBooks for overall well-being with an emphasis on eco-minimalism. In the community, members have access to all printables past and future, plus support from other like-minded health nuts and much more!
Everything I use for the Trim Healthy journey can be found in my Amazon Store Front. Find my Trim Healthy Mama Menu Week ONE and TWO…HERE is a video of some of my THM meals.
Save this pin to your Trim Healthy Mama board!