Just finishing up week EIGHT doing the Trim Healthy Mama plan in 2016 with a few friends. You know, what I like so much about this plan is that it is the only plan that I have ever tried that is so adaptable! It feels like I am eating "normally" most of the time.
It's easy to forget this is a weight loss plan because I eat so well! I have prepared meals and eaten them with friends and family (and if I can keep my mouth shut) they have no idea I am "dieting" or that they are eating "diet food" because it looks and tastes like "normal food"; the difference is the way fuels are combined. I also love sharing Ninja-like tips with my friends who are also on the plan!
Progress for the past week = down another pound for a total of 11 pounds in eight weeks. Several friends are reporting losses as well this week! My BFF is having a busy moment in life but in spite of eating off plan a couple of times at work, she maintained her previous weight loss and plans to stay in step this week. I suggested if her office orders pizza again that she might just eat the toppings in a bowl and leave the crust! Also, I suggested she try a burgerless bun.
One night this past week my teenagers brought home burgers! A rare event in our house. I didn't ask for mine to be made "low carb" or for the bun to be removed. I simply allowed them to prepare my burger just like everyone else's but I just removed the bread before I took each bite. Crazy but instead of trying to hold on to a slippery lettuce wrapped burger, I simply used the bun to hold on to the burger, and bite by bite removed the bread over the bite I was about to take. This might seem silly, but it was so much easier to hold on to that burger than all the "bunless" burgers I've tried in the past! Just an idea…
My mom came this weekend and we had a Wonder Wrap Session! I made about 4 batches of wonder wraps and they were so much fun to make and even more fun to eat! I sent my mom home with some to enjoy during this week and I kept a big 'ole stack for my family.
I plan to make some burritos, enchiladas and maybe a lasagna with the ones I kept. I shared a little video clip in our local Facebook THM group and found that a lot of people had purchased psyllium powder instead of flakes (or husks). That won't work. It has got to be husks/flakes to work. Looks like THIS. I also found Organic India Whole Husk Psyllium at Thrive Market.
If you haven't already subscribed to my website, please take a minute to do so now, because you will not want to miss out on my March 16th blog post: Traveling on THM in Pictures! Not only will I be sharing a whole lotta tips on how to stay on plan while traveling, but this post will be chock full of great pics of yummy food, all on plan! Plus, we'll be sharing my mom's birthday and I'm going to make her an on plan cake! I'll share my progress after a week of traveling and let you know I felt about how things went.
Weight Loss Menu Plan
Day 1
Strawberry Big Boy – FP- p. 414
Asian Gold Soup – S – p. 124
Black Bean & Quinoa Burrito with Wonder Wraps – E – (see my recipe by clicking the link)
Day 2
Trim Healthy Pancakes – E – p. 259
Deep S Salad – S – basically the simplest forms of fat make up a deep S meal, I added some chicken with olive oil and lots of nonstarchy veggies
Salmon Strips – S – with buffalo cauliflower bites
Day 3
Egg Foo Young – S – See my recipe by clicking the link
Bean Boss Soup – E- p. 109
Chicken Enchiladas – S or E – (substitute wonder wraps for my own portion!) I like to make chicken enchiladas without beans for a great S meal, but sometimes I use beans and use a very small amount of part-skim cheese and then I leave off the sour cream. Here is my meal prep where I demonstrate making enchiladas and lasagna for my family. For myself, I would not use the tortillas, but substitute wonder wraps.
Day 4
Eggs and Squash – S – simple, easy, healthy! See photo below
Oatmeal Apple Cinnamon – E – p. 256
Eggy-Egg Roll In a Bowl – FP- Follow the recipe on p.124 but substitute scrambled egg whites instead of meat. (This is a great frugal meal and if you eat it with chopsticks it's fun too!)
Day 5
Choco Secret Big Boy FP p. 415
Soothe Your Soul Soup – FP – p. 115
Succulent Citrus Fish Bake w/ oranges, steamed broccoli, tri-color quinoa – E – p. 286 in the OLD book but it's basically baked white fish with slices of either lemon or oranges on top…
Day 6
Strawberry Cheesecake Shake – S – p. 412
Egg Salad wrap (wonder wrap or sub low carb tortilla, lavish, etc.) – E – use egg whites only for E!
Lasagna (use wonder wraps instead of noodles) – S – Here is my meal prep where I demonstrate making enchiladas and lasagna for my family. For myself, I would not use the noodles, but substitute wonder wraps.
Day 7
Eggs and Zucchini – S –
Savory Oatmeal – E – p.231 OLD BOOK
Soft Tacos – S – make taco meat as usual, then use wonder wraps for the tortilla, or substitute low carb tortilla or piece of romaine lettuce, etc.
Keto Chocolate Peanut Butter Bullwinkles (This was for dessert! See my notes beneath the photo at the bottom of this page for my personal tweaks to this recipe)
SNACKS
This week, I am using only Ultra Fuel Pulls for my snacks. You can print a simple yet handy list to keep in your pantry here. My favorites are Tummy Tucking Ice Cream (FP) p. 362 and Easy Chocolate milk (FP) p. 439.
I've made my Black Bean and Quinoa Burritos before, but this was my first time making them with Wonder Wraps and I really liked it.
I can't wait until gardening time again so I can grow my own zucchini and squash for my breakfasts and much more! I like to cook my yellow squash as lightly as I can so it still has a nice crunch, then I like to top it all with some nice red pepper flakes. I keep them on my table next to the salt and pepper.
Close enough to apple pie, I used a wonder wrap with some unsweetened applesauce and cinnamon to make a quickie E snack. You could add some stevia or gentle sweet if you like yours sweet, but I'm used to eating things without sweetener so I didn't add any.
Please Pin this Post!
I get food pics from my girlfriends every day LOL and my mom too. I love seeing how they are staying on plan and what they are eating. Here are a few photos my mom sent me showing what she did with some of her wraps:
First, she used a one to make a chicken wrap and paired it with asparagus sprinkled with nutritional yeast and a dill pickle.
For breakfast, she used cream cheese and slim belly jelly to make a yummy little fold-over crepe. She said next time she is going to drizzle it with some of the Handy Chocolate Syrup p. 479 that she keeps made for yummies!
Last but not least, I wanted to share what I changed to the Keto Chocolate Peanut Butter Bullwinkles. These were absolutely delicious. I would definitely make them again when I am not too busy. Shawna spotted this recipe one day when I was browsing around and begged me to make them. I agreed, but that was before I saw the instructions! LOL Still, it wasn't as complicated as it looks. Really, it was pretty easy. I tasted one before the chocolate coating and thought "oh no" but I proceeded and after the chocolate coating "oh my!!"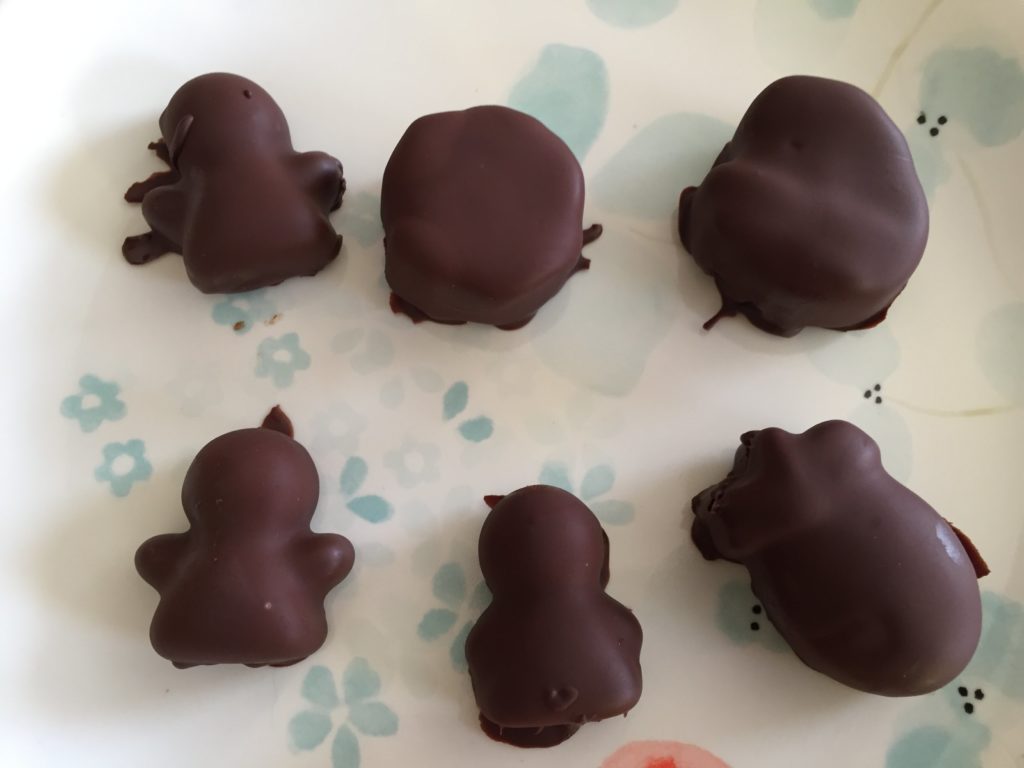 I'm not very talented with molds and such, and Shawna (7) was helping me make these, so they aren't "perfect" to look at but my oh my do they taste good! Here's my tweaks: 1) I used an entire can of coconut cream 2) instead of peanut butter I used PB2 and 3) I used THM Just Gelatin instead of Great Lakes but I love both and use them interchangeably 4) for the coating, I did add a teaspoon of coconut oil to get my chocolate to smooth out.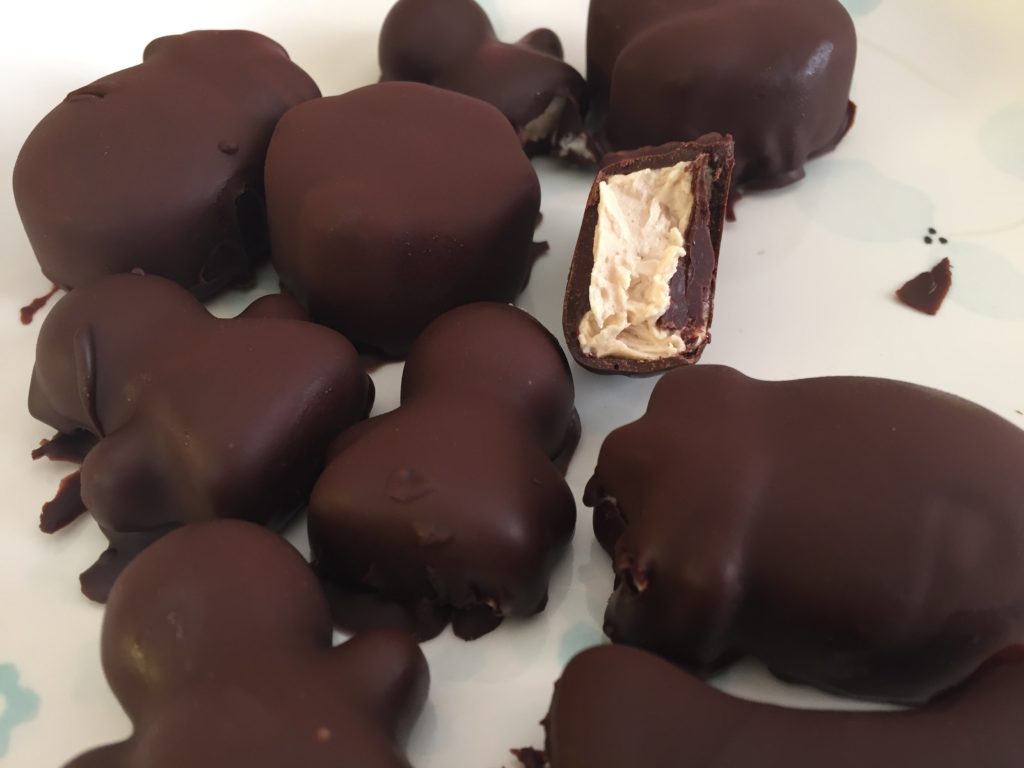 (btw, I used Trader Joe's unsweetened chocolate because I'm a sucker for pretty packaging).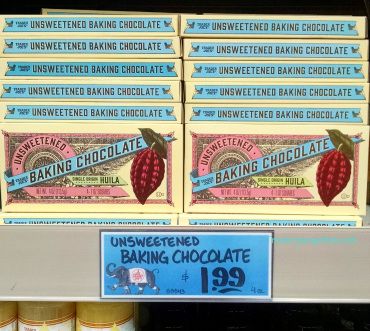 Join the Healthologist Community and receive healthy motivation plus instant access to eBooks for overall well-being with an emphasis on eco-minimalism. In the community, members have access to all printables past and future, plus support from other like-minded health nuts and much more!