We are just finishing up Week 11 and heading into Week 12 of our 2016 Weight Loss Journey on Trim Healthy Mama Plan. So far I have lost 14.1 pounds for an average of 1.32 pounds per week. My BMI has gone from 29.2 down to 26.9 which is still in the "Overweight" category.
This is the grocery list for the Tight Budget Menu plan included in the New Plan Book. I just want to say for the people who can't afford the THM Membership, there are so many FREE menu plans available in the book! I can't share the actual menu plan because that would not be fair to the authors who created it. If you have the Plan Book you will find this menu on pages 189-193. If you still need to get the books go here. The plan book didn't have the page numbers listed for the recipes in the Cookbook, so rather than look them up every time, I just wrote in the page numbers myself, to save time later. I wrote down the page numbers in my book while I was making my grocery list (had to look up each recipe anyways, so why not?)
Myself and many other bloggers have shared our own menu plans online to help as well, so take advantage of these! In addition, I have created my own Tight Budget Tips list to help get through leaner times. I may do a blogger link up later for all the tight budget menus if anyone is actually interested, just mention it in the comment section at the bottom of this page.
Mrs. Criddles Kitchen Menus
Darcies Dishes Meal Plans
Counting All Joy
Also, I wanted to say that because I have been buying the "special ingredients" for this plan for a long time, I already have most of them stocked in my pantry. Several of the recipes call for special ingredients but offer substitutions or are optional. I have included a list of special ingredients that were called for in this menu plan and tried to note if they were optional. If you are on a seriously tight budget you might want to substitute other recipes for the ones with special ingredients, but there weren't many. I have found that even when I use someone else's menu plan I often have to tweak it a bit to suit my preferences.
My grocery bill for this week was $202.71, all of the meat and most of the produce was organic. I think only the onions, avocadoes, bananas, and sweet potato were not organic. In addition, I also have 2 teenagers (plus friends), 2 youngsters and a husband to feed and I pack my husband's lunches most of the time by making enough to have leftovers and the cost for that is included in my bill. Depending on your family size or how many people or meals you are cooking for your bill could be lower or higher. I have never claimed to be good a coupon clipping but I wouldn't mind learning to do better in this area! Here's what I had on my list, although my teenager did add a few extras to my cart, like tortilla chips, bread, tortillas, maple syrup, etc. Print the list for yourself with google docs here.
Produce
Dairy
Meat
Dried/Canned
Special Ingredients

2 cabbage heads

Almond milk

Smoked sausage (family)

Black Beans canned or dried

Super Sweet

Yellow squash

1% cottage cheese

Sliced deli meat

Onion powder

Pristine Whey Protein

cucumbers

eggs

Turkey bacon, optional

salsa

Mineral Salt

tomatoes

Cheddar cheese

Ground turkey

Chicken broth

Just Gelatin

avocadoes

Egg whites

Ground italian sausage meat

Split Peas

Collagen

Lettuce for salads

0% Greek Yogurt

Chicken legs

Rolled oats

MCT Oil

onions

Butter

Chicken breast

Apple cider vinegar

Not Naughty Noodles, optional

jalapenos

Crushed tomatoes

Braggs Liquid Aminos

zucchini

Tuna

Vitamin C Powder, optional

Button mushrooms

FROZEN FOODS:

:

Sweet potato

Veggie blend: onion, celery, pepper

carrots

bananas

celery
It was my first time making Pot Sticker Patties p. 175 (below). They truly looked disgusting while I was mixing them up and I was really nervous that they would not be eaten and it would be a total waste. I was so scared! Imagine my surprise when every single person in my family loved them! YAY! Score. Thank you ladies!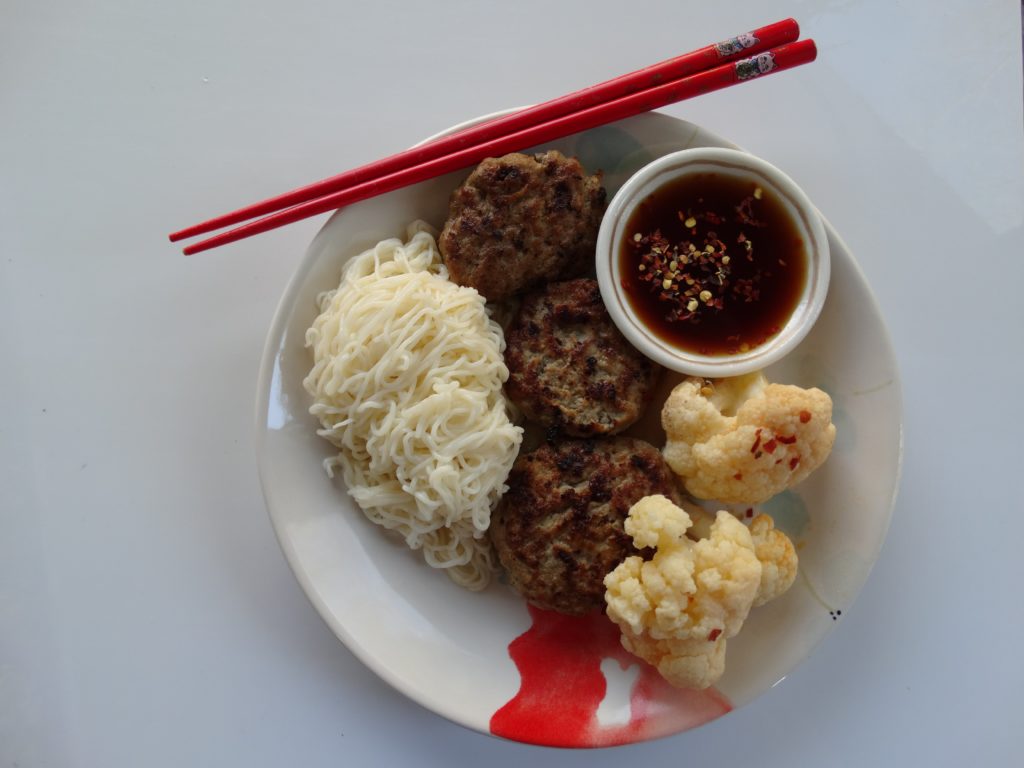 I made a little Asian style sauce on the side which was half soy sauce and half rice vinegar with a dash of red pepper flakes. (above) Just in case you're wondering, I used Trader Joe's Soy Sauce, because this:
I didn't take photos of our sides that went with our dinner this night…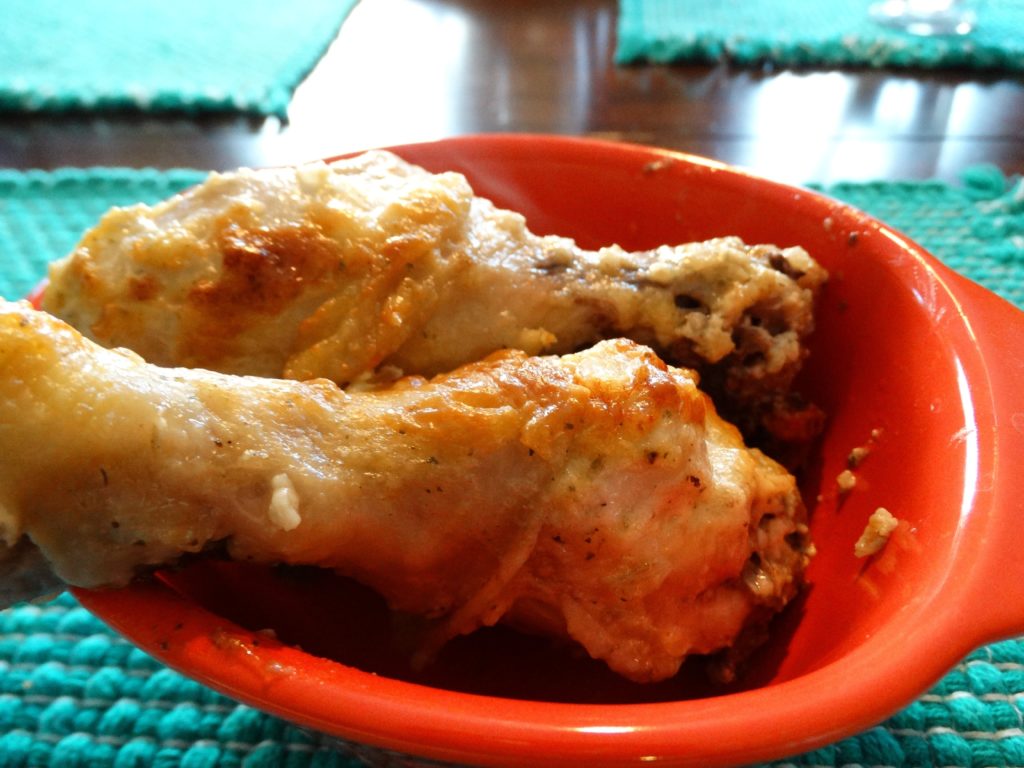 My kids really like Bangin' Ranch Drumsticks p. 162 … alone or with sides! I have to admit, they're one of my many favorites. I know this sounds crazy, but I even save the bones to make chicken stock… is that crazy?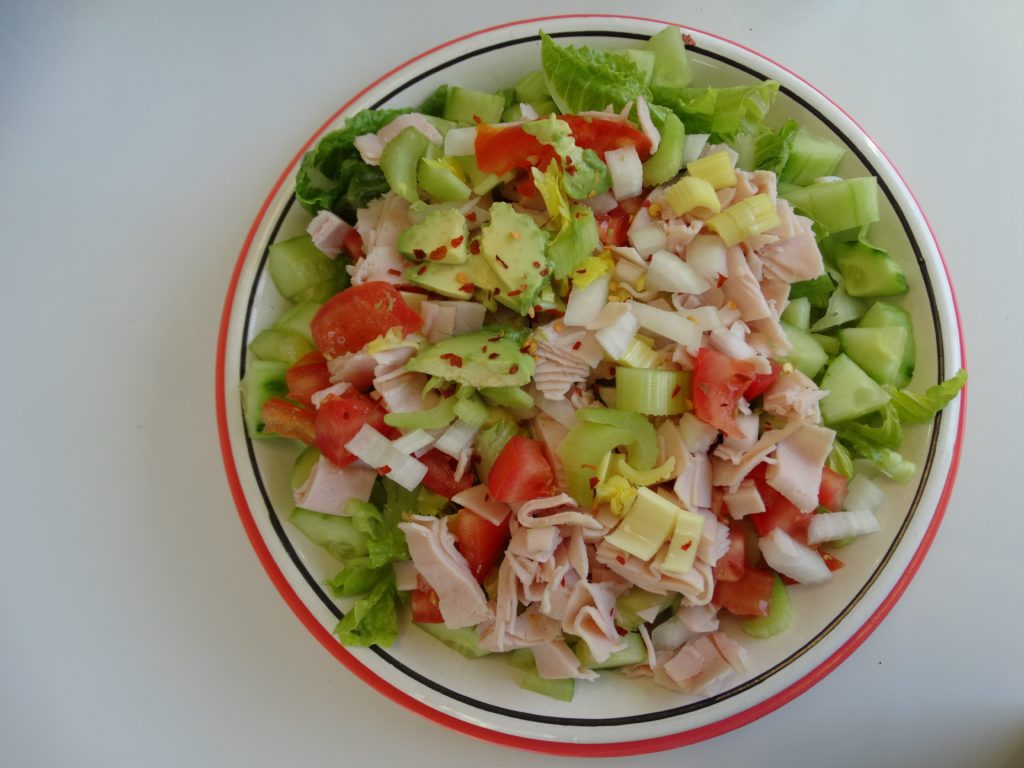 I was really hungry but I still couldn't finish this salad. Thankfully, I have teens to help me. We were having a filming session for Ivy Wants Food on my Youtube channel and the teens were eyeing my salad, so when they wrapped up I let them dig in!
Great little snack, turkey with Munster cheese. I like to dip mine in organic mustard. Have you downloaded my two months of THM Menu Plans? If not go to my Home page and scroll to the bottom to get it!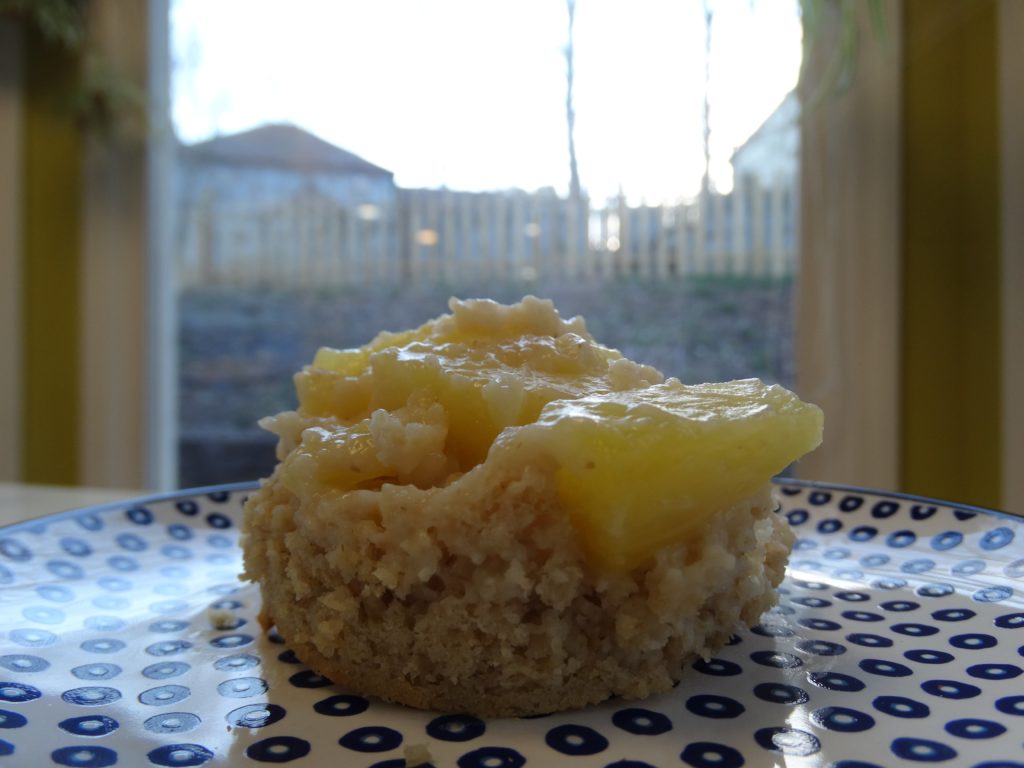 I wasn't too sure I'd like this Pineapple Upside Down Cake p. 290-291, but turns out, I loved it. I believe it will be one of my new favorites. I didn't have crushed pineapple but I had some frozen, so I used that. I think it would turn out better with canned, so I'll try to keep some in my pantry in the future. (here's an old video of my pantry and if you watch it; update: Gentle Sweet is my new favorite and this video was made to show my pantry, not necessarily everything in the video is THM approved.)
This was my first bowl of Cream of Sweet Stuff Soup p. 114 and I really liked it. Definitely going to be making this for Thanksgiving this year. It just tasted like Thanksgiving to me. I usually meal prep chicken and sweet potatoes each week, so it was super fast to make this.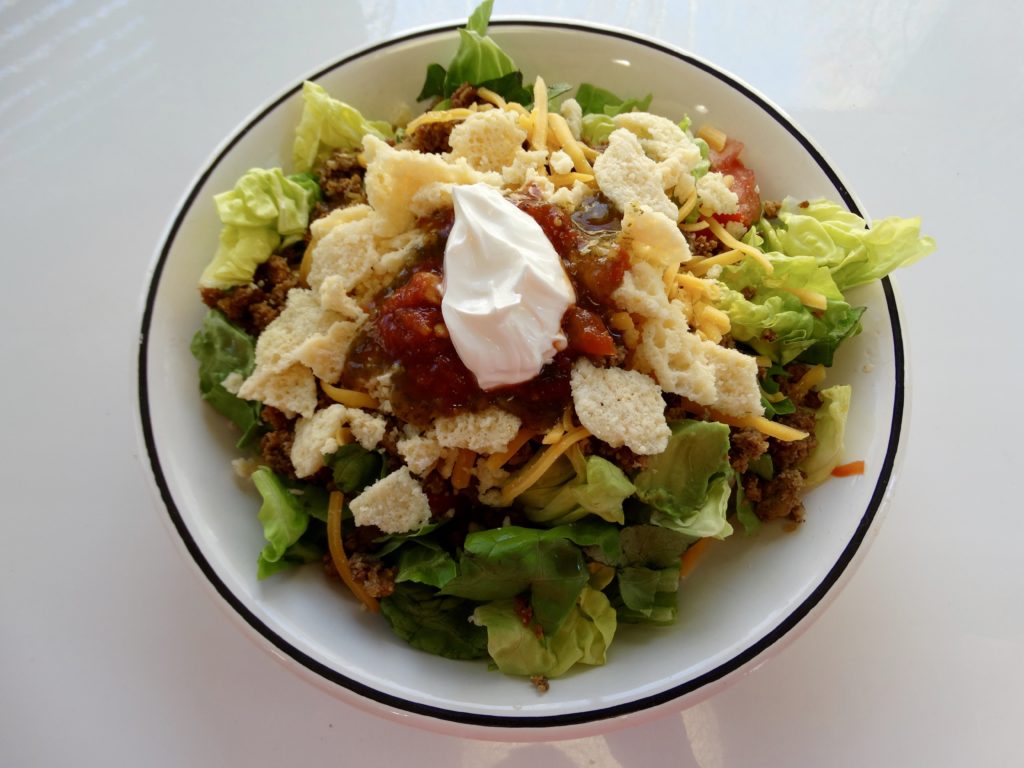 We have tacos or taco salad or some variation every week, so this wasn't part of the "tight budget" menu. It DID fit well in my budget though, because I had doubled the Potsticker Patties recipe, I used a few of the leftover patties and seasoned them with some chili flakes, paprika, onion powder and garlic to give them a more taco-like taste. Then I chopped them up really well and served them to my kids with tortilla chips. I used Whisps I bought at Costco on mine and it was a suitable substitute when you choose not to have tortilla chips! It gave my taco salad a great crunch.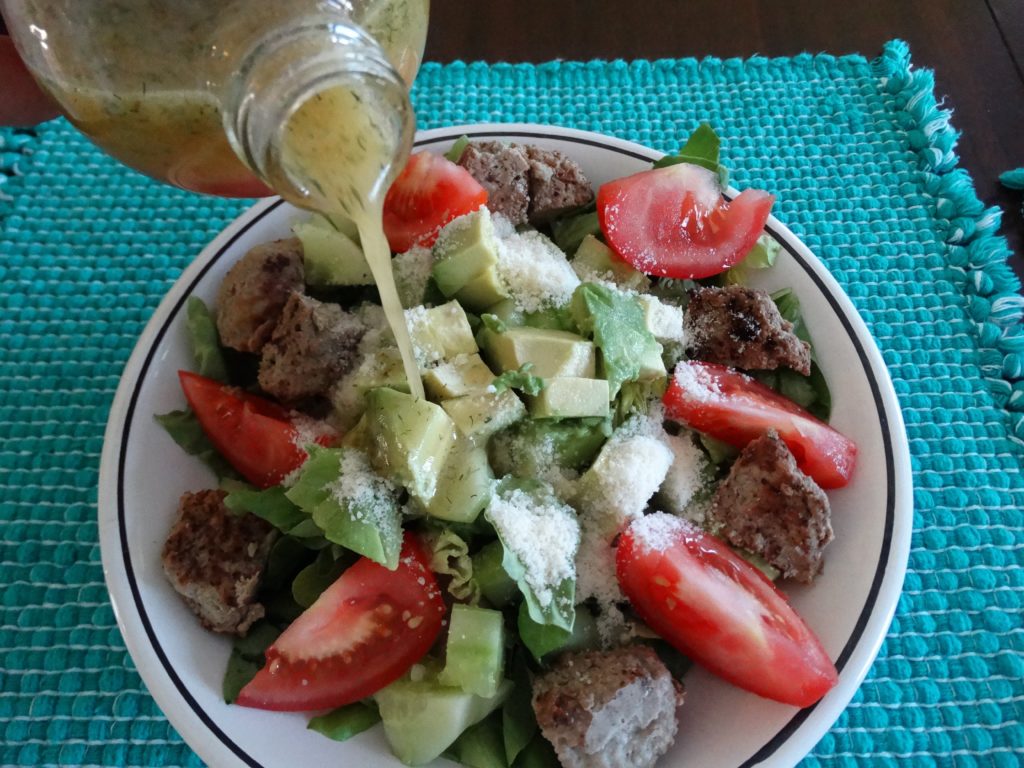 I made this salad with the Grand Greek Dressing and added some leftover Ridiculous Meatballs p. 40-41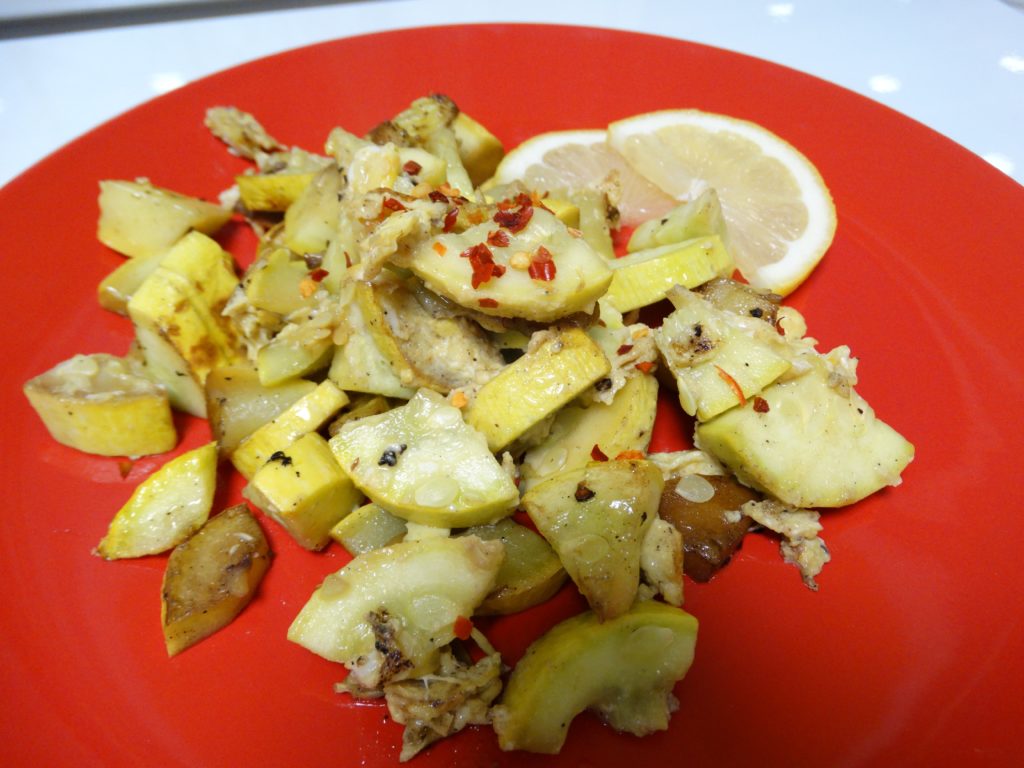 Here's a wonderful budget saver, especially if you grow a garden. I like to have diced yellow squash with scrambled or fried eggs. I added a little cheese to my children's but I like mine without it.
Also, a great budget saver is learning to make your own salad dressings. I have been making my own salad dressings for 13 years and I can honestly say that homemade is 100 times better than store bought!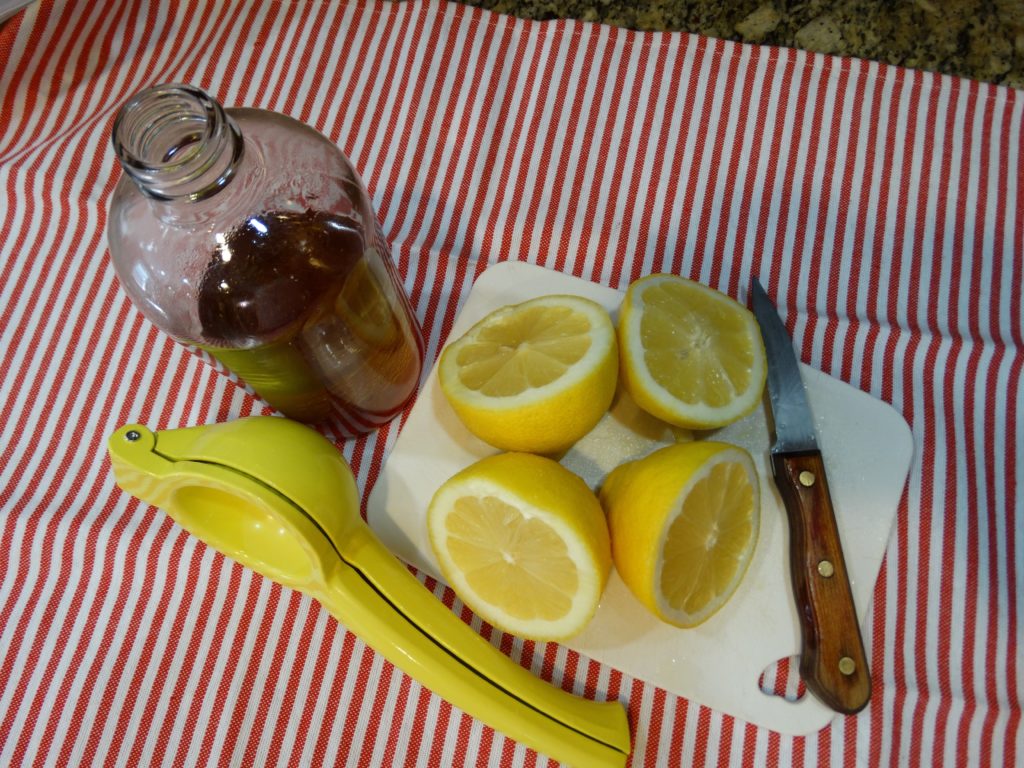 I didn't take a photo of the Bean Boss Soup p. 109 mainly because I was hungry and forgot…I also did not take photos of oatmeal, cause, well, it's oatmeal. I did take a picture of my Strawberry Shake but I already shared it on Instagram, so check it out over there.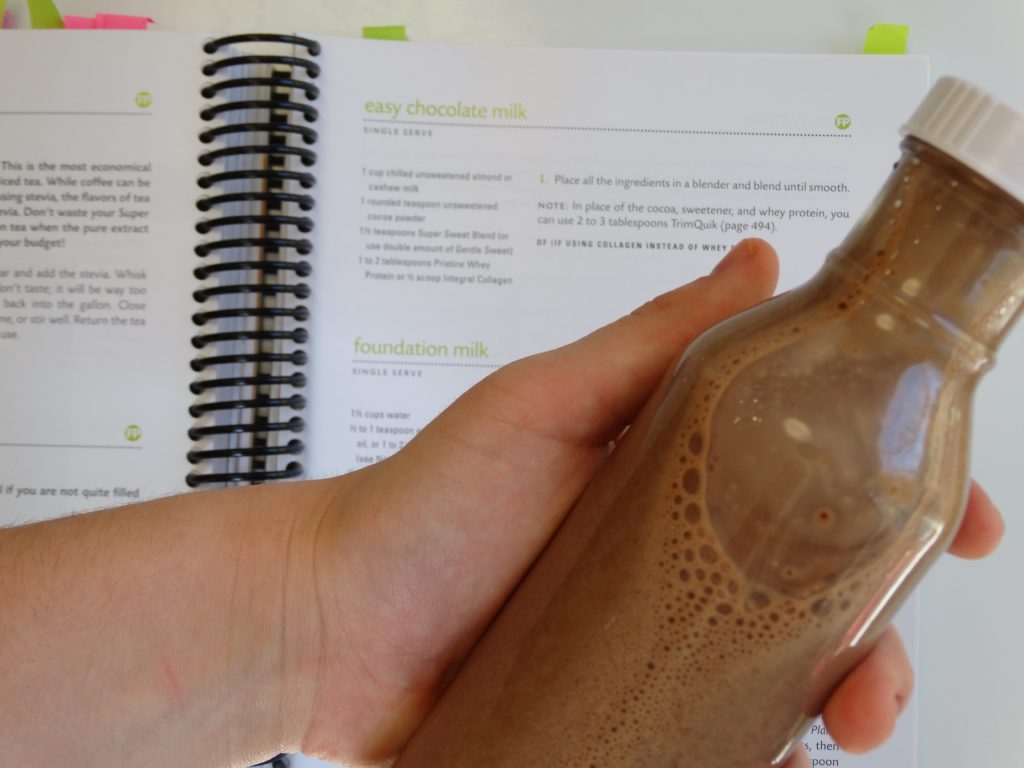 Um, hello. Chocolate milk. Yeah. I'm losing weight drinking chocolate milk. The end.
Oh, and
Don't forget to Pin This Page!