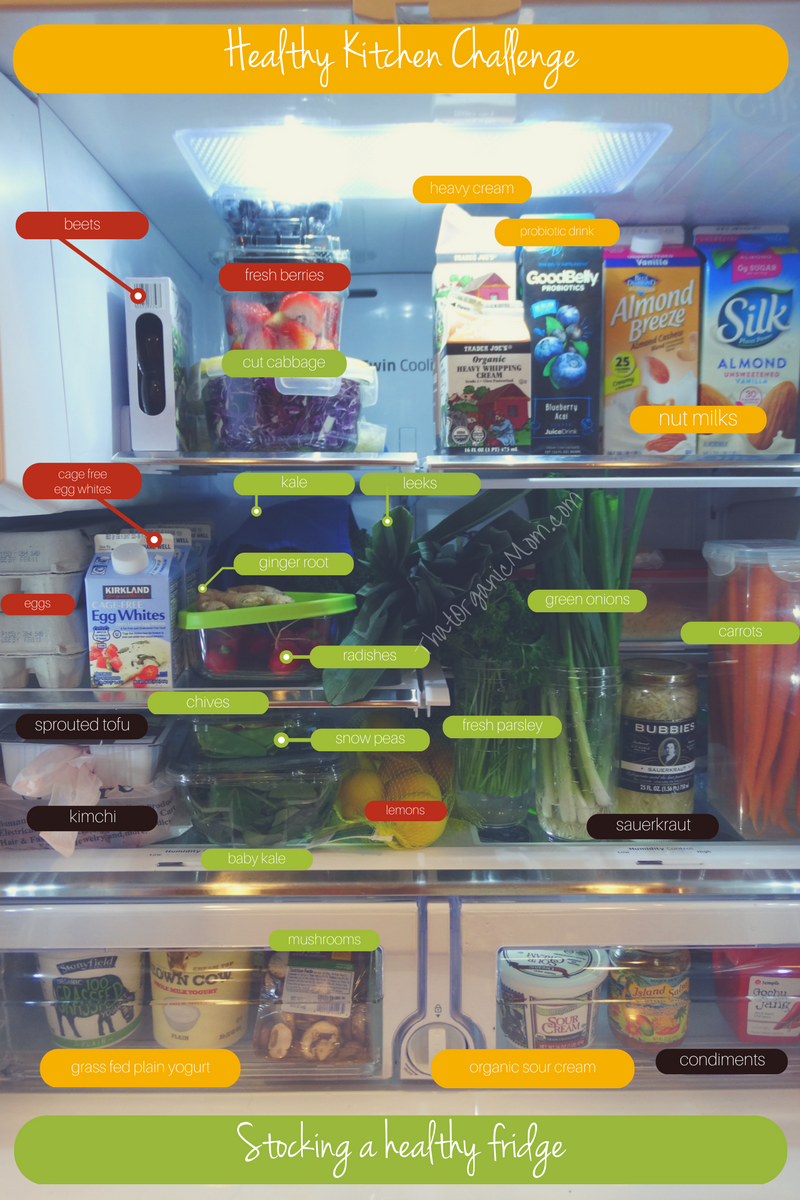 I wanted to share what my fridge looks like when I bring home my groceries to give you an idea of how I stock my healthy fridge. This will look slightly different for everyone depending on food preferences and dietary restrictions such as those who are completely dairy-free. The only dairy I consume is heavy cream; while my children and my husband do eat a small amount of cheese, sour cream and yogurt.
Items in the back of my fridge that aren't visible include jars of bone broth, fats for seasoning my skillets, bulk cheese for my kids to use on taco night, cut cucumbers, pre-measured 1 tablespoon blocks of coconut oil for ease of use, and washed lettuce.
If at all possible, put groceries away properly the moment you get home from shopping. Quickly storing produce will ensure that your purchases stay fresh until you are ready to use them. When shopping for fresh produce, it is best to buy only items that you will use up within a week.
You may notice that I use my crisper drawers for things like sour cream and yogurt. I have found keeping them corraled in a drawer makes them easier to find and frees up space for my veggies to take center stage.
Keeping vegetables and fruits at eye level will help you remember to eat them. We all know what happens to a bag of spinach shoved in the back of the crisper drawer. Long forgotten! If your fridge has an additional snack drawer, consider keeping healthy snacks such as grapes, apples, pears, cheese sticks, carrot sticks, celery sticks and a jar of nut butter there for grab and go eating.
Carrots should have tops removed and stored submerged in water (change the water every 4-5 days)
Radishes should be kept in a container unwashed, wash just before using
Herbs and green onions can be stored upright in a small amount of water
Leafy greens are best stored wrapped in a clean kitchen towel or the original container; it is best to wash before storing if not already prewashed. However, save cutting until right before eating as opening the lettuce pores can cause them to go brown due to oxidation. Cut lettuce in bags at the supermarket has had most of the oxygen removed and replaced with carbon dioxide and nitrogen.
Avocados should be stored at room temperature, not in the fridge
Apples stored in the fridge should be kept in a plastic bag and away from lettuce as the ethylene apples put off will turn lettuce brown
Don't wash berries until you intend to use them, otherwise, they will rot faster, purchase already cut berries for use within 2-3 days.
Citrus fruits can be stored on the counter for a couple of weeks, longer in the fridge
Tomatoes should not be stored in the fridge as it diminishes flavor
Store root vegetables in a cool, dry place, not in the fridge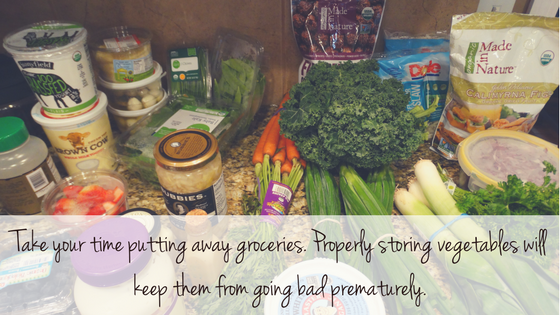 Using crisper drawers for jars, tubs, and boxes allows more space for veggies to take center stage!
Other items I keep in my healthy fridge for my family include:
organic polenta
Kerrygold butter
Neufchatel Cheese (1/3 fat cream cheese)
mushrooms
plain yogurt
nut butters
sour cream for Taco Tuesday
various types of miso
red pepper paste for Korean dishes
other condiments used infrequently
Sugar-free salsas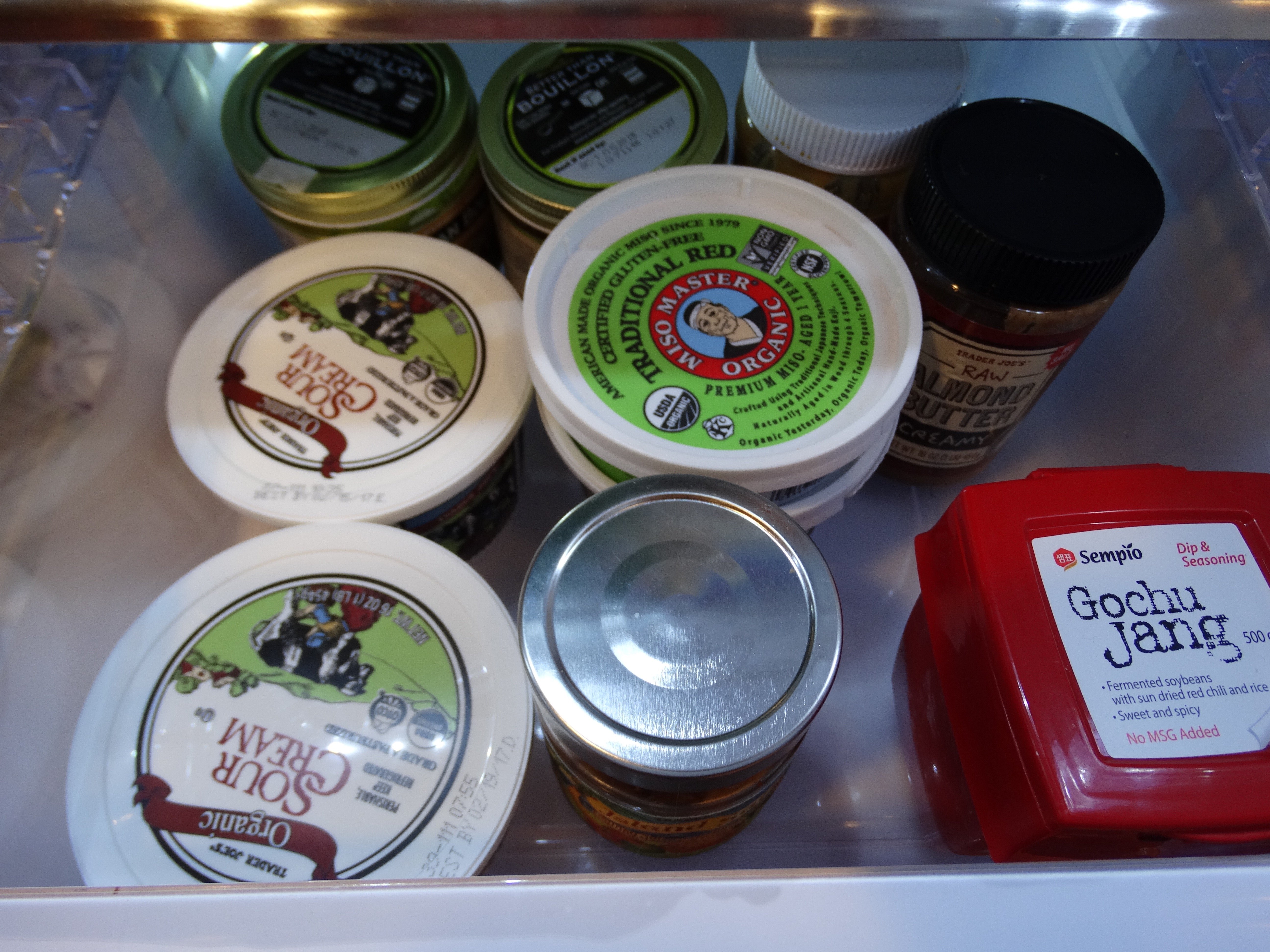 In the side of my fridge door, I keep vitamins that must be refrigerated such as probiotics, etc. Obviously, I am not a fridge minimalist, as you can see the other side-door contains various cooking ingredients and condiments:
coconut aminos
soy sauce
tamari
rice vinegar
pickles and other fermented vegetables
ghee
condiments such as mustards, sugar-free mayo, sugar-free organic ketchup
apple cider vinegar and other types of vinegar
pickled ginger for sushi night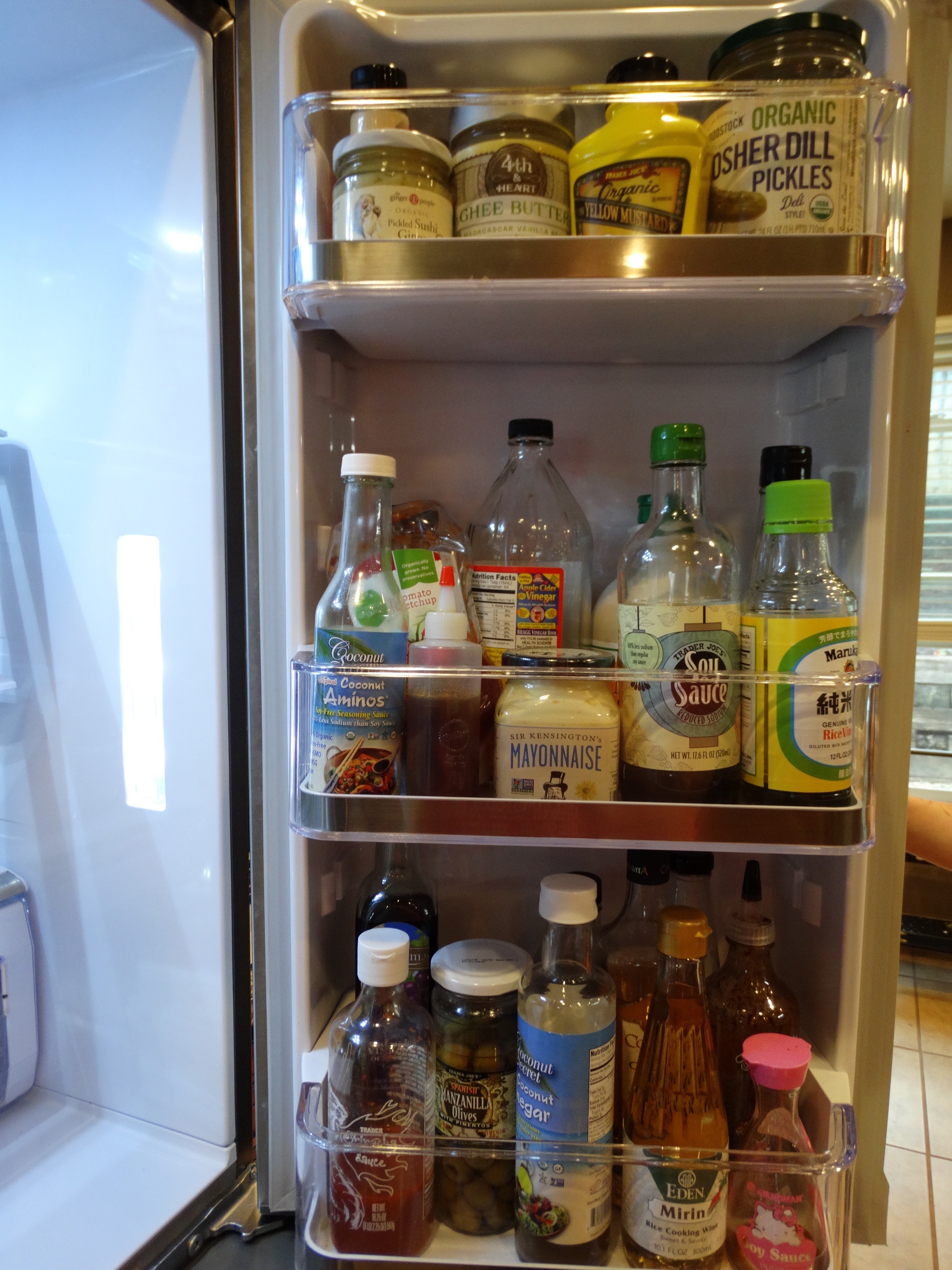 See the Hello Kitty Soy Sauce bottle in the bottom right corner of the picture above? My daughter really wanted it, so I poured out the (yucky) soy sauce and filled it back up with coconut aminos! The things we do for our children!
I hope this post has inspired you to take part of the Healthy Kitchen Challenge that will be kicking off for February. So, what do you keep in your healthy fridge? I'd love to know and also if you plan to participate in the challenge, why don't you introduce yourself in the comments below? I can't wait to cyber-meet you!
Want to see what I do with my yummy fridge foods? Find out on my Instagram page or better yet, join my TOM Cookbook Club! Also, find encouragement among other women in our group Hopelively as we kick off our upcoming challenge!