This week, according to my Thanksgiving plans, I've been narrowing down the choices for my Thanksgiving Menu. I'm finding so many good recipes that I want to make them all! To make sure we don't make too much and create food waste, try using a Thanksgiving food planner that will help you to prepare the perfect amount of food! Awesome, right?
My family members do not have specific dietary restrictions, but my husband and I do follow a low carb lifestyle (Keto) for health and weight loss. For that reason, I make several dishes that will fit our preferences as well as several that only my kids will be eating.
One tip before we get started on the menu, if you can, set your table the night before Thanksgiving. Setting the table the night before guarantees it is ready to go the following day and you won't have to worry about it. You can see my table pictured below.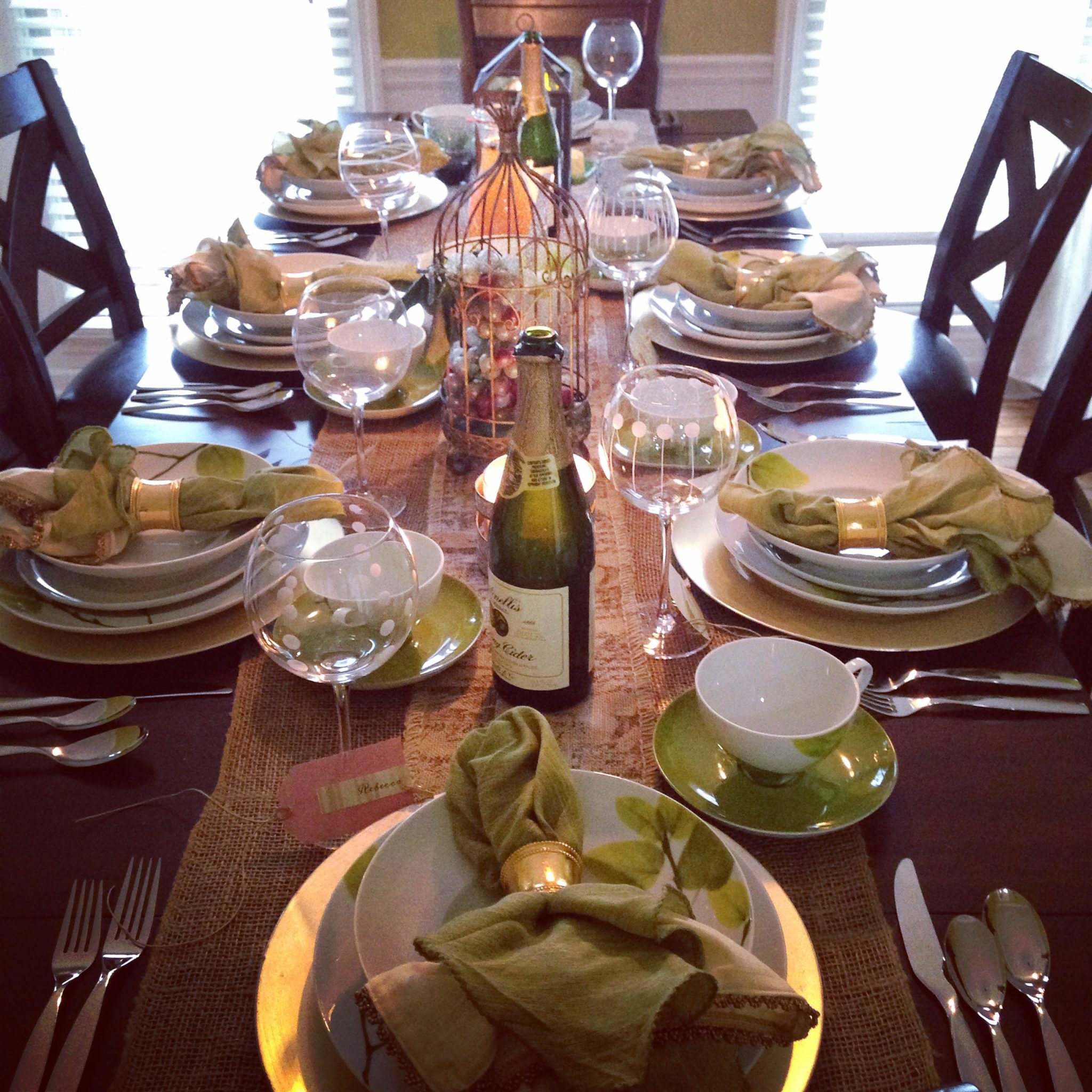 Here's what I have planned for my Thanksgiving Menu this year:
Keto/Low Carb/THM-S Friendly Menu
Before the "big meal" I'll probably have a Charcuterie Board for snacking. It's easier than making appetizers and perfect for a crowd. Before the meal I'll serve a small simple salad.
Low Carb baked "potato" soup – I like to start off with a soup and salad to make the table part of Thanksgiving last longer. I'm serving less than a dozen people, so I use my nicest dish set which includes a blow thus I must make soup!
I especially like that the author points out the nutritional differences:
NUTRITIONAL COMPARISON (per serving):
Traditional Potato Soup = 323 calories, 7g fat, 7.8g protein, 21 carbs, 2.6g fiber
"Healthified" Mock Potato Soup = 120 calories, 7g fat, 8.1 g protein, 6.2 carbs, 2.77 fiber
NUTRITIONAL COMPARISON:
1 cup Potatoes = 116 calories, 28 carbs, 4 fiber
1 cup Cauliflower = 28 calories, 3 carbs, 1 fiber
Turkey – While I'd prefer drumsticks only, haha, others might not agree, so I make a whole turkey using a buttermilk brine. In the past, I have followed a basic brine recipe. Either way, make sure to use brining bags for this step.
Vegetable side dish for my Thanksgiving menu is of course the all famous but this time low carb Green Bean Casserole.
Cranberry Salsa – My mom always made a special cranberry dessert with jello, oranges, apples, pecans, and of course cranberries, but all the ingredients added up to a lot of sugar for one dish. Instead of dessert, I decided to bring cranberries to the main meal by using this cranberry salsa! Cranberry is so delicious with turkey!
Pumpkin Casserole – This is a very simple dish that tastes delicious and works perfectly for low carb lifestyles. Pumpkin is so nutritious and usually on sale during the holidays, so why not use it in more than one dish?
Pecan Pie – I'll be making this low carb pecan pie recipe however, I'll be using Trader Joe's mixed nut butter with a few drops of maple extract added. Plus, I'll making my own sugar free maple syrup recipe using Swerve brand sweetener.
Pumpkin pie – If you're into pumpkin pie but you don't want to overload on carbs from the crust, try this recipe with an almond crust. Those who prefer a graham cracker crust can make your own low-carb graham crackers to crush!
Plus the following additional items for those not following a carb restricted diet:
Crescent Rolls – store bought
Real Mashed Potatoes – made by the kiddos
Holiday Roasted Root Vegetables –  My mom and I were browsing low carb recipes and came across the most beautiful root vegetable recipe. She decided to give it a try and said it was worthy of Thanksgiving dinner, so I'll be adding it to the table this year.
I'm not making this recipe, but who wouldn't love Loaded Mashed Potato Casserole. I would like to recreate it with cauliflower mash instead of potatoes. Something like a Loaded FauxTato Casserole
Drinks
For those who like to imbibe during the holidays (well, and whenever) here's a useful Alcohol Guide for low-carb diets to keep you on track. I'll be making Maple Bourbon Old Fashioned for the adults in our family this year. I even invested in a large silicone ice cube tray to make proper whiskey cubes!
Carving the turkey
After all the work of cooking a Thanksgiving turkey, don't ruin it with a bad carving job. Here's a short video to help you learn the technique. I suggest watching it a couple of times. Use a carving set for the job. Also, it's best to carve the turkey in the kitchen and serve it on a platter rather than to carve it at the table. Make sure you have your knives sharpened before Thanksgiving Day!
Make sure you have a rather large carving board, preferably one with a drip catcher or "trench" around the edges to catch the juices from the turkey. You'll also want a nice platter to serve your perfectly carved turkey on.
I prefer not to crowd my dinner table with the food and opt for a buffet style; placing everything on a side board in my dining room. For desserts I set up an additional folding table.
So, I'm curious, what's going to be on your Thanksgiving Menu? Tell me about it in the comments section.
Share this post on Pinterest!