Growing up I vividly remember my grandmother and my mother both having aversions to certain sounds. My mom would not let us chew gum in the car. When we ate popcorn my sister had a habit of making one kernel of popcorn into more than one bite, no clue why but she ate everything like this, including m&m's, which she bit in half before eating… don't ask me why. This aversion to sound is formally known as misophonia.
The literal definition of misophonia is hatred of sound but a person with misophonia does not simply hate all sound. People with misophonia have specific symptoms and triggers and are sensitive to only certain sounds (source)
I have written about misophonia before, in this article: When You Hate Sounds. I'm not even sure when I began having an aversion to sounds but I do remember feeling irritated as a teenager when I sat next to my dad while he ate because his jaw made a horrible popping sound when he chewed. Ironically, my husband's jaw makes the same sound.
I think it has gradually worsened over the years. There are certain sounds that make my ears feel like they're bleeding; sounds like someone chewing chips or popcorn, chewing gum and lip smacking sounds in general. Often repetitive sounds bother me.
There is much discussion as to whether or not misophonia is inherited. To that I can say, it sure seems like it! In my family, it has occurred in four generations that I know of.  My daughters seemed to begin having problems tolerating certain sounds just before hitting the teen years.
"Pre-puberty seems to be a very common age of onset for the majority of those with misophonia, with lifetime persistence for most cases, and there appears to be a genetic component." (1)
Several of my daughters have aversions to certain sounds, though not the same sounds that bother me. One of my daughters literally jumps if she hears someone click or flick their fingernails. If she is sitting next to me and without thinking, I do something with my fingernails, she will reach over and gently take hold of my hand to stop the sound.
Another daughter is bothered by the sound of silverware sliding across the teeth when someone eats that way. She will try hard to be nice about it by saying, "it must hurt scraping your teeth that way" or something along those lines. She knows that it is her own issue, but it's still hard to cope with. One way she has tried dealing with it is by not acknowledging it if possible but sometimes it's just too hard!
One of my daughters used to have to physically look away when she was at the dinner table with noisy eaters. I guess the looking away kind of helped her to cope with it, although her discomfort was apparent on her face.  Unfortunately, chewing gum also triggers her and she goes to a school where gum is allowed in the classroom. She finds it very hard to concentrate on studying when people around her are chomping on gum. It's like being trapped because it's not something you can really ask people to stop doing.
During a shopping trip to a department store to help my son pick up some khakis for work, my youngest daughter and I explored the home goods section. I had been wanting to get a handheld vacuum for quick clean ups around the house and there was a sale. As we were looking at the options, a woman in her 50's standing in the aisle within arms reach began smacking her gum, mouth open, obnoxiously loud. Just as I turned towards her, she popped what sounded like a hundred tiny gum bubbles by pushing air against the gum she had pressed up against her teeth.
At that moment, I literally felt my fists balling up and heat rising to my cheeks. It took every ounce of self-control not to look directly at her and spout something really rude. I had to leave the aisle. I understand people are going to chew gum. My mom gives my kids gum when they ask. Ironic, huh? I, personally, do not keep gum in my purse, home, car, or anywhere else. I think there should be Public Service Announcement about gum chewing in public places: Gum Etiquette.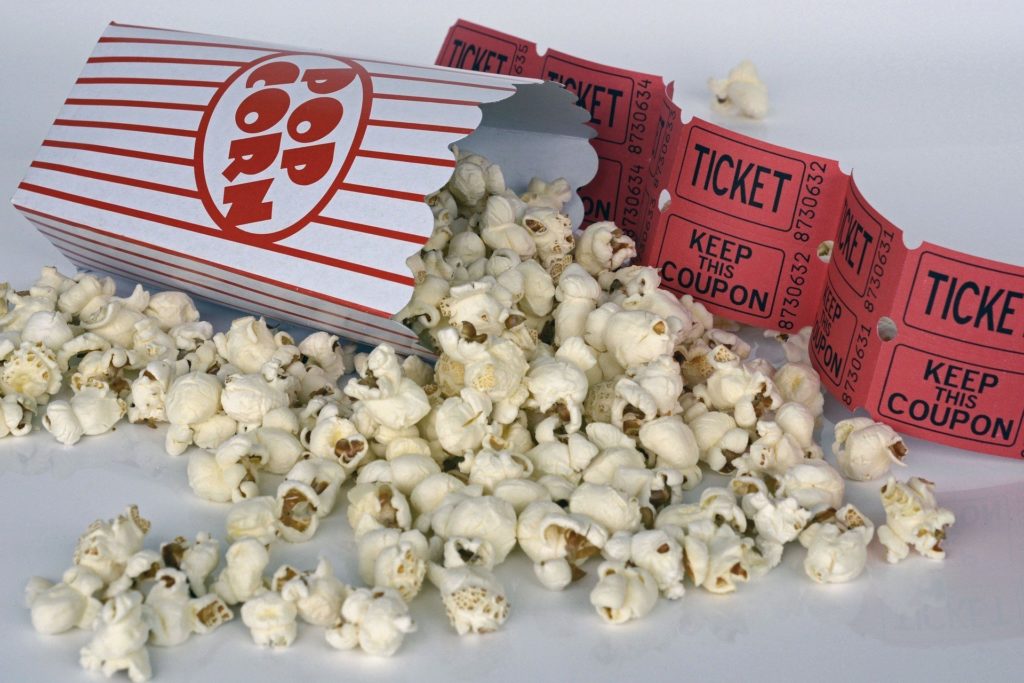 Another time I almost lost my marbles was on a Field Trip to a movie theater with my daughter's 1st-grade class. Included in the price were a small drink and a small box of popcorn.  Great.  I ended up sitting next to a dad who ate his popcorn one bite at a time, with his mouth open. Not only was the chewing sound horrible, but every time he put his hand into the box he didn't take the kernel from the top of the box, nooooooo he had to feel around towards the bottom of the box making the most annoying sound. I literally couldn't even focus on the movie… which ironically was about monkeys who made horrible sounds with their lips!
The sad part about it is that what I remember from that field trip is the anger I felt sitting next to a person innocently chewing his popcorn. What should have been a fun happy memory with my daughter was like torture for me all because of a sound.  I mean, yeah, he chewed louder than most people, but it's frustrating to notice sounds at all. There have been times that I just didn't go to the movie theater because sitting in a room full of people chewing is physically and mentally painful.
Knowing that this is my own personal problem/issue does not make it easier to deal with. I have tried many methods to cope with the feeling I have when my misophonia gets the best of me. I have tried:
eating alone – sad but it sometimes helps.
using earplugs – other people find this offensive.
playing music during meals – works pretty good, but not always feasible.
other coping techniques listed in my previous post
I have also worked with a Psychologist on a plan for reducing and coping with the stress misophonia causes. Psychiatrists, Neurologists, Audiologists and Occupational Therapists can also be helpful.  The Misophonia Institute has a library of videos about Misophonia listed here. I especially found the "Neural Repatterning Technique and the Trigger Tamer" video interesting. In it, Tom Dozier talks about how use and app to stop the emotional reaction to a trigger.
Not only do people with misophonia suffer from the disorder but from relationship issues because living with a person who has misophonia is not usually a walk in the park. It is often hard to hide the discomfort another person's sounds make, so if you are the "other person" it's hard not to feel offended. After all, you're just chewing.
Throw in a little neat-freakiness and you might just have a person who is sometimes very hard to live with. I have not met one single person, online or in person, who has misophonia who doesn't suffer relationship problems to some degree.
Often, a person with misophonia can seem overly sensitive and that's because we are! It is really hard to be sensitive to sounds when everyone around you is happily smacking gum and chomping popcorn and you feel like screaming. I can't count how many times I wish that chewing sounds didn't phase me!
The reason I share by writing this post is to help people understand what it is like living with misophonia in a world where everyone seems to be chewing gum!
Be blessed!
Rebecca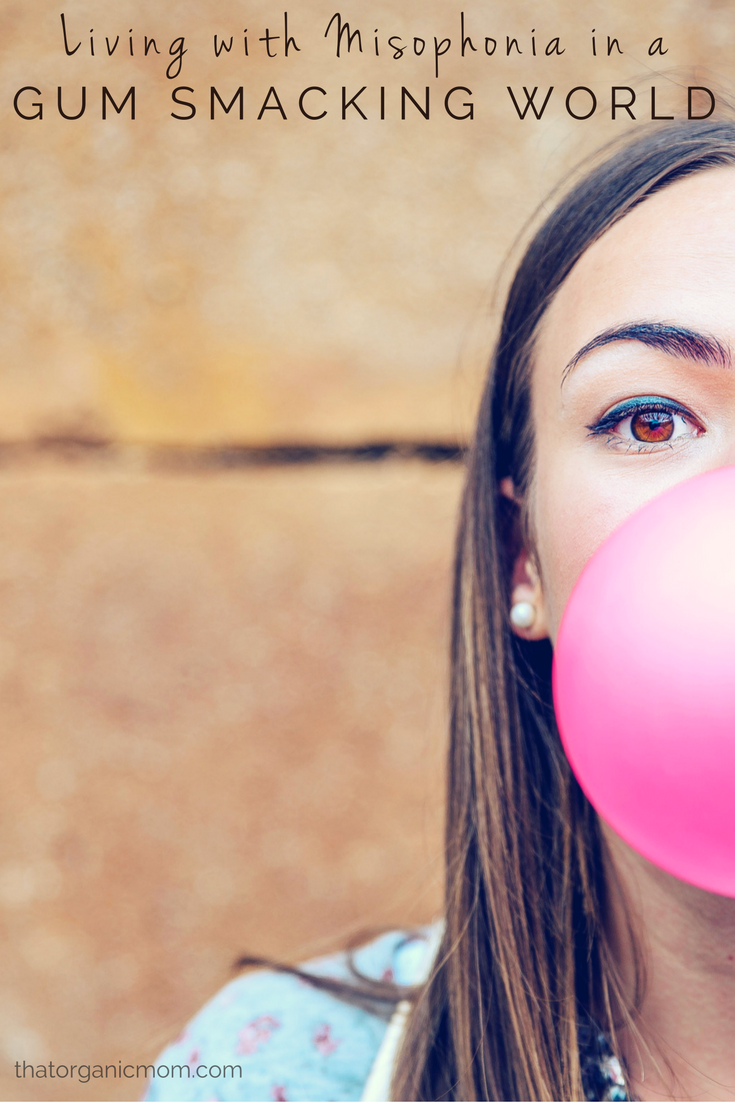 Sources

1 – https://lifewithmisophonia.wordpress.com/2012/02/25/the-science-behind-misophonia-and-possible-treatments/