Podcast: Play in new window | Download
Subscribe: Apple Podcasts | Google Podcasts | RSS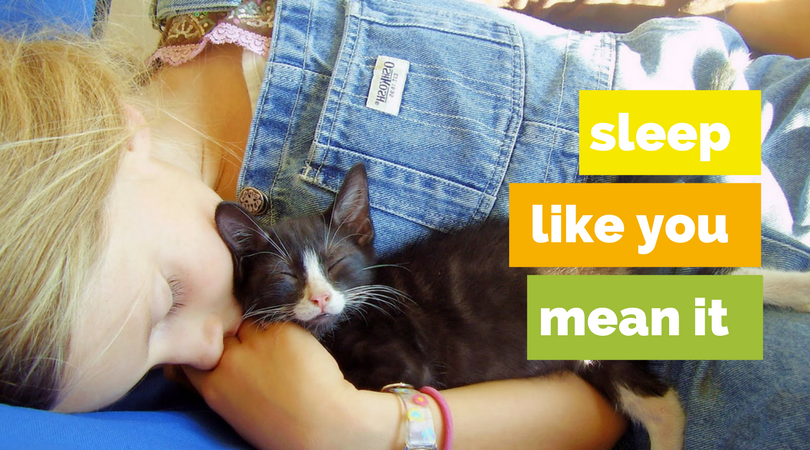 Listen to this podcast on iTunes. Also, it would mean a lot to me if you could leave a review for A Healthy Bite on iTunes! Some upcoming shows include:
Getting Kids in the Kitchen – Episode 8
Bathroom Talk with Ivy (Potty mouth episode!) – Episode 9
Sleep like you mean it and feel energized!
The March Challenge is to get excellent sleep! That's a Challenge that anyone can snuggle up to!
Stick to a sleep schedule – go to bed and wake up at the same time each day

Use your bed for sleep and sex only – not for work, reading or television

Create an Oasis that encourages sleep – think minimally while eliminating clutter and distraction

Create total darkness and quiet – consider using blackout curtains covering lights, using

Avoid caffeine – it may seem to help you stay awake but actually makes your sleep worse

Avoid alcohol – it helps you get to sleep but causes interruptions in sleep and poor-quality sleep

Don't eat within the three hours before bed

Don't exercise vigorously after dinner – it energizes you and makes it more difficult to get to sleep

Do a brain dump – one hour before bed, write down the things that are causing you anxiety and make plans for what you might have to do the next day to reduce your worry. It will free up your mind and energy to move into deep and restful sleep

Take a warm bath with magnesium flakes or Epsom Salts. By adding one-and-a-half to one cup of Epsom salt (magnesium sulfate) and one-and-a-half to one cup of baking soda (sodium bicarbonate) to your bath, you will gain the benefits of magnesium absorbed through your skin and the alkaline-balancing effects of the baking soda, both of which help with sleep
Get a massage or stretch before bed – this helps relax the body making it easier to fall asleep
Take 200 to 400 mg of magnesium before bed (we like Calm) – this relaxes the nervous system and muscles.
I have also used L-theanine (an amino acid from green tea) and melatonin with my doctors' supervision to get more restful sleep.
Make sure to join the Sleep Challenge! Through May 1st The Bed Boss is offering my readers an exclusive 20% discount on any of their amazing mattresses using the coupon code TOM20. So if you do need a new mattress, now is the time and The Bed Boss is the place! You won't find coupon codes for The Bed Boss anywhere else online right now!
Read more on sleep:
Improve your sleep improve your life
Do you know what you're sleeping on?
What is a podcast and how do I listen?
A podcast is a free downloadable audio show that enables you to listen and learn while you're on the go. To subscribe to my podcast for free, you'll need an app to listen to the show from.
For iPhone/iPad/iPod listeners – Grab your phone or device and go to the iTunes store and search "A Healthy Bite." This will help you to download the free Podcasts App (produced by Apple) and then subscribe to the show from within that app. Every time I create a new episode, you'll get it downloaded right on your iDevice.
For Android listeners – Download the Stitcher Radio app (free) and search for "A Healthy Bite."
For podcast enthusiasts – If you already listen to podcasts and have a podcatcher that you prefer, the feed you'll need to add is https://www.thatorganicmom.com/feed/podcast
For those who don't have a mobile device – You can always listen to the show by clicking the audio file at the top of this page. Or go to: https://www.thatorganicmom.com/podcast