Too busy to prepare healthy meals? Here's how I cook tasty, nutritious meals in spite of a hectic lifestyle!
For busy families, cooking a healthy meal can seem like an unachievable task. It takes time to find a healthy recipe, make a menu, write the grocery list, go shopping, put away the ingredients, pull them back out on the allotted day, (if you remember what you bought them for), chop and prepare, then cook and present to the family. AND hope they'll eat it.
So when we do all of this work and the recipe maybe isn't a hit or the produce goes bad before we get to it, or we can't seem to make it to the supermarket, it's frustrating!
Being swamped with work and my kid's extra-curricular activities and all the things we women do, I want a meal service I can count on to deliver quality food consistently.
Organic produce is the number one reason I got on board with Sun Basket. When I shop the supermarket, I'm careful about choosing produce using the Clean Fifteen and Dirty Dozen lists. Sun Basket uses organic  produce and offers plant-based menu options!
For those who choose options that include meat, there are upgrades available if, for example, you'd rather have organic chicken. All fish options are wild-caught.
What I'm saying is, Sun Basket's high-quality ingredients for feeding my family is a tremendous benefit.
Recipes and Menu Options
Lots of options for various plans are available for all different types of menus such as vegetarian, diabetic friendly, paleo, carb-conscious. For those avoiding gluten, there is a gluten-free diet; however, for those who have severe gluten allergies, the facility does handle wheat products creating an opportunity for cross-contamination.
Each week choose from the available recipes, how many servings, and what day you are available for delivery.
Sun Basket's easy to follow recipes
My 10-year-old daughter is pretty capable in the kitchen, but I am surprised at how easily she is able to complete each recipe. Each dish comes with an accompanying recipe; we use the app to follow the steps.
This ramen recipe pictured below is her favorite so far. The hardest part was peeling the fresh eggs, which look a little haggard in the photo below, but the taste was still amazing!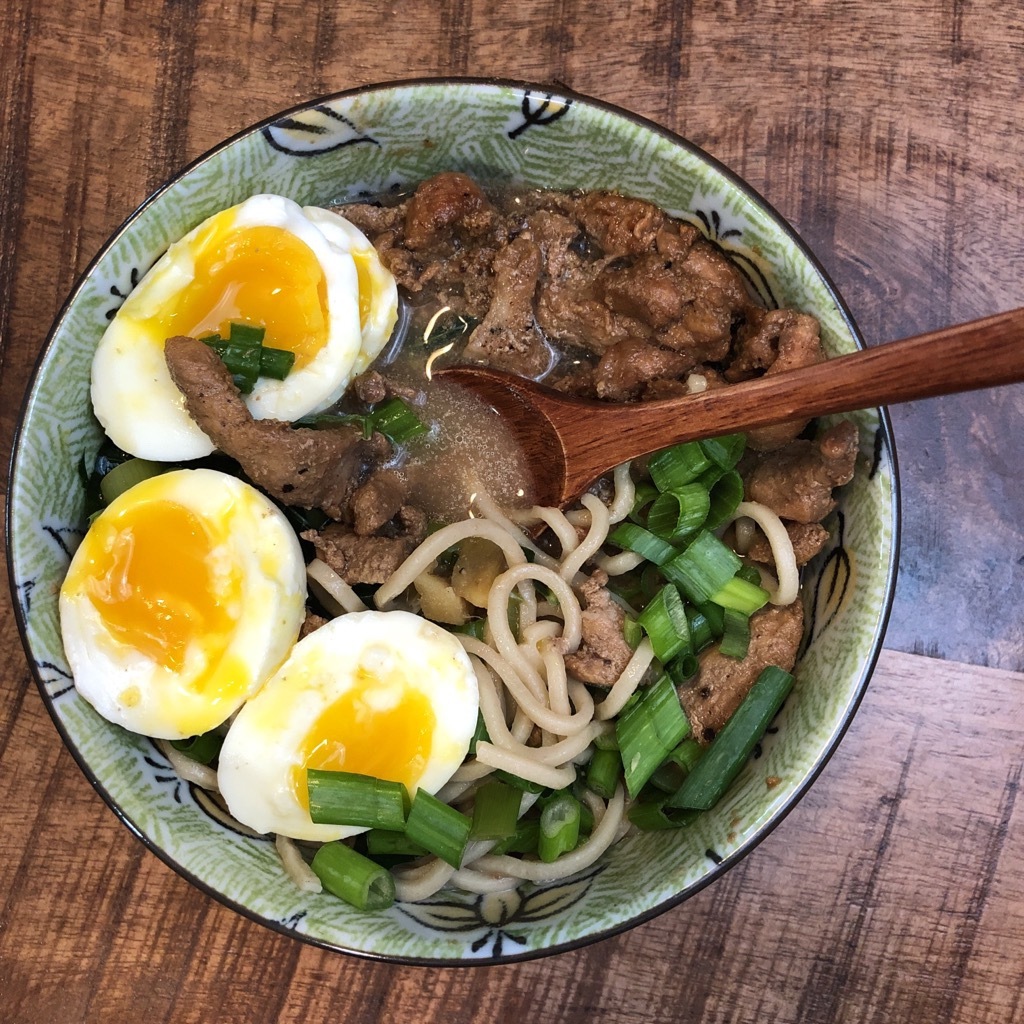 Possibly because she is growing up in a techie generation; she enjoys following the recipes on the app more than in a book. Once you finish a step, you can easily move on to the next screen and continue this way until the meal is complete.
At the end of the recipe, when you finish the last step, there is an option to take a photo. Which, of course, we always do! They are also on our Instagram, if you follow us there you've probably already seen a few of the meals.
View this post on Instagram
Reduced packaging and sustainability in Sun Basket deliveries
You can tell the company has made an effort to reduce waste by their packaging options.
The box is a blend of recycled and virgin kraft paper. As you can see from the photo below, my cats claim all cardboard boxes that enter our home.
Inside the box, the containers are all recyclable, padding made from reclaimed bluejeans (also recyclable).
Even the ice pack is made with nonGMO cotton and water and is compostable.
The reclaimed denim was just the coolest thing I've ever seen, so I decided to reuse it.  I used the denim to make a mattress for my cat's outside tent for when they get to hang out in the grass. In addition, I offered it to my video-game-shouting-son for sound-proofing his walls.
Sun Basket farmers are considered to be pioneers in sustainable crop rotation and water efficiency. The fishermen who supply the wild-caught fish use low-impact methods.
Another big bonus is that the company gives back to the communities through local food banks, employee programs, and Feeding America.
How does Sun Basket work
The dietitian-approved meal plans are delivered weekly on a flexible arrangement where you can skip a week if necessary. After sign up, it's as simple as clicking on My Menu to choose your recipes or meal plan that is right for you.
In the unlikely chance that you're not happy, Sun Basket has a 100% money back guarantee on all food within seven days of delivery.
Because I have been disappointed by so many food delivery services, I wasn't sure what to expect. After four shipments, I can say that I am thoroughly impressed.
Referral Perks
Like most companies, Sun Basket offers perks for referrals. A close friend signed up with Sun Basket and we share photos of our meals each week.
I recently asked Amanda for her thoughts on using Sun Basket; the following is her response:
Working from home full time as a graphic designer, mom to 7 (5 still at home), and wife to a pastor, it is *so* easy for me to skip meals or eat whatever is convenient, whether it is suitable for my diet or not. In an attempt to make healthy meals for me simple, convenient as well as interesting, I gave SunBasket a try, and it has been a great way to keep me on track and motivated to eat right even when I am busy.

Amanda Dixon
I love that I can choose food that is Whole30 friendly and have it shipped to my door!" (These are a couple of the photos Amanda sent to me.)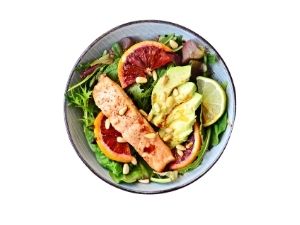 "I invest in myself and my health by choosing Sun Basket for two people option.
I eat one portion for supper and the other part for lunch the next day."
Every meal I've gotten has been delicious and ready in less than 30 minutes. I also love that their packaging is environmentally friendly and can be reused or recycled."
I agree with Amanda! We get the four person plan for our family and even though there are four of us eating, I end up with enough leftovers to send to work with my husband the following day for lunch. Apparently, the portions are generous or we eat like birds.  You decide!
What you will need to cook the meals
Your kitchen will require pots and pans, knives, measuring cup, cooking utensils, vegetable peeler, grater, and a zester to prepare the recipes.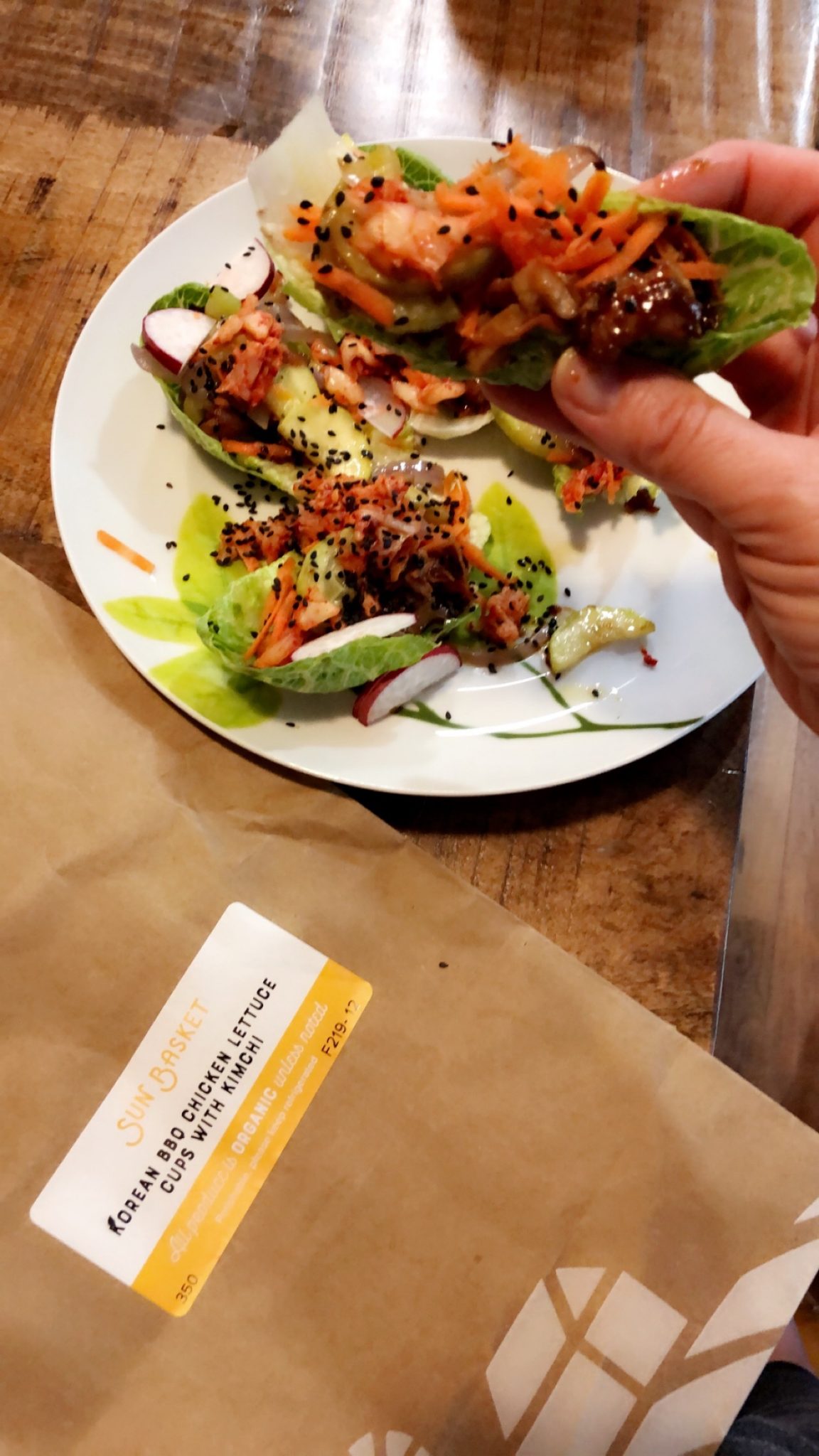 Here's an idea
I noticed that Sun Basket has a gift delivery option! What a thoughtful gift that would be, right? The recipient will be able to select their favorite recipes and delivery date.
If you are a beginner cook, you might find the "tips" section of the Sun Basket website helpful. It's where you will find articles about how to choose the right cooking oil, how to cook with parchment paper and other articles about health & wellness.
Surprisingly, there is also a section about sleep! (My favorite subject!)
I'm seriously blown away by how delicious every single recipe is. The fact that my 10-year-old daughter has been preparing the recipes with very little help from me is also a testament to how well planned each meal is.
Sun Basket has an in house chef and dietitian, so of course, the recipes are tasty and nutritious. I've tried so many of these type boxes over the years; now I've finally found one I'm willing to stick with!
In the following video my daughter and I prepare a Sun Basket meal together for lunch!
Explore Sun Basket's unique selection of grab-and-go breakfasts, 5-minute lunches, good-for-you snacks, and sustainable meat and seafood options—all designed to help you maintain your healthy eating routine from morning to night.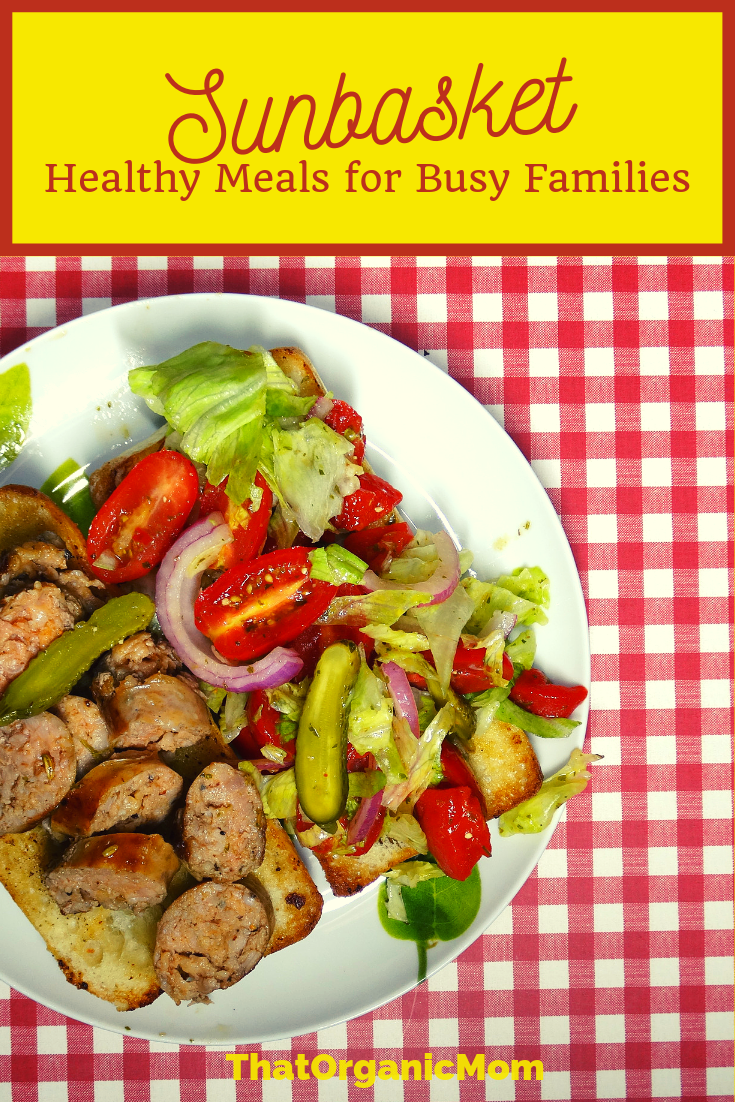 Thank you for trusting me to only recommend products that I use in my home for my own family. Pin this post to your fruits and vegetables board on Pinterest!