*edited to add: Sadly, Paleo Foods has closed their doors. It's unfortunate that not enough demand exists to keep cafes like this one open.
When it comes to eating out, there's no shortage of choices, but if you are trying to stick to eating clean, organic, low carb foods without gluten and sugar, the selection is a bit more limited. Unless you live near the Paleo Foods Café.
Maybe you haven't thought about what's in the food you eat when you order off a menu, but even when consumed in moderation, junk is junk. Although you might not have the ability to eat exclusively organic foods, you still might want to skip the fast food. Even in moderation; because you wouldn't allow a moderate amount of poison to be added to your meal knowingly, right?
Well, it's the same thing when you eat toxic food ingredients in processed foods. For example:
Shortening and partially hydrogenated oils – clog your arteries, increase your risk of metabolic syndrome, and cause obesity
White flour in pasta, bread and wraps – devoid of nutrients and send your insulin into overdrive
Artificial sweeteners like sucralose and aspartame that do more harm than good
Nitrates and Nitrites – used in preserving lunchmeat and bacon that can lead to diabetes and also may cause colon cancer
Monosodium Glutamate – used to enhance the flavor in many food items but can mess with your hunger and satiety cues as well as have an impact on your brain chemistry.
Food colorings – linked to adrenal and thyroid disorders, as well as various types of cancer.
BHA is added to prevent spoilage and is a known endocrine disruptor that can wreak havoc on your hormones.
It's rare that I find a place to eat out that meets ALL of my standards. The struggle is real to find healthy food that will sustain the body and fuel energy levels. What with all the fast food options offering processed, dyed, factory farmed, food that has minimal life-sustaining benefits left.
You don't have to follow a Paleo lifestyle to enjoy eating at the Paleo Foods Café. In fact, my husband and I follow a Ketogenic diet and my children eat a whole foods diet. You will find it's the perfect place when you are looking for food that will fill you up without the empty calories you get with sugar and other inflammatory foods. Desserts and snacks are made with natural sweeteners like paleo friendly honey, maple syrup and molasses.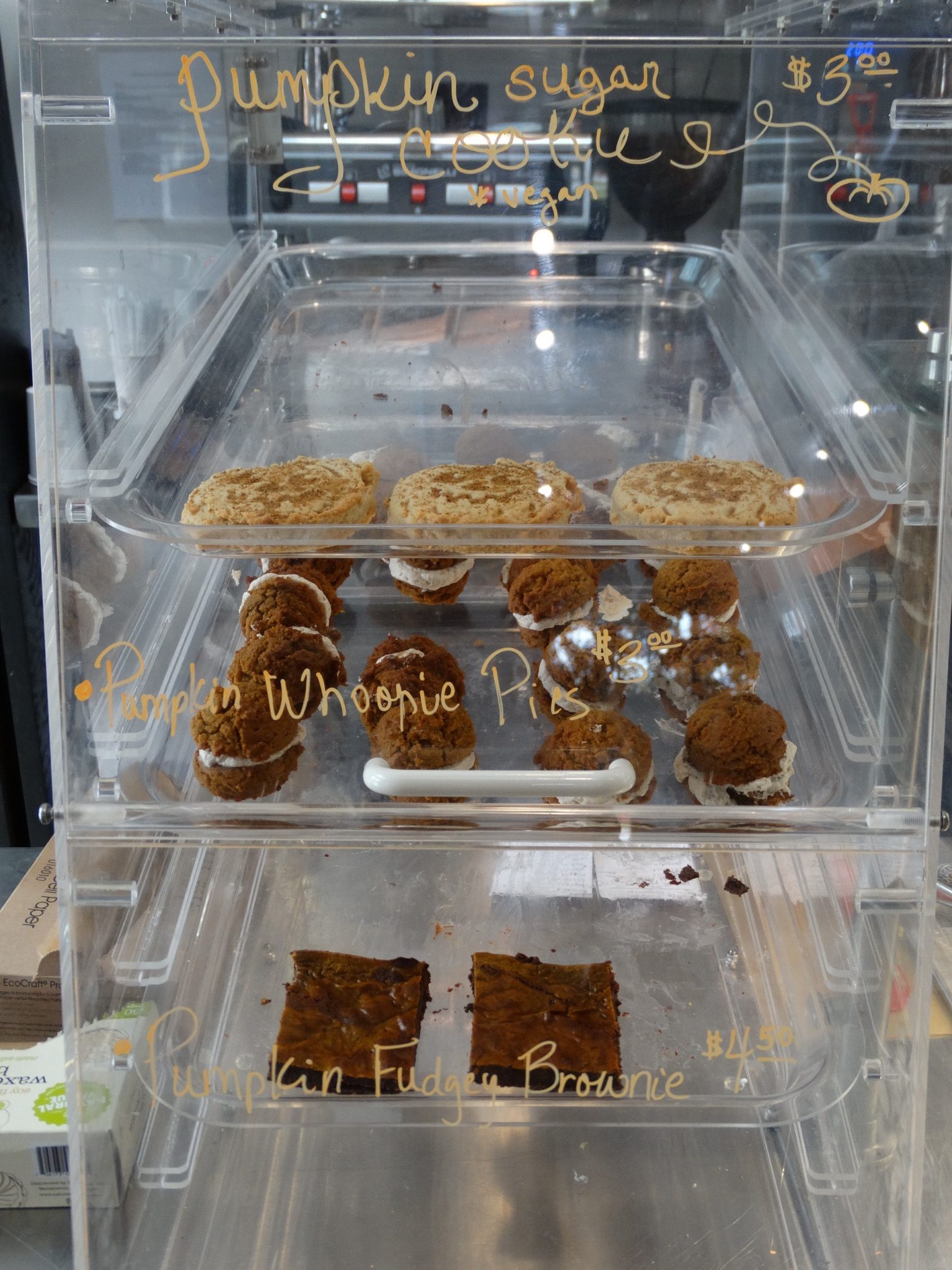 Having a menu that has more than one or two options that fit my keto lifestyle is a huge bonus. That's only part of what I appreciate about this cafe. When I first found the Paleo Foods Café, I was more than willing to drive across town to grab a gluten-free, refined sugar-free donut.
When the second location opened up near my house, I was beyond thrilled. Now I don't have to drive far to get a bite to eat while I'm out with the kids. There's no guilt about eating out either; I feel very comfortable taking them to eat at the Paleo Foods Café!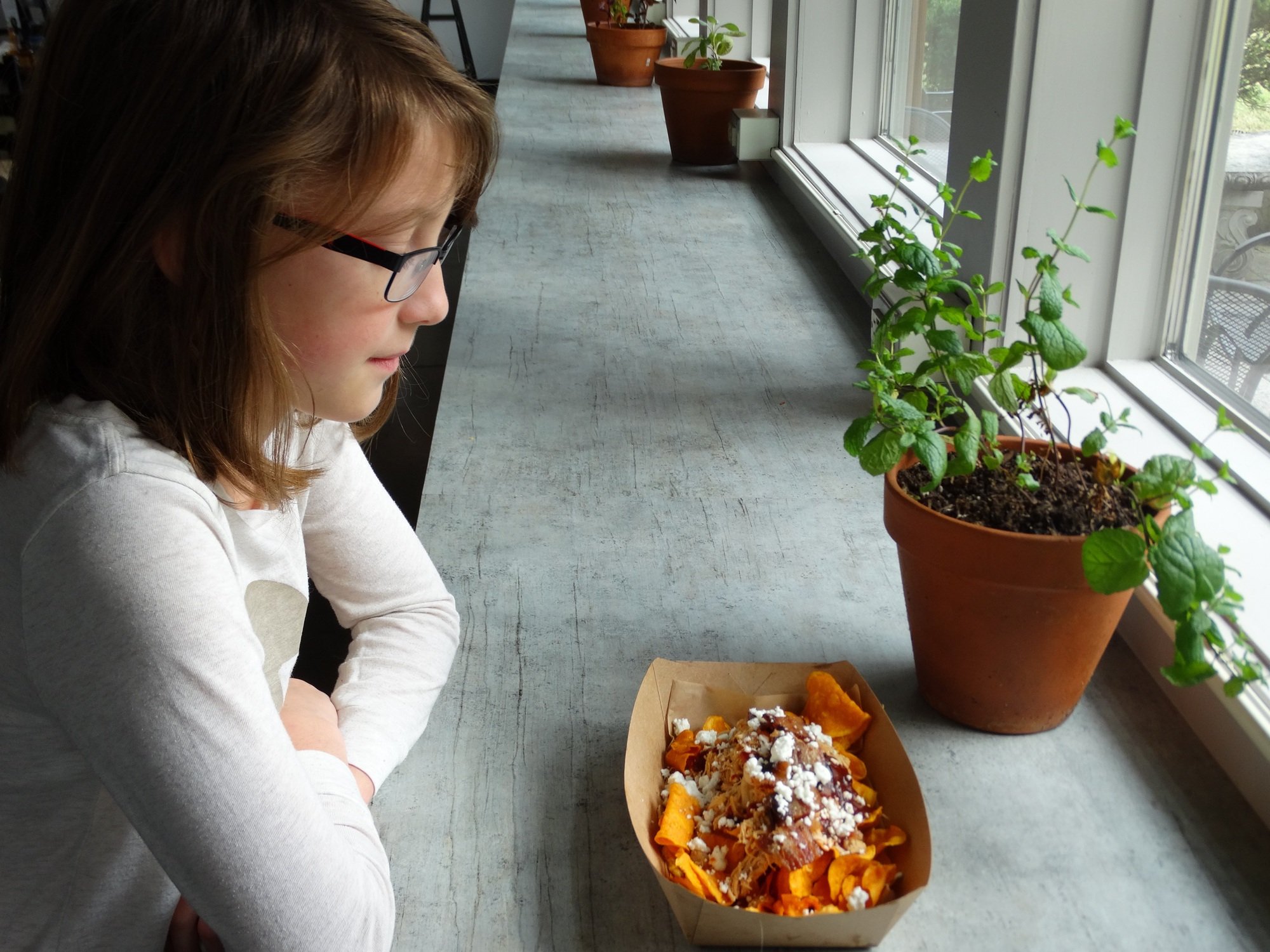 The kid's menu has some great options but my kiddos prefer to eat off the main menu. Harmon chooses the Taco Salad which consists of Grass-fed beef, avocado, salsa, onion and chipotle sauce served with plantain chips. Shawna always orders the bbq chicken nachos a delicious rotisserie chicken, smothered in Paleo BBQ sauce, over sweet potato chips. Served with goat cheese and cilantro. For those of us with an aversion to cilantro, they are happy to hold an ingredient if you ask.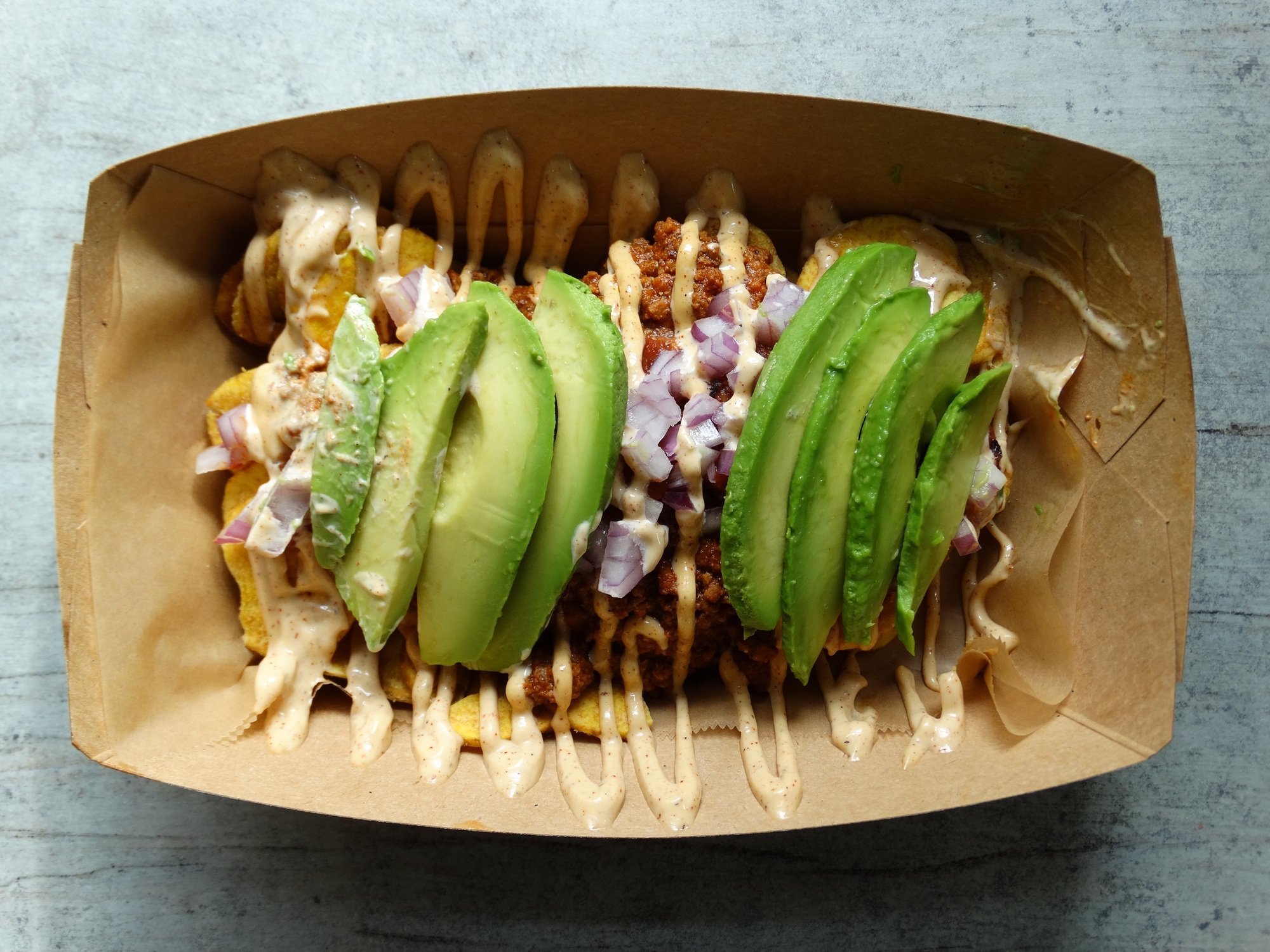 Quite possibly one of my favorite things about the Paleo Foods Café is the fact that they carry organic heavy cream for my coffee! I have not experienced any other restaurant or coffee shop that has offered organic cream; I ask because I follow a keto lifestyle that's what I prefer to add to my coffee.
On my "day off" it's a habit of mine to go to local coffee shops to work on writing, answering emails, and so forth. Most coffee shops only offer pastries and have very little in the way of protein. At the Paleo Foods Café, I have found the maple chicken biscuit (gluten-free) to be a tasty snack with my coffee while I'm working.
Sometimes when we are out and about, my kids will ask me to stop by so they can get a drink of water. That might be because it tastes clean, unlike most restaurants with water that has a horrible taste. I think my kids notice because they have a reverse osmosis water cooler and we drink reverse osmosis water at home as well. All the food is divine, including the smoothie and coffee options. You can check out the menu online.
Because the ingredients are sourced locally you can count on the freshest taste possible. It also means some items are seasonal such as the Pumpkin-y dessert selection on the day I took these photos.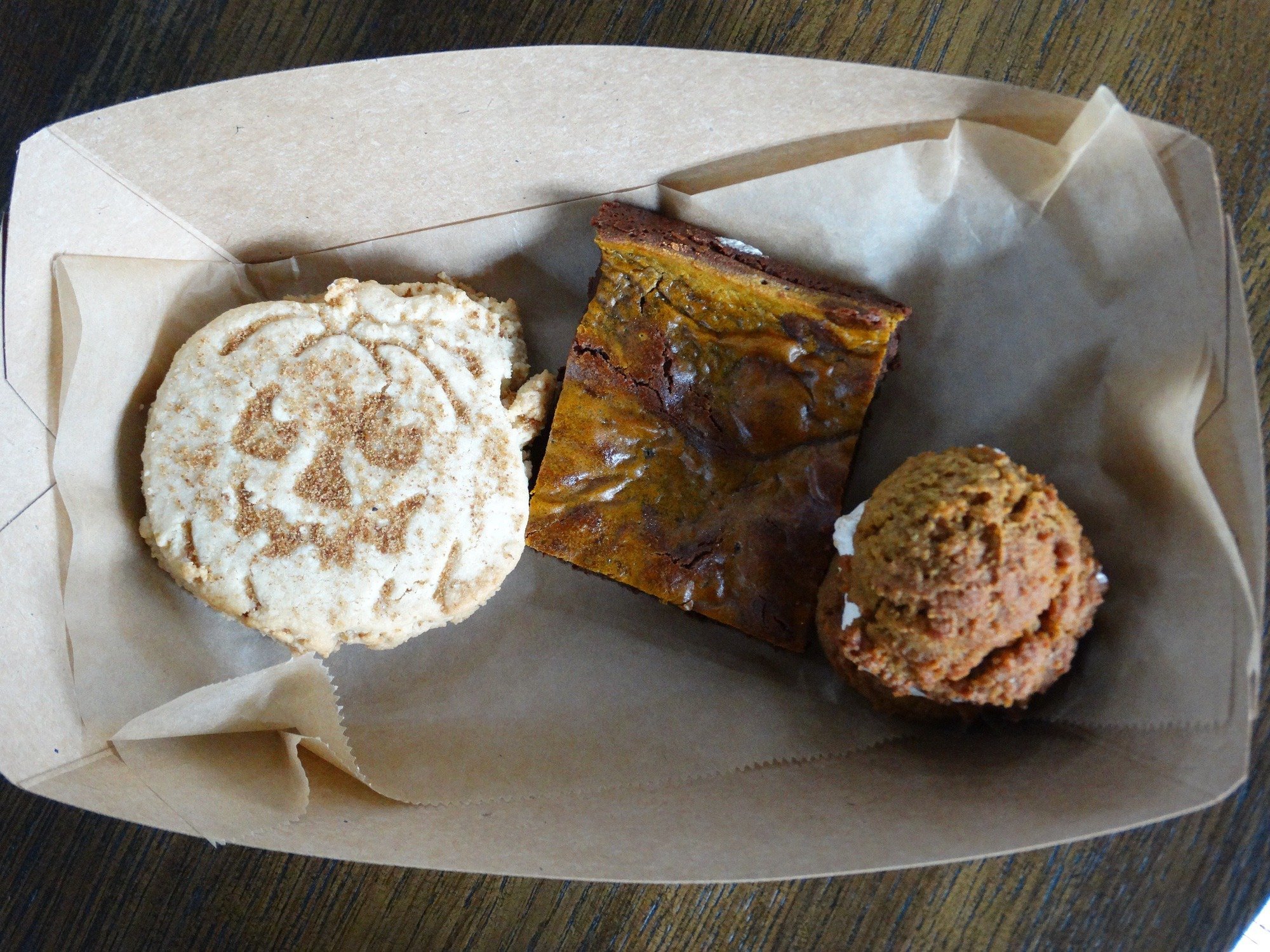 If you've watched the intro on my YouTube videos or read much of my blog, you probably already know that "Health: it's not just about lettuce" is my motto. So I was thrilled when I read this on the Paleo Foods Café website:
We all have that one friend who eats nothing but a plain salad for lunch every day, sadly explaining that they're "trying to eat better". So many people think "healthy" means eating less, or only eating veggies, or giving up tasty food to lose weight. Just restricting and limiting does not equal healthy!

At Paleo Foods Café, we want you to be strong, healthy and thriving. We also love yummy food, too. Afraid you'd have to give up your favorite foods to eat clean? We use locally sourced, honest ingredients to make chocolate smoothies, vanilla lattes, brownies, cookies, and even breakfast pizza! We even have a menu just for kids, which includes sausage biscuits and cinnamon toast waffles. Eating healthy does not mean that everything has to be green and taste like grass, and it doesn't even mean you have to give up chocolate!
Recently, they started offering meal prep: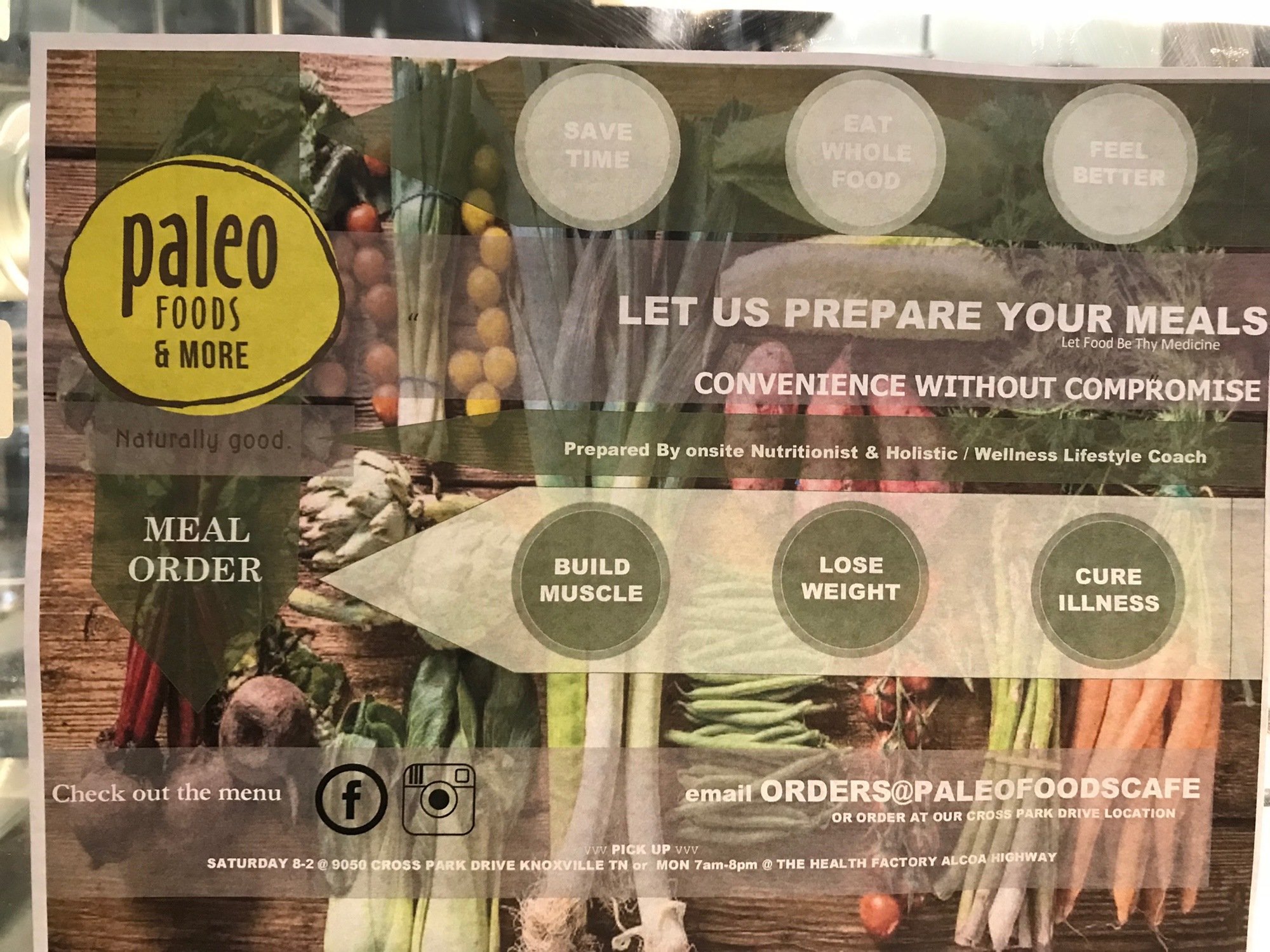 The dining room at the Cross Park Drive location has a lot of natural light and plenty of seating including an entire wall with barstools and outlets for charging your devices. The windows on one side overlook the patio area and lawn beside the kitchen building where all the baked goods are prepared in house!
Just down the road from the McGhee Tyson airport, you'll find the Alcoa location, so grab a bite to eat if you are flying in to the area. Whether you are a local or just passing through, make sure to stop at the Paleo Café and let them know That Organic Mom sent you. You never know when you might find us there, we'll be waiting for you!