I created this meatloaf recipe with a certain family member in mind. A family member who would rather not have anything to do with a food that seems "diety"…
You could pair this mashed cauliflower, some steamed broccoli or a nice rich ranch style salad! I paired mine with a few brussels sprouts, but only because that was literally the last veggie left in my fridge. Someone needs to go shopping…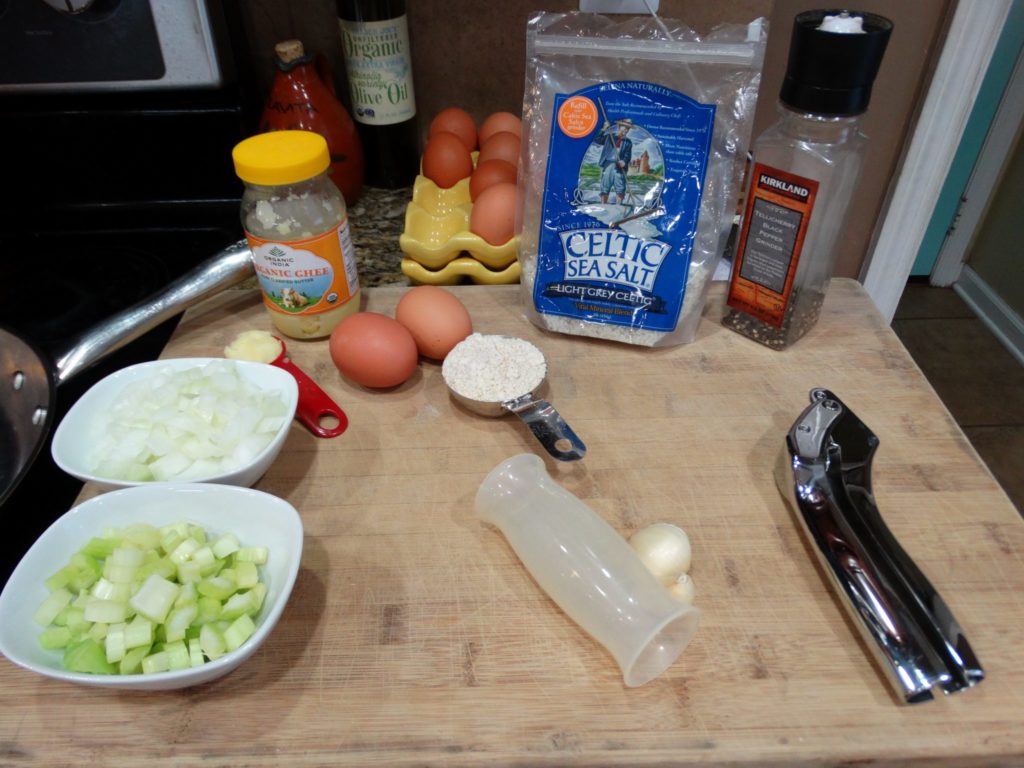 This recipe was created by myself and my seven year old daughter. We called it Ninja Meatloaf because Ninjas are cool… and because they are stealth…and because it tastes so delicious that no one will care that this meaty dish has an entire bag of spinach in it.
Please overlook my messy kitchen…my husband has been off work several days in a row and we haven't been very structured… you know what I mean?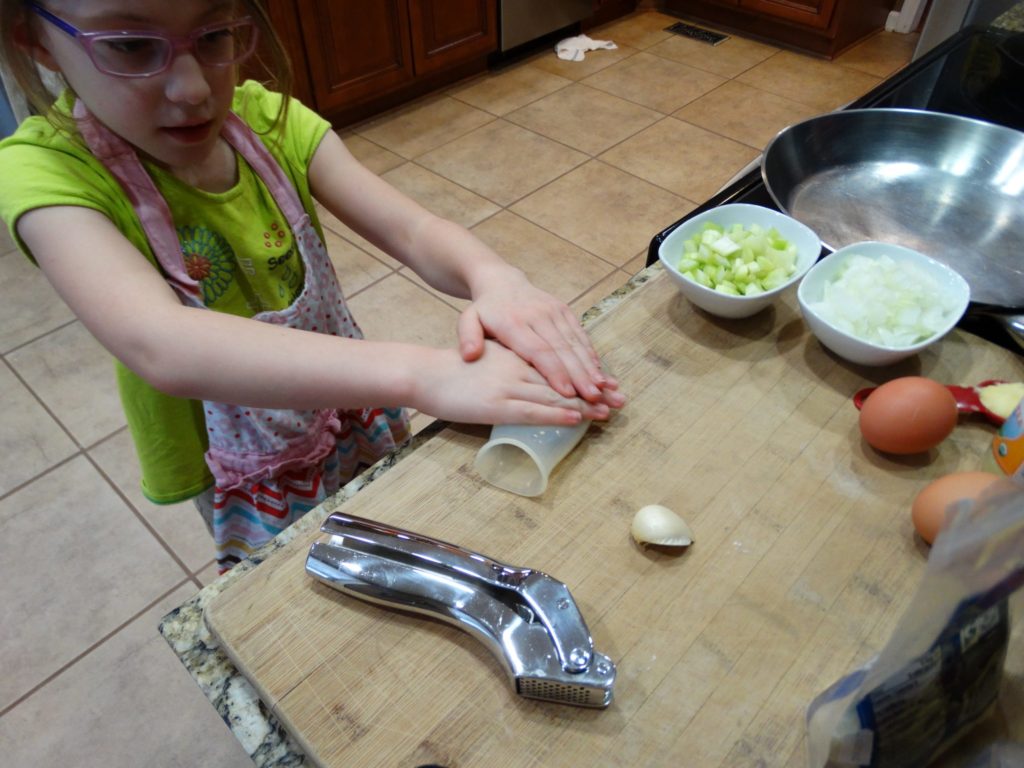 We like to use fresh garlic in our recipes and my little helper thinks peeling and mincing the garlic is the most fun.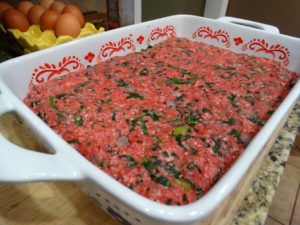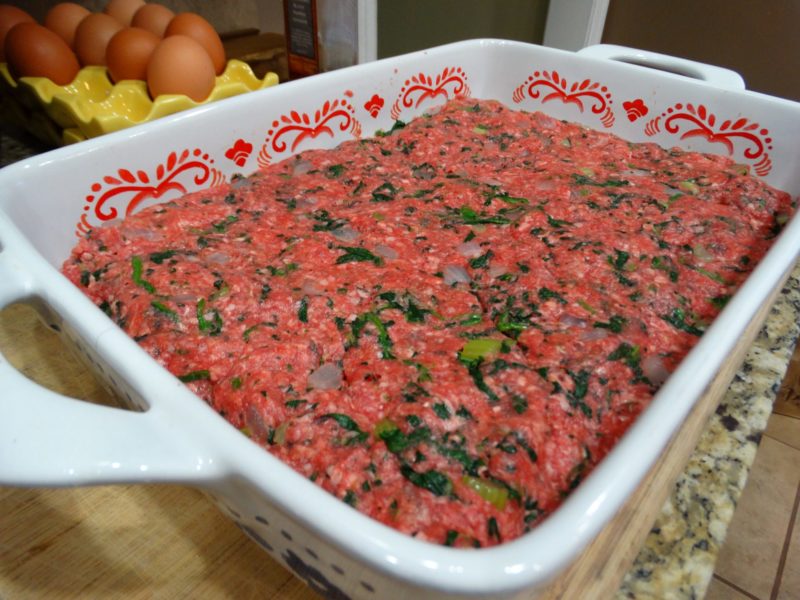 You don't really have to sauté the veggies if you don't want to. This step can easily be skipped by simply adding the raw veggies straight into the meat mixture.
We used bison, but you can also use ground beef, turkey, or chicken. I like to mix it up by not using beef all the time and since we can buy bison at Costco, it's nice to use it sometimes.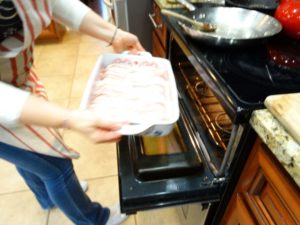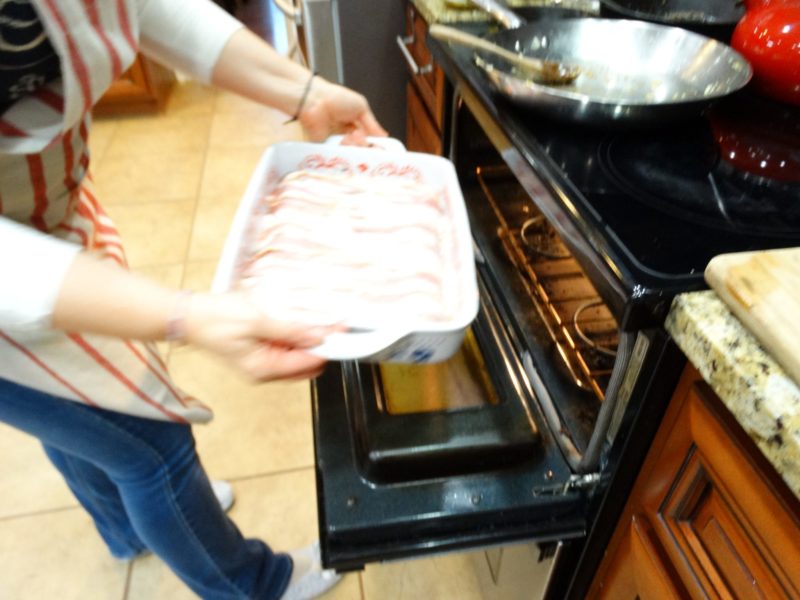 I wanted the sauce to taste like Maple Flavored BBQ and it did! The next time I make it, I think I will cook the sauce a little while before adding it to the top. The recipe above is just exactly how I prepared this one. If you like the bacon more on the done side and you are careful you can just broil the top on low for a minute or so before adding the sauce.
Also, if you wanted to skip the bacon or use turkey bacon that would be a healthier option. I'm going to be honest, my husband loves bacon, my kids love bacon… I'd like to say we never eat it, but maybe every other month or so we do something special with bacon. It's really hard to find a bacon without added sugar, so make sure to check and recheck the Ingredients section on the back of the package! Neither Costco nor Trader Joe's where I live carries a bacon without sugar. If I want a sugar free bacon I have to go to Whole Foods. Another reason we don't eat it very often.
Loved this sauce!
You can make this meatloaf without the sauce for sure. If you want to use a sugar-free marinara on top it would be fabulous. They carry a good one at our local Trader Joe's. I skip most of the sauces at Costco, but if you aren't going for a sugar-free recipe you could use maple syrup in place of the stevia and maple flavoring. Know that the stevia is really not even noticeable in this recipe.  If you do that just leave out the water so it won't be too runny.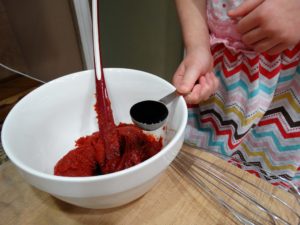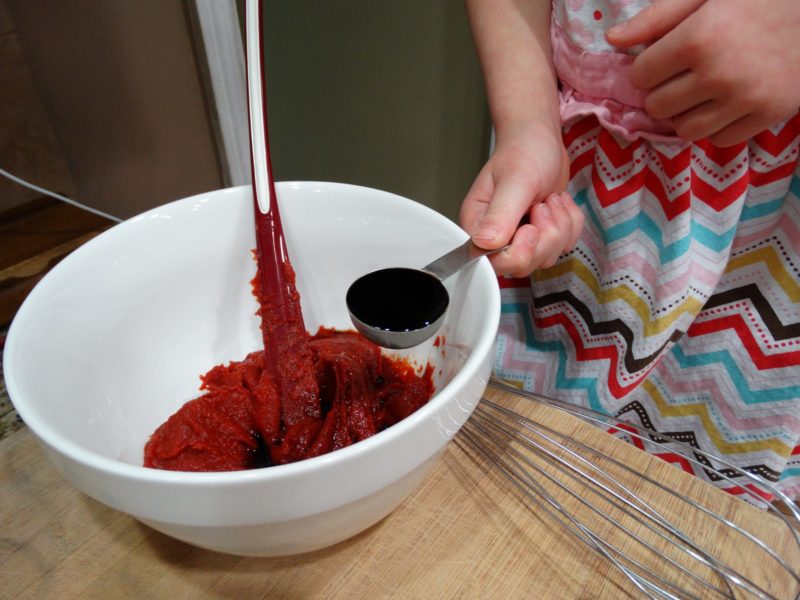 My little helper added all the ingredients and stirred it up before pouring it on the top. If you don't like the flavor of maple or ginger, you can leave that out for sure. I just like that taste and wanted to give it a tangy-sweet sauce on the top.
This recipe is great for leftovers by the way! This recipe makes 12 generous servings so it's perfect for large families, but if you have fewer mouths to feed you could always cut the recipe in half. You could also make the full recipe and put half in your freezer! It's called simple meal prep! Another idea would be to bake half as meatloaf and use half for meatballs or Shepherd's Pie. The options are only limited by your imagination. So get in your kitchen and act like a Ninja!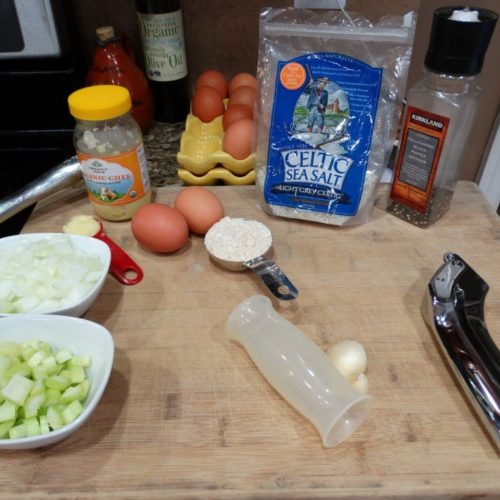 Ninja Meatloaf Recipe

Keto

Low Carb

Sugar Free
There's so much flavor in this meatloaf, no one will complain about the addition of the spinach or the lack of sugar in the sauce!
Ingredients
2 1/2

pounds

ground bison or other ground meat

1

small onion

diced

2

medium celery stalks

diced

2

garlic cloves

minced

2

large eggs

1/2

tbsp

ghee

or coconut oil

1 16

oz

package frozen spinach

thawed, drained and squeezed

1/4

cup

baking blend

or coconut flour

2

tsp

salt

1 1/2

tsp

pepper

Bacon to top

optional
SAUCE INGREDIENTS:
6

oz

can tomato paste

2

Tablespoons

balsamic vinegar

1/4

tsp

maple extract

2

doonks Stevia (or

1

tsp

paprika

1/2

tsp

onion powder

1/2

tsp

ginger powder

dash of cayenne

1

garlic clove

1/4

cup

soy sauce or coconut aminos

1/2

tsp

salt

1/4

cup

of water
Instructions
Add ghee to a pan on medium low

To the pan add celery, onion and garlic

In a separate bowl add meat, eggs, spinach, baking blend and mix well

Add sauteed veggies to meat mixture

Add salt and pepper; mix well with hands or in a mixer

Pat mixture into a 9×13 pan

Top with bacon if you are using it

Cook for 45-60 minutes at 350 degrees

While meatloaf is cooking, mix all sauce/topping ingredients in a bowl with a whisk.

About 5-10 minutes before cooking is complete, spread sauce mixture on top of meatloaf with a basting brush, then allow it to finish cooking.

Let the meatloaf set for about 10 minutes before cutting to allow the juices to redistribute throughout the meatloaf.
Please see my full affiliate disclosure here. ThatOrganicMom is a participant in the Amazon Services LLC Associates Program, an affiliate advertising program designed to provide a means for sites to earn advertising fees by advertising and linking to amazon.com  Find other awesome products on my Resources Page. When you buy from one of my links I may receive a small commission.