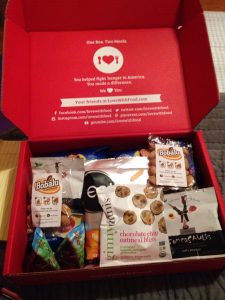 My kids are all foodies. Since they were very young I exposed them to all different types of food, they will eat almost anything! They do have preferences though, like all children, they prefer sweet, crunchy, snack foods. Since my goal as a mother is to raise the healthiest kids I possibly can, I am super cautious about what I feed them.
They read labels because I read labels. Yes, my children will turn down Tootsie Rolls, Reese's Peanut Butter Cups, Oreos and the like when they are offered. My children will bring home junky candy that they have been given at school and ask if they can trade it for something healthier. Five out of six of my children enjoy dark chocolate over milk chocolate, and my six-year-old absolutely adores dark chocolate. She prefers European chocolate if she can get me to share.
Enter Love With Food. Because I like to offer my children the best snacks, I search the health food stores for products with ingredient lists that I approve of. I like to avoid High Fructose Corn Syrup, Hydrogenated oils, trans fats, Monosodium Glutamate, Natural Flavorings, corn syrup, corn syrup solids, beet sugar, artificial colorings and flavorings, just to name a few.
Love With Food is a great way to discover new organic or all-natural snacks, many of our favorites were ones we discovered in our LWF boxes! I didn't have to search high and low for new snacks, they were delivered right to my door once a month. Each month my children eagerly await their red box and they look for it when we pull up the driveway after school.
I wanted my adult daughter to enjoy healthy snacks as well, so I purchased her a gift subscription for her birthday. Later, I purchased a gift subscription for a Christmas gift for a friend with four children. Since there are size options, I always get the Deluxe box for my family of seven (at home), but smaller boxes are an option as well.
Recently, a gluten-free option became available for people wanting to cut gluten out of their diet! Each box is unique and packed with hard-to-find tasty snacks which vary based on seasonal themes (bring on Chocolate!!). I enjoy the coupons for wine, nuts, gourmet meals, and other foods that are included in each box I receive.
I feel great about buying LWF boxes for my children because not only is it a healthy option, but for every box sold, the company donates a meal to several food banks such as the Feeding America Network and Share Our Strength – No Kid Hungry, ending hunger one meal at a time. I'm all about that.
When we fall in love with an item in our current box, it's so easy to go online to the Love With Food website and order extra of that particular item! I even earn points with every gift and referral. (hint hint) If you have seen my lunchbox photos on Instagram, you've likely seen some snacks from Love With Food. To try Love With Food and get your first box FREE go HERE! You have nothing to lose!
SaveSaveSaveSave
SaveSaveSaveSave