It's 39 days until Mother's Day 2017. I know because I am counting down the days! Not because I am excited about celebrating myself. BUT…Something interesting is going to happen this year on Mother's Day. My daughter's school has scheduled Graduation ON Mother's Day. I personally thought to myself, "that is a bad idea" but the headmaster didn't ask for my opinion. This got me thinking about how miserable Mother's Day can be for so many people.
What a better example of what Motherhood is like, though, really? I've previously written about how learning to expect the unexpected is part of the Motherhood Journey!
For those who do not still have a mother or never had a mother, this holiday can be painful. It can lead to hurt feelings, especially if you are a Mother with expectations. I didn't say "unreasonable expectations" – I mean any expectations at all.
Whatever the reason may be that this day is hard for you, know you are not alone. If you find it difficult, consider what the day means to you. What would make you feel special? Does this absolutely have to occur on Mother's Day? I know plenty of families who treat Mother's Day like just another day. There's nothing wrong with that as long as Mom is being treated like the Empress she is the rest of the year!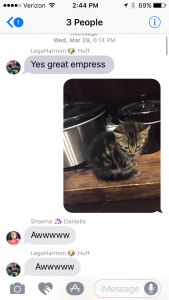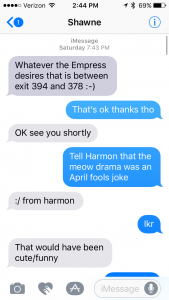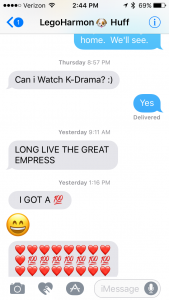 Wanna know how to cope with Mother's Day if you dread it? Turn off all Social Media, go to a place you enjoy, do something you relish doing, take yourself out on a date. Yes, I do this all the time. My perfect date by myself is a morning at a coffee shop with a book, hitting up Whole Foods for lunch, seeing a Bollywood movie in the afternoon, maybe do a little shopping, and if I'm really spoiling myself end the day with a massage right before I head home and go to bed early!
Don't get me wrong, this day doesn't happen very often, but I do at least one of these things at least once a month. I don't need the calendar to tell me that Mom's need a break!
Here's something that will make you feel wonderful. Go to Trader Joe's and pick up $20 worth of .99 cent greeting cards and give them out to all the moms you love. If you mail them it will be an awesome surprise, if you hand them out with a hug you'll feel so good at the end of your day! While you're there grab yourself a bouquet of flowers.
I usually don't expect my family to pamper me, but when I least expect it, they do. For me it was important to work on my expectations and my attitude around Mother's Day. I used to get so hurt but eventually, I realized that I was looking at this ONE day out of the year. I wasted a day hoping that something magical would happen when something enchanting actually happens to me every day of the year. My children truly do treat me like an Empress all year long, so having some crazy expectations on this one day was hurting not helping my Motherhood!
I'm not going to lie, I still want chocolate. And since I know you probably do too, I suggest dropping a SUGGESTION… not a hint. "Honey, here's what I want for Mother's Day…something like this would be sweet."
If you are a single mom why not go on a Mom Lunch Date with another single mom? Organize a Girls Night Out! Or take your kids out to dinner! I did that on all the Mother's Days when I was a single mom. Even though money was super tight, I would dress my kids up and take them to a sit-down dinner, complete with a shared dessert! Happy Mother's Day to me. They loved it.
What you want for Mother's Day
Plan ahead! Most subscription boxes need to be ordered at least a month in advance. I ordered various ones for my kids last Christmas and even though I ordered in November the first boxes just made it. (of course, I also had to be sure to be the one checking the mail and hiding the boxes!)
I personally would rather have chocolate than flowers but I think you really can't go wrong giving a mom a beautiful bouquet of flowers. It doesn't have to be a bouquet of flowers it could be a plant. I like really unique ideas like this air plant. My mom has one of these and she adores it!
If you are in love with a mom how about Giving a Gift Box Subscription that she would love! (this one has three options and free shipping) I am giving away a subscription for this box at the end of April to one winner of the "Move Your Body Challenge."
For years we have received a box monthly from Love With Food! You can watch our unboxing videos on my YouTube Channel. These are actually pretty funny because they are the first videos I ever added to Youtube before I bought good equipment. They are so bad it's almost painful to watch but the info is there! Here's the May Box, April Box and June Box. I prefer the Gluten Free Love with Food Box but they have plenty of options.
If food isn't really your thing but wine is, well… Check out Vinebox! A personalized wine flight delivered straight to Mom's front door.
If you really wanna score big with mom, go for the Wine+Chocolate box! Mom's love chocolate that they don't have to share! haha
If you still don't know what to get Mom, why not check her Amazon Wish List?
You never know, she might even like something utilitarian, like a coffee pot to replace the one you threw away when you thought it was broken but later found out that the breaker was just tripped on that entire wall of the kitchen. And look, if you do buy her a new coffee pot, go ahead and get her a Bean Box Subscription too, so she gets coffee every month and doesn't have to remember to get it at the store! (The Deluxe Coffee and Chocolate Tasting Box is so yum! Check out my video at the bottom of this post!)

If you want to wow the socks off Mom, why not send her on a 2-3 day weekend to an Airbnb alone? My husband is so generous to encourage me to travel as much as I like. Wanna see The Mistress, my favorite Airbnb in New Orleans?
As moms, we definitely need to take a step back and realize this is just another day of the year. Nothing will ruin the day and maybe even the following day faster than taking things personally. No matter how much of a SuperMom you are, remember Mother's Day is not the end all be all! Just being called Mom is a huge blessing and there are many women out there who would love nothing better than to simply have someone call them "Mom."
Happy Mother's Day love!