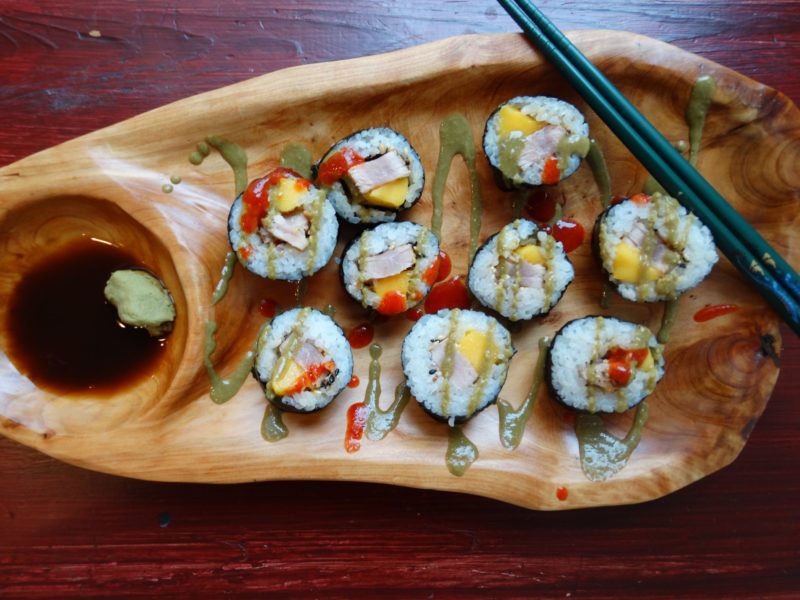 Matcha Tahini Mango Tuna Sushi
Ingredients
2 Ahi Tuna Steaks (if cooking medium rare make sure to purchase sushi grade - I found some at Costco)
3 cups sushi rice (plus salt, vinegar and sugar if you like to flavor the rice)
2 mango
6 sheets of nori
SAUCE
juice of 2 tangerines (or 1 orange)
2 TBSP tahini
2 TBSP rice vinegar
2 TBSP coconut aminos (or 1 TBSP soy sauce + 1 TBSP water)
1 TBSP Sweet White Miso (or other mild flavored miso - or extra tahini)
1 tsp ginger powder
1 tsp organic matcha green tea powder (culinary grade
black and white sesame seeds, optional
sriracha sauce, optional
Instructions
Prepare sushi rice according to package instructions or rice cooker instructions.
Mix all sauce ingredients combining well, add to a sauce bottle or baggie for easier application.
Add salt to taste, and if you like flavored sushi rice, mix a tablespoon of rice vinegar with a teaspoon of sugar (or swerve) stirring to coat rice evenly.
While sushi rice is cooling peel mango and slice into about 12 pieces.
Season ahi tuna steaks with salt and pepper, add to a hot skillet or pan, searing and cooking each side for 2 minutes for medium rare or 3 minutes for well done.
Slice tuna against the grain.
Onto Nori, press 1/6 of the sushi rice covering about 1/2 to 2/3 nori sheet.
Top rice with mango and tuna at the rice end of the sheet of nori.
Starting with the end of the nori roll tuna and mango towards the "empty" end of the nori sheet.
Use a few drops of water to seal the edge of the nori to the roll.
Slice (it's easiest if you use a very sharp knife dipped in water between slices, cut in half first, then cut the halves in half as opposed to working from one end to the other, this way the "stuff" won't squish out.
Notes
Use traditional sushi rice or for low carb option use riced cauliflower mixed with just enough cream cheese to make it "sticky" add sesame seeds for more flavor!
Recipe by That Organic Mom at https://www.thatorganicmom.com/matcha-tahini-mango-tuna-sushi/