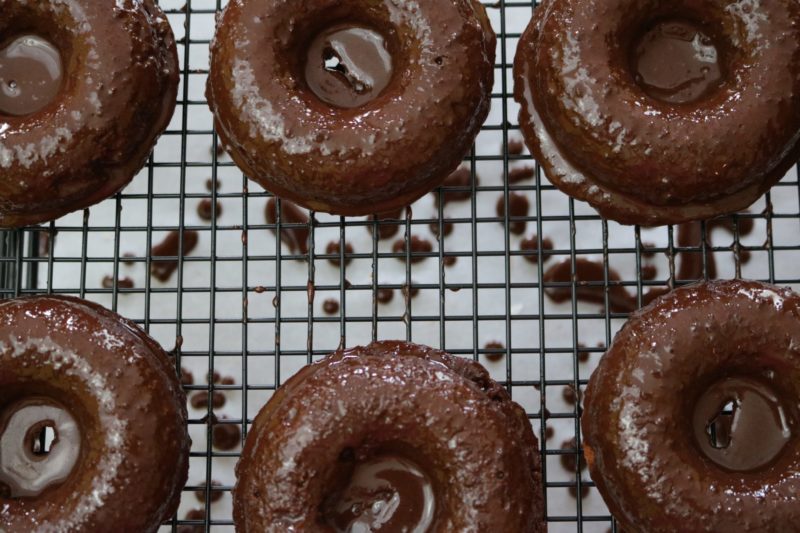 Matcha Chocolate Glazed Donut
Ingredients
Chocolate Donuts
3 eggs
3/4 cup full-fat coconut milk
1 tsp vanilla extract
1 cup almond flour
1/4 cup coconut flour
1/4 cup cocoa powder
1/3 cup Swerve Sweetener
2 tsp baking powder
dash of salt
1/4 cup avocado oil or coconut oil
Chocolate Glaze
¾ cup heavy cream or full-fat coconut milk
¹⁄₃ cup Swerve Confectioners (or powdered sugar if you aren't sugar free!)
2 ounces unsweetened chocolate, finely chopped
Seeds scraped from 1 vanilla bean or 1 teaspoon vanilla extract
2-3 teaspoons of culinary grade matcha (green tea powder)
Instructions
Preheat oven to 325F and grease a regular-size donut tin.
In a mixer, combine eggs, coconut milk, and vanilla extract. Blend just enough to mix.
Add almond flour, coconut flour, cocoa powder, Swerve confectioners, baking powder, and salt.
Blend until smooth.
Add oil and blend until well combined.
Using a bag with a hole cut in the corner squeeze the batter into prepared donut pans not quite to the top. (or spoon the mixture onto the pan)
Bake 18 to 22 minutes
Remove and let cool 10 minutes on a wire rack.
Flip donuts onto a wire rack to cool thoroughly. Repeat with remaining batter until gone.
For the GLAZE
Add chocolate, coconut milk, and Swerve in a double boiler. (Alternatively, use a heat-safe bowl on top of a pot of simmering water)
Heat on low, stirring, just until the chocolate melts.
Remove from the heat.
Add the vanilla and stir well to combine.
Dip the cooled donuts in the glaze, they are a bit fragile, so you need to be careful. *see notes
Using a hand held mesh screen strainer, sift the culinary matcha onto the donuts. I used about 1/4-1/2 teaspoon per two donuts but you can use the amount you like depending on your taste.
Store extras in an airtight container in the refrigerator for up to 3 days.
Notes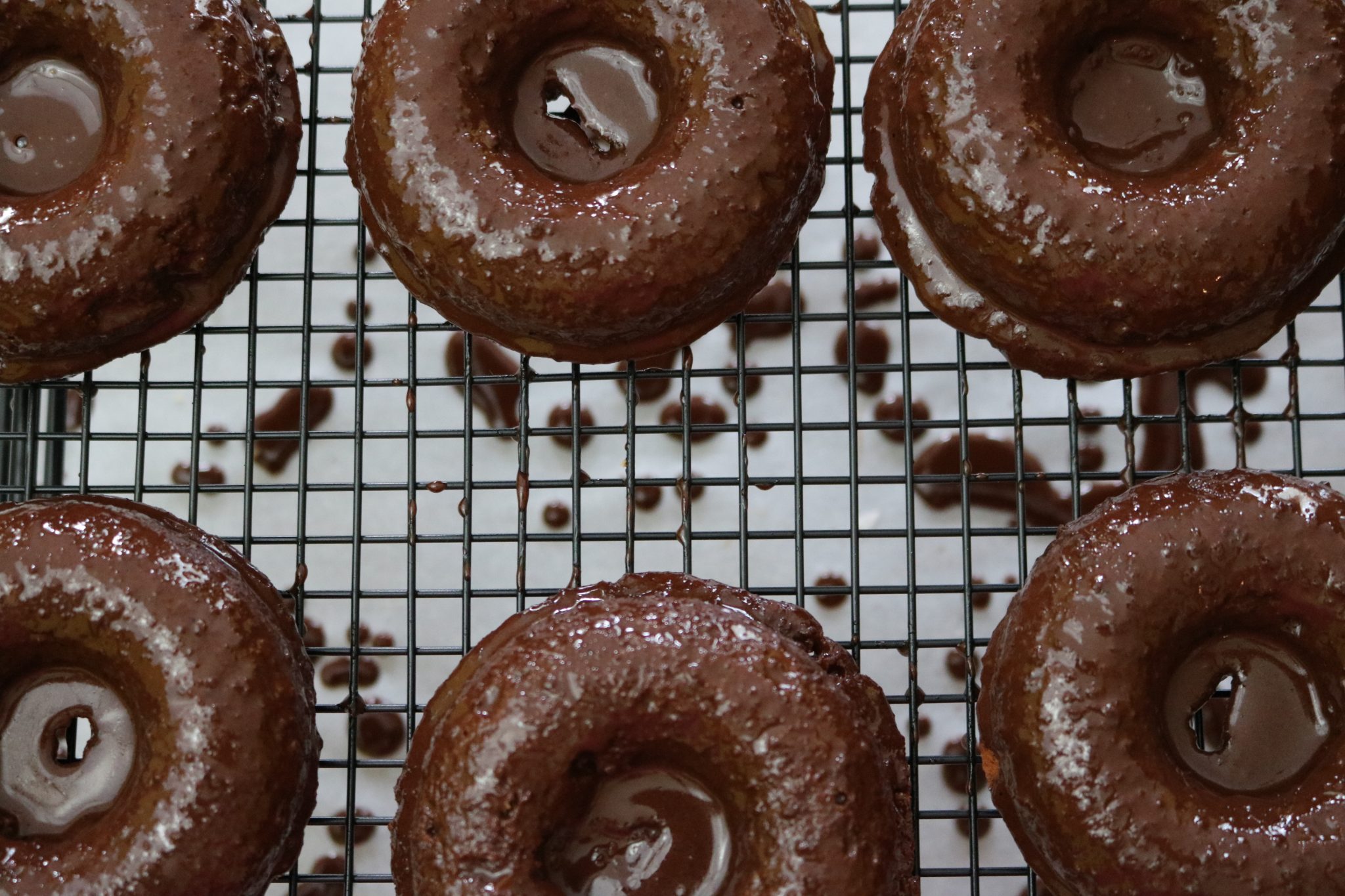 Because the donuts are gluten free they are more fragile than wheat flour donuts. When I dipped these donuts in chocolate I used a five finger grasp (my whole hand!) and dipped the top of the donut into the chocolate - its messy. My fingers also got chocolate on them, so this tells you how good a grip I had on the donut. Alternatively, if you don't want chocolate on your fingers, drizzle the chocolate on top; but make sure to put a plate or bowl underneath to catch all the extra chocolate run off!
With only 2 grams of net carbs per donut, you can enjoy a few even if you are following a low-carb, keto, Paleo or THM diet plan.
Amount Per Serving

Calories 165

% Daily Value

Total Fat 16 g

25%

Total Carbohydrates 4 g

1%

Protein 3 g

6%
Recipe by That Organic Mom at https://www.thatorganicmom.com/matcha-donut/