Did you know back in 1969 when the first two human beings landed on the moon that one of them (Buzz Aldrin) took communion? Or that the first foods eaten on the moon, after communion, were bacon, cookies and coffee? (1) Sounds like a pretty good day to me… "That's one small step for a man, one giant leap for mankind." (2,3) I first heard this fact on a podcast.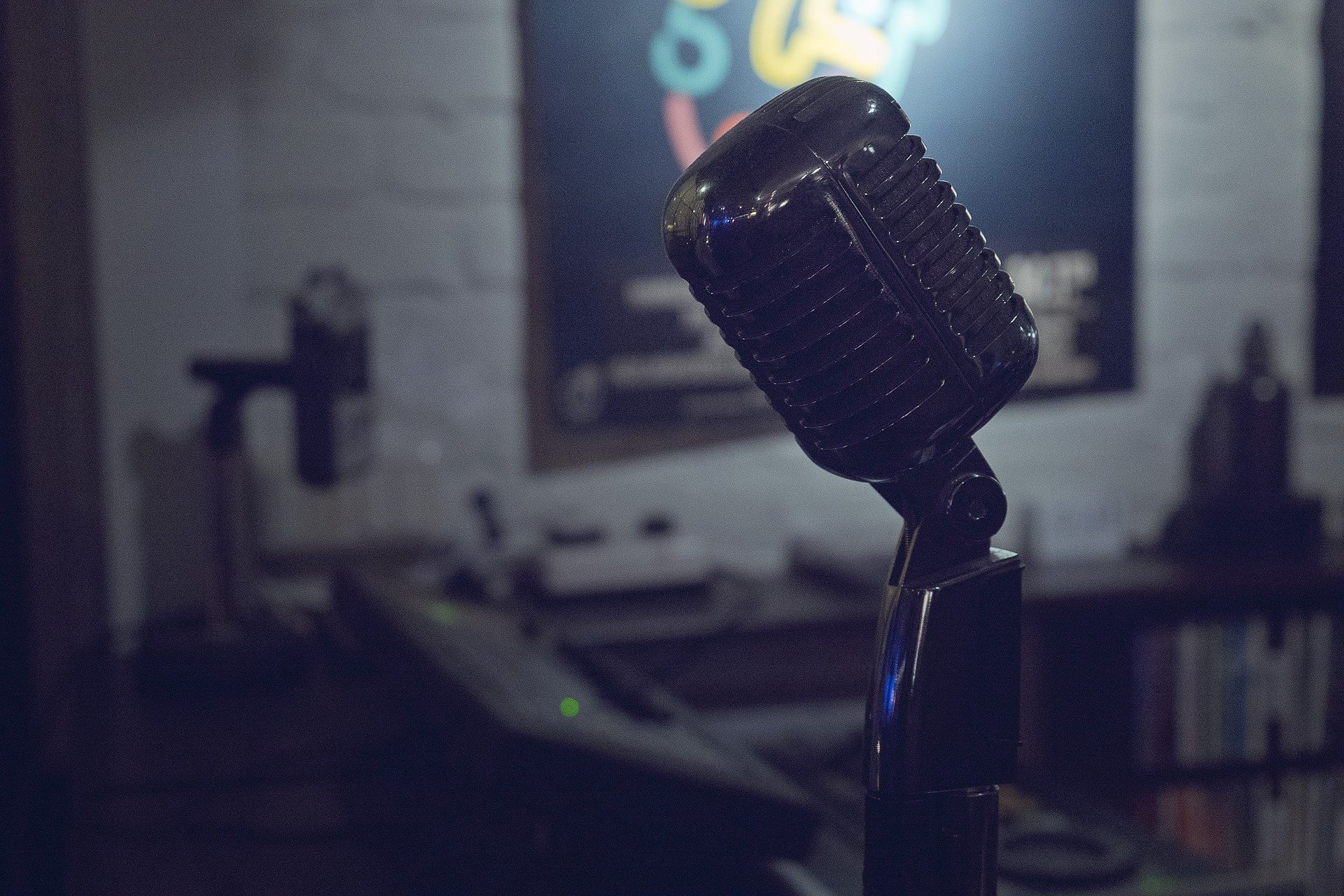 Sometimes sharing readable content on my blog just wasn't enough. I needed a way to share ideas and tips without my readers having to sit in front of their computer reading. I needed to find other ways to share information that would be more efficient. The solution was right at my fingertips… Time to hit record!
Webcasting seemed scary at first and still does a little bit but I knew that if I wanted to be able to share more content and create a community among my readers I needed to Hit Record...
I wanted to build community with my readers besides my various Facebook groups. Have you ever been reading a blog and thought I could be friends with her in real life!? There are some bloggers who give me that feeling.
There are several ways that bloggers can share more content and build community with followers through a variety of webcasting, here are a few to think about:
Video

Youtube
Vimeo
Periscope
Facebook Live
Webcasts and Webinars

Audio

Podcasting

Soundcloud
itunes
Stitcher Radio
Google Play Radio (just started this year!)
Benefits of webcasting include:
Expanding your reach to a larger potential audience. Many people do not have time to sit and read a blogpost but have enough time to listen while commuting, exercising, working or doing other mindless tasks where listening is an option while reading is not.
Webcasting, especially podcasting gives you a direct link to your readers (listeners) that is not inundated with distracting ads, links to other pages, notifications from email, text messaging and other distractions. Listeners are usually more engaged.
While it's important to have a specific topic, maybe even an outline, podcasting can definitely be more conversational, and thus, less formal than writing a blog post. Therefore, creating content is easier than when writing, especially if your podcast includes multiple people, doing interviews or chatting about a particular topic.
When included with a blogpost can be a great way to include instructional information. For example demonstrating how to make a recipe or a DIY project where the blogpost has the ingredient or materials list.
Pre Recorded Videos
The two platforms most webcasting uses are YouTube or Vimeo. Most computers now come with basic audio and video editing software built in. However, many can also be purchased reasonably.
Beginners might like to try the following software recommendations:
Youtube has a built in video editor (great for beginners)
iMovie (Mac only) free
Windows Movie Maker (PC only)
iskysoft video editor (great for beginners, this is the one I started on and my daughter uses it to edit videos as well)
AVS video editor
Final Cut Pro (this is the one I am switching over to)
Camtasia Studio
Live Videos
Podcasting:
Podcasting is a growing trend and many bloggers are showing up on the podcasting scene. Even some of my least tech-savvy friends are starting to listen to podcasts. That's because podcasting is a great way to show the world your wonderful personality.
It can also be a great way to "read" a blogpost without having to sit in front of your computer or stare at your phone. When she was still at home, my daughter Haley listened to podcasts while getting ready for work every day! She is always learning and I love that about her.
The best podcasts have more than one person so get together with the people who share your passion and get started. Some podcasting software includes:
Adobe Audition
Audacity (recommended to me by some experts)
Garage Band (mac only)
Total Recorder
Skype o Zoom
Audio Hijack Pro
Here are some tips for getting started:
It's like going to the pool. You have to just jump in! That' right, you need to just jump in and get started. That is what most YouTubers do. Simon and Martina of Eat Your Kimchi started making videos so their family back home could see what their life in Korea was like. Now they are very popular You-tubers with over 1 million subscribers to their channel at the time I am writing this post!
I learned a few things getting started with my own YouTube channel which is still very amateur. Like I said, everyone has to start somewhere. I still have plenty to learn however, I'm just trying to encourage you to start where you are. Don't wait until you feel like you are at Expert level before you begin. So much is learned through trial and error.
In addition to my Youtube channel, I'm planning to start Podcasting before the end of the year. Here are a few recommendations based on my research to get started:
Dream of a Theme
First off you want to have a theme you are interested in and that you are passionate about. You definitely want to be knowledgeable about the topic, but it is also ok to learn as you go or interview people and share your learning process! Just remember to have fun. You can always expand your theme as you go. This goes for podcasting and videos.
You really need to have an idea of who your audience is. So think about your expertise and your passion and you will start to come up with a theme, and when you think of the theme you will start to see who your audience will be. Start brainstorming to stretch your creativity.
When I make videos it helps me to have a basic idea of what I am going to be sharing. I sometimes script a few things that I want to make sure to share but sometimes I just say things as they come to me naturally. This really depends on what the subject is. Having an outline or script will make the completed project feel more organized and put together. It will also help us not to get off on a rabbit trail…
Create a schedule
In the beginning I just posted on my blog and YouTube channel as things came to my mind. I had lots of ideas but eventually I had to start writing all of my ideas down in an idea book. After a while, I had to make a calendar so that I could keep up with everything I wanted to share across my blog, youtube, newsletters and eventually through podcasting. I scheduled my YouTube Videos to post on Wednesdays and Saturdays. In the future I will add in Podcasting to post on Tuesdays.
Click this link to see my rough draft schedule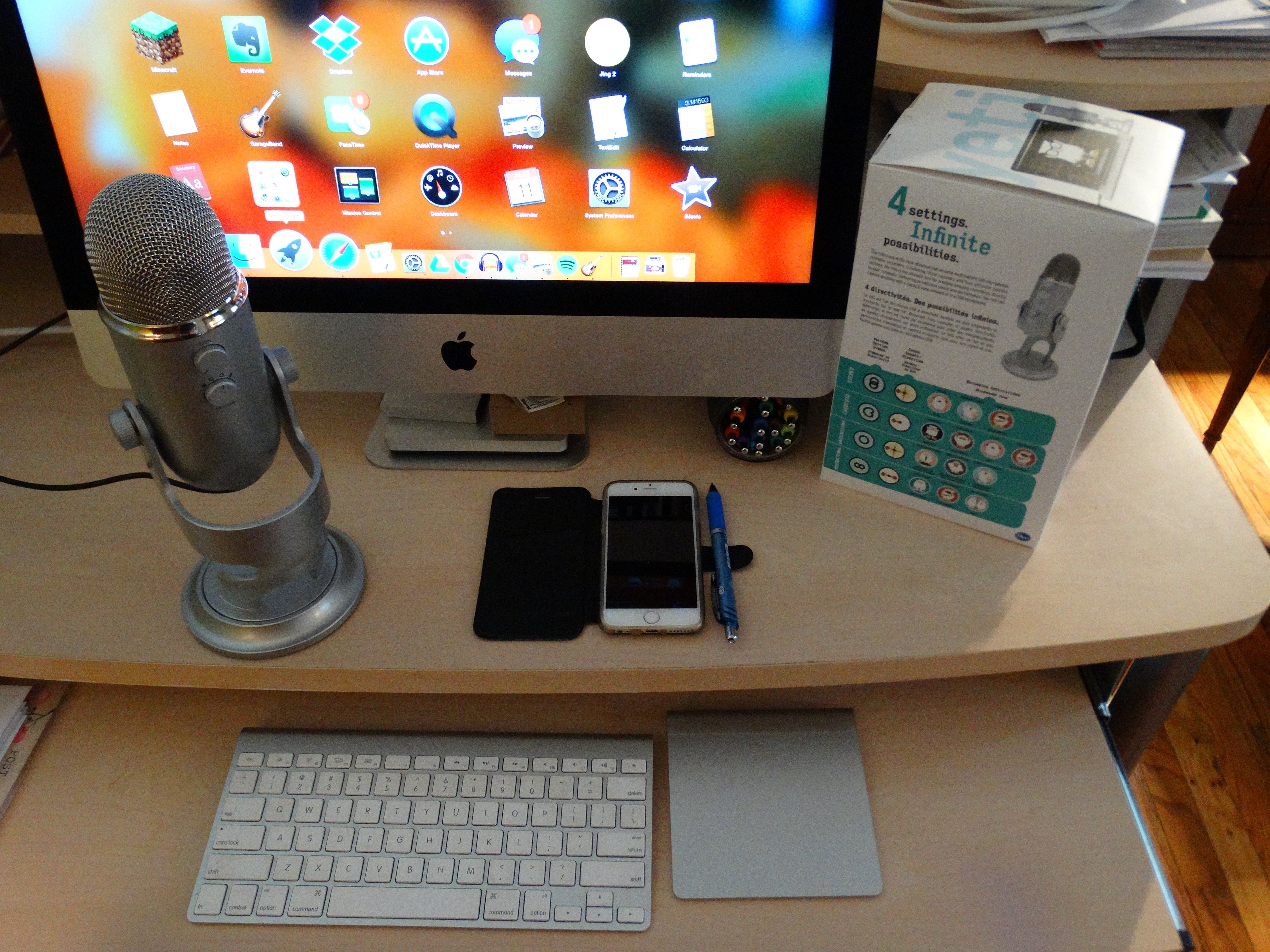 Equipment
If you've watched some of my earlier YouTube videos you will notice that the sound quality isn't that great, among all the other things that aren't that great. Those videos were recorded either with my camera mic or else the built in microphone on my Mac. Those early videos helped me learn and build my confidence to keep going. They also helped me share useful information my readers were asking for.
If you are serious about getting good quality voice overs and podcasts, consider investing in a plug and play microphone. The one I have is Yeti by Blue and I absolutely love it. The sound is amazing and it looks cool too! If you are going to be podcasting with a few people or if you want to include music and other sounds into your podcasts you will probably need more than one mic and possibly a mixer.
Starting out though, I'd just invest in a microphone. If I had it to do over, I would have bought my microphones from the start. The difference is sound quality is that noticeable.

Speaking of cameras. Below is the package I bought on Amazon. The Canon EOS Rebel T6i DSLR Video Creator Kit has a lot to get started with. I am still in the process of learning to use all the settings and extra equipment, but the boom mic by Rode is AWESOME. It really helps to pick up sound from everyone and everything in the room.

Speaking of picking up sound from everyone and everything in the room. There will be times when that is NOT what you want. For videos (like the ones in our Ivy Wants Food Series) it's better to have a clip on mic that really just gets the voice of the person speaking. I use this wireless Movo and I like the sound quality and ease of use.
Edit, Edit, Edit…or pay your kid to edit
After you create your masterpiece, you will most likely want to edit, especially if you are working on a video. Editing takes time. Time to learn, time to do. If you have a teenager, pay them to help you! My son Ben is my go to guy when I have a question about what equipment to buy and my daughter Ivy helps edit videos when she has time. Teenagers just know how to do these things. *see recommendations for video editing software above under "Pre Recorded Video"
Here are some tips that I have learned so far about video making:
Try to keep the volume the same for the entire video or podcast
If you have background music, make sure it is low enough that speakers' voices can still be hear
Trim as necessary and don't worry about getting it perfect
Some things (like using a blender or redundant tasks like cracking eggs) can be sped up and the sound removed. After all, no one wants to listen to a blender for 2 minutes…
Everyone has to start somewhere, don't wait until you have achieved perfection to start sharing…
Not everyone can or will like you, no matter how amazing your video or podcast, there will be people who don't like it. Focus on the people who DO like you. Have a good time and be yourself.
There will be trolls… some people just give your videos a thumbs down because they are miserable in their own life
Getting over yourself
When I started out, I had to learn how to get comfortable in front camera. I'm still not quite there yet, but I am working on it. My inner mean girl still tells me I'm not good enough, I'm too old, too this or not enough that, but I am learning to shut her up.
No one likes the way they sound on audio/video when they first start out. If you are just starting out, don't worry about perfection. There's a lot to learn, a lot to consider and mistakes will be made. Just learn to roll with the punches.
Mistakes are a great way to learn something new!
Want to start webcasting but don't know where to begin?
My daughter Haley is a Photo Journalist and I sometimes get to ask her for advice, but she's busy career building right now so it's not often I can pick her brain. Recently, she did share one great tip. Learn all you can. She suggested Lynda.com for learning more. You can do a 10 day trial period for free, so take 10 days off from your favorite TV show and start learning!
The C Method A lot of great info on YouTube
Don't think you can afford webcasting? Here's one perspective I liked.
Let's get started!
SaveSave