Unless you are already in peak health condition, you need to eat a good breakfast with high quality protein. Those in peak condition might try intermittent fasting, for the rest of us eating breakfast with a good source of quality protein can help us keep our blood sugar levels balanced.
Compared to breakfast-skippers, children and adults alike who adequately fuel up in the morning have more energy and better emotional stability and find it easier to maintain their body weight. (source)
By far one of the biggest mistakes that happens with breakfast besides skipping it altogether, is eating "typical" breakfast foods. That is because most of these are over processed and sugar laden.
The Standard American breakfast often consists of: pancakes, waffles, cereal, toast, muffins, bagels and fast food sandwiches, which are by far some of the worst choices on the breakfast plate. Often these processed carb choices are paired with a huge serving of fruit or orange juice.
Eating a high carb breakfast is basically creating metabolic disasters all day. In turn these metabolic disasters create excess body fat and diseases related to obesity. While many experts have started to stress the need for more protein, they often forget to warn folks against eating too many carbs.
Metabolic syndrome is a set of conditions that can increase your risk for heart disease and diabetes.  Over a third of Americans are believed to be affected by metabolic syndrome.  Prevention is easier when you avoid sugar, flour and refined carbohydrates, which basically describes cereal, toaster pastries, donuts, waffles, pancakes and typical breakfast fare.
One reason breakfast is the most important meal of the day is because when you rush out the door and skip breakfast, hunger pains are going to hit. These cravings often hit at the most inconvenient time, like when your co-worker brings in a big box of doughnuts. If you've already started your day with a high protein breakfast, chances are you will resist that temptation.
Avoid eating breakfast in a rush. If you are short on time in the mornings, make soup the night before. A good bowl of soup in the morning is a great way folks from many cultures start their day.  It can be hearty or light but soup is almost always nourishing when you make it from scratch.  Great for people with digestive issues.  If you make a big pot of soup you can easily cover breakfast without even having to think about it. Simply warm up a bowl and eat!
Make ahead protein breakfasts that you heat and eat keeps you on track all day.  Have you tried making meat muffins? Some people call them "meffins" but whatever you call them, just make them! There are several different recipes out there, but this one Power Breakfast Egg Meat Muffins is my favorite because it looks so cool, it has an egg in it and because it has bacon on top. (Works for Trim Healthy Mamas, Paleo, Whole30, Keto…)
Try my Grown Up Green Eggs and Ham recipe!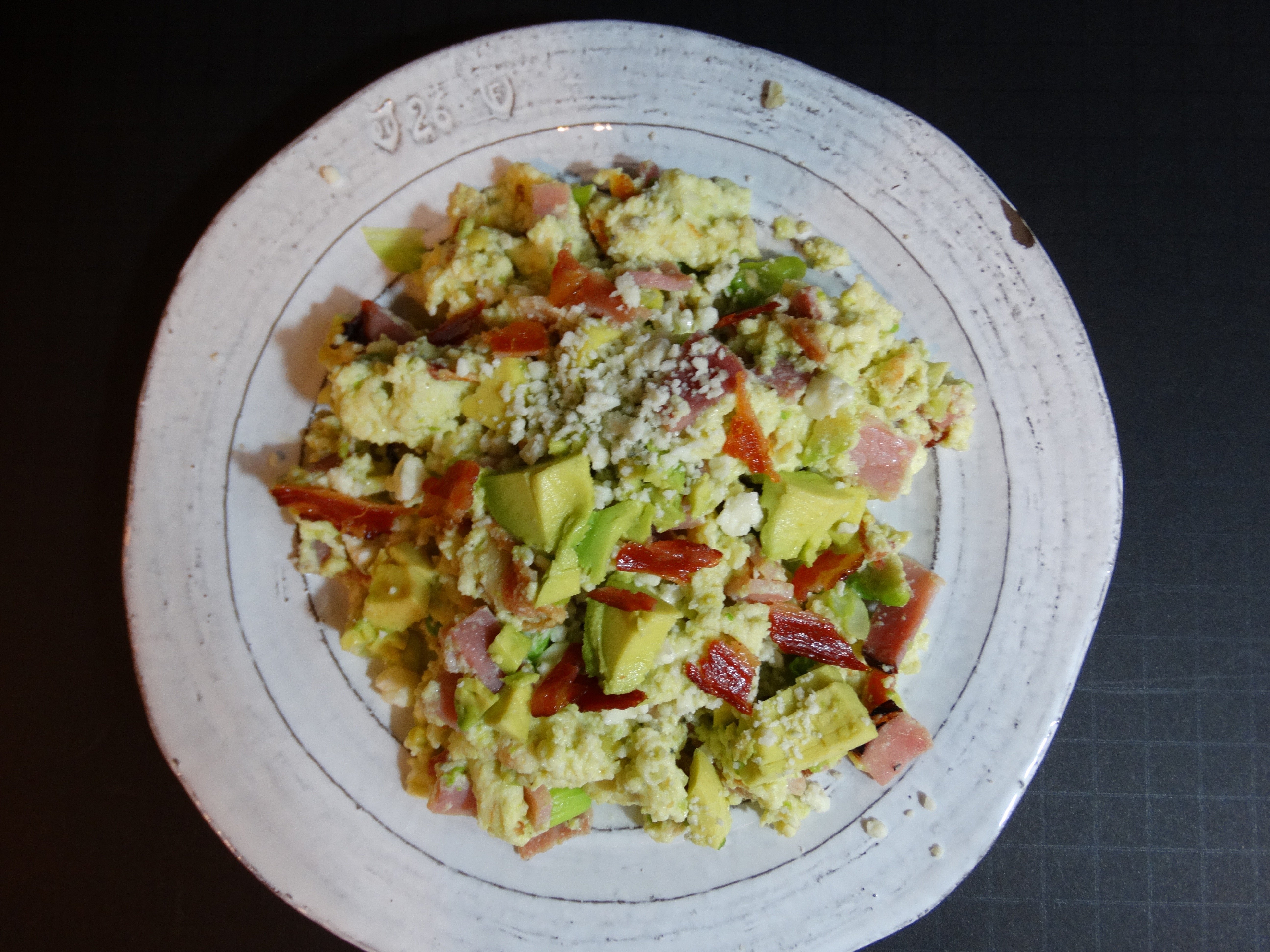 Good Breakfast Ideas:
hard boiled eggs
cheese and nuts
avocados
beans
bone broths
protein poppers recipe
mini quiche, like these I make for my kids back to school breakfasts
egg breakfast muffins are easy to make with leftover meat and veggies
smoothies try my Runner's Smoothie I created for my daughter or
Reese's Protein Smoothie by Dr. Axe
Greek Yogurt Protein Pancakes are filling try them HERE.
Breakfast burritos are a great way to incorporate protein into your mornings.
Salmon Egg Bake  is one of my favorites
Low fat cottage cheese with a generous handful of berries makes a great breakfast and has a good amount of protein as well. If you like yours a little sweeter, try adding some stevia or honey.
Tuna salad can work well for breakfast
In the summertime try yogurt pops: Mix yogurt, frozen berries, vanilla or almond extract then freeze in popsicle molds. You don't even have to have a lot of time if you have a Zoku popsicle maker like we do! Love making popsicles in this thing!
Maybe for a special occasion, you want to try steak for breakfast, or use leftover steak for a breakfast omelet.
Poached eggs are so yummy and healthy and are easier than you might think.
Think outside the box when it comes to breakfast, it doesn't have to look like traditional breakfast to be good for you.  Tomorrow, in habit #10 I'm going to give you some building blocks to stack on this habit! Make sure you don't miss it!
"When you wake up in the morning, Pooh," said Piglet at last, "what's the first thing you say to yourself?"

"What's for breakfast?" said Pooh. "What do you say, Piglet?"

"I say, I wonder what's going to happen exciting today?" said Piglet.

Pooh nodded thoughtfully. "It's the same thing," he said."
― A.A. Milne
I hope this list has got your creative wheel turning in your brain.  Start sharing some good protein breakfast shots with me by using the hashtag #31habits this week! Remember we are stacking 31 good habits this month to improve our health. So stick with me! If you aren't already, make sure to sign up for all the habits here.
Don't forget to pin this post!