If we were going in order of importance, this habit would rank #1 in my book. Habit #5 is one you will want to break. That is to stop drinking sodas and other sugary beverages.
A waist size over 35 inches in women and over 40 inches in men greatly increases the risk of chronic diseases like diabetes, heart disease and more. The ideal waist size for women is 32 ½ inches and 35 inches for men. (source)
Since drinking empty calories can contribute to a larger waist size, we want to avoid destroying our health by breaking this habit.
We are not the only ones who need to quit drinking empty calories. When children drink this "liquid candy" they are not as hungry and do not consume as much nutrient dense food. The best way to break a child's habit of drinking soda is not to let them start, but if it's too late for that, they can follow most of these tips as well.
After my son Harmon attended his first party for school we were headed home when he began begging me for water. I asked had his teacher not offered him a drink…his response? "I didn't want to drink that black water." (referring to soda) He had never seen it before so he had no idea what it was, but he wasn't willing to drink it!
Not just soda
There are other drinks I'm suggesting… like sweet tea or coffee drinks full of sugar! There are alternatives to sugary coffee drinks. Starbucks type drinks should not be a daily habit, especially the big ones! A venti hot cocoa has about 380 calories and about 55 grams of sugar (depending on which type milk you choose) which is almost 14 teaspoons of sugar, or about 1/3 cup of sugar. In a drink. You may be thinking, "but I wouldn't drink a venti hot chocolate."  A grande white chocolate mocha has 35 grams of sugar and 400 calories.
No matter how you look at it, drinking 400 calories just doesn't make sense, especially when you take into consideration that there is really very little (if any when taking the sugar into account) nutritive value in these drinks at all.  Save those coffee drinks for very special occasions if you just can't give them up. I know the struggle is real… I struggle too.
Just think about what 400 calories of food looks like. Here are 40 Easy Recipes Under 400 Calories just to give you an idea what you could be enjoying instead. I am not suggesting you be a calorie counting legalistic, I'm just saying don't waste precious calories on drinks! Especially if you are trying to lose weight.
Gatorade and other sports drinks are not an improvement. Do not buy the hype about the electrolytes in Gatorade. According to Dr. Joseph Mercola, "Less than 1 percent of those who use sports drinks actually benefit from them."  So, why not just drink pure water? If you absolutely must have an electrolyte drink make your own, as it is much healthier and actually will give you better results.
Drinking Soda:
Are you still drinking colas? Is soda your go to caffeine drink for that afternoon pick-me-up? I've been there before. Back when I was working in the mortgage industry and as a real estate agent simultaneously plus had 4 young children, I looked for a pick me up in the afternoons too. However, having been off of sodas for over 13 years, I can assure you it is a habit that CAN BE KICKED.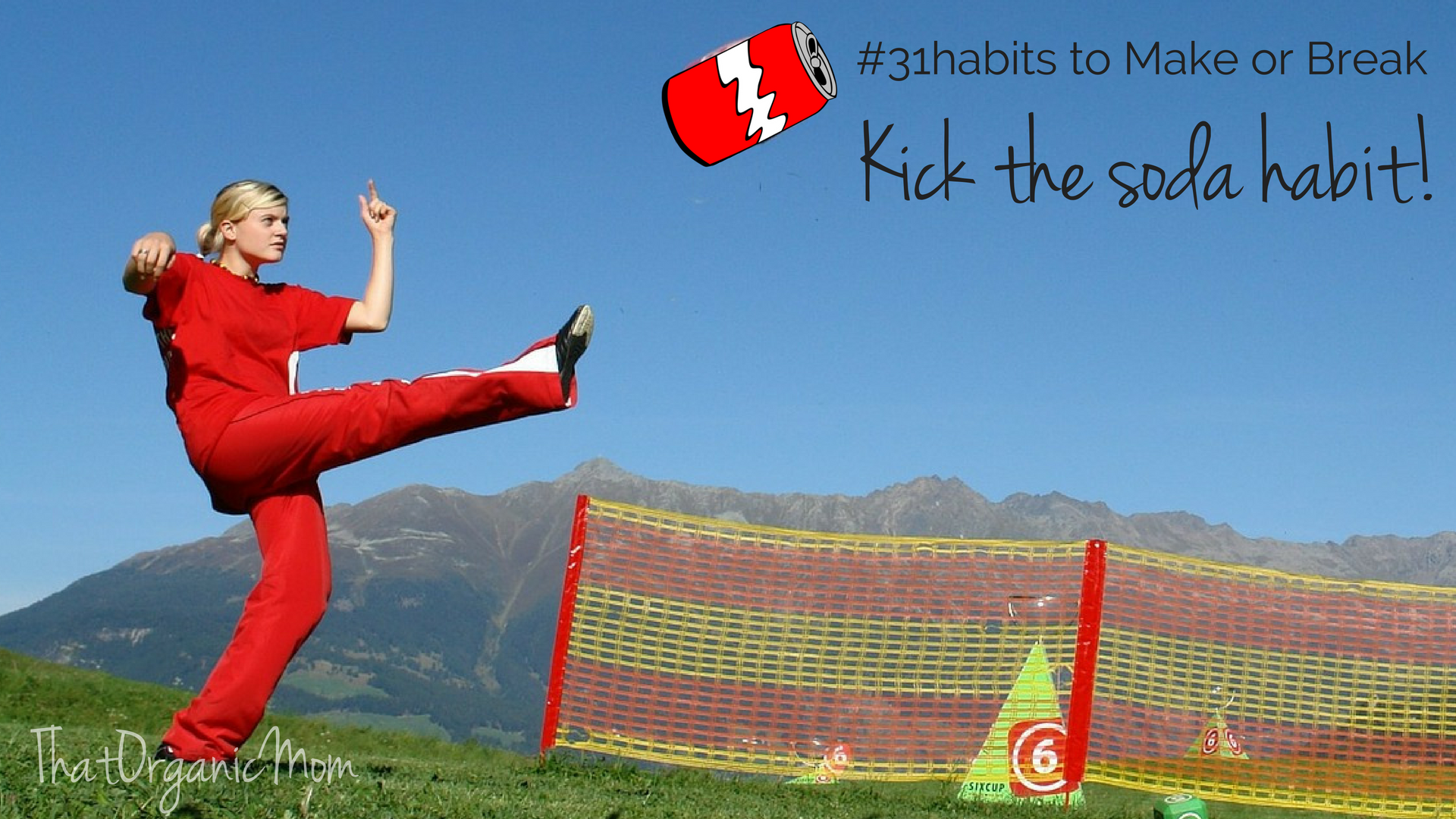 Americans consume around 11 pounds of sugar per person, annually, just from drinking Coca-Cola alone.
In case you were wondering, that's an average of 399 servings of Coke products every year, for every American, which is a bit less than the typical 56 gallons of soda the average American drinks annually. (source)
Even no calorie soda is not a good replacement. Whatever you do, please do not trade one bad habit for another. Diet soda is worse for your health than sugar is!  In fact, drinking diet soda tricks your brain into craving more food, sabotaging your weight loss efforts.
In addition to being full of calories, most from GMO sugars, soda and many other beverages have a caramel color added to them that is under investigation as a possible carcinogen. Why take a chance? The phosphoric acid in soda erodes tooth enamel.  These are just a few of the reasons not to drink soda, and now we need to look at HOW to break this habit.
How To Kick The Habit
Write down your reasons for quitting; lose weight, be healthier, save money, whatever your reason is, write it down, post it on your fridge, in your car, at your desk, anywhere you will see it….
Get a friend to kick the habit with you, accountability helps
Drink more water than you thought you ever could! This will help keep cravings away and flood your cells with hydration, making you feel better. Filtered water is the best choice.
Drink Green Tea or herbal teas, unsweetened of course, or sweetened with Stevia or a small amount of honey
Drink Fruit Infused Water, same great water, more flavor! I love this fruit infusing water bottle!
Go cold-turkey. This is my way of giving up something, I'm so all-or-nothing… If you aren't as passionate about giving up your soft-drink habit, then try weaning yourself off by drinking one less per day until you can completely quit
Take a plastic baggie and put 17 teaspoons of sugar in it. Tape this to an empty bottle of soda to remind yourself of the amount of sugar you consume in one 20 ounce soda
What motivates you?  Is it seeing your success? Motivate yourself by putting your "soda money" in a piggy bank or jar, when you fill it up treat yourself to some reward!
Instead of drinking a soda, try carbonated water, it's great! Pellegrino and Perrier are both carbonated mineral water that will give your mouth that fizzy feeling without the sugar. You can even buy Perrier by the case at Costco, it is often on sale!
If you absolutely must have a soda, try to cheat clean and cheat smart by drinking something like Virgil's Zero Root Beer, sweetened with Stevia. Virgil's even makes a Dr. Pepper substitute called Dr. Better
Try drinking some stevia sweetened homemade lemonade.
Start juicing. Not only will you feel amazing with all that natural energy, you'll BE healthier! My favorite juice book is The Juicing Bible.
Create a new habit. If you used to drink a soda every afternoon, try taking a walk instead, or drinking hot water with a drop of peppermint oil.
Make a commitment to break this habit! Giving up soda is Step One in my upcoming 12 Step Program. Only for my #31habits participants; I am sharing Step One as a downloadable ebook FREE. Expect to receive this PDF in your inbox today! If you can't find it there, check your Spam folder or email me at [email protected]
Pin this post to help someone else Break the Habit! Today, share your progress on social media and let me know by using the hashtag #31habits … let me see you drinking water! I'll be drinking a nice iced sparkling water!