Podcast: Play in new window | Download
Subscribe: Apple Podcasts | Google Podcasts | RSS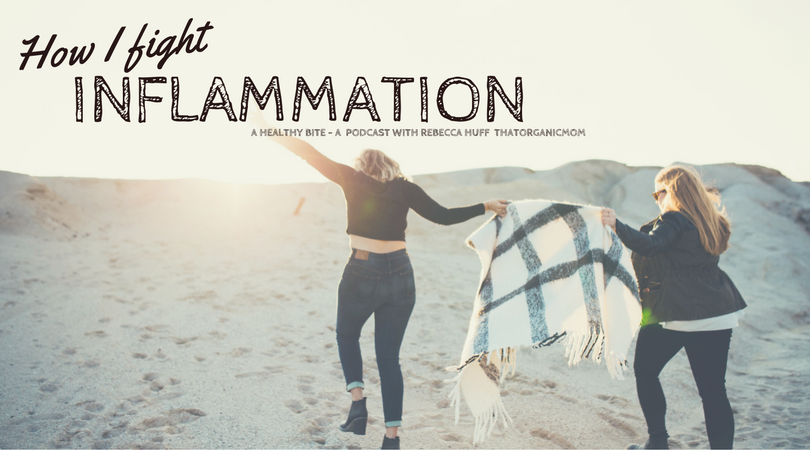 What is inflammation?
Inflammation can keep us from living life to the fullest. Chronic inflammation is now believed to be at the center of a some of deadly diseases. You may have chronic inflammation and not even be aware of it and by the time you find out it's usually in the form of diabetes, osteoarthritis, alzheimers, and even some cancers.
Fighting inflammation is a good idea for anyone, but especially those of us with chronic illness. Autoimmune diseases are typically associated with inflammation.
Show Notes:
Focus on minimally packaged foods. When you are at the grocery store practice minimalism!! Don't buy a lot of these things that are in bags and boxes. Seriously, if there are words on the label that you can't pronounce, you probably shouldn't be eating it. What we need to focus on is EATING real food.
If you have aches and pains you probably have some inflammation which means you need to cut way down on any types of sugar, including "healthy" sugars like coconut sugar, honey, maple syrup and especially stuff like agave.
Fiber intake is so low in America. We all need to up our intake of fiber from REAL FOODS. Surround our food with lots of greens. Sure, eat your proteins, there's no problem with that, but you need to surround that protein with greens. Take your time to work your way up to a good portion of it. If you really can't stand greens, try supplementing with a very good green powder.
If you aren't staying hydrated you are depriving yourself of something your body needs to perform at optimum levels. Eating more vegetables and some fruits can help to hydrate the body.
Whole foods tend to be richer in water. But obviously, we need to drink our water! Packaged and processed foods are pretty much void of water and they're full of extra salt and sugar and devoid of nutrients.

High sugar, low nutrients, and a dehydrated body can set the stage for inflammation to set in and triggers the immune system to work overtime. We need to change these habits one at a time.
Listen to this podcast on iTunes.
What is a podcast and how do I listen?
A podcast is a free downloadable audio show that enables you to listen and learn while you're on the go. To subscribe to my podcast for free, you'll need an app to listen to the show from.
For iPhone/iPad/iPod listeners – Grab your phone or device and go to the iTunes store and search "A Healthy Bite." This will help you to download the free Podcasts App (produced by Apple) and then subscribe to the show from within that app. Every time I create a new episode, you'll get it downloaded right on your iDevice.
For Android listeners – Download the Stitcher Radio app (free) and search for "A Healthy Bite."
For podcast enthusiasts – If you already listen to podcasts and have a podcatcher that you prefer, the feed you'll need to add is https://www.thatorganicmom.com/feed/podcast
For those who don't have a mobile device – You can always listen to the show by clicking the audio file at the top of this page. Or go to: https://www.thatorganicmom.com/podcast
Also, I would be so appreciative if you could leave a review for A Healthy Bite on iTunes! Simply go to the iTunes Store and search Podcasts for "A Healthy Bite" and click on Ratings and Reviews.
Some upcoming shows include:
Sending your child to school with a bodyguard
Eating for Energy
Exercising for Energy
Sleep like you mean it
Clean like your life depends on it
So make sure to subscribe using the instructions above so you won't miss out on future episodes of A Healthy Bite!
You might also want to follow my YouTube Channel for encouraging and helpful healthful videos!