When I tell people I see a chiropractor on a regular basis they often ask if I have a problem with my back. When I tell them I take my children regularly, they raise their eyebrows.
I think so many people tend to associate chiropractors with back pain and don't realize it's a form of complementary medicine. The average age when people start going to see a chiropractor is around age 51, however, children, pregnant women, and sports enthusiasts all stand to gain as much benefit from going as anyone!
Doctors of chiropractic offer natural approaches such as exercise, diet and hands-on care to help keep you active and able to achieve your weight-loss goals in the short term, and also help you maintain your fitness level and thereby avoid some chronic conditions down the line.

The American Chiropractic Association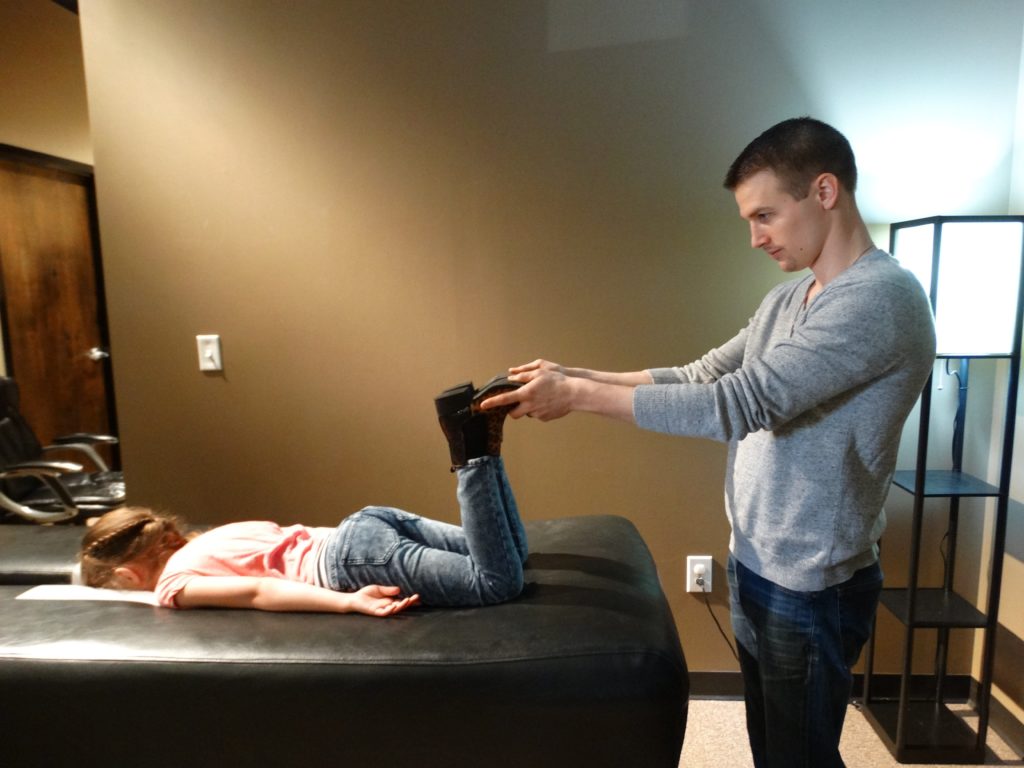 Why I'm Willing to Pay Out of Pocket for Chiropractic Care
I'd like to share with you a little bit about chiropractic care and why I take my children on a regular basis. You see, chiropractic care actually works to allow the body's natural healing abilities to work unhindered. It does the by removing pressure from nerves that relay signals from the brain to the organs and systems of the body.
The chiropractic philosophy recognizes many factors that play a role in health; these include exercise, diet, stress, environment, and heredity. Chiropractors are educated in the body's healing and reparative abilities and so tend to emphasize natural, non-prescription, non-surgical health treatments.
In addition, many Chiropractors often recommend changes in lifestyle such as learning to eat healthy foods, exercise regularly, and develop positive sleeping habits. Our current chiropractor encourages patients to live a healthier lifestyle.
Dr Pete likes to use the "rubber band" analogy. When your body is properly adapting to stress, the spinal cord is in its most relaxed position – like a "rubber band" resting in the palm of your hand. When consumed by stress, the tension on the spinal cord increases. The dura (the outer layer of the spinal cord) stretches and twists, like when you pull on both ends of a rubber band. When stress becomes chronic, your spinal cord can no longer achieve a relaxed position. Nor can it return to its normal state. Harmful neurological patterns can then develop and make it impossible for your body to adapt and recover. Our A3 model of care breaks these harmful neurological patterns and restores that stretched and worn out rubber band (your spine) to its original and healthy condition!

In Dr. Pete's office, he has a big poster that asks, "Are you being chased by a tiger?" 

What does that mean?

Being chased by a tiger in synonymous to a body that is under constant and chronic stress.

God has created your body to "adapt to" and "recover from" stress. STRESS (ie. physical, chemical, emotional and spiritual) affects us everyday of our lives – it's inevitable and unavoidable! However, our body's were created to "adapt physiologically" to the stressors in our lives and then return back to a place of homeostasis and rest. Dr. Pete often says, "A little stress motivates, more stress complicates, but a lot of stress breaks down and deteriorates the body." The problem lies when the body loses it's ability to return to a place of homeostasis and rest.

It is the lack of resiliency to stress that leads to all the health problems that people face today."

Exodus Chiropractic
Many things can actually affect our bodies. My children practice martial arts, they sit in desks during school, ride bikes, fall off bikes, jump on trampolines, tumble and fall, wrestle, they get into arguments with their siblings, and my teenagers work jobs, stay up late under mountains of homework, deal with peer pressure and lots more. Are they under stress? I'd say resoundingly YES.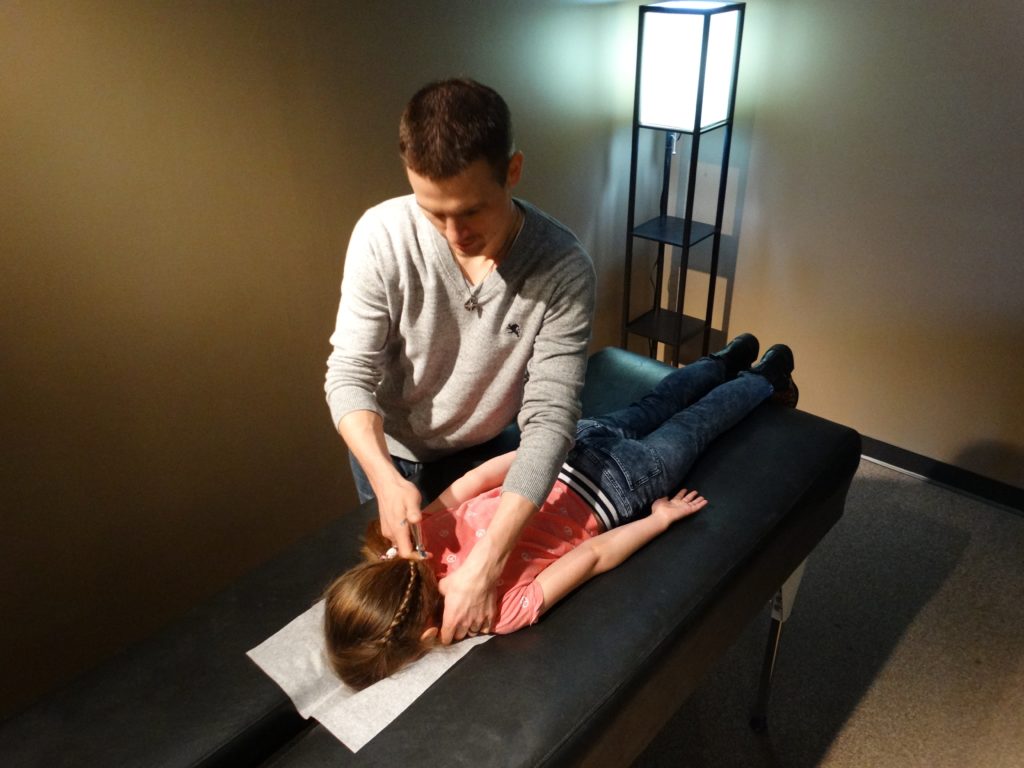 I have been seeing chiropractors off and on for about 15 years. My children have consistently gone for adjustments weekly for many years. Before, I did take my children in for routine adjustments, but not on a weekly basis. The reason I take my children consistently now?
Benefits of Chiropractic Care
Well, the ICPA (International Chiropractic Pediatric Association) has initiated a groundbreaking study on the safety and effectiveness of chiropractic care for children. The preliminary results are outstanding and show that chiropractic care is safe for children. Even more significant is that parents reported three unexpected improvements with their child's care:
Higher quality sleep at night
Improved behavior and attitude
Better immune system function
I took my 5th and 6th children right after they were born. From what I have read and what was shared with me by my midwife, significant spinal trauma can occur at birth, so she recommended having my baby checked right away. This was in part because of his somewhat difficult home birth journey. During an infant's growth, the baby will be learning to hold up his head, sit, crawl and walk; these are all activities that affect spinal alignment and are important times to have a child checked by a Doctor of Chiropractic. (source) It doesn't hurt at all, and my children actually look forward to our visits. It is not unusual for my teenagers to drive to the office to receive an adjustment without me.
I tend to be a very all or nothing type person and because of my tendency to stay a little off balance in certain areas, I feel that getting regular adjustments has helped me to deal with stress, anxiety and sometimes even depression better. I am rarely sick and I can say the same for my children. The nervous system controls and coordinates the function of all the systems in the entire body: circulatory, respiratory, digestive, hormonal, eliminative and immune system. Since any aspect of health may be impaired by nerve interference, the chiropractic adjustment restores nerve system function allowing the body the ability to express a greater state of health and well-being.
Chiropractic care can affect the basic physiological processes that influence oxidative stress and DNA repair. So there's a whole lot more to chiropractic care than just whipping bones into place." Dr. Mercola (source)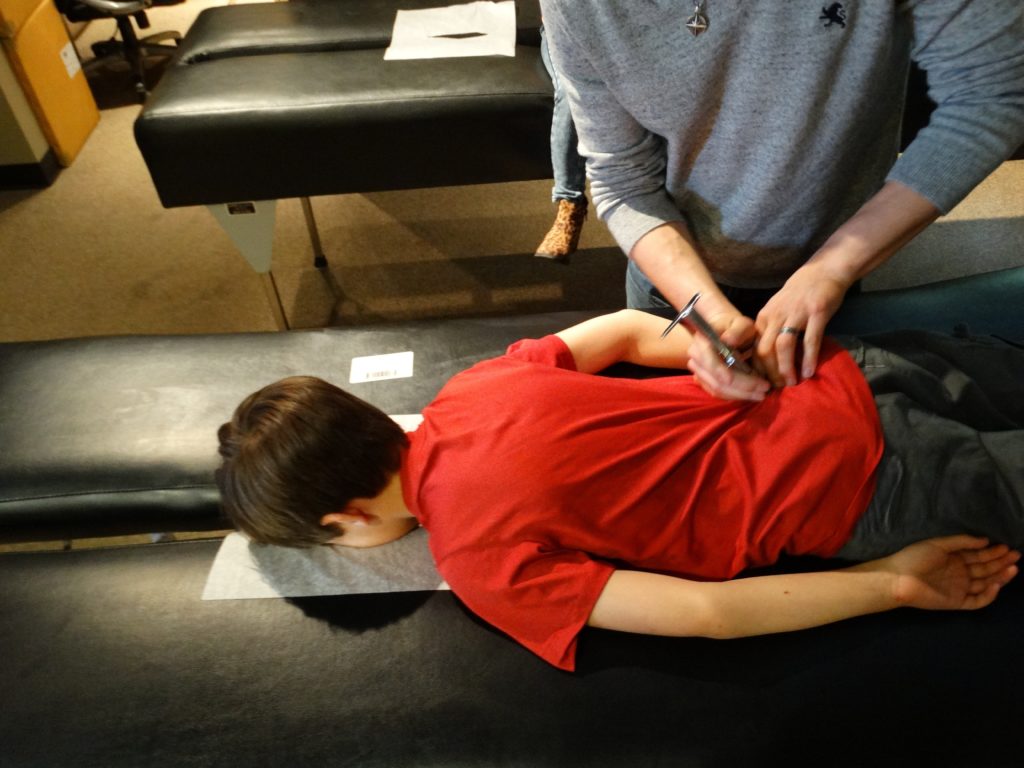 Other benefits of Chiropractic Adjustments
There are many health benefits of chiropractic care. It's not just for back pain, although those with chronic pain will see an improvement. Regular visits for upper cervical chiropractic can benefit the whole body.
Pain relief and pain management
Correction of misalignments of vertebrae
Improved range of motion
Reduces lower back pain associated with PMS
Restores mobility to joints restricted by musculoskeletal disorders
Relieves muscle tension
Improved athletic performance
Helps to correct poor posture
Stronger Immune System
Better Sleep Hygiene
Is it safe? Very, and according to a survey parents report an overwhelmingly high rate of improvement and satisfaction rates concerning visits for general wellness. (source) So safe in fact, that I even received chiropractic care during my pregnancies.
Chiropractic care is essential for the pregnant mother. Her systems and organs are now providing for two and their optimal function is critical for the a healthy pregnancy and birth. The mother's spine and pelvis undergoes many changes and adaptations to compensate for the growing baby and the risk of interference to her nervous system is increased. Specific chiropractic care throughout pregnancy works with enhancing nervous system function which in turn affects many systems of the body.

Another important reason for care throughout pregnancy is to help establish balance in the mother's pelvis. Because of a lifetime of stress and trauma to her spine and pelvis, her pelvic opening may be compromised." (source)
After the birth of my 5th child, I sought chiropractic care because my pelvic bones were twisted out of place. It is important to choose your chiropractor carefully. From my own personal experience, I would not recommend a new mother seeing a chiropractor who specializes in sports medicine. This is just based on my own personal experience as I have found that sports medicine chiropractors tend to be a little more aggressive and that is not what a woman's body needs after birth. I prefer Doctors of Chiropractic who use a tool called an Integrator rather than those who use the "snap, crackle, pop" method.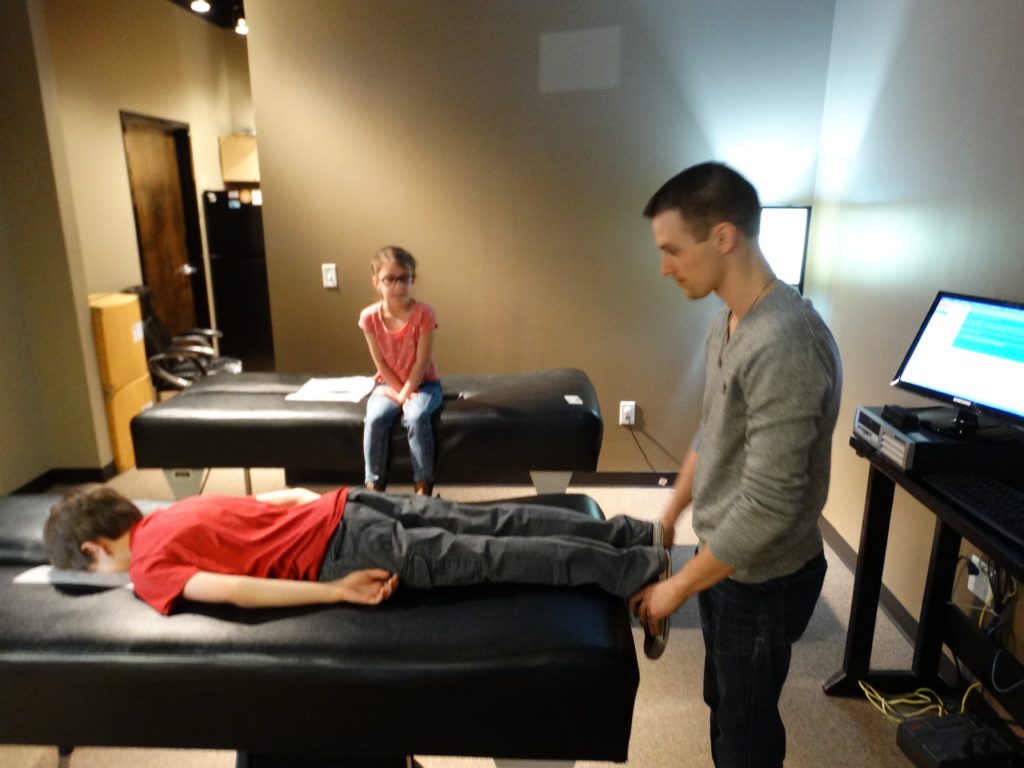 Shawna waits her turn to be adjusted while Harmon receives his treatment from Dr. Joshua Chappa at Exodus.
Chiropractic Adjustments
Our chiropractors office uses the Torque Release Technique which is based on gentle touch and light thrusting by hand or instrument. This low-force adjusting method allows the nervous system to better integrate and understand the new corrective information and to process it throughout the spinal cord and brain.
"Your spinal corrections do not stop once you get off the table. They continue as you breathe and move. You may notice that you hear a click or popping sound in your spine later on the same day after the torque release adjustment. That's your body realigning and correcting its own subluxations.
Torque Release teaches and empowers your body to make more corrections and healing with ongoing care.
Because analysis and correction are not limited to just the area of pain and symptom, integration tends to be more complete and healing experiences are deeper in all areas of the body, mind, and emotions.
Torque Release releases tensions on the spinal cord by correcting subluxations of spinal segments intimately connected with the meninges or attachments of the spinal cord. It leads to profound neurological changes that benefit everyone – no matter what symptom or level of health they are currently experiencing.
The primary intent of Torque Release Technique (TRT) is to progressively reduce blockages and tension of the entire spinal system, to release trapped unresolved patterns in the body/mind, and to facilitate reintegration of the nervous system, allowing a greater expression of one's healing and performance capabilities." (source: Exodus Chiropractic)
How expensive is chiropractic care?
Recent research has been examining the cost-effectiveness of chiropractic care among other natural alternatives (physiotherapy, acupuncture, massage) versus conventional medicine. A 2012 systemic review found spinal manipulation therapy to be more cost-effective for neck and low back pain when compared with general practitioner care, physiotherapy or exercise. A study in 2007 compared care costs of a patient under the direction of a chiropractor as their primary care physician (PCP) versus a medical doctor. After 70,000 member-months spanning a 7-year period, hospital admission costs were decreased by 60.2 percent, cost of days spent in the hospital were decreased by 59.0 percent, and outpatient surgeries and procedures were down by 62.0 percent. If these numbers were not astonishing enough, the costs associated with pharmaceuticals decreased by 85 percent when compared to conventional medically driven care. All of these comparisons were done in the same time frame, geography, and health maintenance organization product." (source Natural News)
It has been invaluable for our family. Considering that our health insurance costs are through the roof and our deductible is $5,000 per person per year, we depend on staying in top health condition to avoid costly visits to the General Practitioner and avoid prescriptions of antibiotics, etc. ) Read my little rant about healthcare here.
My two youngest children have each only been on an antibiotic once in their lives, and that is at ages 7 & 9. I contribute their good health to our healthy eating habits and my children making healthy food choices even in my absence, especially in that we avoid sugar, as well as our good sleep habits and also to regular maintenance of our nervous systems by receiving regular chiropractic treatments.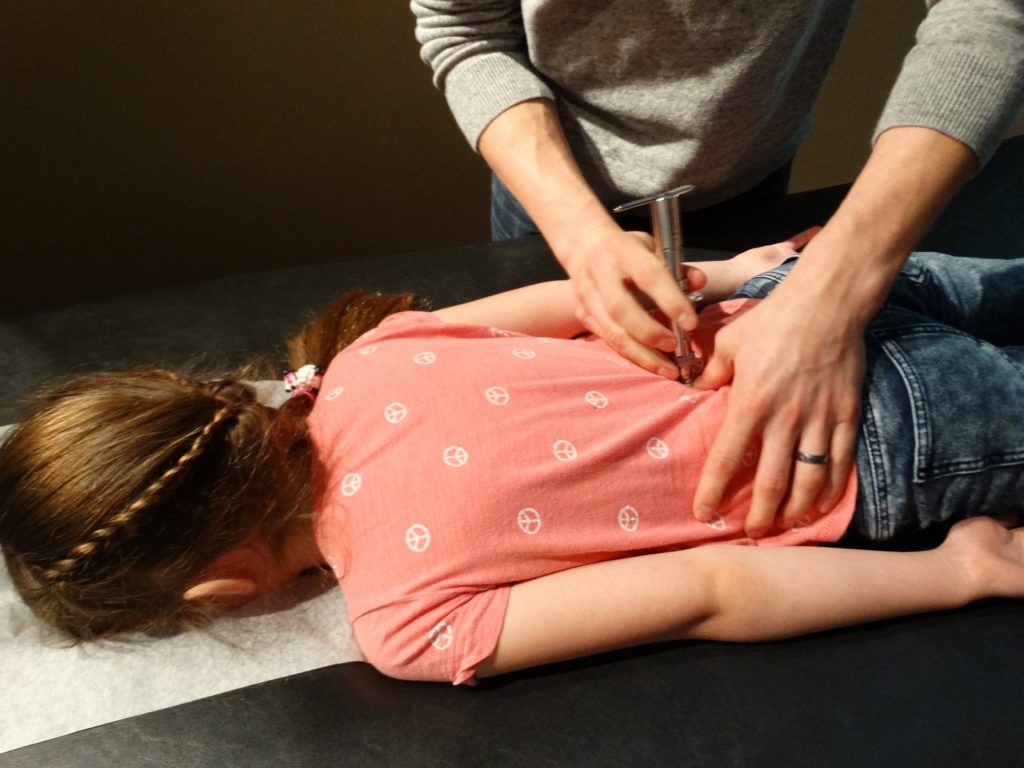 We also get checked to make sure we are making progress on a regular basis. My children love this part of the process. When the technician shows them the scans, they say they have "golden spines." They are active participants in their treatment options.
When they experience any type of pain, their first reaction is to ask me to take them for a spinal adjustment.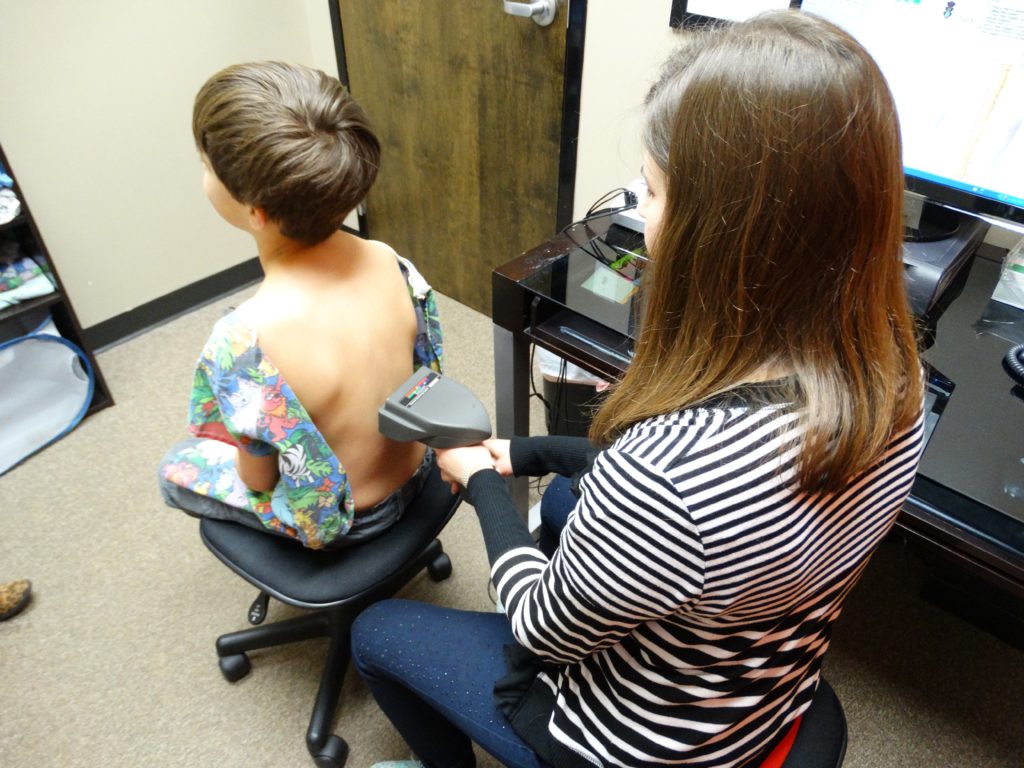 I have definitely noticed an improvement in the health of my children in the years that we have consistently visited our chiropractor. As you can see from the smile on my daughter's face, they enjoy the process almost as much as they enjoy being healthy all the time!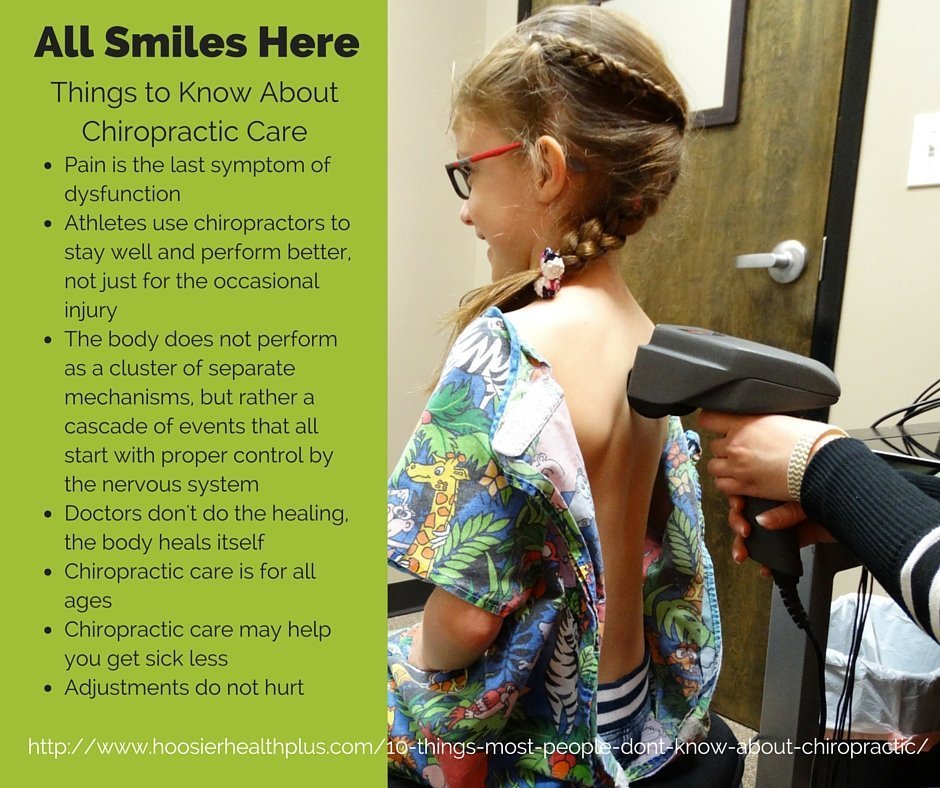 Some patients have reported that chiropractic treatments helped to improve:
Back pain
Tension Headaches
Ear infections
Neck pain
Scoliosis
Asthma
Blood pressure
Healthy pregnancy
Organ function
Surgery prevention
Knee pain (the most commonly affected ligament)
Arthritis and other joint pain
Chiropractic care can also be an excellent complement to physical therapy. Some doctors will refer patients with sciatica to reduce pain and discomfort, as well as inflammation and range of motion. Ask your doctor if the addition of chiropractic care could help if you have a condition that affects your nervous system or musculoskeletal system.
(source)
Don't forget to Pin this post! What is your experience with chiropractic care? Have you received benefits from a wonderful chiropractor? Please share your story in the comments below!
Consider regular chiropractic care to improve your quality of life. In the beginning, the side effects may be a few headaches, or release of toxins which may cause you to feel a little worse before you feel better.
Click here to find a chiropractor near you.