Recently I had the opportunity to interview the author of The Elegant Warrior: How to Win Life's Trials Without Losing Yourself. She shared so many tips that I was able to implement right away with my kids in their school situations. Listen in to today's podcast so you can learn to be an advocate for yourself and your family.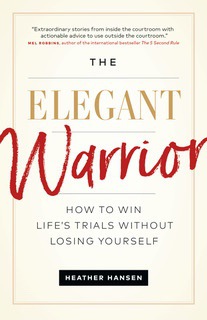 Heather has spent twenty years advocating for her clients in the courtroom and has been consistently named one of the top 50 female lawyers in Pennsylvania. She has appeared on NBC, Fox News Channel, CNN, MSNBC, CBS and Sirius Radio. Heather has presented in Kuwait, Ireland, Mexico and throughout the United States.
Her psychology degree and her mediation training, as well as her experience in the courtroom, contributed to her "5 Cs of Advocacy" which she has shared with thousands of audience members.
So how does Hansen's experience and expertise relate to parenting?
One in 20 patients (6%) is impacted by preventable medical errors, according to a recent study published in the peer-reviewed journal BMJ. What's more, about 12% of preventable patient harm results in "prolonged, permanent disability" or even death, as reported by MarketWatch.

After twenty years defending doctors when they've been sued, Heather Hansen has seen the tragedy of medical error up close and personal. She also knows what patients can do to be their own advocates and prevent these errors.

Parents of young children who are going to school and need to learn to advocate for themselves with other students and teachers: As your children head out for the new school year, they will face new challenges. They will need to learn to advocate for themselves effectively. You can help by teaching them the 4 Ps (pause, plan, practice, play).
The book goes into detail about how to put the 4 P's into action.
College students who need to advocate for themselves and stay safe.
As college students head out to their new lives without their parents, they will face new challenges. Some of those are hard, especially in the time of MeToo, frat hazing and social media bullying. Here are some ways they can advocate for themselves in tough situations, using the word DORM as guidance. Discover, Object, Recognize tone and body language, Move.
Heather explains how to implement this strategy in the book.
Your Child Is Bullied
How to Advocate for Them (Like a Trial Lawyer). There's very little research on the impact of bullying on parents. But the little we have shows us that parents are the "secondary victim" and Hansen's advocacy tools can definitely help parents. One big factor is the relationship between parent and teacher and working to prevent animosity there. A good advocate needs to create allies and not enemies
You can also watch this interview on Youtube.
Don't miss Jami's Post Mom Boss: Effective Advocacy
Pin this post to your #girlPower boards on Pinterest and share in all your mom boss groups on Facebook! Tweet away friends!