Podcast: Play in new window | Download
Subscribe: Apple Podcasts | Google Podcasts | RSS
"Be informed, but don't panic," advises Dr. Sean Beckmann to concerned Americans.
What do we need to know about Coronavirus or 2019-nCoV
Questions we discuss in this Podcast Episode
There's a lot of misinformation out there about the coronavirus, particularly on social media, what facts can you give us about the virus and how it spreads?
The World Health Organization has declared the novel coronavirus outbreak a public health emergency of international concern.
Is asymptomatic transmission of this virus occurring?
How is the virus transmitted?
What are the symptoms?
What is the incubation period?
Viruses have the ability to reproduce rapidly, how adaptable are they in terms of survivability?
I read that "In the lower temperatures, the virus could survive on a stainless steel surface from 5 to 28 days at all humidity levels." How long can the virus survive on say, a shipping crate coming from China?
Can you discuss treatment? Prevention?
The U.S. State Department issued a travel advisory urging Americans to reconsider traveling to China, along with the CDC.The U.S. government-chartered a plane to fly out diplomats from the U.S. Consulate in Wuhan, where the outbreak started, and other Americans.
What are the safety precautions taken when these diplomats return to the U.S.? Are they tested for the virus, quarantined for a period of time?
Who is most at risk of contracting the coronavirus?
"The preliminary fatality rate for 2019-nCoV hovers around 3%—which is low, but still concerning because of the number of cases accumulating."
The number of deaths attributed to pneumonia and influenza stands at around 6.7% according to the CDC.
Why do you think this virus is especially hard on seniors?
Can this virus mutate?
Is China sharing accurate, truthful information on the numbers, and if the numbers are higher, what is the benefit of not reporting the truth?
How prepared are U.S. hospitals for testing for this particular strain?
The director-general of the World Health Organization has flown to China to meet with government officials and health experts trying to contain the spread of 2019-nCoV.
UN health chief visits China to help with virus containment.

(article removed)
What the Chinese government has to say
President Xi Jinping has called the outbreak a grave situation and said the government was stepping up efforts to restrict travel and public gatherings while rushing medical staff and supplies to the city at the center of the crisis, Wuhan, which remains on lockdown with no flights, trains or buses in or out.
Chinese travel agencies have been told to halt all group tours, and concern is growing over the potential impact of millions of people traveling back to the cities after the Lunar New Year holiday ends on Thursday. Wuhan Coronavirus: U.S. Prepares to Evacuate Americans | time.
According to the CDC – Prevention of 2019-nCoV Infection
There is currently no vaccine to prevent 2019-nCoV infection. The best way to avoid infection is to evade being exposed to this virus. However, as a reminder, the CDC always recommends everyday preventive actions to help prevent the spread of respiratory viruses, including:
Wash your hands often with soap and water for at least 20 seconds. If soap and water are not available, use an alcohol-based hand sanitizer.
Avoid touching your eyes, nose, and mouth with unwashed hands.
Avoid close contact with people who are sick.
Stay home when you are sick.
Cover your cough or sneeze with a tissue, then throw the tissue in the trash.
Clean and disinfect frequently touched objects and surfaces.
These are everyday habits that can help prevent the spread of several viruses. CDC does have specific guidance for travelers.
Treatment
There is no specific antiviral treatment recommended for 2019-nCoV infection. People infected with 2019-nCoV should receive supportive care to help relieve symptoms. For severe cases, treatment should include care to support vital organ functions.
People who think they may have been exposed to 2019-nCoV should contact your healthcare provider immediately.
Prevention, Treatment of Novel Coronavirus (2019-nCoV) | CDC.
Dr. Sean Beckmann answers questions about Lyme Disease and other tick-borne illnesses on this episode of A Healthy Bite.
Meet Dr. Sean Beckmann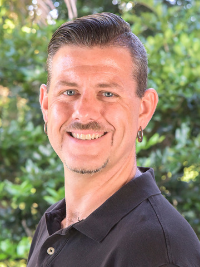 Sean Beckmann
Assistant Professor of Biology
I am passionate about engaging and educating students both in and out of the classroom. Whether in a lecture, laboratory, field site, or during a chat in my office I relish the opportunity to find a student's passion and interests and help foster those. Not every student is going to become a research biologist, but everyone can utilize science in their own lives. By helping them understand biological concepts and apply them to their own real world experiences I hope to help foster a love of biology and a scientific curiosity in every student with whom I interact.
Ph.D., Biology, University of Miami
B.S., Biology, Stetson University
Growing up Dr. Beckmann enjoyed science and nature and always wanted to be a veterinarian. While a student at Stetson University he had the opportunity to engage in projects and internships that introduced him to field biology and research. This changed his trajectory to pursue a career in research. While in graduate school at the University of Miami he had the opportunity to teach a number of classes and engage a number of undergraduates in his research on phylogeography of small mammals. This experience drove him to pursue a career in undergraduate education and research. Prior to coming to Stetson University, he spent several years teaching and conducting research with undergraduates at another liberal arts university. His work with students has resulted in numerous conference presentations, posters, and publications with former students.
Sean Beckmann – Faculty Profiles – Stetson University.