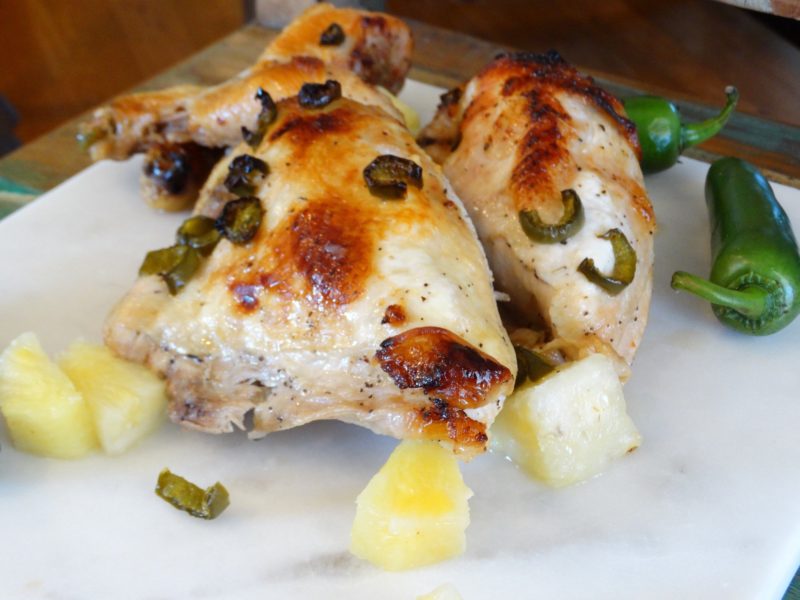 Caribbean Chicken Recipe
Ingredients
16 ounces of chicken, any style
For the Marinade:
4 medium green onions, sliced
1-2 jalapeno chilis, seeded and chopped (for additional heat, leave seeds in)
1⁄3 cup lemon juice
1⁄4 cup honey, warmed slightly to soften
2 teaspoons dried thyme
2 teaspoons olive oil
1⁄4 teaspoon ground allspice
1⁄4 teaspoon ground nutmeg
Instructions
Add marinade ingredients in a bowl and whisk to combine. Place chicken in a shallow dish or bowl.
Pour marinade over chicken and turn to coat. Cover and refrigerate at least 2 hours.
Preheat oven to 400 degrees F.
Prep your grill or heavy flat-bottom skillet to medium-high heat by adding avocado oil to the skillet and heating the pan.
Remove chicken from marinade and place on in the skillet, or on the grill. 
Put skillet with chicken in oven and cook for approximately 30 minutes or until internal temperature has reached 165 degrees Fahrenheit.
Baste with marinade during cooking, but discard any remaining marinade before serving.
Recipe by That Organic Mom at https://www.thatorganicmom.com/caribbean-chicken-recipe-use-a-meat-thermometer/