Monitoring kids time online without wasting your own
Safeguarding my kids against the internet has not always been easy. Originally, we relied on advice such as "locate all the computers in a community space in the home" instead of bedrooms. Keeping computers in high traffic areas is not a guarantee that children will not accidentally land on a site you'd rather they not visit. With the internet there is no foolproof method to keep kids safe. We have to be extremely diligent!
Even with restrictions and boundaries, someone has to be the monitor that keeps up with who gets to be on a device, when, for how long, and what they have access to. Trying to do it with no help was overwhelming me. My kids aren't bad kids, don't get me wrong, but they like playing games, watching youtube videos, and browsing Pinterest just like other kids do. I was trying charts and all kinds of ways to keep up with how much screen time each of us had but it was just out of control and too much work!
Another Mom had repeatedly told me about Disney's Circle device to help limit screen time or monitor internet usage. She mentioned it to me because I had complained to her that I wished I could just turn off the internet sometimes.
Finally, because it was just too overwhelming making sure everyone was following the rules with devices (there's only one of me and so many of them) I bought my circle with Disney. Admittedly, I put it off way longer than I should have but we've had it running for a bit now and I wish I had set it up sooner.
Originally, I asked my husband to set it up because I was afraid it would be all tech-y and hard to figure out, but it was so simple! I did it all by myself. (not a tech-y person at all!) I was actually kinda thinking after I finished setting it up  that it was harder to get the plastic off the package than to set it up. That's not much of an exaggeration.
When you open up the box you'll find everything you need inside:
After you take everything out of the package it's just a matter of following the 3 easy setup steps! Just plug it in. The device needs to be plugged into the wall within 5 feet of the router. I put mine in the laundry room since it is right next to our router.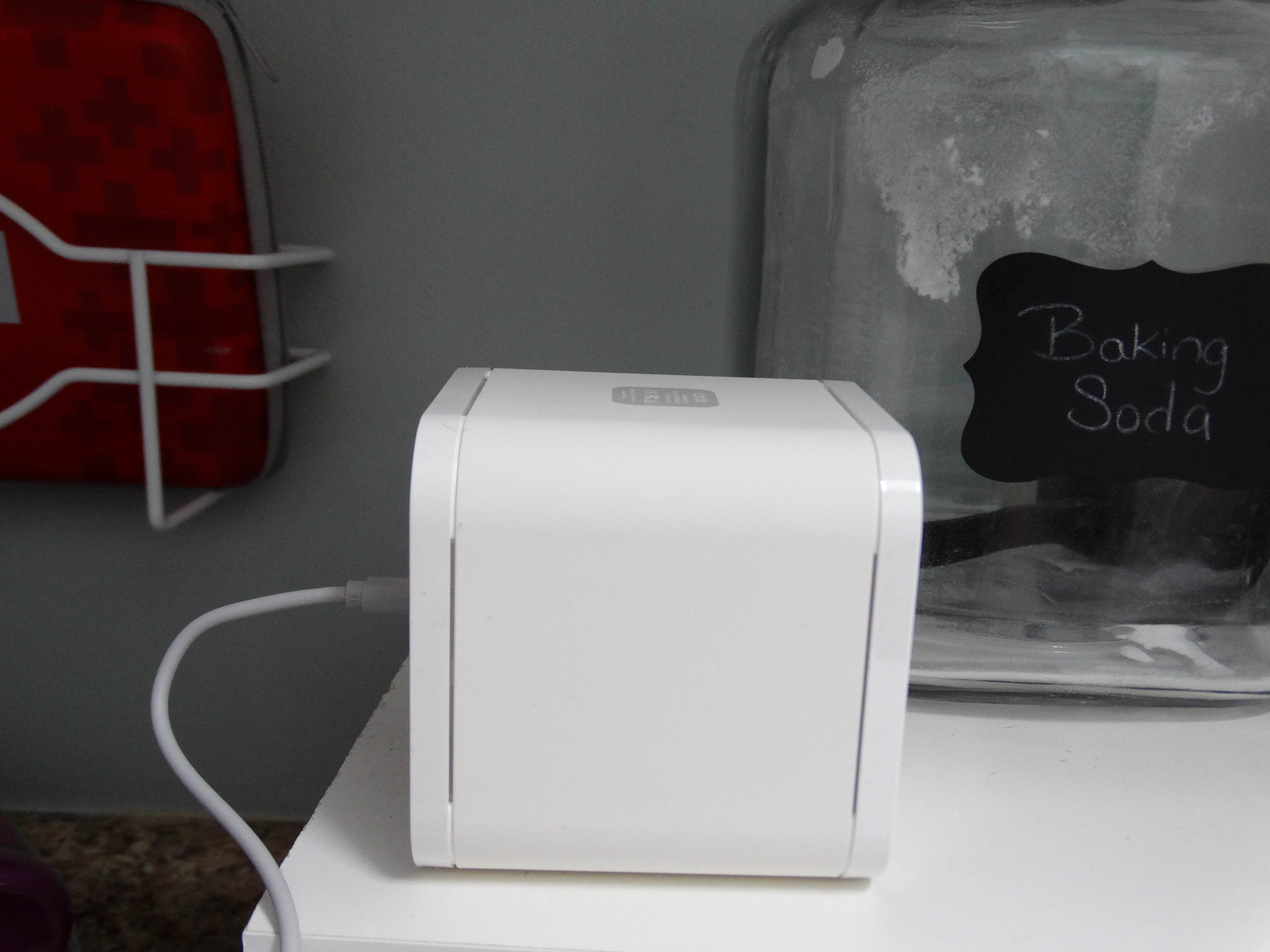 Then the parent downloads the circle app and sets up the devices.  Setting up the family devices was much easier than I had anticipated. Here's what my Home screen looks like with us added. From this screen in the app parents can filter content, limit screen time and set a bedtime for every device in the home.  Parents can also set time limits for social media. Handy. 
After you download the app on your device you add a profile for each person in your home. Then you can assign devices to profiles. Below you can see a list of our devices. I have all three Nintendo 3DS consoles "paused" meaning they cannot use them to access internet. That is why they are highlighted in purple.
As you can see below, clicking on a profile brings up the insights, devices assigned to that profile, and what filters, time limits and other restrictions you have show up here. Notice I have set my 18-year-old daughter's filter to teen. I also let her know that if a website she needed access to was blocked that she could come to me and I can always add it as an allowed website. I can also block certain websites so it goes both ways. You'll see that her "insights" say she has been on the device for 2 hours as of this screenshot.
Insights is where you go to find out how much time you've been wasting on social media. For real though, this is where you see how much time is spent and where on each device. I am the Empress and you can see below that I had spent 2 hours online at the time of this screenshot. Less than 5 minutes on each of these categories. This can be viewed in day, week or month. It's quite eye-opening to see how much time is spent on a device!
I did set my filter to "teen" while I set my 8 & 10 year old children to "kid" on their devices, although they are still monitored.  The filter levels are preset but they can be customized. Permissions can be turned off for different platforms such as FaceTime, channels, etc.
As long as the device is connected to the same router they will show up in the list of devices. I have added my laptop and iPhone to my profile as you can see below.
Before I had circle, it was a constant struggle to keep up with how much time each person was allowed to be on any given device. We homeschool so a computer is used in the school room on a daily basis. In addition to the computer the children have iPads that need to be monitored. These are much harder to supervise if you are making dinner, doing laundry, or whatever.
I don't know a supermom out there that has found the perfect balance of allowing kids to be kids with their screen time and also perfectly monitoring an ever changing internet! Recently, I read that giving your child unlimited access to the internet is like putting them in a room with a stack of pornographic magazines. The truth is, we don't know what they can stumble upon and while nothing is perfect this has helped me immensely!
I can set time limits and offer rewards if I choose. I don't use "rewards" as in giving them extra time for doing a good job or whatever, but I use them when I need to. If my son needs extra time on his iPad because he is waiting up for his dad and they need to text (his iPad is wifi only) then I will "reward" him with a later bedtime tonight. If I have him doing a lot of research for a homeschool project, I'll use the "reward" no ofttimes today.
After the reward is sent both parent and child should get a notification.
How you use your "rewards" is obviously up to you! Some parents may choose to use these as rewards for getting an A on a report card or doing chores without being told. I prefer to give non-screen-time rewards.
Parental Monitoring Online Content
While the "filters" help to remove inappropriate sites from search results, keep in mind that nothing takes the place of parental involvement. I consider the internet (most of the screen time takes place on the web) a useful tool that has to be monitored to some degree when it comes to children. My intention is to help my kids set boundaries. That is why we set circle limits together. The insights can be a great way for kids and parents alike to self-monitor usage. Keeping the lines of communication open is a huge help.
When a new device joins the network the parent gets a notification. If someone attempts to turn off circle parents get a notification. (I have no idea why my son's device is named Heck.)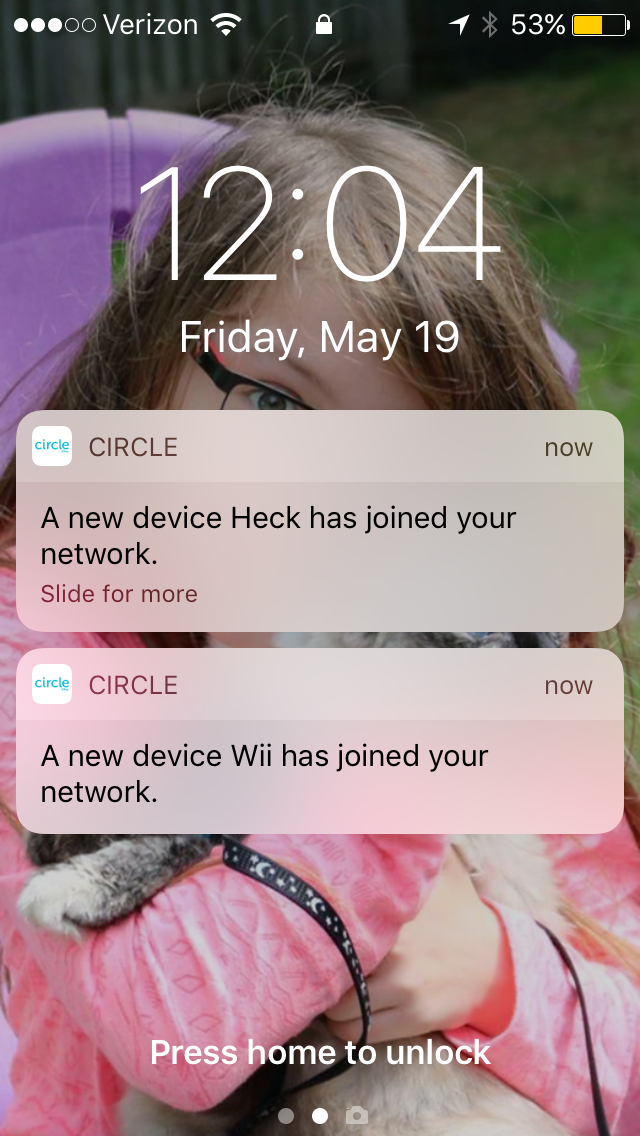 With a passcode used for setting up a second device, both parents can monitor usage. Which is handy when Dad's off work and mom get's to spend time with her friends!
It's also important to note that some connections occur outside the Circle. Each individual wireless carrier completely manages phone calls made using the Phone app and are outside of Circle Go's management. Therefore calls using cellular data cannot be paused. This also applies to SMS text messages sent or received by the Messages app. Green vs. blue iMessages.
Also, notice that you can pause a device, rendering it useless for anything that requires internet.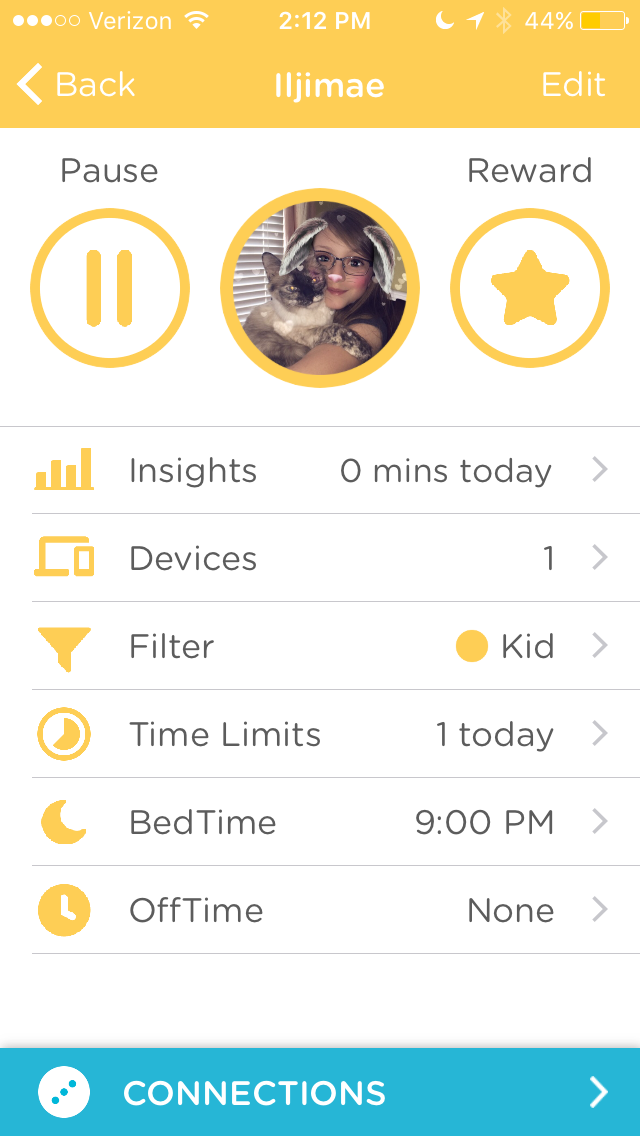 All in all my circle can be a handy tool for reducing screen time. There are other similar tools out there that can be used to monitor screen time.  For parents with young children, starting out monitoring might be easier than implementing it later after a problem arises. I truly wish that I'd had circle from the start with internet access as we have learned the hard way about how dangerous the internet can be to our children. It is not practical to completely restrict device use but we have found at least a little reprieve using this device.
If you'd like to see a quick overview of the app watch this short video. I can make a tutorial if enough people show an interest.

Get That Organic Mom's ebook Reduce Screen Time a 21 page guide that will help you and your children cut make life more of a priority than screens.
UPDATE: Since this post was written we have started using Qustodio for our older children. We still really like Circle. However, if you are still on the fence you might consider reading these posts:
Internet Addiction is Real – How Parents Can Protect Children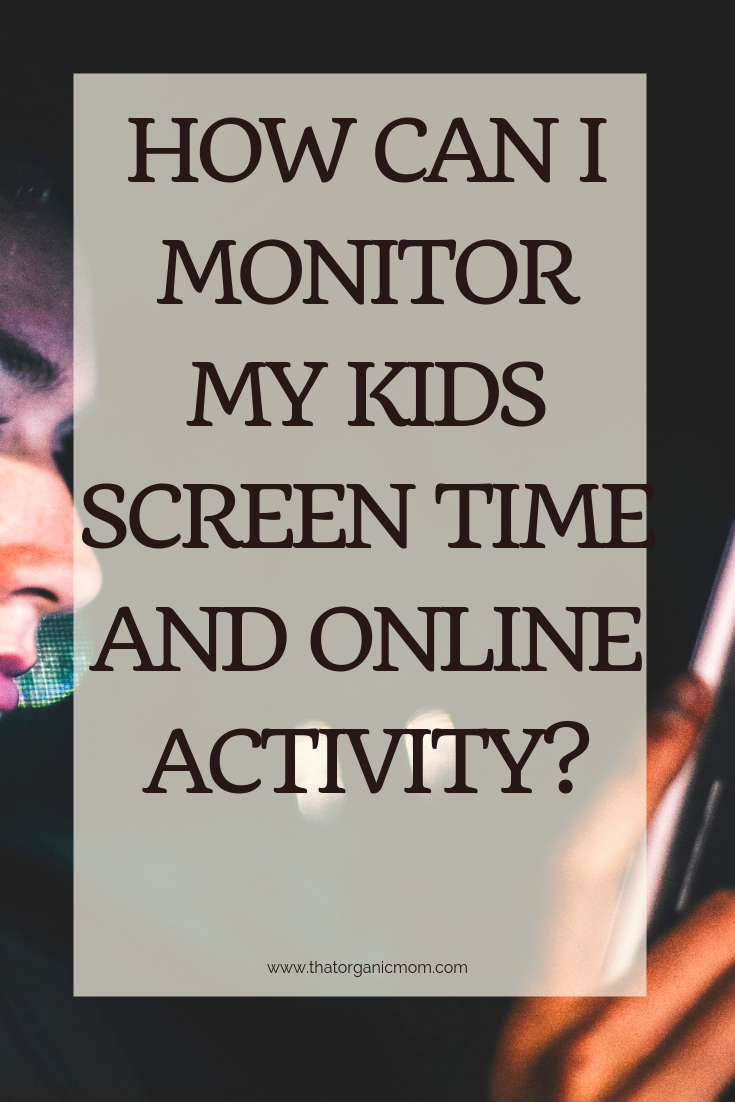 SaveSave
SaveSave
SaveSave