Thanks to Covid 19 We Are Collectively Experiencing Sleep Disturbances
Despite many of us having more free time than usual, Americans are still unable to sleep. People everywhere are reporting trouble sleeping since the coronavirus pandemic began. Not only are we struggling to get a night of quality sleep, but many are also experiencing more vivid and strange dreams.
Google searches for "weird dreams" have increased four-fold since the pandemic began. The truth is, we are probably dreaming the same amount as usual, but due to the lack of quality sleep, we remember our dreams more vividly.
One of the most downloaded ebooks I ever created is Why Am I So Sleepy? People aren't getting enough sleep, and it's a formula for disaster. Grab your copy of the ebook free through July 5, 2020 with coupon code GETSLEEP.
Here's why I mention it: sleep deprivation can be as dangerous as driving while intoxicated. Poor quality sleep turn your thoughts negative in less than one week. In other words, lack of sleep is a real problem.
Tackling Sleep Problems
In case you want to skim to the section most relevant to you, here is what this post covers:
How sleep deprivation is wrecking your health
Areas causing trouble
Solutions
Sleep Hacks
More Sleep Tips
Let's get started, shall we?
1 – How Sleep Deprivation is Wrecking Your Health
Anxiety, stress, and depression are often present in those who experience chronic insomnia. These conditions have a significant impact on circadian rhythms which negatively affect both sleep quality and duration.
Restorative sleep can happen when we address the underlying problems. It's hard to tell if our stress causes poor sleep or vice versa. However, when you reduce stress, it can only improve sleep quality.
Sleeping less than your body needs can:
lowers immune function
impacts memory function negatively
can lead to depression
leads to a bad mood and negative thoughts
is linked to heart disease
can lead to weight gain
Getting the right amount of sleep
(Make sure you scroll down for the solutions!)
Download the 30 Days of Tips for Better Sleep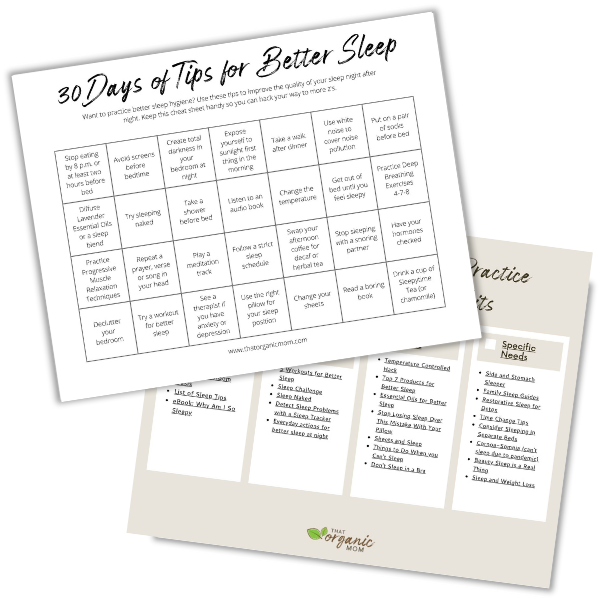 2 – Areas Causing Sleep Troubles
Disruption of routine. With no commute, employees have lost their "workday triggers. For example, now there is no start or stop points for work.
Work is at home now. It is harder to relax when you see "work" all day and night.
Anxiety, anxiety, anxiety! Those anxious thoughts are swirling around in your mind even when you aren't focused on them. Will I get sick, how bad will it be, what will happen, what's going on, will my loved ones be okay?
The strain on relationships due to being together more than ever, sharing a space, dividing responsibilities, and a lack of variation in routine.
Feelings of helplessness at what is going on in the world around us.
Parenting. Having kids at home during the school day is new for many parents, while we love our children immensely, this can be an added source of stress.
Cabin Fever. Long periods of confinement or isolation indoors can lead to irritability, mood swings, claustrophobia, food cravings, decreased motivation, sleep problems, trouble concentrating, fatigue, weight gain, and the inability to deal with daily stress.
Lack of trust in those telling the story. There are many theories out there and most of us aren't sure who to believe.
Oversleeping – An obvious way to solve a sleep deficit is to take naps during the day or sleep in on the weekends, right? Maybe, maybe not. Here's the catch: while it sounds ridiculous, getting too much sleep can make you sleepier! That's because "any significant deviation from normal sleep patterns can upset the body's rhythms and increase daytime fatigue."
3 – Solutions to Sleep Issues
Getting a good night of sleep is instrumental in achieving superior health. Your bedroom should be an oasis of comfort, a shield from the stress of life, a sanctuary of sleep.
For extreme cases of stress or cabin fever, reach out to a mental health professional. If you already have a therapist, consider an appointment via telehealth.
Create a workday start and stop trigger. While this might sound over-simplified, walk out to your car and back in again. (It works!)
At the end of your workday, cover your workspace with a sheet or blanket. Out of sight, out of mind! Power down your computer and stop checking your email when the workday ends!
Take a walk outside as many times per day as possible. A good goal is after every meal – just 5-10 minutes will help. Exposure to daylight is crucial for regulating your circadian rhythms. (This is part of why having a pet to walk is so good for your health!)
Be consistent, have a routine – go to bed, and wake up at the same time every morning and night.
Spend more time in the sun, especially in the morning.
Eat your meals by the clock. Maintaining a normal eating pattern will help your blood sugar levels stay balanced and increase energy levels.
Journal or write – write down all your worries then throw them away. If you need something to keep you busy, share what you write with the world.
Write down what you are thankful for and keep in somewhere you will see it
Keep setting and reaching for goals. Track your progress and reward yourself each time you reach one.
Avoid keeping the TV on all day and night. Try playing some strategy games such as Scrabble, Rummikub, or our favorite, Catan!
Use blue light blocking glasses or stop staring at screens right before bed, try reading before bed instead.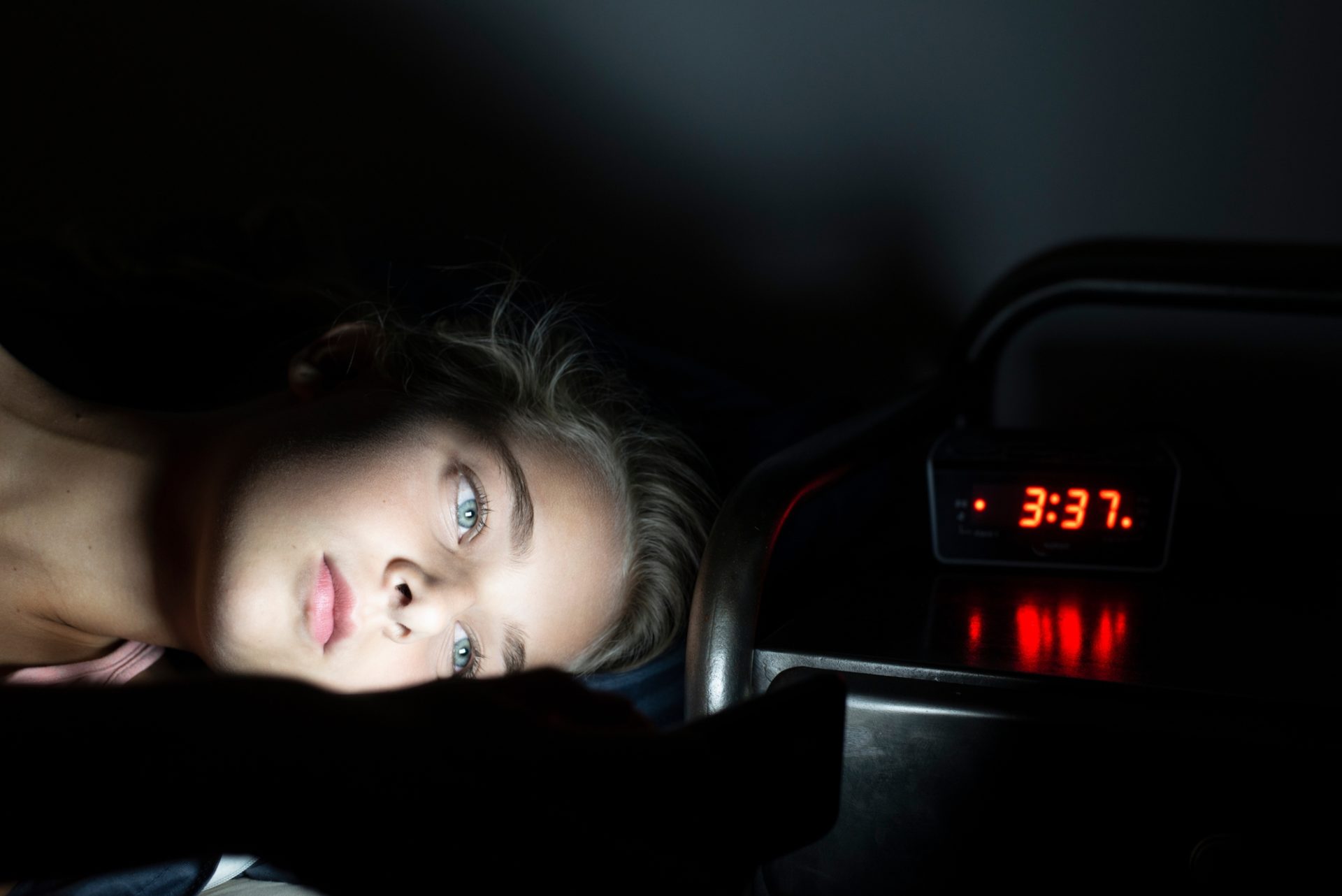 Have the right kind of snack before bed. The book, "Eat to Sleep" is an in-depth look at the foods that can help you get better quality sleep. I highly recommend it as an educational resource that will not only help you select foods that improve sleep; these foods will make you healthier in general.
4 – Our Favorite Sleep Hacks
You'll spend a third of your life in bed. You don't want to spend it tossing and turning! So let us help you make it count with the best sleep hack ever. Whether you are going for gold, climbing the corporate ladder, or chasing toddlers – you won't reach your peak performance if you haven't slept well. That's just as true now as it was before Covid 19. Guard your sleep with all your might!
Hydroponic mattress pad – Sometimes not getting enough sleep is due to being too hot or too cold. Women may experience this during menopause, waking up with night sweats. Turning the mattress pad down to a cooler temperature can alleviate many of these symptoms for women.
Choose the right type of pillow for your sleep position!
Blackout curtains – block the light pollution from outside your windows.
White noise and clean air with UV bulbs to kill germs.
Replace your old mattress, shop online, use coupon code TOM20 for a 20% discount at The Bed Boss!
Put your anxiety to bed with L-Theanine.
Skip that glass of wine before bed – while wine may relax and make you drowsy; however, when it wears off you are more likely to wake up and have difficulty falling back asleep.
Exercise – sweating at home has never been more accessible with all the FREE workouts added to youtube and Pinterest – check your favorite fitness coach's website for support.
Diffuse essential oils – Pillow Potion by Aura Cacia is my absolute favorite blend. Look for it at your local health food store or get it on Amazon.
Brain dump – I keep a cheap spiral notebook for this. Write down all the things that are popping into your head right before you go to bed, so you aren't ruminating on them all night long.
Visualization – if you have outlandish dreams, try visualizing something you WANT to dream about as you are falling asleep, audiobooks are perfect for this. Reading something boring can make you sleepy, or try listening to an audiobook, set the sleep timer so you don't miss out on too much when you drift off to sleep!
Melatonin – Be careful with Melatonin. Keep in mind that it is easy to abuse or overuse this sleep aid. Remember, a healthy body produces the hormone Melatonin. When you give your body this hormone as a supplement on a long-term, regular basis, you are telling your body to produce less. This begins a frustrating cycle.
5 – More Sleep Tips
Join the growing number of readers who are taking back control over their sleep.
For practicing the best sleep hygiene possible, read and follow the strategies in these posts:
If you are experiencing depression or intense anxiety, reach out to a mental health professional.  Remember you are not alone.
Sources:
http://www.news12.com/story/42020244/pandemic-exhaustion-coronavirus-affecting-sleep-habits-for-77-of-americans
https://dailyfreepress.com/2020/04/28/coronavirus-brings-unseen-effects-even-when-sleeping/