It is a common misconception that people "shut down" while sleeping. Actually, the time we spend asleep is a time of important activity which helps us maintain our health and productivity. When we sleep, our brains consolidate memories. We process and store information. During that time, our bodies are restoring and rejuvenating. Muscles are growing. Tissue is repairing. Hormones are synthesizing. Sleep is particularly critical for children of all ages, ranging from newborns to adolescents.
Also, we can't neglect the emotional aspect of getting an adequate amount of shut-eye. How do you feel when you're sleep deprived? You're anxious and easily irritated, as well as the rest of your family, which makes even things like enjoying dinner altogether a lot more difficult than it should be.
So, if you want to keep everyone healthy, happy, and getting along, here are a few tips that will help the whole family sleep better.
Get the 30 Days of Sleep Tips Printable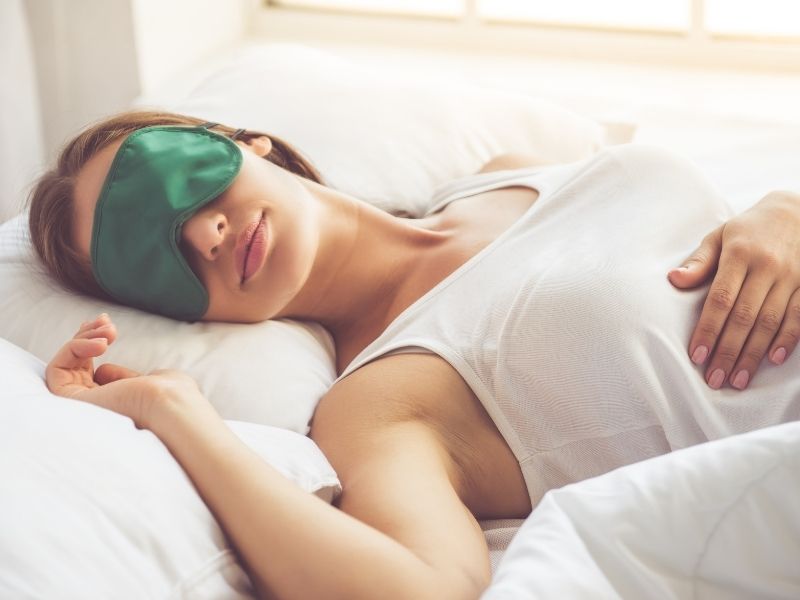 Create a sleep-friendly environment
We're witnessing a growing awareness of the vital role that interior design plays in both mental and physical health. As a result, we're seeing more people actually paying attention to their sleeping environment, in an effort to practice better sleep hygiene. Everything, ranging from the color of the walls to the temperature of the room can affect the quality of your sleep.
Ideally, both the kids' and the master bedroom should be clean of all clutter. Most importantly, a bedroom should not inspire any activities other than sleep (e.g., exercising or watching TV).
Source: unsplash.com
Eliminating outside light is useful for both the children and the adults, and it is easy to accomplish with blackout blinds or heavy curtains. Table and wall lamps are convenient for bedtime reading, and if you have a kid that's afraid of the dark, you can keep the lamps on or get a nightlight. A canopy over the bed can help them sleep better while not being in the complete dark.
While you might think it's a good idea to keep the room as warm as possible, especially for the little ones, keep in mind that the body cools as it prepares for sleep, so the room temperature needs to aid this process. For that purpose, keep the temperature between 60 and 67 degrees.
The color of the bedroom will also have an impact on sleep quality, so choose shades that are associated with rest and serenity, such as blue, yellow, and green.
Pay special attention to the bed
Choosing a mattress for adults comes down to two things: quality and your personal needs. With the first one, you should make no compromises. As for the latter, some people sleep better on soft, while others prefer firm mattresses.
Finding a mattress for kids is slightly more complicated, so here's a concise guide to follow:
Go for dense options.

Buy waterproof.

Avoid materials that include harmful chemicals.

Medium firmness works fine for most ages.

Avoid products with a lot of bounce.
Breathe in, breathe out
Source: freepik.com
Many children and adults breathe through their mouth while sleeping. In adults, this can result in interrupted sleep patterns, gum disease, snoring, bad breath, and exhaustion. In kids, this can lead to poor concentration, tiredness, facial deformities, crooked teeth, or even poor growth. Here are some effective methods for fixing mouth breathing:
For adults: Definitely speak with your medical professional before trying this, but some people have found

taping their mouth shut

to be effective in forcing nose breathing. While taping your mouth may sound a bit strange, some studies have indicated it may be effective. For example,

in a study

with participants who had asthma, some reported that mouth taping improved the quality of their sleep. You can also use medications that treat nasal congestion or apply adhesive tapes across the nostrils. If your problem is sleep apnea, wearing a face mask appliance could help.

For children: Medications and mouth tapes are not suitable for kids. In some cases, doctors will suggest surgical removal of swollen adenoids and tonsils, while in others, orthodontic treatments, such as braces, can fix the problem at its root.
There's something about the routine
Source: unsplash.com
Having an established bedtime routine is just as important for adults as it is for kids – and it's not just about going to bed and waking up at the same time every day. While there's a difference between the period before bedtime for kids and parents, there are a couple of things that are the same. Digital distractions are a huge no-no regardless of your age, whereas enjoying a soothing pre-bedtime activity is desirable.
Tips for adults: Enjoy a hot bath before going to bed, read a book, and/or listen to calming music. You can use aromatherapy to help induce sleep faster.
Tips for kids: A bedtime story is a tradition for a good reason – it works. You can also try with an enjoyable tune (use the same every night and it will be a hint for the little one that it's time for sleep). Kids can experience the "fear of missing out" when going to bed, so try to bring the party to their beds – e.g., play with stuffed animals.
Bottom line
Source: freepik.com
Nothing can replace quality rest, and knowing the effects of sleep deprivation, we can easily call it one of the pillars of a happy family. Use these tips to help all your family members, including yourself, get the much-deserved sleep and enjoy the fruits of your effort.
For ThatOrganicMom Community only: Get a discount on a Bed Boss mattress using coupon code TOM20